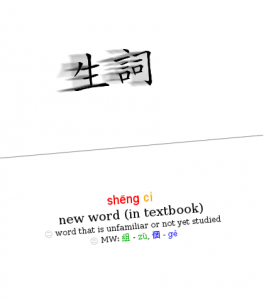 In my book, vocabulary is all-important, it's the foundation on which all other skills are built. It doesn't matter how good you are at distinguishing tones, sentence structure and character writing; if you don't know the words, you won't be able to communicate in Chinese. This page is about how to learn Chinese vocabulary.
Here are some questions relevant for this category:
Why is vocabulary so important?
How do I learn characters and words?
What words should I learn?
If you you're new to Hacking Chinese and want more general advice, please sign up for my free introduction course. I will summarise and introduce the most important things to keep in mind when learning Mandarin:
Many of the articles on Hacking Chinese deal with vocabulary in some way (see all of them at the bottom of this page), but there are a few which stand out as being more important than others. Here are five articles you really should read:
Apart from these articles, there are many more that might be interesting for advanced learners. Here is a list of all articles in the advanced category (scroll down to see all of them in a text-only list):