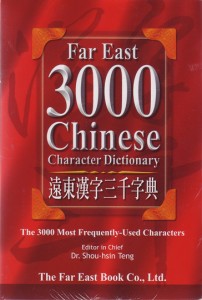 I've heard many stories about people in East Asia who try to learn English by memorising dictionaries. Even if it's true that some people actually do that, I think this somewhat puzzling technique isn't common in the West.
Hearing such stories, it's easy to shake one's head and wonder how someone could be so stupid as to think that memorising dictionaries is the same as learning a language.
Memorising dictionaries to boost Chinese reading ability
Then it may come as a surprise that a couple of years ago I spent roughly one hundred hours spread out over six weeks learning all the characters in the Far East 3000 Chinese Characters Dictionary.
Of course, I knew most of them already, but I learnt a considerable amount of new words as well. This article is not about this particular thing or about this dictionary. Any dictionary (or website) based on frequently use characters and/or words will be fine. Here are some suggestions:
The most common Chinese words, characters and components for language learners and teachers
I'll try to explain why I think that going through such lists is an excellent idea if you do it right and at the right time, and I will also share some thoughts on how to do this without running into some of the problems I did. I never expected this, but the day has come when I actually recommend other people to memorise a dictionary!
Please note that you should only do something like this if you already know the majority of words in the list you want to study. It's up to you, but I would rather aim slightly too low than too high.
Learning a dictionary isn't necessarily stupid
First things first, why would memorising a dictionary be a good idea? I've argued before that Chinese is a language consisting of many building blocks (see my articles about building a toolkit) and rather than learning a character as a whole, it's fruitful to learn its composition as well.
The same goes for words in Chinese (words consisting of more than one character). Making sure that you know the 3000 most common characters, you gain access to a huge number of new words.
By access I mean:
You can guess the meaning of a compound word because you know the characters in it
You can learn new words more easily, because you know the component characters already
I have argued elsewhere that vocabulary is not only king, but god emperor as well. If you don't feel convinced that vocabulary is extremely important, you should check my article about the importance of knowing many words.
Let's look closer at the above-mentioned benefits. The first one might be either useless or invaluable depending on the word. Chinese consists of lots synonym compounds (i.e. words that consist of two characters which mean the same thing, such as 快捷 or 馈赠 (饋贈)) and if you know both the characters, you can be pretty sure about what the word means, whereas if you only know one, the meaning could be anything. This is an example of where your toolkit allows you to learn words for free, so to speak.
Moreover, there are numerous examples where there are more than one similar way of saying something. For instance, compare 时限 (時限), 期限 and 年限, which are easy to distinguish if you know what the individual characters mean, but might cause trouble if you only look at the English translations. There are of course more examples, but I think this is enough to illustrate the point.
Now, let's look at a graph I think some of you have seen before: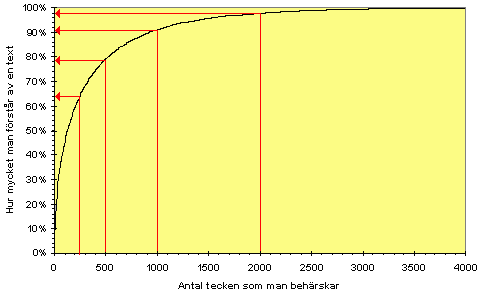 The picture is from Patrick Zein's excellent introduction to Chinese (in Swedish, sorry). On the X-axis is number of characters one knows and on the Y-axis is the expected ability to understand written Chinese, assuming that grammar and character combinations are not a problem (which they of course are, but that's not the issue here).
What does this graph tell us? Basically, it shows that if we know 3000 characters, we will very rarely come upon characters we don't know when we read normal Chinese text, provided that we know the correct 3000 characters. If you've spent lots of time learning characters that aren't within the 3000 most common, referring to this graph is meaningless. Naturally, knowing characters does not equate to being able to read either, but it is a prerequisite.
Using frequency lists to plug holes and make your foundation more solid
Going through lists of words based on frequency allows you to learn characters you should know (because they are common), but have missed because you haven't come across them yet, maybe because they aren't in your course, or it might be just a fluke you haven't stumbled upon them yet.
This means that you broaden your base, including more words that lie outside your textbook and your course, but within your general range. This provides you with a more solid foundation which you can later use to learn more words and understand spoken and written Chinese with more ease.

Suggestions and tips
After having said all this, I'd still like to say that memorising dictionaries is quite stupid.
Of course, you shouldn't just try to commit everything to memory by rote learning, you should use all the clever hacks I talk about in other articles. You use a frequency list to find commonly used words and to gain information about these words.
However, this is not enough. Here is some more advice for you:
Be careful, sometimes you just think you know what a character means because it's so common, but in fact it means something completely different when it's on its own. Check all characters carefully once. This will either allow you to find flaws in your knowledge, or, if no such flaws are found, it will increase your confidence.
Learn at least one example word and/or phrase where a given character appears, also make a note of this word in connection with the single character so that when you review it, you always see it in context. Learning words in complete isolation is bad for a number of reasons.
Don't feel forced to use the example words in the book. Some dictionaries provide examples that are quite rare. Dictionaries tend to focus on accuracy which isn't necessarily a good idea. Use HanziCraft (frequency sorting at the bottom). Pleco can also show you words a character is contained in, sorted by frequency.
If your list is sorted alphabetically, don't learn the words in alphabetical order, because it will be extremely hard to distinguish between one hundred different "shi" you learnt at the same time. A better way would be to learn the first character on every page, then the next time learn the second character on every page.
Spread it out! Even if you've studied for a while, 3000 characters will take a while to go through (100 hours in my case). I managed this by portioning it out, going through a dozen characters at a time whenever I had some time to spare.
Some final words
Conclusively, memorising dictionaries is not a very good idea in general, but I think there is some merit in studying frequency lists, thus making sure you know characters and/or words you really should know.
When I did this, I felt that the 3000 characters resulted in a quantum leap in reading comprehension. This will not take care of reading speed, complex grammar or other problems associated with reading ability, but it will enable you to understand many texts you would otherwise have been completely unable to decipher.
More importantly, it will make it a lot easier for you to learn more later, given that you now have more building blocks and tools to understand and analyse the language you are learning!
---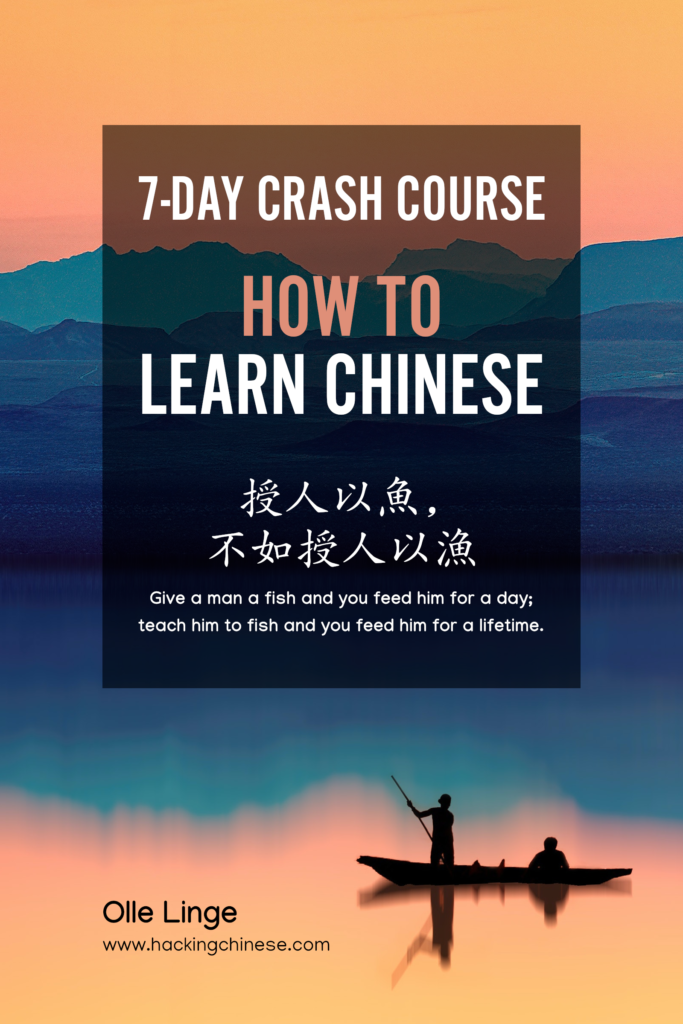 Tips and tricks for how to learn Chinese directly in your inbox
I've been learning and teaching Chinese for more than a decade. My goal is to help you find a way of learning that works for you. Sign up to my newsletter for a 7-day crash course in how to learn, as well as weekly ideas for how to improve your learning!