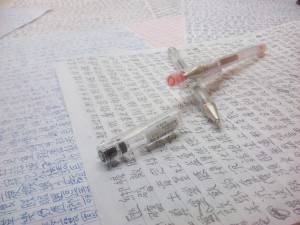 Learning Chinese characters is not easy, especially if you use the wrong method.
Even with the right method, it's a task that requires time and perseverance.
In this article, I summarise the best advice I have on how to learn Chinese characters, based on more than ten years of learning, teaching and writing about Chinese.
My best advice on how to learn Chinese characters
I have much to say when it comes to learning Chinese characters, not only because it's a complex task in itself, but also because it's handled badly in many classrooms. I have already written about most of these topics before and my goal in this article is to summarise the most important advice.
That means that I will adress most questions you might have about learning Chinese characters, but that I can't put all the details in this article because it would turn it into a book. Instead, I will provide links to further reading for those who want more.
Note: There is a lot of information here. You're not meant to read through everything from start to finish, but rather find the answers to the questions you have about learning Chinese characters.
To make it easier for you to find what you're looking for, here's an overview of the content in this article. If you're looking for something in particular, just searching on this page works too!
Before we get started though, it's worth discussing when you should learn Chinese characters. I assume that you're not only interested in the spoken language (I doubt you'd be reading this article if you were).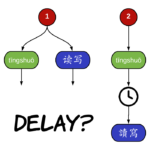 The short answer is that it makes sense to focus on the spoken language first, thus delaying learning characters. Learning characters becomes easier the more Chinese you know, but learning the sounds of the spoken language actually becomes harder the longer you wait. Read more about this in: Should you learn to speak Chinese before you learn Chinese characters?
1. Understanding Chinese characters and the Chinese writing system
In part one, we'll look at how to make sense of the Chinese writing system and understand how characters work. Understanding is important, because if research into learning tells us anything, it is that learning things that don't mean anything is hard. The worst case scenario is regarding characters as a jumble of disconnected strokes and try to learn them through mindless repetition.
1.1 Understanding the Chinese writing system
Chinese characters started out as pictures representing objects, such as trees (木), doors (门/門), the sun (日) and the moon (月). However, drawing pictures of everything we want to write is not very practical and some things are hard to draw.
One way of getting around this is to modify characters we already have, such as adding a mark to "tree" (木) to form either "root" (本) or "end; tip" (末).
Next, we can take characters we already have and combine them into new characters. For example, we can combine two bright objects "sun" (日) and "moon" (日) to form a new character meaning "bright" (明).
It's worth remembering that spoken language comes before written language, so when characters were invented, people were writing down things they already knew how to say.
So, if we in the spoken language use the word men to indicate plural for pronouns (such as turning wǒ, "I" (我,), into wǒmen, "us" (我们/們)), we can use an already existing character that is pronounced like that, such as mén, "door" (门/門). To show that we mean the plural marker and not door, we add a variant of the person for "person" (人, written ⺅here) and we get men 们/們.
Naturally, this is a simplification and the real historical process is often very complicated, but it gives you the bare minimum you need to make full use of the following advice:
1.2 Chinese words, characters, components and strokes
Now that we know that Chinese characters are composed of functional components, the next question is how to navigate this multi-layered web. The fact that it is a web is very helpful, though, because learning a few hundred building blocks and how they fit together is much easier than learning thousands of unique symbols.
Here's my best advice regarding components, characters and words in Chinese:
1.3 Finding information about Chinese characters
As we have seen, vocabulary in Chinese is a multi-layered web and there's much information you need to be able to look up when needed, although you should try to use learning methods and materials that limit the number of new characters. Here's the best advice I have to offer about how to look up information about Chinese characters:
Apart from looking up characters in general,you also need resources to move up and down the knowledge web, either zooming in to look at the building blocks or zooming out to put the character in context. Some of these resources overlap with those mentioned above, but this is a different way of sorting them and is quite useful if you need to zoom!
Zooming in: The tools you need to break down and understand Chinese characters – In order to learn efficiently, it's important that you integrate your knowledge. This means being able to break down words into characters, and characters into components. This first article goes through the tools and resources you need to do so.
Zooming out: The resources you need to put Chinese in context – In this second article, we look at tools for zooming out and putting things in context. This is an incredibly important step, especially since Chinese is very distant from English, and characters and words really need to be studied in context.
Panning: How to keep similar Chinese characters and words separate – In the third article, we look at how to pan, or in other words, how to learn about how components, characters and words relate to each other on the same level. This is necessary to keep similar components, characters and words apart, but a word of warning: don't try to learn many similar things at once; it will make it easier to mix them up. Instead, only pan when you have a problem you need to sort out (more about this later).
1.4 Variation in Chinese characters
As if learning thousands of characters weren't enough, there's also a lot of variation going on, such as that between handwriting and computer fonts, simplified and traditional characters, or just some character variants that look different in different contexts. Here's my best advice regarding how to deal with these problems and find the information you need:
2. Learning to read and write Chinese characters
In part one, we looked at how to understand the writing system and find the information you need, but that's obviously not enough, you also need to learn characters. This part is about that, starting out with what characters to learn and how to find them, then moving on to learning characters, some things you can safely skip, and then finally advice specific to writing by hand, including if this is actually something you need to learn in a modern, digital age.
2.1 Which Chinese characters and words should you learn?
This question is difficult to answer since it depends on your learning situation and how much Chinese you already know. Many formal courses also decide what characters students should learn, so if you're enrolled in one of those, you don't have much choice in the matter. If you do have a choice, though, here's my advice for how to decide what to learn:
Which words you should learn and where to find them – If you're a beginner, you need to learn around a hundred characters or so before you can read much of anything. The easiest way to do this is to rely on materials tailored to beginners in the form of textbooks. These rarely go through characters properly, but the earlier chapters in general tend to include the most important vocabulary. If you're interested in my own attempt to create the ultimate path to the first 150 characters or so, check out the character course I built for Skritter. It's not free, but it also took a long time to build. If you're not a complete beginner, you should learn characters by reading, plus characters you need to be able to communicate about things you care about.
Should you learn Chinese vocabulary from lists? Generally speaking, no. Learning vocabulary from a list someone else has created looks like a good deal because it's convenient. However, many students reduce learning Chinese to going through word lists they find online, or otherwise place an unwarranted amount of trust in the people who created these lists. So my advice from above still stands: most of the words you learn should come either from reading or from communicative needs.
Vocabulary lists that help you learn Chinese and how to use them – There are exceptions to the above advice about not relying on lists, though, and this article goes through several types of lists and discusses how to use them to your advantage. Lists discussed include: frequency lists, textbook vocabulary lists, proficiency test lists, special purpose lists and thematic lists.
Kickstart your Chinese character learning with the 100 most common radicals – I've already said that learning the very basics is one of the few cases where relying on lists makes sense. This lists presents 100 common meaning components in characters, chosen from the 214 radicals (see the article itself for a discussion about the word "radical"). You can safely learn all the components on this list because they are all super useful!
The most common Chinese words, characters and components for language learners and teachers – If you want to find frequency information for components, characters or words, this article is for you. It's a comprehensive overview of the various resources available, mostly online and freely available. This can be handy if you want to plug gaps in your vocabulary, or in other words, if you want to check if you've missed very high-frequency words that are significantly below your general level. Read more about this here: Mapping the terra incognita of Chinese vocabulary.
What important words are missing from HSK? Many people who ignore my advice above focus a lot on HSK, which is the most wide-spread proficiency test for Chinese. All lists are flawed, though, and the official test preparation lists that are so popular actually leave out a lot of words, or delay some very common ones until higher levels. This is an analysis of what important words are missing from the HSK lists. I also did the same analysis of the TOCFL lists, which is for the standard proficiency test used in Taiwan.
Overcoming the problem of having too many Chinese words to learn – All students face the problem of an ever-increase number of characters and words to learn. There is obviously no simple solution to this problem as we can't change the number of words Chinese people use, and we therefore need to learn, but you can improve your situation by changing the way you learn words, by learning fewer words, or by adding them differently in case you're using flashcards.
The Cthulhu bubble and studying Chinese – In your studies, you will encounter things that are very complex, don't make a lot of sense or sometimes both. I strongly advise that you stay away from these things, especially as a beginner. You don't have to sort out complex differences between how certain characters are used or understand the full process of how a given character came to be and evolved throughout history. This will contribute very little to your proficiency for the amount of time you invest. Don't poke the monsters from beyond the bubble!
2.2 How to learn Chinese characters
Now that you have some characters that you want to learn, how do you go about learning them? Below, I have separated the process into several steps, so this one is only about the initial learning, but as most of you probably already know, remembering and reviewing is where the real challenge is at (more about that later):
How to learn Chinese characters as a beginner – When you start learning Chinese, it's hard to know where to begin. If you were given a few characters as homework or just want to learn them for some other reason, how do you go about it? In general, you want to understand what you're doing, write the characters a few times to get a feel for it, but then space out repetitions to make learning more efficient.
Learn Chinese character meaning and pronunciation together – As we saw in part one, most characters look the way they do because of how they are pronounced. This means that you should learn meaning and pronunciation together, otherwise it's unnecessarily hard to learn phonetic series like 晴, 情, 请, 清 and so on (they all share the phonetic component 青). I'm not a fan of approaches that ignore sound for this reason.
How to not teach Chinese characters to beginners: A 12-step approach – Even though it sounds like this article would be about teaching and things you should not do, it's actually meant mostly for students and is a guide for what you should do as well (just reverse the "advice" given). You might be constrained by what your teacher thinks you ought to do, but if you're forced to do too many things mentioned here, you should look for another teacher.
2.3 Things you can safely ignore when learning Chinese characters
When you start learning Chinese, there are so many things you need to learn, some of which seem utterly useless. However, you can't rely on your beginner knowledge to determine what to learn and what to skip. For example, I will argue later in this part of the article that stroke order is actually important, which seems odd to many beginners. Here are some thing you can certainly ignore, though, even if you learn to write by hand:
Should you learn the pronunciation of radicals? This is a tricky question, because the word "radical" is problematic here. Learning the pronunciation of components that are used to give the sound in other characters is very useful (I used the example of 青 above), but most characters you find on a typical list of radicals are not very common as phonetic components. Thus, the general answer is "no", but also that it does depend on the character in question. Naturally, you need to learn how to pronounce characters that are used on their own! In my kickstart list mentioned above, I've indicated which pronunciations can be ignored by putting them in brackets.
Should you learn the names of the strokes in Chinese characters? No, not unless your focus is calligraphy. You will learn the names of the basic strokes later, but obsessing about what strokes and combinations of strokes are called is a waste of time. If your teacher writes a lot by hand in class and teaches the strokes naturally simply by saying them, fine, but I still don't think that's a wise use of classroom time. You do not need to be able to name the strokes in characters you learn, being able to write them is enough.
How to talk about Chinese characters in Chinese – So if you shouldn't learn the pronunciation of all the radicals and shouldn't learn the stroke names, how do you talk about Chinese characters in Chinese, then? After all, learning Chinese in Chinese is a good idea! Well, you gradually learn how native speakers do it and they certainly do not describe characters stroke by stroke. Instead, they use colloquial names of components and refer to parts of easier characters. This is not something you can safely ignore, I just include it here because I want to show how you can talk about Chinese characters in Chinese without violating the first two pieces of advice offered in this section!
Should you learn how to categorise characters according to 六书/六書? No, this is another example of traditional teaching methods that make little sense today. This system is very old, very complicated and adds very little to your understanding of characters that functional components don't do better and in a way that is also easier to learn. I mention this in How to not teach Chinese characters to beginners: A 12-step approach mentioned above as well.
2.4 More about learning to write Chinese characters by hand
Unlike in most other languages, learning to write in Chinese is a separate skill that requires an awful lot of time to learn. As we have seen above, Chinese characters are not an alphabet, not even close to it, so they can't be compared with the Arabic, Korean or Russian scripts.
While an alphabet can be easily maintained by reading and typing (you can probably spell almost all words you can type), this is not true in Chinese. It's perfectly possible to be able to read well in Chinese and be able to type characters, but have only limited ability to write by hand. So, is it worth it, should you learn to write Chinese characters by hand? And if you do, how should you go about it?
3 Reviewing and remembering Chinese characters
I've learnt characters for more than a decade, and as all long-time learners can testify, Chinese character knowledge is something you have to use constantly or you will forget what you have learnt. This is particularly true for handwriting, but this part is not limited to handwriting in particular, but rather the general goal of remembering what we learn.
3.1 How to not forget the Chinese characters you've learnt
The first and most obvious thing to say is that you have to review characters to remember them. This can be done in many ways, such as reading a lot, typing, using apps to review and so on, but if you don't review, you will forget most of what you have learnt.
3.2 Mnemonics and improving your memory
Memory is often seen as something fixed, so either you're born with a good one or you're stuck with bad memory for the rest of your life. But this is not true. Our ability to remember things can be trained, both in the sense that we get better at it the more we do it, but also in the sense that there are techniques and tricks that can vastly improve your ability to remember.
Some of these tricks have been known since ancient times, others have been discovered through research in cognitive science (a nice summary can be found here). Some techniques are hard to learn, but others are actually very easy!
Remembering is a skill you can learn – The most important lesson of all is that you can train your memory. This has been testified by many different people over the years, but my favourite of these come from Joshua Foer, known to most through his TED talk and his book Moonwalking with Einstein. In the linked article, I explain the basics and we try them out with a simple experiment.
Using memory aids and mnemonics to make Chinese easier – There are many techniques available and they can all be used to learn Chinese characters. This includes memory palaces, the loci method, the journey method, and, the method I use most often, simply associating meaningful concepts and images in ways that stand out in a way that makes them easy to remember later.
How to create mnemonics for general or abstract character components – In general, it's easier to remember concrete, meaningful things that can be related to what you already know in a clear way. Hence, it's easier to remember the word "Baker" if you think of an actual baker, compared to if you think of it as a surname. Some things we want to learn are abstract or hard to  pin down, so what to do? Make them concrete, because even made-up meaning is better than no meaning.
Are mnemonics too slow for Chinese learners?  One common complaint about using mnemonics for language learning is that they are too slow. However, this criticism misses the point: the role of mnemonics is as a stepping stone from not knowing to knowing. Recalling, even if slowly, is much better than not recalling. Gradually, mnemonics can be cast aside, except for handwriting characters where they remain useful even for very advanced learners.
Don't use mnemonics for everything – When introduced to the fantastic world of memory hacking and mnemonics, some people go all-in and want to use them to learn everything. However, this is not really necessary and will create a lot of extra work. Chinese is still a language, not a list of abstract things to memorise. Use mnemonics when you need to, not as the default solution to remember things you'd probably remember without them.
3.3 Practical considerations: Where and how to review
Learning Chinese characters does not take place in a vacuum, so we also need to put learning into the general context of our daily lives.
3.4 Beyond beginner: Character learning in the long term
Finally, I'd like to offer some advice for those of you who have been learning for a while now.
Conclusion
The goal of this article is to provide a handy guide for all matters related to learning Chinese characters. There are probably things I have omitted or forgotten to mention, so if you have a question that is not covered here, please leave a comment below!
Editor's note: This article, originally published in 2015, was rewritten from scratch and massively updated in February, 2021.
---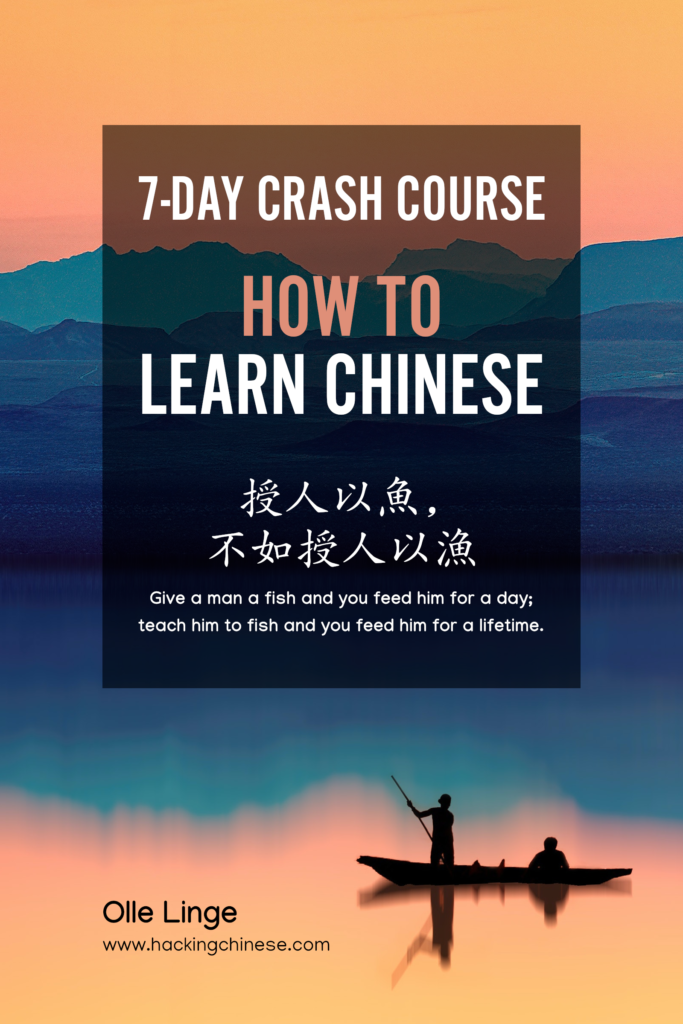 Tips and tricks for how to learn Chinese directly in your inbox
I've been learning and teaching Chinese for more than a decade. My goal is to help you find a way of learning that works for you. Sign up to my newsletter for a 7-day crash course in how to learn, as well as weekly ideas for how to improve your learning!