Drills and exercises are intimately connected to what most people associate with studying a language (rather than acquiring it through immersion). The goal of a drill is quite simple, namely to teach  you how to use something actively. I'm not a big fan of drills myself, partly because they tend to be quite boring and partly because I stress input much more than most people I know.
In our program, it seems normal to think that if the student can't use what he has been taught after the lesson, that lesson was wasted. I don't agree, but that's perhaps beside the point. This time I'm not going to bash drills and explain why I don't like them, I'm going to do the opposite and point out that they are actually quite useful if used in moderation and in the right way.
Drills are actually quite useful
The point is that various drills and exercises are very good at what they are designed to do. If you hear someone mention a word or you notice a certain pattern, you might be able to understand it next time it appears, but you're not very likely to be able to use it yourself.
You need practice to accomplish that. Just as any other skill, speaking a foreign language requires both passive knowledge and active skill, and you can only gain the latter through practice. Only practice won't do either, of course,  you can't learn much without having the proper input first.
This is very natural and most beginners spend lots of time with their textbooks and teachers, going through new words and grammar. I think many of us have done thousands of those exercises, perhaps not when learning Chines, but at least when learning other language in school. I've sure done my share with English and French! Is there really a shortage of drills in language education?
Definitely not in the standard beginner or lower intermediate setting. However, drills gradually disappear at more advanced levels. Lessons turn into seminars where language is viewed more and more as a means of communication and as long as that tool works, it's fine. The teacher still corrects the students, but mostly for written assignments.
The lack of drilling is a problem for advanced learners
This isn't bad in itself, of course, I myself prefer this kind of lesson, but it does mean that advanced learners often stop learning new ways of expressing themselves or keep learning but a reduced pace. I include myself here, because I'm definitely guilty of the same thing. I know tons of words and phrases passively, but I can only use a small fraction of these with confidence.
This isn't necessarily a problem, because I can still survive academic courses in Chinese and discuss freely in Chinese, but I do so without the variation shown by educated native speakers. Passively, I know perhaps ten ways of saying something, but I usually only use one or two. If communication is all you're after, fine, but if you want to keep improving, you need to actively explore those other ways of expressing yourself.
Massive exposure and focused practice
In order to change this, we need one of two things: truly massive exposure or focused  practice through drills. The first one is great if you have the time to invest, because if you hear and see words used enough, you will learn how to use them yourself. This is how you learnt your native language. If you think it's a kid/adult thing, remember that you learnt academic language as an adult rather than as a child. I learnt how to write formal English and Swedish without doing a single drill and the same is possible for Chinese. The problem is that it takes an awful lot of reading.
The other alternative is to focus actively on interesting words or patterns and practice until you know how to use them. This also takes time, but you do get quite a lot of value back, provided that you choose the right words or patterns. This is where it's invaluable to have a good teacher that will spot your weaknesses and do his or her best to correct them. If you normally use expression X, s/he might prompt you to use expression Y which is slightly more suitable in this situation. This is hard or impossible to accomplish on your own.
Naturally, the best approach would be to do both. However, massive input works wonders in general for all language skills and the value of the drilling you do is related to how much Chinese you read or hear, which means that if forced to choose between the two, I would definitely say that more input is better than more drilling, I'm just saying that drilling has its uses, too.
Which drills and exercises to use
There are hundreds of different kinds of exercises you can spend time with as an intermediate or advanced learner, some similar to those you've seen in textbooks and classrooms. The important thing to remember is to not lose sight of real communication, so just because you practice using a specific pattern, you can still communicate with your teacher or language exchange partner rather than merely mimic them or produce random sentences. Again, a good teacher will help you find interesting ways to use the language you have learnt.
Active skill, passive knowledge
The reason I write this article is that I feel that many advanced learners don't drill at all (I know I don't) and as a result, the different between my passive and active language gradually increases. It's only natural that there should be a big difference, but getting stuck in your intermediate ways of expressing yourself isn't very good if the rest of your Chinese ability is very advanced.
Personally, I don't consider this to me a big problem, but if I had more time to study Chinese with a teacher, I would focus on drilling important words, patterns or grammar points I understand well, but seldom use. I would also need help with pointing out where I could have said something much more suitable but didn't.
An alternative way if you have no teacher
One way of getting around the problem of having a teacher to help you is to practise in writing first. It's easy to get feedback for free online, so you can simply choose a word, pattern or grammar point, write sentences and then receive feedback from native speakers.
When you've done this, you will be able to use the words more confidently. I often feel a bit insecure with ways of expression that I have never used myself, even if I have heard them many times before. Using them in writing is perfect for people who don't feel confident enough to use every new word they've just learnt when speaking with people around them.
Of course, it will take some time before practice in writing spills over to  your spoken language, but in my experience, it usually does. However, this isn't a requirement, merely a suggestion if you want to include written language. Passive knowledge does transfer to active skill quite spontaneously over time, it's just a matter of how much time you have.
Conclusion
If you aren't taking any courses and aren't actively focusing on learning Chinese, but still use Chinese regularly and think it works quite well, you probably still have a lot left to learn. Mastering Chinese requires more than knowing one way of expressing something and even though we can get most of what we want from immersion, I do think that drilling is quite useful to activate key vocabulary, sentence patterns and grammar, even at an advanced level.
---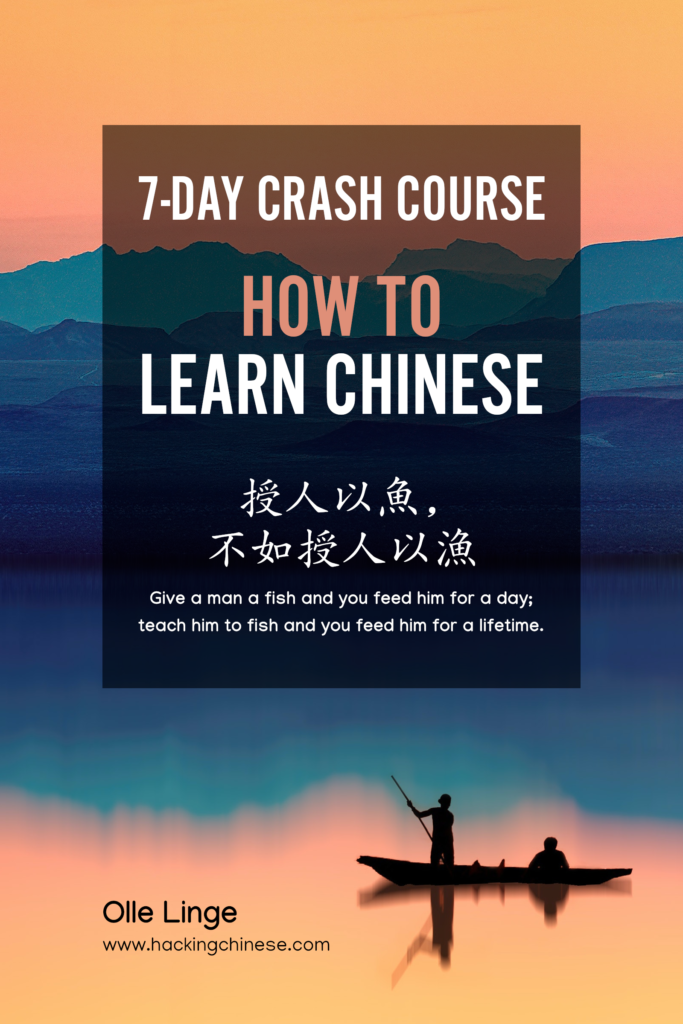 Tips and tricks for how to learn Chinese directly in your inbox
I've been learning and teaching Chinese for more than a decade. My goal is to help you find a way of learning that works for you. Sign up to my newsletter for a 7-day crash course in how to learn, as well as weekly ideas for how to improve your learning!