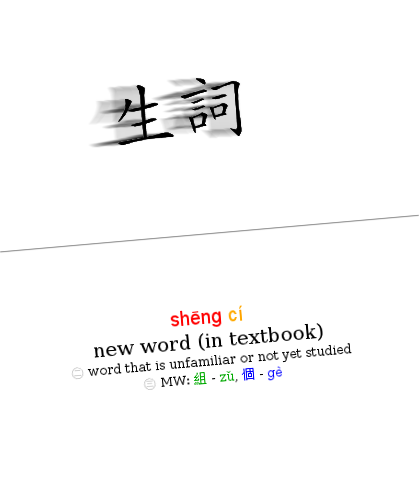 After spending three articles building up our toolkit to learn Chinese more efficiently, the time is now ripe to actually use all these to something genuinely useful. It's time to make those long-term investments pay off. Of course, as I've mentioned before, learning characters isn't a serial process, so you shouldn't wait until you've finished the earlier steps before using the method I describe in this article. Here's what you should have read already:
This means that you should know why it's important to know parts of characters as well as the meaning of individual characters. Do you feel ready? Let's continue and see how this knowledge can be employed to learn faster.
As I have argued elsewhere, remembering things isn't that difficult if you make use of these strategies:
The power of mnemonics
What I'm going to do now is to explain in more detail and through the use of examples how these principles can be used to learn words very fast. You will need to use some kind of spaced repetition software as well to make sure you remember everything. Using extensive knowledge of character components and individual characters, combined with mnemonics, I have averaged well above one thousand new words a month for long periods. This doesn't mean you have to learn that much, but you can use the same method to learn fewer words quickly. This is about efficiency (time you spend to learn each character), not about absolute numbers!
The scenario
Let's say that you want to learn five new words. They can of course be anything, but I've chosen some examples that I hope will illustrate the process clearly. The words are:
生病 = to fall ill
默契 = tacit agreement
情操 = sentiment, character
出落 = to blossom (about people)
破坏无遗 (破壞無遺) = to damage beyond repair
Perhaps you know these words already, perhaps not. For most people I've met, studying these words is a mechanical learning process where they review the words by reading them to themselves, writing them down or, in rare cases, using them in sentences. I'm going to propose a different method which is a lot more fun and a lot more effective! The best of two worlds, you might say.
The solution, step 1: Learn the parts
It should be obvious by now why you need to know what the characters mean, so I will say no more about it. Note that I don't indent to include the complete meaning of all the characters, simply the bits I find useful. Learn different meaning for a single character as you go along.
生病 – 生 "life; to be born, to grow" + 病 "disease; to be ill"
默契 – 默 "silent" + 契 "contract"
情操 – 情 "feelings" + 操 "to manage, to operate"
出落 – 出 "to produce, to exit; out" + 落 "to fall"
破坏无遗 – 破坏 "to break" + 无遗 "completely, thoroughly, nothing left"
The solution, step 2: Link the parts together
Now it's time to connect the parts in a way that will make sure you remember them and what they mean together. For more general guidelines about this, please refer to the article about mnemonics (again). Here I will merely give three somewhat different applications:
生病 – This is a fairly straightforward case, because it's easy to see the connection between the words. To have "disease" "born" within you is quite obviously the same thing as being ill. To make the picture more vivid, think of the illness as an embryo that enters your body and then slowly grows into an illness. It's something "born" in you, a "living" creature. If you exaggerate, you can create a fairly scary mnemonic!
默契 – Still quite direct, but perhaps not obvious. If you're going to cooperate with someone (such as in a ball game), you need to have a "contract" which dictates who should do what and when. This is not something you can talk about when you're playing basketball, it needs to be "silent" and based on mutual agreement between the two of you. I have the picture of two people looking at each other, nodding knowingly as if they know a secret we don't know. In the air above them hangs a signed contract, antique scroll style.
情操 – Now it starts getting a bit tricky. How can we turn "feelings" and "to operate, to manage" into a good mnemonic? I did it by looking at the various kinds of concepts covered by the word 情操, which appears in words such as "religious sentiment", "of high moral character" and "feelings of nationalism".  I think of a grey-haired accountant in a grey suit sitting in an empty office, managing his "feelings" and "sentiments". He has a certain quantity of "sentiment" and he looks dejected, because he can't figure out how to foster religious, nationalistic and moral sentiments all at the same time.
出落 – For this one, I've come up with an exaggeration that might also be a bit immodest (the best kind of mnemonic, even though I seldom tell others about them!). The word means "to blossom" as in a young girl becoming a young, beautiful woman. You don't need too much imagination here to imagine what happens to a woman's body as she matures and what "producing" body parts might stand "out" so much that they spill over and "fall". Do you think you will remember this word next week, even if you don't review?
破坏无遗 – Most idioms are quite easy to remember if you know the characters they consist of. Sometimes, there is a real story behind the idiom that you can learn, but you don't have to do that. In this case, the connection is obvious. Something or someplace is so "broken" that there is nothing left. 无 and 遗 means "not" and "bequeath", so there is nothing left to bequeath to anyone. Actually, 无遗 means "nothing left" if used separately as well. This is not enough, however, you need something stronger. I think of an old family mansion on a small island in a beautiful lake. The problem is that the house has been bombed to bits and the child who should have inherited the place stands forlorn, looking at the ruins where "nothing is left".
The solution step 3: Strengthen or replace weak links
If you do this with words you encounter, it might take you a while to come up with stories like those I've described above. This will become easier with practice. In fact, it will be second-nature to you after a while and then you don't have to worry about it, provided that you know the parts well enough!
However, nobody's perfect and you will forget some of the words. That's because the links you created using words and characters you already knew weren't strong enough. If you find yourself forgetting a word, you need to go back and review your mnemonic. Perhaps you can make it more exaggerated, funny, embarrassing or anything else that will make it easy to remember. Sometimes you have to start from scratch and create an entirely new mnemonic, but that's okay. Coming up with good mnemonics is a skill that requires practice.
Speeeeed!
When you become adept at creating mnemonics quickly, you will find that you don't even have to do it consciously, you simply look at a word, think about how the characters relate to each other and you're done! Of course, it will take you a while to develop this ability and it doesn't always go that easy. This skill is useful for learning everything, not only Chinese!
To give you an example, in early 2011, I conducted a small and very unscientific experiment to see how well this method works for learning vocabulary. Naturally, I've been using similar methods almost from the start, but I decided to test the limits. Going through the vocabulary list to an advanced level proficiency test, I found there were around 2000 words I didn't know. It took me little more than three hours a day for five days to go through that list, averaging about 400 words per day, 135 words per hour or just over two words per minute. Using spaced repetition software, I was able to retain about 95% of these words, spending another ten hours over the following weeks. This doesn't mean that I could use all these words properly, though, and learning words is of course only one part of language learning.
I don't say all this to boast, I say this because I'm convinced that it's possible for most people to do this (or something similar) given that you have made the proper preparations. Naturally, building up an extensive knowledge about individual characters and character parts takes quite a long time, but don't give up, because every singe time you practise, you will get better at it.
Maintaining characters and words

Naturally, learning characters and words isn't enough, you need to be able to remember them for a long time and access them quickly. The first problem is most easily solved by spaced repetition software (such as Skritter, which is geared towards writing characters) and the second problem by actually using Chinese as much as possible.
Good luck!
---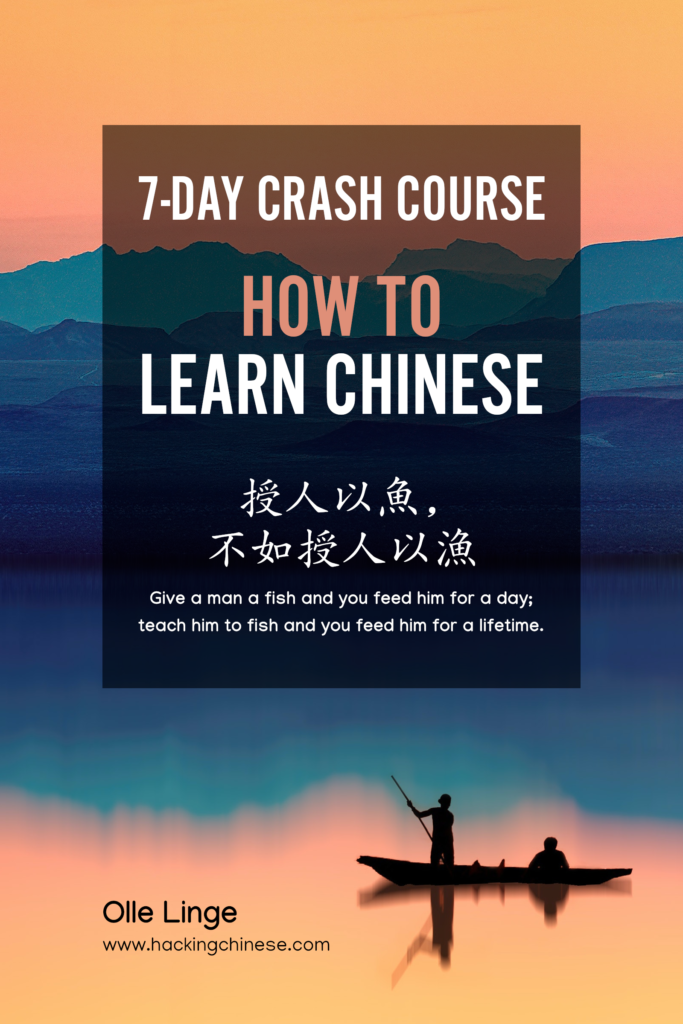 Tips and tricks for how to learn Chinese directly in your inbox
I've been learning and teaching Chinese for more than a decade. My goal is to help you find a way of learning that works for you. Sign up to my newsletter for a 7-day crash course in how to learn, as well as weekly ideas for how to improve your learning!