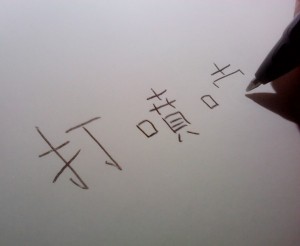 My first semester at the Graduate Institute for Teaching Chinese a Second Language here at NTNU in Taipei, Taiwan is coming to a close. For the past two years, my long-term goal for learning Chinese has been to survive a program like this, taught in Chinese mainly for native speakers. Entering the program, some question marks remained, and even though this post won't be about my first semester here (I will write about that later), I will talk about one of those question marks: Writing Chinese characters (by hand).
Although this program is report and paper heavy, it still has several in-class exams which require handwriting skills good enough to put down in writing whatever I've learnt throughout the semester. This means that I've spent some serious time learning to write characters and that I have re-examined the entire process of learning to write by hand. The conclusion I present here is the result of around five years of learning characters:
You can't learn to write Chinese characters by rote

Note: If you want to skip the background, click here to scroll down.
This needs some clarifications. First, when I say "you", I mean an adult who is learning Chinese as a second language. I can already hear people say "but how do native speakers do it, they don't use fancy mnemonics?" I'm going to reply to this with another question: Do you know how long it takes for native speakers to learn how to write Chinese? We're talking about at least a dozen years, filled with more writing-heavy homework than most Westerners can imagine. It should also be mentioned that it's not uncommon even for educated native speakers to forget how to write some characters they really should know how to write.
Therefore, looking at what native speakers do to learn Chinese characters is completely irrelevant for us. It's simply not on the menu unless you want to spend the rest of your life acquiring what is actually possible to achieve in a few years if you do it correctly. So, in future, anytime you see a comparison between native speaking children and adult foreigners, you should be very, very cautious, because the upcoming conclusion is probably useless. We are neither children nor native speakers. Our study methods should reflect this fact.
Handwriting from the adult foreigners point of view
As some of you might know, I wrote an article about the importance of handwriting in November and concluded that it is important up to a point, but usually not a goal in itself. Regardless of why we want to be able to write by hand (everybody should learn at least the most common one thousand characters or so), it's essential that we use methods that actually yield long-term results. What I see most students do is short-term oriented studying which might get you past the next exam, but it will not enable you to actually learn the characters. Some people aim for the medium term using SRS. This is good, but it's not good enough. This is what this article is about.
Using SRS is essential, but it's far from enough
I'm usually very positive about using spaced repetition software to learn languages, even though I did write an article earlier this month about the dangers of relying too much on SRS. Learning to write characters is perhaps one of the best examples of how good SRS is. Let me explain why before I move on to the really important bit, i.e. why this isn't enough.
Spaced repetition software allows us to review things in a structured manner, making sure that we remember what we have learnt (or at least 90% of it). However, if we review these things in our daily lives, we don't really need SRS to achieve that. For instance, if you live in China, you don't need SRS to learn everyday words, because you hear them all the time. This is natural spaced repetition and it works very well. The same is true if you rely on very high volumes of listening and reading. In short, this is why massive input can mostly replace SRS.
Handwriting requires special attention

Handwriting is unique because even living in an immersion environment typically doesn't require us to write anywhere near the amounts we need to acquire handwriting by rote. Since we aren't actually required to write enough (your occasional tests and exams aren't enough unless they are very broad indeed), SRS is the best way to solve this problem. It helps us space the reviews in an efficient manner and we keep the actual writing to a minimum while still retaining most characters. However…

Just relying on SRS to learn to write characters isn't enough either
This is what I have fully realised this semester. I have seen the light. Using SRS to learn characters is very good in the medium term (let's say a week up to a year), but it's completely useless in the long term. Learning to recognise characters is one thing, but learning to produce them is another kettle of fish altogether. I've said before that SRS shouldn't be rote learning, but I realise now that that article was naive.
This is how most  people use SRS (including myself sometimes):
Use a program to review characters
When failing a character, hit "again", "next" or "didn't know"
Repeat the failed character until it sticks
This is what most people do.
This is rote learning.
This is madness in a long-term perspective.
Trying to brute force characters into your long-term memory this way is not going to work. When the intervals get longer than a year and you don't write the character by hand in other situations (which you're unlikely to do), you will forget it again. And again. And again.
It's incredibly hard to learn something meaningless
The reason we forget characters is that we try to passively cram meaningless data into our brains instead of actively processing the what we try to learn and making it meaningful. We usually fail to learn either because the components (characters or words) are meaningless to us or because the connections between them are too weak. In short, we need:
Learning by rote is possible if we repeat things often enough. I have no mnemonic for 你 or 是, because I've written those characters more than a thousand times and I'm not likely to forget them. This is only true for the most common characters, though, the rest you will forget sooner or later if you don't make learning active and meaningful. It's a harsh lesson, but I think it's true. Let me repeat that:
If you, when failing a review don't spend time to actively study the card you just failed and instead merely rely on repetition to learn what you have forgotten, you will forget again. Actively processing characters and making them meaningful is not just a good method, it's the only method.

Towards more sensible character writing
Next week, which is also next year, I'm going to launch a challenge. I'm going to try to start a revolution in character writing for adult students. It's going to mean big changes for some people, but I really think this is essential and I hope people are willing to join.
In short, I will do everything in my power to convert as many of you as possible to a way of learning characters that actually makes sense, that will enable you to learn Chinese, not just for the test next month, but for life.
These articles have subsequently been published about sensible character learning:
More about spaced repetition on Hacking Chinese
---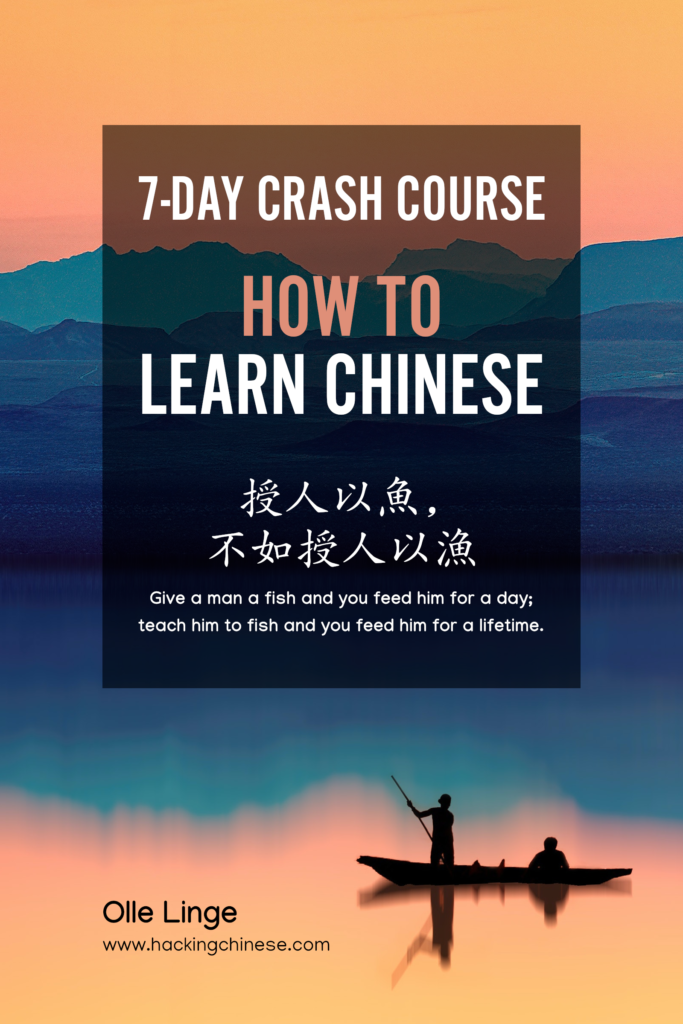 Tips and tricks for how to learn Chinese directly in your inbox
I've been learning and teaching Chinese for more than a decade. My goal is to help you find a way of learning that works for you. Sign up to my newsletter for a 7-day crash course in how to learn, as well as weekly ideas for how to improve your learning!