Ever since I started learning Chinese, I've heard people say that if I want to impress native speakers and show that I really know Chinese, the key is to learn chengyu (成语/成語). They are often presented as magic keys not only to the Chinese language, but also to the culture, the people, the philosophy and so on.
However, this approach has always irked me. The way chengyu are presented and taught is, in my opinion, flawed. In this article, I will share my own experience of chengyu and how I think they should be approached, both from a student's and a teacher's perspective. In case you're not sure what a chengyu is, please read the article on Wikipedia.
My own experience of learning chengyu
Let's look at a typical case (myself): Having heard that these idioms are the pinnacle of the Chinese language, as a student I want to learn as many as possible. I also find the stories behind the idioms interesting and there are lots of books written in English to explain these stories and the idioms they have created. When I try to use the idioms with native speakers, they are typically overjoyed that a foreigner has learnt these supposedly very hard phrases.
Then, after having learnt Chinese for many years, I figured out that most of this was wrong. Most of the chengyu I learnt were actually not that important and had a very limited usage (see below). When native speakers said it was cool that I used chengyu, it was more in a "oh, look, the foreigner is trying to use chengyu, how cute!" way. I don't think I used many of those idioms in a correct way. I still don't. Chengyu are much trickier than most students (and teachers) think.
For example, let me tell you about a little game I play when writing articles. I have a fairly good passive grasp of chengyu, so when I write articles, I often have an idea that there should be a chengyu that would fit in a particular sentence. I've come to see article writing as a boxing match: it's me versus the idioms. When I use an idiom correctly, I score one point, when I use an idiom incorrectly or in a awkward way (as pointed out by a reliable native speaker), chengyu scores one point. I almost always lose. This is after having studied Chinese for many years and focusing quite a lot on writing.
In essence, I have three things to say about chengyu:
Chengyu have a more limited use than you might think

Always learn chengyu with a sentence

You don't actually need chengyu
Chengyu have a more limited use than you might think

The first thing you should know about chengyu is that they typically express a very specific concept. This concept is usually much narrower than the English definitions you will see next to it in a dictionary. Of course, this isn't true for all chengyu; some even have very close counterparts in English (see this article on World of Chinese), but it is true in most cases.
If you have fully grasped the story behind the chengyu and its meaning, you might still get it wrong, because modern usage isn't necessarily the same as it once was or native speakers interpret the story differently from you. You also need to grasp how the chengyu is used in a sentence. Is it used as a verb? A phrase perhaps? Both? Or it might just be the case that native speakers don't use that chengyu very much at all.
If we take normal words and experiment by expanding their use to areas which we haven't really encountered them in before, we will sometimes find that they work in this new context as well, sometimes we'll find that they don't. Through a mixture of negative and positive feedback, we slowly grasp how the words are used. When you experiment with words, you'll be right a fair number of times, with chengyu, you will almost always be wrong.
The following drawing is a rough representation of what's going on. The green circles represent correct usage and the white circles represent the learners understanding of that usage. If the circles overlap completely, the word or phrase has been mastered. As we can see, the process of learning words is mostly about adjusting the circles so that they match (of course, the size should vary too, but that would make the drawing very messy). For chengyu, though, the most significant difference between the circles is the size. Chengyu usually have a much more narrow usage than learners think.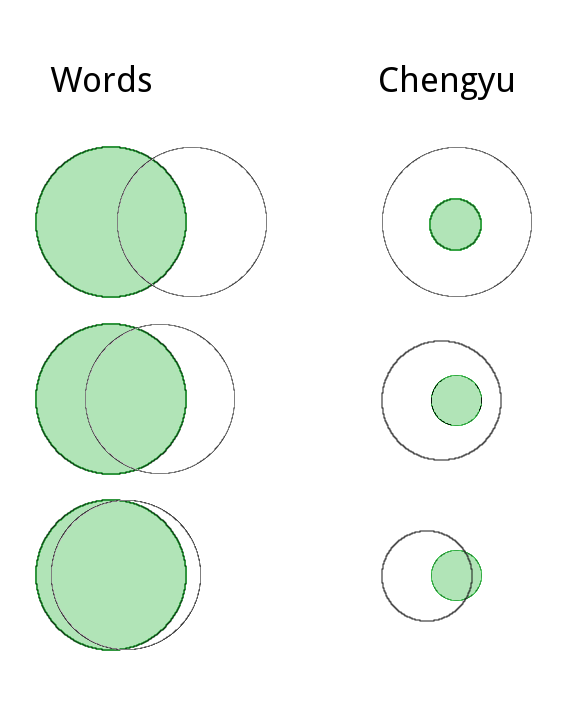 This leads me up to the second point.
Always learn chengyu with a sentence

The biggest mistake students (including myself) make is that they treat chengyu as normal words, which isn't a good approach. Instead, learn each chengyu in a specific context. I don't mean that you should just add an example sentence, I mean that you should learn the example sentence and the chengyu as one unit. Of course, the sentence should be a typical sentence that shows the way the chengyu is typically used.
In fact, some chengyu are only used to describe one specific thing, so if you know that one sentence, you've covered most of the uses of that chengyu! In other words, you should start from a very small circle and then slowly expand that if you find other examples of how that chengyu is used, rather than drawing a big circles and then gradually shrinking it. This will of course mean that you will use chengyu less, but you will at the same time avoid using them incorrectly most of the time.
My normal approach doesn't work very well for chengyu
I've learnt most of my Chinese this way:
Learn to understand something
Read and listen a lot, pay attention
Experiment and learn how to use what I already understand
This has worked very well for learning Chinese in general and I think it's a great method, provided that you spend enough time doing 2), which is where most people fail.
Still, with hindsight, I realise that this method is horrible for chengyu. Yes, I can understand most of the idioms I encounter when reading, but I suck at using chengyu. This is because I thought of them as flexible building blocks rather than fixed expressions used to convey a very specific meaning.
You don't actually need chengyu; they aren't magic keys to anything

Chengyu are cool. I like the stories and I like the culture I gain access to through the stories, but saying that you have to be able to use lots of chengyu to get good at Chinese is simply wrong. Do you have to understand chengyu? Yes. Do you have to be able to use them? Not really. It's perfectly possible to speak Chinese extremely well without using too many chengyu.
Your normal vocabulary, grammar and pronunciation matters much more than if you throw in a chengyu here and there. And remember, if you throw one in the wrong idiom, you'll just show that you actually don't know that much. As a beginner, it's cool to be the cute foreigner doing his best, but that's not so cool when you're trying to grow up in Chinese and become an adult speaker.
Of course, if you're Chinese is so good that it starts approaching an educated native speaker, you really have to start using chengyu correctly to really show your mastery of the language. You also can't escape some common chengyus, both written and spoken. That's not what I'm talking about here, I'm talking about the thousands of chengyu that pop up in books, articles and so on. Understand them, study them if you like, but do so because you're interested and because you like it, not in a vain attempt to show off, because you're most likely to shoot yourself in the foot.
If you don't love chengyu, I suggest you learn the most common ones, especially those that can be used in a large variety of situations. The general rules is that if you hear a chengyu three times in different situations, it's probably worth learning. An alternative is to check this article by Carl Fordham, who has gathered 20 chengyu that are actually useful. Never learn chengyu from huge lists you find on the internet.
A question of efficiency
The real reason I think people focus too much on chengyu is that the effort it takes to learn to use a chengyu is several times greater than the effort required to learn most normal words. Thus, you get much more value for the time you invest if you focus on high-frequency chengyu only and leave the rest for later. I'm not saying it's bad to learn chengyu, I'm just saying that its not the best way to invest your time.
---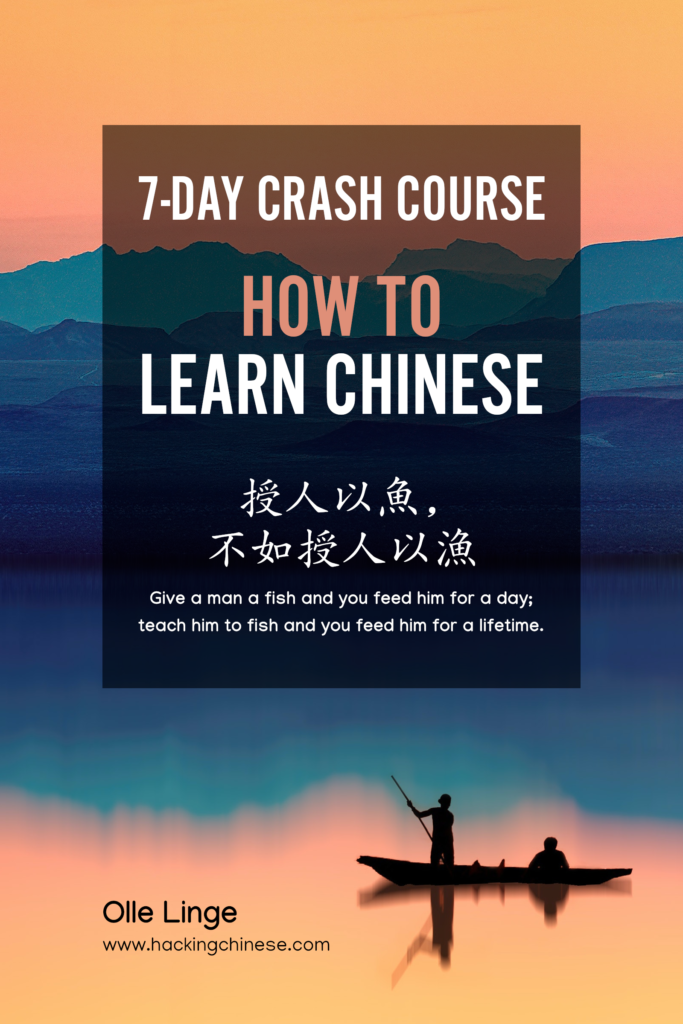 Tips and tricks for how to learn Chinese directly in your inbox
I've been learning and teaching Chinese for more than a decade. My goal is to help you find a way of learning that works for you. Sign up to my newsletter for a 7-day crash course in how to learn, as well as weekly ideas for how to improve your learning!