I have written a fair number of articles praising the usefulness of mnemonics, but now it's time to look at some misuses and limitations. Before we look at that, however, I'd like to mention that this article is part of a series of articles related to the sensible character learning challenged (it's still open, join if you haven't already!):
Even if we only include things actually present in the modern day form, to really learn a Chinese character, we need to store large amounts of information:
What the character means
Any additional meanings
What the components mean
How the components are written
How they are positioned in relation to each other
How it's pronounced: Initial
How it's pronounced: Final
How it's pronounced: Tone
Other pronunciations (initial, final, tone)
Yes, you could design a system to handle all the sounds and tones of Chinese and encode them in a smart way and use mnemonics to learn pronunciation of every character. Yes, you can include every brush stroke into your mnemonics (I don't actually know how this would be done, but I'm sure it could). Yes, you can include common meanings and usage in the mnemonic, too.
But you'd be wasting your time. This mnemonic would need a memory palace of its own (it's not going to be just a single picture/concept). Considering what a monster it would be, it would probably occupy the entire dungeon of that palace. In short, it's not worth it. It's too hard and takes too much time. It's also completely unnecessary.
So, what's the alternative?
The obvious solution is to use mnemonics on a need-to basis:
If you forget the tone, use mnemonics to remember the tone
If you forget the components, use mnemonics to make them stick
If you forget the meaning, use mnemonics to figure that out
I've written about how to do this earlier, so I won't repeat that again. The important thing here is to realise this:
If you don't forget the tone, don't create a mnemonic for it
If you don't forget the components, don't use mnemonics to make them stick
If you don't forget the meaning, don't create a mnemonic to take care of that
When a mnemonic for pronunciation is overkill
For instance, when it comes to pronunciation, three are lots of clues hidden in the character and if you know where to look, you don't really need mnemonics in many cases. This requires you to be familiar with some common phonetic components but since they are… well… common, this isn't a problem. I'm planning a separate article about this, but for now, consider these characters: 碟,諜,喋,牒,堞,蝶,蹀,鰈. They all mean completely different things, but they are all pronounced "dié". All of them. This is because they share the same phonetic component.
Of course, this is a convenient example, but the truth is that more than 80% of all Chinese characters are created this way. Sure, it's not necessarily exactly the same, it might have a different tone (氧/洋, yǎng/yáng), initial (湯/傷, tāng/shāng) or final (踉/浪, liàng/làng) or any combination of these, but these are still incredibly valuable clues.
When a mnemonic for character components is overkill
Regarding character components, there are many cases where we don't actually need to be very specific, because our knowledge of the structure of Chinese characters rules out most possible combinations.
If you're creating a mnemonic for 洋, you don't need a mnemonic to know that water goes on the left and the sheep on the right. Three drops of water almost always goes on the left and most phonetic components go on the right. In these cases, mnemonics are just there to help you get started, the rest you can easily figure out.
For instance, my mnemonic for 昏 is based on the real etymology (sun 日 setting into the ground 氐 becomes "dusk"), but note that the modern form lacks the bottom stroke in 氐 , which turns it into 氏. I don't need a mnemonic for this, because there's no way I would add that extra stroke by accident. I need the mnemonic to remember the components, not every single stroke and where it should go.
To each his own
All these things are highly individual and depend on individual strengths and weaknesses, our knowledge of the structure of Chinese characters and many other factors. What I don't need a mnemonic for, you might; what you don't need a mnemonic for, I do. And so on.
The point is that you don't do more than is necessary. If you want to kill a chicken, don't nuke it. It's unnecessary and you might run out of nukes for when you really need them.
---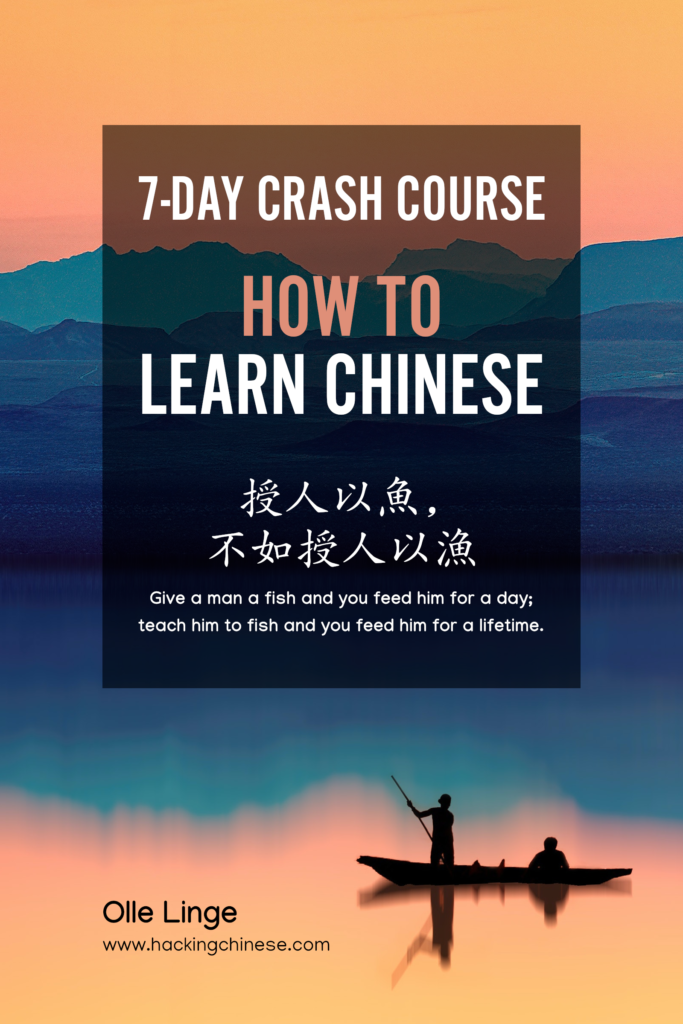 Tips and tricks for how to learn Chinese directly in your inbox
I've been learning and teaching Chinese for more than a decade. My goal is to help you find a way of learning that works for you. Sign up to my newsletter for a 7-day crash course in how to learn, as well as weekly ideas for how to improve your learning!