I remember learning to write Chinese characters for the first time. It was difficult to get the strokes in the right place, the components in the right proportions and so on.
The model characters looked very neat, but mine looked horribly disfigured. As if that wasn't difficult enough, the teacher also had the nerve to insist that I should write all those strokes in a certain order and direction!
It felt like a cruel joke. Aren't there enough things to memorise as a beginner? Is it really necessary to learn the proper stroke order for writing Chinese characters?
In this article, I will discuss this question, which is often asked by beginners. With a decade and half of experience with learning and teaching the language, the answer seems clear to me now, but since no one explained it to me properly when I was a beginner, I'm going to explain why learning stroke order really is necessary.
Tune in to the Hacking Chinese Podcast to listen to the related episode:

Available on Apple Podcasts, Google Podcast, Overcast, Spotify and many other platforms!
The short answer: Yes, you need to learn stroke order
If you came here to find good arguments to convince your teacher to let you off the hook in terms of correct stroke order, I'm afraid I have to make you disappointed. However, instead of just forcing you to learn stroke order, which is what many teachers do, let's see if I can convince you that learning stroke order is good, indeed necessary.
First, let's compare with English. Even though we don't use complex characters to write our alphabet, the writing process is largely the same. We're all humans with the same anatomy, writing is a very specific task and there are certain principles that just make sense.
General principles for stroke order for Chinese characters
Some general principles include writing strokes from top to bottom and from left to right. The first one, from top to bottom, is easy to understand from a practical point of view; it's simply much easier to accurately pull your hand towards you than it is to push it away. When it comes to stroke direction, this matters! You'll rarely find vertical strokes written from bottom to top in any script, unless as part of a more complex character (such as the right leg of the letter "v"). Likewise, when it comes to stroke order, I don't think I've seen anybody write capital "E" with a vertical stroke and then the three horizontal strokes starting from the bottom. Top to bottom makes more sense.
The second principle, from left to right, is maybe less universal, considering that many scripts are written from right to left. Chinese was originally written from top to bottom in columns rather than horizontally, but the strokes within each character are generally written from left to right. This is true when writing the Latin alphabet as well: few people write capital "H" from right to left.
In other words, other languages written with our alphabet have stroke order rules too, it's just that you don't think of them as such because you internalised them at a young age. If your native language doesn't use the Latin alphabet, it probably has other rules that follow the same principles!
Writing, not drawing; Chinese characters are not pictures!
I think the reason many beginners feel that stroke order is not very important even though their teachers (including me) insist that it is, might be because they tend to think of Chinese characters as pictures rather than written symbols. I don't mean pictures as in pictographs, I mean pictures as something you draw, as opposed to a written symbol, which you write. A picture is something that depicts something, maybe an object such as a tree. If you ask a hundred people to draw a simple picture of a tree, you'll get a hundred different results. There is no correct way of drawing a tree and anything you fancy works. If If you ask a hundred Chinese people to write the character for tree (木, which started out as a picture of a tree), the results will be much more similar. Writing must follow certain standards, otherwise other people will find it hard to understand.
The faster you start thinking of characters as writing rather than drawing the better. Obviously, stroke order doesn't matter when drawing, but when writing, it does matter because you want to write in a way that is both efficient for you as a writer and as a tool for communication.
More reasons for caring about stroke order for Chinese characters
If we disregard ease of writing for a moment, there are still additional reasons why learning proper stroke order is important.
First, stroke order matters because if you internalise the wrong principles, your writing will be harder to read. Sure, if you write perfect characters, one stroke at a time in whatever order and direction you prefer, there will be no problem when it comes to communicating; everyone will be able to read what you write. But that will be very slow, and soon you'll start taking shortcuts, perhaps even joining strokes together. With the right stroke order, people will still be able to read what you write with ease, because native speakers do that all the time, but if you join the wrong strokes, it can be difficult or impossible. Imagine if someone invented their own cursive writing in English and joined together the strokes of the letters in completely new ways!
Second, the reverse is also true: when you read someone else's handwriting, it will be hard to understand if you are clueless about stroke order. New shapes will pop up all over the place and you won't know what they represent because joining strokes like that doesn't make sense according to how you write. I wrote more about this in the article Learning to read handwritten Chinese.
Finally, digital handwriting input requires correct stroke order. Most input systems aren't based on pattern recognition performed on the final result, but includes information such as stroke order and direction to help pinpoint the right characters. If you mess up the stroke order, you will find that the software fails to identify the right character for you, or at least that you need to write very carefully to get it right.
When stroke order actually doesn't matter
That being said, there are plenty of cases where stroke order doesn't matter that much, especially when there are more than one common way among native speakers to write a specific character. If you think all native speakers write exactly the same way, you're mistaken! That doesn't mean you should invent your own stroke order, it just means that it doesn't really matter which standard you follow.
For example, take the vertical squeezed version of 心, "heart" which is written like this 忄. Do you write the dots/wings first, or do you write it from left to right? It doesn't really matter. The standard for traditional characters in Taiwan is to write this radical from left to right, so dot, vertical stroke, dot. The mainland standard is to write the dots first, then the vertical stroke. Both make sense.
A more obscure difference might be how the character 里 is written, including many compounds and similar-looking character parts. In mainland standard, the last three strokes are: vertical, horizontal, horizontal. In Taiwan, the standard prescribes horizontal, vertical, horizontal.
This kind of variation is common when several stroke order rules conflict with each other and which version you write doesn't really matter. Similarly, if someone says your textbook/teacher is wrong and that you should write something in a different order, feel free to ignore their advice. If you really care about being correct according to official standards, you can look them up here:
All the resources you need to learn and teach Chinese stroke order
Finally, it's more important that you get the stroke order within components right, and not so important which components you write first. For example, the correct way of writing characters with 辶 is to write the other component first, then finish with 辶. So if you want to write 这, you write 文, then 辶 underneath. However, while there's no reason to disregard this, doing so wouldn't cause as much trouble as ignore stroke order within components.
Conclusion: Stroke order for Chinese characters matters; learn it!
So, the conclusion is that you should learn proper stroke order from the start. If you do, you will quickly internalise the rules and you won't need to think too much about it most of the time. Your handwriting will improve as you write more. If you write a lot and care about handwriting, you will be able to read and write characters smoothly and with good results.
If you ignore stroke order, you're stuck in the "drawing pictures" phase and no matter how much you practise, it will be hard to achieve both smooth and legible handwriting. Invest a little bit of energy every time you learn a new character to check the proper stroke order and save yourself a ton of trouble later!
One of the best ways to internalise stroke order is to use a tool like Skritter, which makes sure you write every single character in the right order and even prompts you if you do it incorrectly. Doing this from the start makes sure you internalise the rules properly!
A related question: Do you really need to write by hand?
Something I haven't covered in this article is if you really need to learn to write characters by hand at all. For most people enrolled in Chinese courses, handwriting is a requirement, but if your situation is more flexible, you should consider this question seriously. Read more about that here:
https://www.hackingchinese.com/is-it-necessary-to-learn-to-write-chinese-characters-by-hand/
---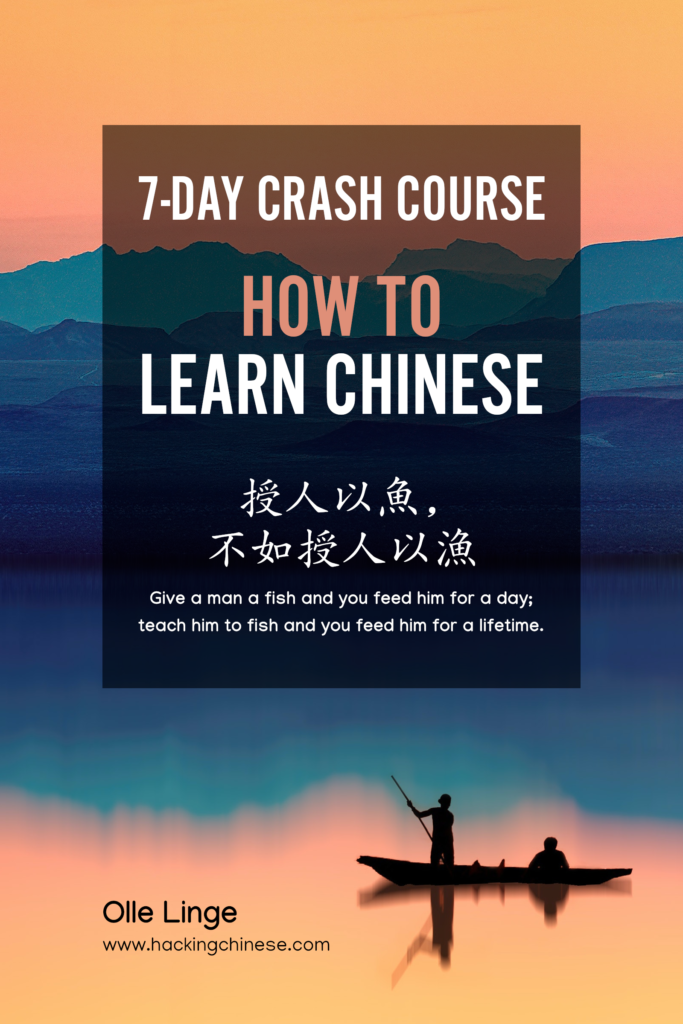 Tips and tricks for how to learn Chinese directly in your inbox
I've been learning and teaching Chinese for more than a decade. My goal is to help you find a way of learning that works for you. Sign up to my newsletter for a 7-day crash course in how to learn, as well as weekly ideas for how to improve your learning!