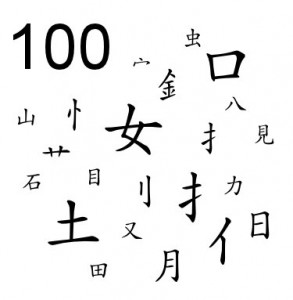 This is the third year I teach the introduction course in Chinese at Linköping University here in Sweden. Each time I've taught this course, I've felt the lack of a beginner-friendly radical list. I often tell students that learning character components is essential, that it's a long-term investment that will pay off several times over the course of their Chinese studies. I then show them some of the most common radicals. But then what? Beginners often find it hard to distinguish which parts are common and which aren't. Sure, you can use the "if you see it more than twice, learn it" rule, but that's not terribly helpful.
Filling a gap
Curiously, I have been unable to find a good list of the most common radicals. Before you post a comment telling me that there are many, hear me out. If you don't want to here me out and just want the list, click here to scroll down.
Most importantly, all lists sorted on frequency that I have seen (such as the article on the Kangxi radicals on Wikipedia) are based on data from a very large volume of characters. If you base such a list on the 50 000 characters in the Kangxi dictionary, you will end up believing that 鸟/鳥(bird) is one of the most common radicals. It's not. If you only take the most commonly used 2000 characters into account, it only occurs nine times. That means it doesn't even make the top 100. Thus, most of the 750 occurrences of this character in the Kangxi dictionary are not common characters. Other lists I've found are based on the 8000 most commonly used characters, which is much more useful, but still not suited for beginners.
The most common radicals among the most common characters
The list I have compiled is based on the frequency of the radicals among the 2000 most commonly used characters. This means that all these radicals are essential. Almost all occur in at least ten characters, most of them in much more than that. This means that as a beginner, you can learn all the radicals in this list without fearing that you're learning things that actually aren't that common. It's meant to be a solid foundation on which to build. The alternative is to learn all the radicals, but some of them are very rare indeed.
The list I have compiled is available both as a tab-delimited text file and as a shared deck in Anki (available here), download whichever version suits your needs.
The 100 most common radicals in .anki format (this is the old Anki format, if you're using a new version of Anki, you can just use this link, if you want better formatting of the cards, please refer to this text file, created by Gregory)
The 100 most common radicals in .txt format (for use in other programs or for easy editing or viewing, change character encoding if it doesn't show properly; in Firefox, do View >> Character encoding, in Internet Explorer, right click and the Encoding, this should be set to Unicode)
These are the columns used in the list:
Simplified – This shows the simplified version of the radical as it appears in most characters.
Traditional – This shows the traditional character as it appears in most characters.
Variants – This shows other common variants of the same radical or the original character.
Meaning – This is the basic meaning(s) of the radical in English.
Pronunciation -Pinyin. If written in parentheses, it is not among the most common 2000.
Examples -Five examples chosen from the 2000 most common (simplified) characters.
Comment – My notes for the radical with extra clarification and warnings about similar radicals.
Colloquial name – The name Chinese people use to refer to the radical. Beginners can ignore this.
How to use the list
As a beginner, you can use the list to boost your understanding of Chinese characters. Learning these 100 fairly simple characters will enable you to recognise parts of almost any character you will encounter. Of course, you won't recognise all parts of every character, but it is a good start.
If you want a good tool to learn characters in general, I suggest using Skritter. It's the only tool that gives you instructive feedback and requires you to write correct characters. It also uses spaced repetition, making learning characters much more efficient. If you want to study the list on Skritter, go to user-made lists, search for "Hackingchinese.com" and choose simplified or traditional characters.
As a teacher, you can use this list (or a section of it) to introduce students to radicals. You can also provide as extra material for students who want to learn more than what is offered on the curriculum. Even if you don't teach all the radicals yourself, you should at least make it easy for people who wish to do so.
Kickstarting your understanding of Chinese characters

Chinese is a wonderful language to learn, partly because it can be hacked very efficiently. Learning Chinese characters by pure rote takes huge amounts of time, but learning basic components (such as those in this list), you can make learning characters both meaningful and fun. Instead of simply writing a character over and over, take a close look at the parts and find creative ways of linking them together.
I have written more about how to use mnemonics to learn characters and words elsewhere, check these articles:
Future development
This list isn't perfect. In essence, there are two things I would like to do, but don't have the time to do right now. First, even though this list is weighted according to character frequency (I only looked at the 2000 most common), it's not properly done. The best solution would be to look at each character among the 2000 most common and assign each character a frequency. This number would then be taken into consideration when determining how common a radical was. Thus, the 亻 in 他 should give a higher score than the 亻 in 伪 (僞).
Second, radicals aren't necessarily the most important building blocks. A radical is really just the part of a character under which the character is sorted in dictionaries. This means that there are other character parts which are really common, but which aren't radicals and that even if you learn a radical, it's not necessarily the radical if it appears in another character. I used radicals for this list because it was easier to do and there is no commonly agreed on way of listing components in general.
There are many other components that normally carry information about how a character is pronounced. I have written about phonetic components already (Phonetic components, part 1: The key to 80% of all Chinese characters), but I haven't been able to produce a list similar to this one for sound components. The ideal thing would be to have two lists, one for components that carry meaning and one for components that carry sound, but that's a project still in progress.
Thus, this list is a compromise. It's the best I can do with the time I have available. I do think it's useful and learning all these radicals will be genuinely helpful when learning Chinese. If you have suggestions for how to make the list even better, let me know!
---