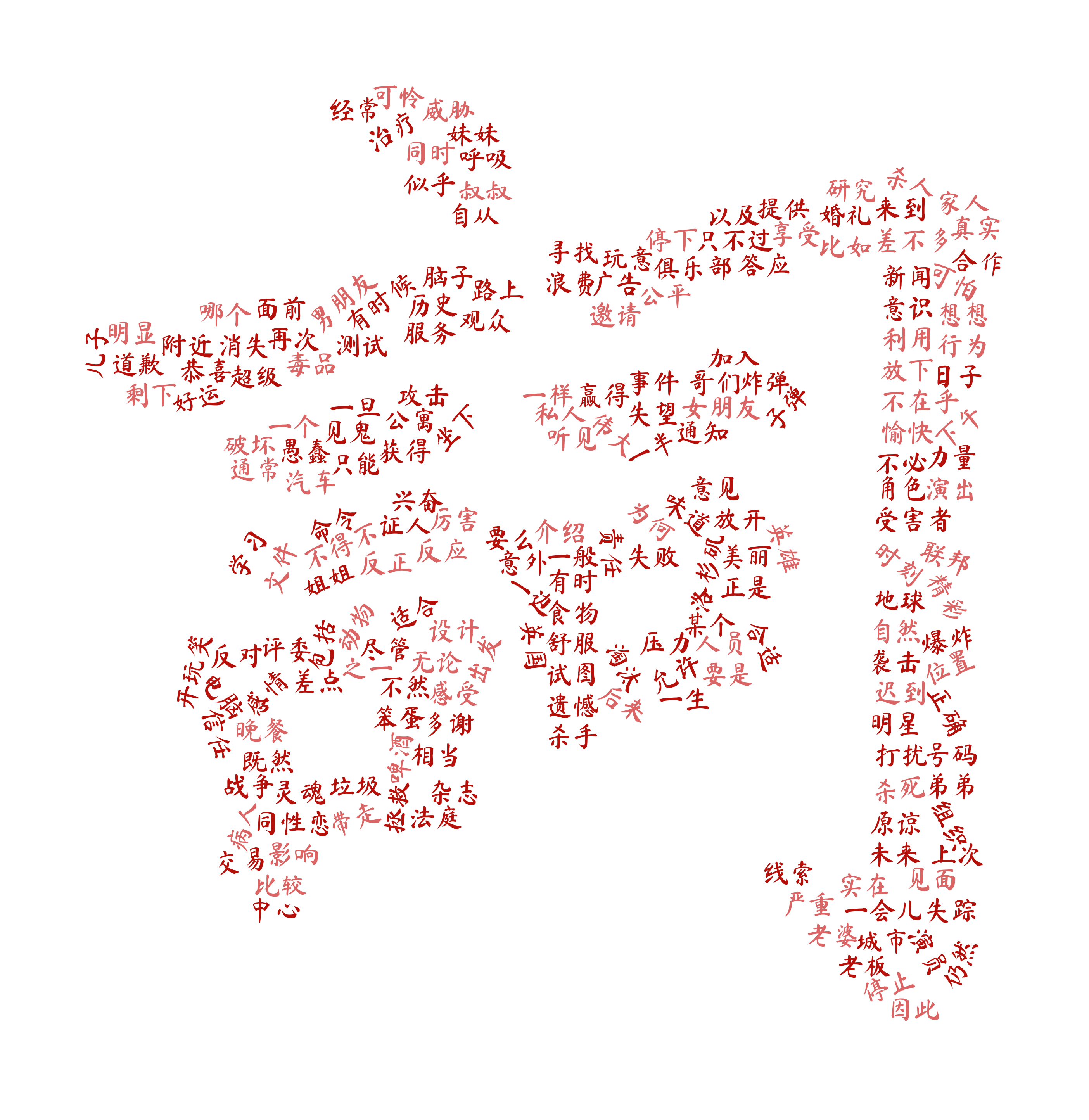 Vocabulary acquisition is both one of the most important and interesting areas of language learning. In order to understand spoken and written Chinese, we need to understand a large number of words. We obviously need words to speak and write, too, but not anywhere near as many.
Of course, you need more than words, but few other areas are as important for your ability to function in a language. Or, as David Wilkins (1972) put it:
Without grammar, very little can be conveyed, without vocabulary, nothing can be conveyed.
Let's expand this. Once you have learnt basic grammar (such as basic word order), the utility of investing more time in learning grammar decreases rapidly, but the case for expanding your vocabulary doesn't weaken until you reach an advanced level, and maybe not even then.
Tune in to the Hacking Chinese Podcast to listen to this article:

Available on Apple Podcasts, Google Podcast, Overcast, Spotify and many more!
Learning words in Chinese: When quantity beats quality
I think vocabulary is not merely king, but god emperor of the language learning universe. I have spent thousands of hours explicitly learning and reviewing words in Chinese. I have mostly stressed quantity over quality, that is, I prefer to learn an additional 1,000 words passively (i.e. only being able to recognise and understand) over learning 100 new words actively (i.e. so I can use them in my own speaking and writing). With this approach, I added roughly 25,000 characters and words to Anki over my first five years of learning.
In this article, I will explain why I put such an emphasis on vocabulary. I will also share some thoughts on how I would changed my approach with the wisdom of hindsight and having spent more than a decade learning and teaching Chinese.
The focus of this article is not to talk about how to learn words in Chinese. There are already many articles about that here on Hacking Chinese, all collected here:
The benefits of knowing many words
Knowing many words is good for many reasons:
It increases your listening and reading comprehension. While you obviously need more than just words to be successful at either, not knowing key vocabulary is likely the most common reason why students fail to understand something in Chinese.
It increases your chances of being understood both when speaking and writing. While you will still struggle with getting more subtle points across, having a broad vocabulary makes it much more likely that Chinese people understand you, even if your grammar is halting.

It accelerates your learning in general. Since understanding plays an important role in learning, it means that the more you understand, the more likely you are to learn the bits you didn't understand. This is the basic principle of comprehension-based learning and teaching.
Out of these, the third reason is the most interesting, not because the other two are less important, but because they are quite obvious. Vocabulary as an accelerator for your learning in general merits a more in-depth discussion, however.
Vocabulary as a stepping stone to more listening and reading
I'm generally in favour of learning and teaching methods heavy on input (listening and reading). I think many things that are explicitly taught are maybe best learnt simply by listening and reading more.
I'm not of the opinion that speaking and writing are not also essential parts of learning, I just think they should be preceded by listening and reading.
I don't mean you should spend months and years just absorbing the language, but rather that it's a good idea to have heard or seen a word in context multiple times before learning how to use it. Too many teachers introduce new words in class, and then expect students to use them in their own sentences five minutes later.
Passive vocabulary as scaffolding
The problem with listening and reading in Chinese is that you can't just dive in. Reading even simple stories requires you know hundreds of characters and words, and if you don't, you won't learn much from the experience (although you'll get really good at using your dictionary app). Listening is similarly difficult as a beginner.
The ideal solution to this problem is listening and reading tailored to your level, which includes enough of what you already know to allow you to learn what's new. A learning environment rich in context further adds value.
Unfortunately, this method of learning is open almost exclusively to newborn children in their first language. Most people who learn Chinese as adults don't want to or can't afford to have a native speaker following them around all day, talking to them in level-adjusted Chinese. You can and should get that kind of input as much as you can, but it's unlikely to be enough.
The next best thing is listening and reading to Chinese which isn't individually tailored to you, but still suitable for people like you in general. This includes graded readers, textbooks, podcasts, courses and so on. To make it easier, you can use various kinds of scaffolding:
The endless ocean of unfamiliar words
This is where learning Chinese can be very frustrating. It seems that no matter what level you're at, there will always be more words to learn. It just never ends! I can tell you that it does, but probably later than you think. HSK6 only covers 5,000 words after all, which won't take you very far in newspapers, literature or any other material written for adult native speakers.
Without a broad vocabulary, you are severely limited in what kind of content you can listen to and read. Most beginner and some intermediate students say that they can only understand what their teacher is saying and what's in their textbook, but as soon as they move outside of this comfort zone, they understand almost nothing.
One of the main reasons this happens is that many students, teachers and courses spend all their energy on just a few words. The time is used on a few texts in one book and the words contained therein. Too much time is spent going through these in depth, discussing finer nuances of words the students have no real grasp of yet. The next textbook builds on exactly the vocabulary you learnt in the previous book, giving rise to an illusion of advanced learning.
If your goal is to speak and write right now, it's true that you really need to know the words well (as I argued in last week's article), but this is only true for the core vocabulary. The more you learn, the bigger that core vocabulary needs to be, but beyond that, you need a passive vocabulary many times the size of your active vocabulary.
One of the most serious flaws in the way most courses are structured is that the emphasis is almost entirely on building active vocabulary.
Why passive vocabulary is so desirable
Now, you might think that active vocabulary is certainly better than passive vocabulary. I mean, isn't it good to also be able to use the words?
It is, but at what cost?
The problem is that it's very inefficient to force vocabulary from completely unknown to being part of your active vocabulary. Like I said earlier, having heard and seen the word many times in context before trying to figure out how to use it yourself will make it easier.
Adding a word to your active vocabulary also takes more time, especially in Chinese. You need to learn how to write the characters (as opposed to just recognising them), you need to know what functions the word can have in a sentence (rather than hearing someone else use the word in a certain way), and you need to figure out which words normally go together with the word you're learning (rather than learning this by being exposed to such combinations over time).
A question of efficiency
The bottom line is that if your goal is an approximate understanding of a word in spoken or written Chinese, you can learn many times more words in the same time it would take you learn a single word really well.
So, the question is not if you prefer to add a word to your active vocabulary or your passive, but if you prefer to add one word to your active vocabulary or ten to your passive. You only have so much time at your disposal, so choosing to spend more time on one thing means spending less on something else. Efficiency matters.
The 25,000 characters and words I learnt during my first five years of learning were of course not all in my active vocabulary. I mostly focused on learning to understand these words, mainly in writing. In hindsight, I would have benefited from using audio flashcards as well, which is free and easy to set up in Anki. I did not try to learn how to use all of them, that came later, either naturally (they just come out, feeling right) or through targeted practice when needed.
Vocabulary: A stepping stone, not a goal in itself
Learning many words is not the end goal, of course. The idea is to learn many words so that you can then understand more spoken and written Chinese, which will gradually build your knowledge of how these words are used, which in turn will enable you to speak and write as well. That means that this strategy of pursuing a large passive vocabulary is madness without very large amounts of input.
Just to be clear here, I don't mean that you should learn your first few hundred characters in your course textbook, then pick up a graded reader at that level and then move on, I mean that you should read all the graded readers you can find at your level.
Mandarin Companion currently has eight books at the 300 character level, and there are more series of graded readers too. Each book contains a little under 10,000 characters; your whole textbook probably contains less than that. The same argument can be made for listening, of course.
Conclusion
Looking back at my own learning, I think I did the right thing, putting such a heavy emphasis on vocabulary. However, I regret that I spent too much time listening to and reading Chinese that was actually quite difficult. I struggled my way through books, radio programs and news articles much above my level, too early.
Instead of reading one page of difficult Chinese, I could have read ten or twenty easy pages. That would have done more for my Chinese and would also have been more pleasant. To put it briefly, I should have focused much more on extensive reading and listening. And so should you. But to gain access to more reading and listening, you really do need to know many words.
Editor's note: This article, originally from 2010, was rewritten from scratch in May 2020.
---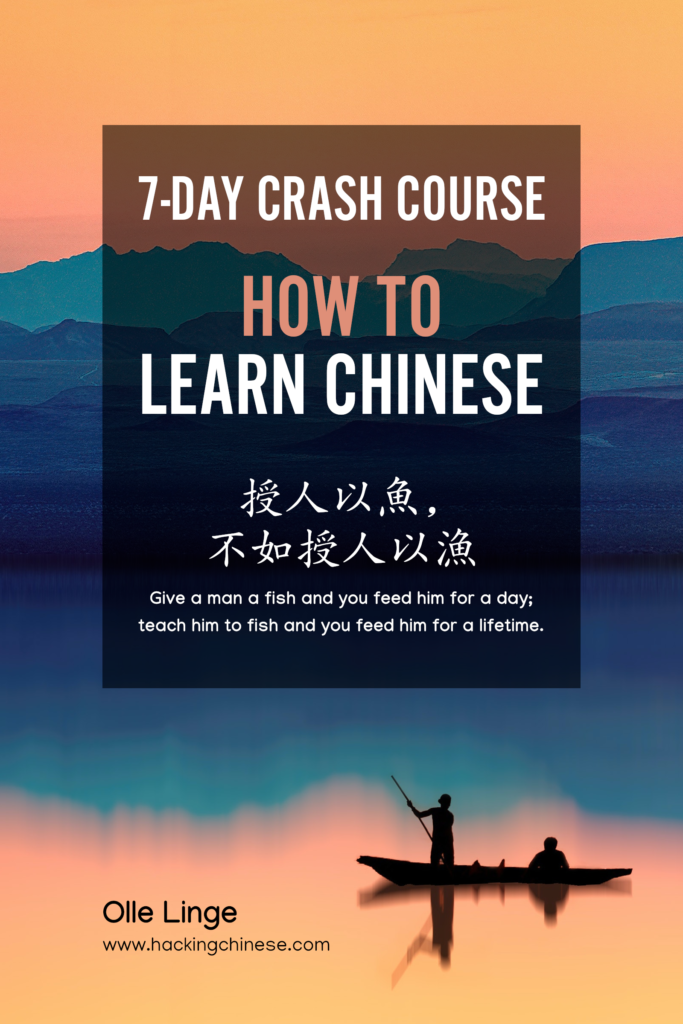 Tips and tricks for how to learn Chinese directly in your inbox
I've been learning and teaching Chinese for more than a decade. My goal is to help you find a way of learning that works for you. Sign up to my newsletter for a 7-day crash course in how to learn, as well as weekly ideas for how to improve your learning!