When learning characters or words, or when failing to remember a character or word we have already learnt, most sensible teachers will urge you to deepen the knowledge of that character. Rather than simply copying it (which won't work in the long run), you should aim at understanding the character and its components. This is what my sensible character learning challenge is all about.
When it comes to words, it helps immensely to understand the characters. However, focusing on depth isn't enough to solve all problems, sometimes you need to expand your knowledge horizontally to neighbouring characters to solve a problem once and for all. This is what horizontal vocabulary learning is about.
Horizontal vocabulary learning
Rather than going deeper, you need to switch focus from the character or word in question and look at similar pieces of vocabulary. This is especially true for characters, but it's sometimes also necessary for words. In other words, it's not enough to simply learn about a character or a word, you need to learn how it is different or similar to other words, otherwise the risk for confusion is high.
Think of your knowledge as a web. You want a web that is interconnected at all levels, not only at some very basic level. If you only focus on the components, you will end up with a root-like system. That's still better than having no connections at all, but it's not as good as having a proper web.
Looking at similar characters or words is also a way of strengthening your overall knowledge and cleaning up bad mnemonics (more about this below). Let's look at different kinds of confusing cases where horizontal character learning is a must.
Characters similar in form
There are many examples of when it really pays off to study characters horizontally. The most obvious case is phonetic components, which sometimes will reveal patterns you weren't aware of, but which make remembering characters very, very easy. Since most (<80%) of all characters are semantic-phonetic compounds, this is important. For instance, I thought it was tricky to remember if there should be a dot (良) or no dot 艮) in characters like:
With dot (check all here): 娘, 浪, 狼, 莨, 阆, 琅, 稂, 锒, 粮, 蜋, 酿, 踉
Without dot (all here): 艰, 限, 垦, 很, 恨, 狠, 退, 垠, 哏, 恳, 根, 痕, 眼, 银, 裉, 跟
If you study these characters one by one, you might never see the pattern, but if you compare them, you're likely to notice this: The right part of all these characters is phonetic, either 艮 (gen) or 良 (liang) and this can be seen in the pronunciation of almost all of these characters. Every character with 良 ends with either -ang or -iang, and starts with either l- or n-. Most character with 艮 end with either -en or -in, and start with h- or g-. This is incredibly useful to know, because it means that several details of these character are suddenly related. For instance:
If you know the pronunciation, you automatically know if it should be a dot or not
If you know how its written, you can guess the pronunciation (albeit not 100%)
You should exploit the difference between 艮 and 良 when creating mnemonics
Characters similar in meaning
The same applies to characters with similar meaning; only when put together side by side can you actually see how they are different. This is true for words as well, but I think the wider topic of dealing with synonyms in Chinese requires a separate article, so I won't dwell on this for long in this one. For character learning, there are many components which mean essentially the same thing (this was discussed in this article as well).
戈 (halberd, lance)
矛 (lance, spear)
殳 (halberd)
These characters look very different, but have almost identical meanings for people who aren't experts in ancient Chinese weaponry. This problem arises because it's hard to describe some Chinese words in English. There are no exact matching words for these weapons, so the ones provided above will have to do. The other option would be to actually describe the weapon itself, which is perhaps more useful but not very common in Chinese-English dictionaries.
Again, if you just study these separately, you will end up utterly confused. If you put them side by side and deal with them together as a group, it's much easier. After some googling, it seems that 戈 is closest to the English word "halberd", because it has a perpendicular cutting blade. 矛 seems closer to a spear (or perhaps pike) which doesn't have a perpendicular blade at all. 殳 lacks a cutting blade altogether and for clarity, I think of this as a long cudgel.
This might not be 100% accurate, but by looking at these three characters and sorting out their different meanings, it's now much easier to use them in mnemonics.
You might not even know that these characters are confusing you
Most of the time, students are not aware that this is happening and that the reason they fail is because they swap a character or a character part for another. When I study characters, I've learnt to keep an eye out for these problems. Basically, whenever I really think I'm right (for whatever reason), but it turns out that I've written the wrong character, this is a good sign that the solution might lie in studying horizontally rather than delving deeper.
In other words, if you fail to recall a character or component, you need deeper knowledge of the character, but if you confuse one part for another, you don't need to go deeper, you need to expand horizontally and put the characters or character components into context!
---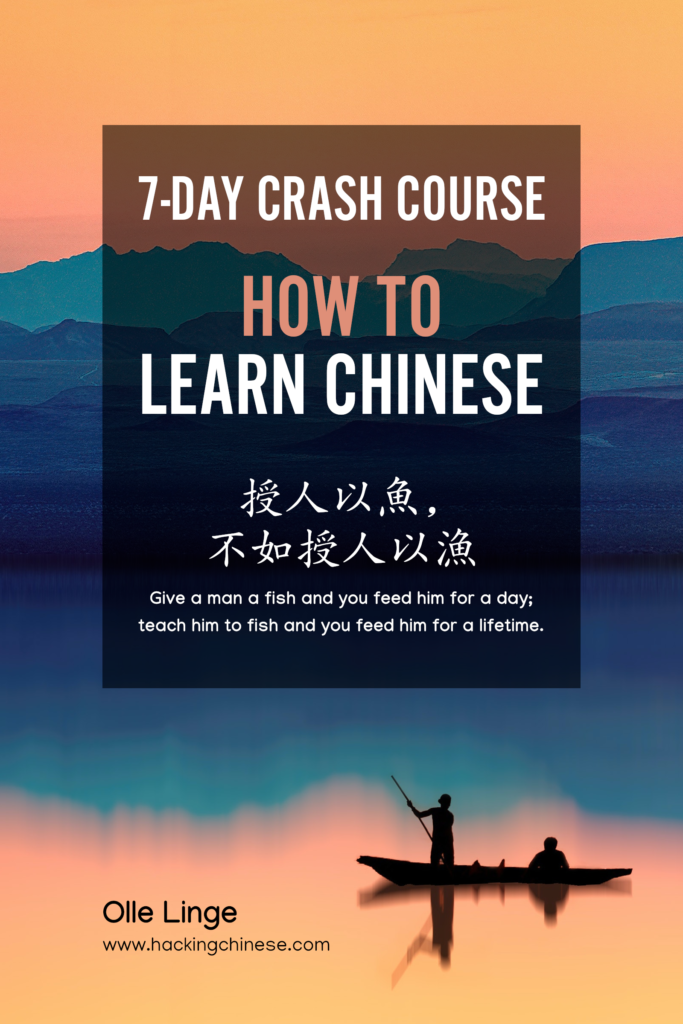 Tips and tricks for how to learn Chinese directly in your inbox
I've been learning and teaching Chinese for more than a decade. My goal is to help you find a way of learning that works for you. Sign up to my newsletter for a 7-day crash course in how to learn, as well as weekly ideas for how to improve your learning!