We all know that near-synonyms cause major headaches for language learners. Due to the inadequacy of Chinese-English dictionaries, we can't simply look up synonyms in a dictionary and immediately tell the significant difference between them. Using Chinese-Chinese dictionaries is slightly better, but isn't enough except in a few cases (you need the right dictionary and the right near-synonyms). Also, most learners aren't at a level where they can comfortably read Chinese-Chinese dictionaries.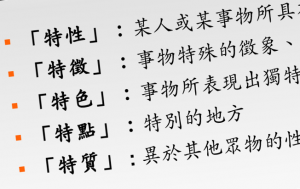 To give you an idea of what I'm talking about, look at these five words: 特色,特点 (特點),特性,特质 (特質) and 特征 (特徵). They all translate to something like "characteristic" in English, but they are still not interchangeable in most cases and mean different things or have different collocations when appearing in the same sentence.
Do we actually need to study near-synonyms? Isn't massive exposure enough?
Before we look into "how" to deal with near-synonyms, we should say a few words about "why". I'm a big fan of massive exposure in general and I think it's possible to get very far simply by reading and listening a lot. However, as you will notice if you use one of the solutions suggested later in this article and use search engines to try to find discussions about the synonyms, you'll find that native speakers are sometimes also confused about the usage of these words. They might use them occasionally, but asked about the difference between them, they sometimes aren't so sure.
Explicit knowledge plus exposure is the solution
The key is to have an idea of what the difference is when you listen and read (which you should still do a lot, of course). If you have no clue what to look for, you risk hearing the words hundreds of times, but because you don't know anything about the difference, you get no corrective feedback at all. Some words are functionally identical and are interchangeable in sentences, but yet mean different things. If you don't get that difference in meaning, exposure, no matter how much, won't solve your problem.
Instead, I think you should learn a little bit about the difference between the words (see below for some practical advice on how to do this) and then pay attention to how these words are used in context. If you know the difference between them and see them in a text or hear them spoken, you can gradually solidify your knowledge about how they are used.
How to sort out near-synonyms in Chinese
Here are some things you can try (but remember the rules of successful language question triage):
To be honest, cracking the problem of near-synonyms is very hard at times, especially if your question doesn't belong to the most frequently asked questions about Chinese usage. What makes it even harder is that there are always exceptions or strange cases, but as I have argued in an earlier article, you should spend 90% of the time on 90% of the cases, so don't concern yourself too much with the 10% of cases that don't follow the pattern you have found. Also, if an answer is hard to find, you should consider giving up and just spend your time elsewhere.
Conclusion
Dealing with near-synonyms in Chinese is really hard without any guidance. The steps I've described above should help you sort these problems out on your own in case you can't ask your teacher or are studying on your own. If you have any other ways of dealing with near-synonyms or other sources that might help, let me know!
---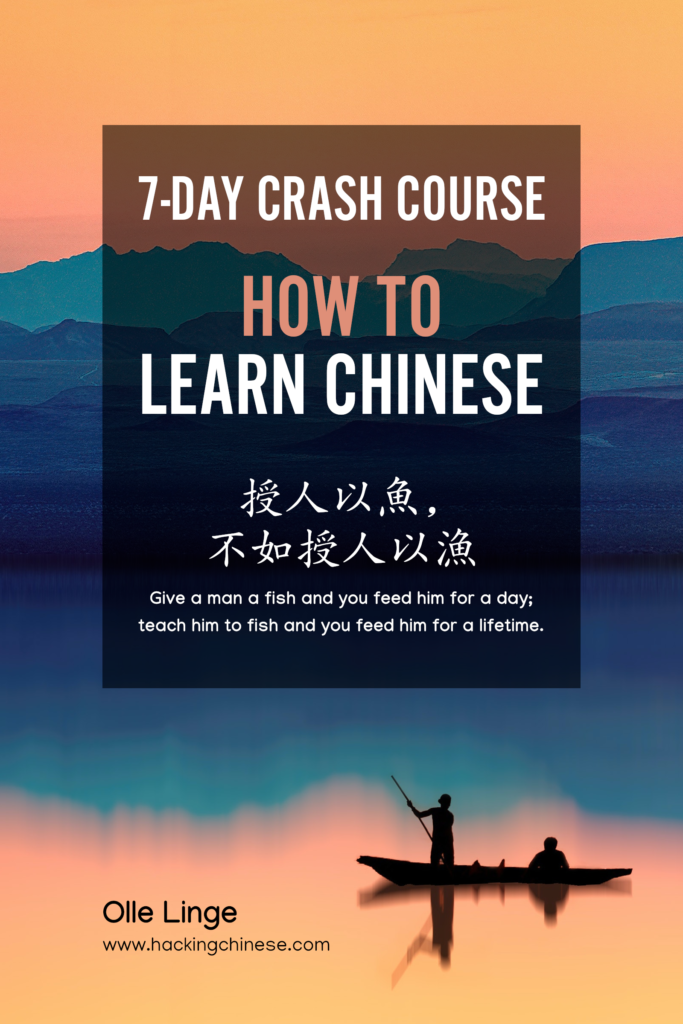 Tips and tricks for how to learn Chinese directly in your inbox
I've been learning and teaching Chinese for more than a decade. My goal is to help you find a way of learning that works for you. Sign up to my newsletter for a 7-day crash course in how to learn, as well as weekly ideas for how to improve your learning!