After having talked about spaced repetition software (SRS) with a large number of students (but very few teachers) both online and offline, I've gradually come to realise that many people neither understand what SRS is for nor how to use it. Some people seem to believe that SRS is a comprehensive learning method and that if you just spend enough time with the program of your choice, you will become fluent in Chinese.
I am myself an avid proponent of SRS, but that doesn't mean I think that it's a panacea that can solve all challenges facing a language learner. In this article, I'm going to talk about some misconceptions I have encountered regarding SRS. In short, like any other tool, SRS is very good at what it does, but thinking that it's the Swiss army knife of language learning that will help you in every situation is just wrong.
It's spaced repetition, not spaced learning
Put as briefly as possible, SRS is about reviewing something the moment before you forget it, thus reinforcing your knowledge without wasting time reviewing things you actually would remember without reviewing. This basic principle is well researched and works very well. I think most people who has tried using SRS know about this.
However, this doesn't mean that you should just import 1000 words from the internet into your SRS and start hacking away (and I don't mean "hacking" as in "language hacking" here). That isn't repetition, that's learning, and a very detached, artificial learning at that. In my opinion, learning something means that you first acquire basic knowledge and understanding about something. Reviewing is about retaining that knowledge over time.
In the case of characters, this might mean looking up radicals and creating mnemonics, for words it might mean to understand the individual characters and link them together in a meaningful way. In this way, SRS becomes a method of reinforcing what you already know. As such, it is very efficient indeed. See my character learning challenge for more about this.
This is why I think it's usually a good idea to create your own flashcard rather than simply import them from somewhere else, even if you end up with a list containing the same words (such as if you download a list for the textbook you're currently using). If you create the deck on your own, you learn the words as you go along and you're more or less forced to have an active attitude towards the cards in the deck. Creating cards on your own isn't a waste of time, it's a way of learning. It also makes sure that the quality of the cards remain high.
Spaced repetition isn't rote learning
Even though SRS is efficient, it doesn't mean that it never fails. In fact, it's usually designed to fail 5-15% of the time because that's generally more efficient than aiming for 100% (please refer to When perfectionism becomes an obstacle to progress).
When you forget something, you have a choice. Either you just keep going, reviewing what you forgot regularly until it sticks, or you consider what you forgot as lost and learn it from scratch. The choice depends on the nature of your incorrect answer. If you're really sure you understand the word and have a "of course, I really knew that and just had a momentary lapse" feeling, then you might not need to do anything.
If you truly have forgotten the word, though, you shouldn't just rely on more and more repetitions. What I do when I really forget words I should know is that I treat them as new words (here is an entire article about this). I go online and find better examples, new mnemonics or other things that can help me really understand the word.
Then I review the word as I normally would. I very seldom forget words twice using this method and most of the failures I have in my deck comes from being too lazy and not following my own advice. If you want to read more about this, please check Spaced repetition isn't rote learning.
Finally, never forget that deleting troublesome cards is a valid option. If the character or word is important, it will turn up again later and you can have another go. If it isn't, well, then you've saved yourself some time and will feel less frustrated.
Just because it's efficient doesn't mean you should learn everything with it

There seems to be a gluttonous tendency in some language learners (including myself at times, I admit, but then again, my goals with learning Chinese are probably not the same as the average student's). The idea seems to be that the more words you learn, the better, regardless of which words you learn.
Adding every single word you encounter is a very serious mistake. As a personal example, I can mention a book I read after having studied Chinese for roughly 15 months. I looked up every word in that book I didn't already know. Looking through that list of words today, almost four years later, I realise that there are many words in there I still haven't seen anywhere else. As a beginner or intermediate learner, that represents a serious waste of time.
If you really want to just boost your vocabulary, I suggest you read more and listen more to material at your current level. When you encounter words more than once, add them. If you really, really want to use online word lists for the HSK or similar, only add lists that are below your current level. In other words, use these lists to learn common words you actually should already know, do not just add a complete set of words you've never seen.
Perhaps I have contributed to this tendency a bit by writing posts such as The importance of knowing many words, but please don't get me wrong. I do think that knowing many words is very, very important. However, which words you learn is still important. The best way to learn new words is still through absorbing them through your reading and listening material, adding recurring new words to you SRS as you go along. For beginner and intermediate learners, textbooks are also really good.
SRS is a tool, not a comprehensive learning method
If you spend a major fraction of your total study time using SRS, you're doing something wrong. I spend around 20-30 minutes using Anki every day, which is perhaps 1/20 of my total study time. Sure, I did spend more than that as a beginner, but I dare say that the SRS time has rarely exceed 1/10 of the total time spent studying. SRS works best in combination with as much exposure to the language as possible, along with real communicative practice to teach you how to use the words you've learnt.
SRS can make sure you remember what you learn, but it will never deepen your knowledge about the language or teach you things you didn't know before. Furthermore, most SRS use is fairly passive, meaning that it's an excellent tool to boost comprehension, but a very poor one for increasing fluency. A hammer is very good for nailing something to a wall, but you wouldn't use it to repaint the kitchen.
I've seen some people criticising SRS for not increasing actual language competence and so on, but I think this is a critique of SRS users rather than SRS itself. If you think that you can learn a language simply by using SRS, you're wrong. If you think that SRS is a very efficient way of reviewing what you have already learnt, then you're much closer to the truth.
SRS is a flexible tool, use it wisely
The way you use SRS will determine what kind of results you get from it. For instance, you can practice character recognition/writing, listening comprehension, translation (Chinese-English or English-Chinese). You can also do various kinds of cloze tests or freer forms of recall. The thing is, you can't do all of these. You need to choose. How you choose to use SRS will determine what you get from it.
---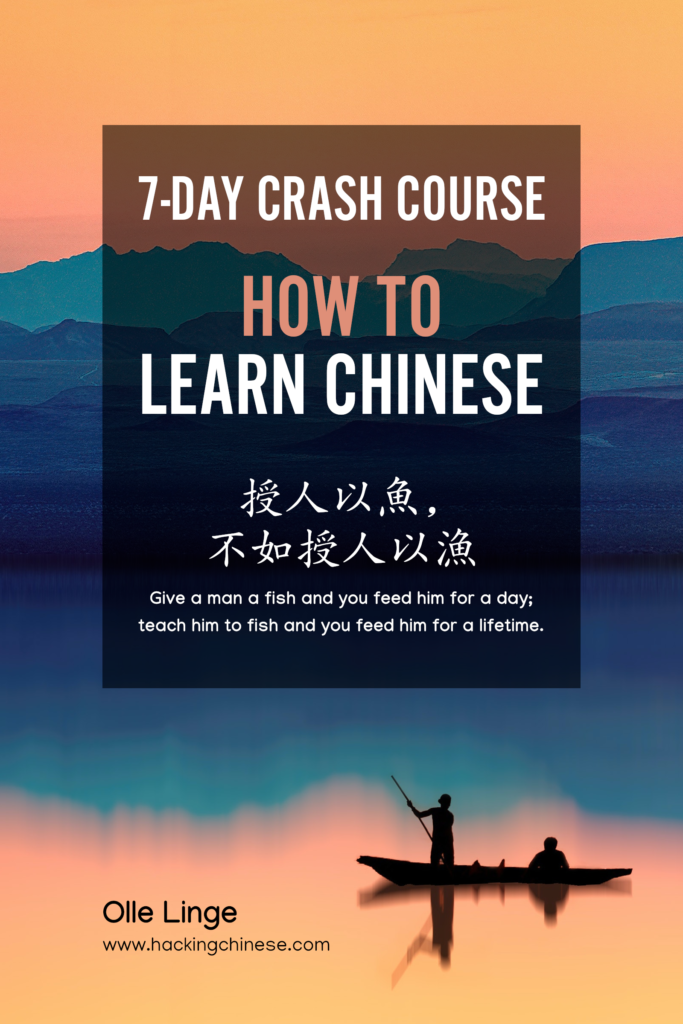 Tips and tricks for how to learn Chinese directly in your inbox
I've been learning and teaching Chinese for more than a decade. My goal is to help you find a way of learning that works for you. Sign up to my newsletter for a 7-day crash course in how to learn, as well as weekly ideas for how to improve your learning!