I've been on vacation and haven't thought too much about studying, which means that I have failed miserably to keep my vocabulary review queues at a manageable level. You might have other reasons for failing to do so or you might have other projects you really should finish before the end of the summer. I know I have. Rather than slogging away at this on my own, I thought I'd create a challenge that readers can participate in.
Summer 2013 get-back-up-to-speed challenge
Think through what you need to complete before the summer is over
Select one or several closely related projects
Define them as clearly as you can (define what the goal is)
The default deadline is September 1st, change it if you like
Use the template below and leave a comment to this article
Read my advice below on how to handle larger projects
My challenge
I have actually a fair number of things I want to do before the summer is over, but as specified above, I'm going to choose one or perhaps two closely related projects and use them in this challenge. This is not merely an example, mind you, I'm in the challenge too.
My summer vacation doesn't really end in August, but since I have lots of other things to do after that, I will set September 1st as my deadline. This should also be reasonably close to when other people's summers end and therefore a good end-point for this challenge.
Template for participating in the challenge
Goal: Your overall goal for the challenge
Deadline: When you intend to reach your goal (I will use August 30)
Strategy: How  you intend to reach your goal before the deadline
Milestone #1, July 28: What  you should have achieved before this day is over
Milestone #2, August 11: What  you should have achieved before this day is over
Milestone #3, August 25: What  you should have achieved before this day is over
Milestone #4, September 1: You should be finished with everything now
Here's what my challenge would look like:
Goal: Reduce all my SRS queues to zero, including leeches and banned/suspended cards
Deadline: August 30th, 2013
Strategy: I plan to use most of the strategies listed below, but most importantly, I will use timeboxing as much as i can and get rid of the Anki queue through five-minute review sessions interspersed throughout the day. Skritter will require more concentrated effort and I need to be in front of my computer, so I plan to do this just after getting up every morning, provided I'm at home. The same goes for killing leeches in Anki.
Milestone #1, July 28: Anki queue down to 2500, Skritter queue down to 600 with no banned cards
Milestone #2, August 11: Anki queue down to 1000, Skritter queue down to 400 with no banned cards
Milestone #3, August 25: Anki queue down to 0, Skritter queue down to 200 with no banned cards
Milestone #4, September 1: Clear leeches and suspended cards in Anki, Skritter queue down to 0
Regarding the deadlines, they are merely examples. I will use them, but it doesn't mean that you have to.
How to handle quantitatively large projects
Getting through thousands of due flashcards or killing hundreds of leeches takes some serious time. Also, the point is to do something intelligent with these flashcards, not just go through them as quickly as possible (that would defeat the purpose). As usual, I advocate an active attitude to flashcards, so reviewing involves editing, deleting and adding cards according to your needs. Simply going through the motions is meaningless.
There are a few things you can do to make this easier:
Break it down – This is essential. Any step is easy as long as it's small enough. Break your project down into manageable chunks. Read more here about micro goals.
Timebox – This is a very powerful method to get quite a lot done quickly. Rather than repeating many times in a row, I would spread this out throughout the day, especially if we're talking about vocabulary reviewing.
Change environment – Feel bored? Change environment! I assume that most people use their phones or at least laptops to review vocabulary, so take it outside, to the library, to a coffee shop or wherever.
Study according to your current energy level – If you're too tired to perform a certain task, change task rather than stop studying altogether.
Create habits – I find it particularly effective to do reviews at fixed points in my daily routine, so for instance, I plan to do 100 reviews when waking up in the morning and 100 reviews before going to bed. That's not a promise, but habits like that increase your minimum output considerably.
Give yourself reminders – Tell friends, set alarms, use an online calendar or anything else that will remind you of your project. In my experience, the most dangerous period for habit creation is after a week or two when the novelty has worn off. Set several reminders a week or two from now!
Reward yourself – Do you have other cool things to do during the summer? Did you just buy a cool computer game? Set up a simple system where you always do X amount on your project before allowing  yourself to play that game. if you play turn-based or very short games, intersperse reviewing in between rounds.
Punish yourself – Give money to someone and tell them that they can keep it unless you achieve X before a certain time. Make sure that X is specific and make sure you actually give the money now. You will get it back only if you finish on time.
Make the tasks fun – Anything that makes the tasks involved more fun is worth considering.
Looks like I have quite a lot to do, time to start mushing!
---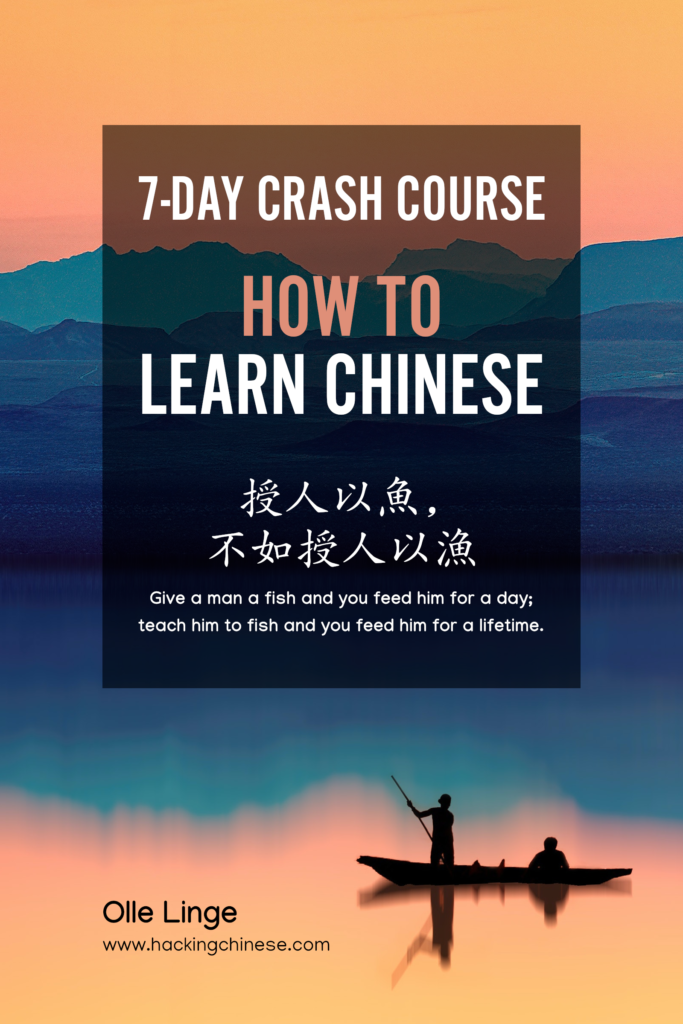 Tips and tricks for how to learn Chinese directly in your inbox
I've been learning and teaching Chinese for more than a decade. My goal is to help you find a way of learning that works for you. Sign up to my newsletter for a 7-day crash course in how to learn, as well as weekly ideas for how to improve your learning!