Learning to write thousands of Chinese characters is a daunting task, but fortunately, character writing is also one of the most hackable parts of the Chinese language. This means that if you use the wrong method, it will take forever and be quite boring (see last week's post), but if you use the right method, it's neither impossible nor boring.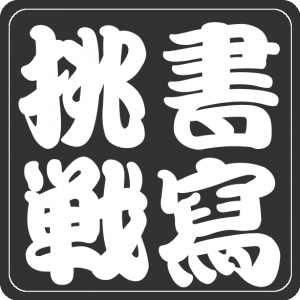 This article is a challenge which is meant to make students use more sensible strategies to learn characters and take you out of the boring, monotonous loop that helps you pass your tests, but isn't very good in the long run. Before we go into details about the challenge itself, let's look at the contents of this article to make it easier for you to find what you want.
Navigation

Articles published about sensible character learning
The problem with how most students approach character learning has already been addressed; the following is a summary for those who haven't read that article, but I still recommend that you read the full article here. There are many problems of course, but the most serious one is undoubtedly that many rely on rote learning, i.e. repeating a character until it sticks without actually understanding what they're learning or deepening their knowledge of the language. This is almost useless if you lack a systematic approach, but if you use spaced repetition programs, it actually works to a certain point.
This is problematic, because when you reach that point, you'll find that you need something more than mere repetition. Native speakers can rely on repetition because they spend more than ten years in school mastering their own language. They write characters every day for many, many years. Thinking that this will work for you is naive. Most native speakers also combine a fairly well-developed knowledge of components with massive repetition.
Symptoms of bad character learning:
When you've forgotten a word, you just keep repeating it until it sticks
You tend to forget the difference between similar characters
You're reading ability is okay even though your handwriting sucks
You need to rely heavily on context to understand characters
You have no idea how to write characters like 尴尬 (T: 尷尬)
Even though I think SRS is part of the problem (people tend to misuse it), I also think it's part of the solution. The problem is that when we review something mechanically (i.e. just looking at something without really processing the information actively), we're not really learning anything new, we're not expanding our knowledge of Chinese. Apart from this, it's also quite boring and leads to poor results in the long run.
Still, using SRS, especially if the program is geared specifically towards character learning (see my introduction to Skritter below) is the most efficient way of learning, you just have to pay attention to what you're doing, which is the point of this challenge.
The alternative to rote learning is to work actively with the characters we forget and make sure that we're learning something instead of blindly repeating the same mistakes over and over. It's notoriously difficult to learn things that don't mean anything to us, so the first thing we should do is really understand the characters we're learning. If it takes more time, then so be it, it will definitely pay off in the long run. Most native speakers have pretty good grasp of character components, but many foreigners don't.
These things you can learn from a competent teacher. The next key to more sensible character learning is something I have never heard mentioned in a classroom, probably because it requires that the teacher has actually used the method to be able to teach it. Everybody will tell you to create stories (mnemonics) to remember characters, but few are able to or can be bothered to explain what kind of mnemonics work and why. I can and I have. See this article about learning character components (and the following articles in the same series).

What sensible character learning looks like
Understand what you/re learning (learn the components)
Combine the meaningful parts in a clever way (mnemonics)
Use SRS to reinforce your knowledge and identify weak links
Avoid rote learning at all costs (and make learning fun again)

Who can participate in the challenge
Students at any level can participate and it doesn't matter if you study Chinese two hours or week or twenty hours a day. The challenge will remain open as long as I feel it's relevant, which is likely to be indefinitely. The Skritter discounts mentioned below will only be valid for a limited amount of time, however.
The following challenge is for anyone with an interest in learning characters (that should be most visitors to Hacking Chinese, I think), regardless if you're a beginner, intermediate or advanced learner. I'm going to join the challenge as well and follow the same rules as everybody else. A list of participants is included below.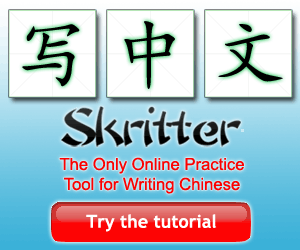 Before you join, you need to choose software. I'm going to use Skritter and I recommend that you do too, mostly because it's specifically geared towards handwriting and that it has excellent resources attached if you need to expand your knowledge about characters and components).
Participants receive an extended free trial of Skritter and 33% off subscriptions
If you register and join the challenge, use the coupon code SENSIBLE, which will double the length of the free trial as well as give you 33% off the price if you like the software and keep using it. If you register and later go for a paid subscription, I will receive a small commission, so please use the links included here if you want to help me out a bit, too. You have to use the coupon code when you register! Click "alternative payment methods" and enter the coupon code.
If you don't know what Skritter is, you can check this brief demonstration on YouTube:
However, it doesn't really matter what program you use and the challenge doesn't rely on your using any specific kind of software. I won't include information about exactly how to use any program, but most of them are good enough for this challenge. If you don't like Skritter, I suggest you use Anki) instead. Other alternatives include Pleco and Memrise.
If you fail a review, you're not allowed to review that card again until you've dealt with it actively. You have two options: either you stop reviewing and deal with the failed card immediately or you remove the card from the review card and deal with it later (ban the card in Skritter, suspend in Anki.
If you ban or suspend cards you fail, you have to go through the list of banned or suspended cards often. You don't know these characters and you need to relearn them before you enter them into the review queue again. Do not allow the number of banned cards to accumulate.
Characters you already know well and don't fail aren't part of the challenge. In other words, you don't need to relearn characters you already know, regardless how you learnt to write those characters. However, if you fail any card, you still have to follow the rules of the challenge.
If you have an important exam coming up, you're allowed to sidestep the above rules, but not using your normal review software. You have to rely on conventional non-digital study methods to cram for an exam, you're not allowed to break the above rules when using SRS under any condition whatsoever.
Share your progress with me and your friends (Skritter has a function for this). If you join the challenge I will also check on you by sending you an e-mail later this months. I'm serious about this and shall be disappointed if you commit but fail to follow these rules!
When you fail a card, here are some suggestions of what you can do. Don't feel limited by these, though, there are more ways to learn characters. The important thing is that you deepen you knowledge and understanding of the character rather than just repeating it.
Do you know the component parts? If not, look them up. Skritter has a built-in feature that allows you to check a character and its components in a number of online dictionaries (see picture). Regardless of how you access the dictionaries, I like HanziCraft and Zhongwen.com (better for traditional, but works for both).
If you know the parts already, create a mnemonic or use someone else's. Part of the goal with this challenge is to make students more aware of mnemonics and to make those already aware of it apply them more often and master how to create them. If you're not already good at this, you should check my article about it here, including the other articles it links to in the beginning. If you can't come up with anything, Skritter has a neat function where you can see other people's mnemonics. I suggest that you adapt them to your own needs, but they serve as excellent inspiration.
If you have a mnemonic (but still fail), make it better or start over. It isn't easy to figure out how to create good mnemonics and I fail now and then, too. I think this is highly individual and thus hard to write about in general, but reviewing the principles mentioned above is a good first step.
Next time you review a failed character, review whatever information you added to the card. If you created a mnemonic with a story, quickly review the story and see how it makes the components fit together.
To each his own. The goal here isn't to dictate exactly what you should do, but rather that you should do something other than simply repeating the characters many times over without really understanding what you're doing. Try different approaches, if it works, it's good.
Other things you can do that will help
Teach the character to an (imaginary) friend
Do a search on Google for related pictures (giving you visual input)
Look up similar characters that are confusing you and sort out differences
Anything else that forces you to actively process the character components
Post a comment and say you're in (please use a valid e-mail address so I can reach you). By doing this, you also agree to me sending you an occasional e-mail about the challenge and that I will give your e-mail address to the other participants for mutual help and support.
Commit to the challenge publicly on Facebook, Twitter and/or other social media or in real life to friends or family. Make yourself accountable, ask people to check up on you a week from now and see how you're doing. Once I have confirmed that you want to join, I will put you in the list below.
Define a goal and share it with fellow participants (see list below). This challenge is about the method, the goal itself isn't specified. Personally, I'm going to make sure I can write the 5000 most common characters by hand. This is of course a long term goal and I will spend 20-30 minutes per day, 5 days a week. I suggest you set a goal which is reachable in a month or two. but this is really up to you.
Send a brief introduction about yourself and your goals to the participants directly above and directly below you on the list of participants below. I will provide you with the e-mail addresses manually.
Learn some Chinese, for real this time, with the intent of actually understanding the characters and putting the fun back into character learning. Be creative, be crazy, stay committed!

List of students who have accepted the challenge

These people have join the challenge so far. To get on the list, you need to give me your e-mail address so I can connect you with the participants next to you on the list for support and accountability. Thus, I'm accountable to Jake, Jake is accountable to me and Nick, Nick is accountable to Jake and whoever becomes the fourth participant. And so on. If you want a link to your own blog, website or whatever, include that as well, but I will only accept personal websites or Chinese-related sites.
Click here to skip the list and go to the next part (the list is getting fairly long).
Claudia
Russel Sancto
Dianne Rennack
Bob Clark
Joy
Lechuan
Alex
Samanta
Michel
Robert Vose
Gareth
Sonja
Maikeximu
Sascha
Jaki
Mathias
Christian
Marcus
Mark Jarvis
Michael
Kevin Sciarillo
Victoria
Martin
Michael Knight
Leon White
Maozhou
Ted Reed
Catherine Pacey
Christopher Burroughs
Scott
Mai Laoshi
Erik
Georges
Lei Laoshi
Jan
Liz Valachovic
Matt Sikora
Cooper Nagengast
Matt Lawrence
GBoomer
Matt Arkell
Matthew A
Tom
Wendy Purdie
Rich O
Kai Carver
Brad Wright
Muhammed Zubair
Bjørn Schwartz
Antonella
Stumoke
Vito
Petar
Liven
James Carman
Victor
Shannon
Teng Fang Yih
Vito FJ
Steph FS
Jakub
Pia N-H
Ashia
Gisèle
Michael
Milon
Adam Dawkins
Jan Willem Stil
Gerlinde
Amanda Viljoen
Trung Hieu
Wendy MC
Daniel
Chris P
Anthony Pantekoek
John Highan
You?

Some problems you might encounter and how to cope with them
Different people will encounter different problems with this challenge. If you're an avid SRS user already, you will notice that it takes much more time to review, mostly because you stop cheating and actually study the things you forget. This means that you won't forget them very easily, so that it takes more time is both natural and necessary.
Students who aren't used to mnemonics will find that it takes a while before you find a style or method that suits you. Remembering things is a skill that you have to learn, so don't feed disappointed if you forget things even with mnemonics or if you find them difficult to come up with in the first place. You will learn.

Mnemonic month on Twitter, discussion group on Facebook
To help you with mnemonics memory tricks, I hereby declare January to be #mnemonicmonth on Twitter. I intend to share all sorts of links, tips and tricks, starting today. I encourage you to do the same! Tweet your best mnemonics or inspiring videos/stories/links. I also intend to spend more time on Facebook this month, discussing mnemonics and Chinese, helping students out in case you run into problems. Join the discussion here. I hope more advanced learners will help me with this so that we can create a good discussion environment. Share your thoughts, ideas and questions with the rest of us, we're in this challenge together.

Spread the word about this challenge
The goal with this challenge is to change the way people learn characters. The principles are easy to understand, but still many people, including me sometimes, fail to follow them. Everybody knows that smoking is bad for your health, but it's not easy to quit. Rote learning is equally bad, let's quit together. In order to start this revolution, we need more people. Spread the word, agree with one friend to check on each other, make yourself accountable.
More about spaced repetition software on Hacking Chinese
https://www.hackingchinese.com/sensible-chinese-character-learning-revisited/
---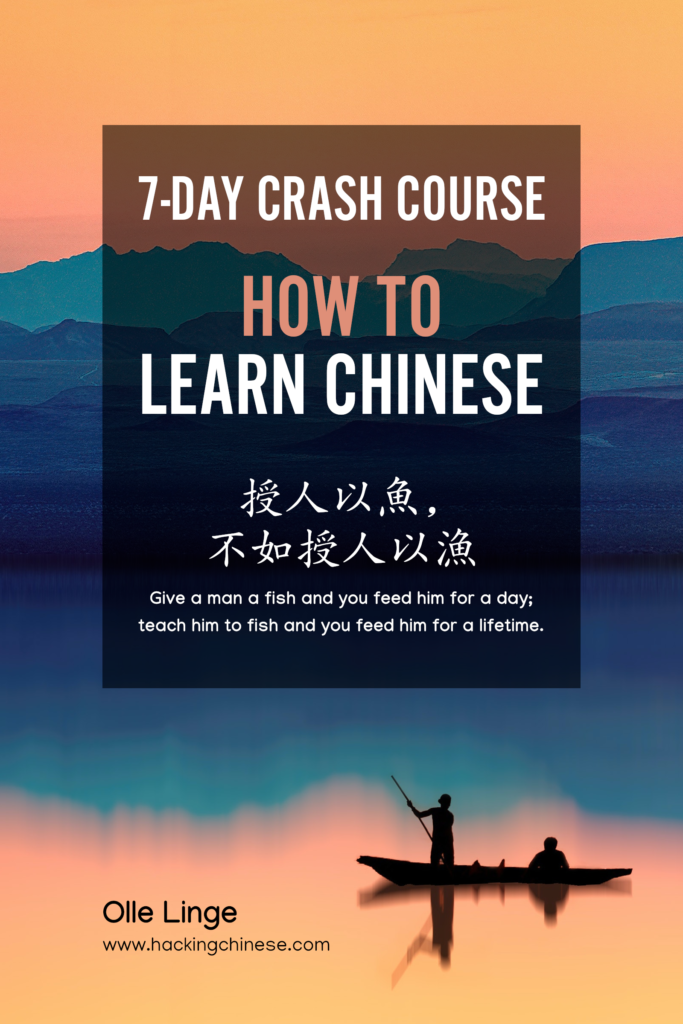 Tips and tricks for how to learn Chinese directly in your inbox
I've been learning and teaching Chinese for more than a decade. My goal is to help you find a way of learning that works for you. Sign up to my newsletter for a 7-day crash course in how to learn, as well as weekly ideas for how to improve your learning!