It seems to me that most people like to feel that they gradually improve and become better at what they're doing. This is partly why learning is fun in the beginning when every step forward is noticeable, but it's also why intermediate learners often feel frustrated and complain that it feels that their learning has plateaued.
Actually, they're still learning, it's just that the new things they learn don't make a difference big enough to notice. If a drop of water falls in a dry bucket, you can see the effects. If it falls in a bucket that is half-full, there's no noticeable difference. Just a drop in the bucket.
Measurable progress is awesome…
Before we turn to Chinese in particular, I'd like to share with you my personal theory of measurable progress. It started with this question: Why is it that so many people like going to the gym these days? I like body-weight exercises myself (I practice gymnastics) and these can be done for free at home, so why pay money and spend extra time going to the gym?
I realise that the answer to this question is complex and involves many factors, but I think that measurable progress is a key component. In a gym, each movement can be measured very exactly. We repeat more or less the same routines every time and therefore we can see that, yes, I have added so and so many reps or so and so many kilograms since last month. This makes us motivated to keep going, even though we might not feel or see the difference in our everyday lives. The fact that the progress is measurable makes us move forward.
…but it has some serious drawbacks
The gym of language learning is spaced repetition software and other fairly mechanical ways of practising that give us detailed feedback on what we do. Why is it that some people use SRS more than they actually read or listen to Chinese directly? Why is it that some regard SRS as a comprehensive language learning strategy, when in fact it's just a tool among many?
I think it's because it offers us proof of progress. We can prove to ourselves that we are learning, we can show others what we have accomplished, even if we ourselves don't really feel that much of a difference. I have at least learnt 20 new words today. I know 100 more characters than last month.
The problem is that these programs were never meant to supplant reading and listening. They are useful tools that can help us boost vocabulary and reinforce certain other areas, but they are not substitutes for actually using the language, either in written or spoken form.
Using only spaced repetition software would be like doing a few exercises in the gym and then expect to win a multi-sport event in the Olympics.
Still, most professional athletes use a gym and I think SRS has a lot to offer to language learners of all kinds, so don't read this article as recommendation to stop using SRS. However, if SRS is your main (or perhaps only) window to the language you're learning, you're doing something seriously wrong.
How to measure progress without being trapped in the gym

As I have written in another article, I think than benchmarking is the way out of the dire straits. Benchmarking offers you a way to measure progress while exposing yourself to the language in a healthy way. In case you're not familiar with benchmarking in the sense that I use the word here, it simply means using various methods to record progress and compare with similar measurements in the future to highlight the fact that you are actually learning something, even if it doesn't feel like that (or, in case you actually don't improve, it's a good way of telling you that you need to change your method).
There are many ways of benchmarking and which one you use depends on what you want to benchmark (see the above article for more specific guidelines). I'd also like to recommend this article about approaches to reading in Chinese, especially the part about benchmarking.
Turn a potential enemy into a powerful ally
Finally, if you feel guilty of exaggerated SRS use, you shouldn't feel too bad about it. Perhaps the reason you use SRS so much is that you really care about being able to feel that you're truly learning something. This need can be turned to your advantage. Measurable progress might be your enemy if you allow yourself to be trapped, but it can also prove to be a powerful ally if you use it wisely.
---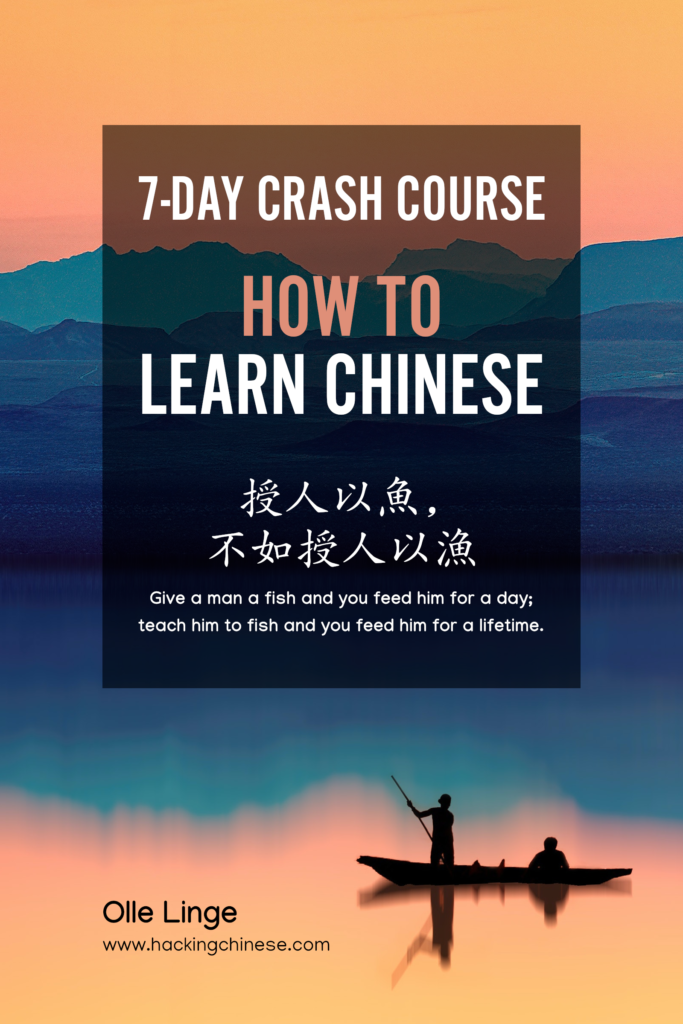 Tips and tricks for how to learn Chinese directly in your inbox
I've been learning and teaching Chinese for more than a decade. My goal is to help you find a way of learning that works for you. Sign up to my newsletter for a 7-day crash course in how to learn, as well as weekly ideas for how to improve your learning!