Translation into the target language (Chinese in our case) is a very powerful way of improving mainly writing ability, but also speaking and vocabulary in general. It's a method that works best for intermediate or advanced students. In fact, the better your Chinese is, the more you will benefit from translation. In this article, I will discuss why translation is so good, along with some tips on how to do it right. I've separated the first part of the discussion into two parts: beginner and non-beginner.
Translation for beginners
Actually, translation is extremely hard to avoid as a beginner. When you see things around you, the first thing that pops up in your head is a word in your native language rather than a word in Chinese. This needs to be translated. The same goes for abstract thoughts or feelings. In general, this is something we want to avoid The goal for the beginner is to use less translation, not more! Thus you should wait until you reach an intermediate or advanced level before deliberately using translation as a tool to learn Chinese, because you're likely to translate a lot even if you don't want to.
Translation for intermediate learners and above
For the purpose of this article, I consider you to be an intermediate learner when you feel that you can express most of the things you want in Chinese, even though it isn't always right or the best way of putting it. You feel relatively comfortable speaking about familiar topics, you have a solid foundation in general.
For the intermediate student, translation is an excellent way of widening your horizons and forcing you to explore unfamiliar territory. One problem with having achieved basic fluency in a language is that it feels quite good and we tend to stick to the words and patterns we already know. This means that our language will stagnate, so practising translation can be an impetus to your learning.
More than just writing about different topics
When I said "unfamiliar territory" above, I didn't simply mean "new topics". You don't need translation for that, you can just write about different topics in Chinese without involving translation at all. No, I meant that you will be forced to use Chinese in ways you aren't used to. If you write an article on your own, you can always rewrite a sentence if you encounter a structure you're not sure how to use or a word you don't know. When you translate, you can't just skip an idea because it's hard to express.
Research shows that both native speakers and second language learners are very good at using whatever language they have to express what they want. This is very good for communication, but not so good if we want to make our language richer. Thus, from a grammar/vocabulary perspective, translating is harder than writing a new text. Not only do you have to express something in Chinese, you also have to take the original into account and not deviate from it too much.
Don't translate directly
We all know what happens when you translate directly from one language to another. It might work okay between related languages, but it doesn't work at all when translating English to Chinese. Here's a simple method you can try if you don't want to get stuck in English grammar when writing Chinese:
Locate the core concepts of a sentence
Translate these words based on the context
Put the translated words in random order
Combine these words according to Chinese grammar
Read the sentence and add elements that are lacking
Because of the scrambling in step three, you avoid being stuck in English grammar. You have the core concepts, now you need to combine them into a grammatically correct sentence in Chinese. When I started doing translations many years ago, I used to write down the core elements of a sentence in a list and then ignore the original and just think about how I could express the items in that list.
A closer look at the translation process
Translation is an immensely powerful tool for advanced learners. One of my favourite courses in university was Swedish to English translation. Now, you might think that my English is adequate, and you'd be right as long as I can choose topics myself. I still have gaps in my English ability and translation would be a very good way of addressing that problem, only if it weren't for the fact that I care much more about Chinese these days.
This is what we used to do for our translation class. Before each lesson, we were sent one article written in Swedish and were asked to translate it into good English while keeping as close as possible to the original text. The articles were typically newspaper articles about different topics.
In class, we were divided into groups and each group was responsible for one paragraph. In essence, we were supposed to compare and discuss our translations and decide on the best possible translation of our paragraph. Then, all paragraphs were put together and the teacher went through the whole article with us, all in a very open atmosphere.
Students were encouraged to suggest changes, ask questions (would it be possible to use x here, I think y is a better choice than y in this sentence) and discuss. Inevitably, many discussions revolved about the meanings of different patterns and the usage of near synonyms. This is the kind of discussions advanced learners really need.
Every single step in this process taught me a lot. Not only did I spend time translating the article myself, I also had to motivate my choice of words, I received numerous other suggestions and had to decide whether they were sound or not. I encountered many new ways of expressing the same thing. Finally, I received feedback and had the option to ask question about some of the more interesting questions related to the article.
You can do all this on your own without paying a cent
Even though I would love to replicate this for learning Chines, it's going to be very hard to find such an environment. Instead, I've been doing similar things on my own for several years now. As a result, I think my writing ability in Chinese is probably my strongest side. The process can be modified and changed in any number of ways, but this is what I normally do:
Select a topic – This step is incredibly important. If you feel that it's hard to get going, you should choose a topic you're really interested in. Spending hours translating an article you think is boring is… well, boring. Don't do it. If you feel up to it, select a topic you're not familiar with. If you aim for proficiency in a certain area (language, business, technology) you can and should choose this kind of articles more often.
Select a text – This is relatively straightforward, but there are two things you should keep in mind. First, if you want feedback, it's helpful to choose articles in a language that your tutor, friend or language exchange partner can actually read. If you plan on doing this online, using English is by far the best choice, so do this if you can (I assume you can, otherwise you probably wouldn't read this). Second, choose short articles, partly because this allows for more diversity, but also because it's easier to get feedback from native speakers if you don't write too much (I think you can guess I have some personal experience with this).
Translate the text – This is what I've discussed above, so I won't repeat myself. Depending on how advanced you are, you can set your goals slightly differently. Very advanced users should focus on making good translation, whereas intermediate students should focus on making adequate translations (i.e. expressing roughly the same meaning, but not necessarily in the same style).
Receive feedback – Even though I think that the process of translation is very useful in itself, it would be a poor method without any kind of feedback. You need to know if the Chinese you've written makes sense, if you've violated any grammar rules and if a native speaker can understand your text in general. What looks like rock solid logic in your mind might be complete gibberish for a native speaker. This fact isn't limited to translation, though. If you can't get feedback from people around you, I suggest using Lang-8.
Process the feedback – Once you know where you went wrong, you should correct your article. Make sue you understand most of the problems (but avoid perfectionism), add new words to your review software, look up relevant grammar if you need, post really tricky questions on Chinese Forums or Chinese Stack Exchange. Make sure you provide adequate information as well as your own attempt to solve the problem.
Chinese-English translations
Translating Chinese into English is also useful, but I don't think it's as important as translating into Chinese, mostly because it's much easier. Another problem is that it's much harder to receive proper feedback. To get feedback on a translation into Chinese, you need a native speaker who can read English at a decent level (this is not uncommon); in order to get feedback on translations into English, you need someone who is much better at English and whose Chinese is better than yours. There are much fewer of those people around.
If you're interested in Chinese-English (or Chinese to other languages), you should check this guest article by Julien Leyre of the Marco Polo Project in which he talks more about the benefits of translating in the other direction.
Conclusion
I think translation is one of the best ways of keeping on improving writing beyond the intermediate level. Translation forces you into linguistic environments you wouldn't have ended up in if you wrote the article yourself. Lastly, translation never becomes easy. It doesn't matter how good your Chinese is, translating from one language into another will always be a challenge and you're bound to benefit handsomely from the process.
---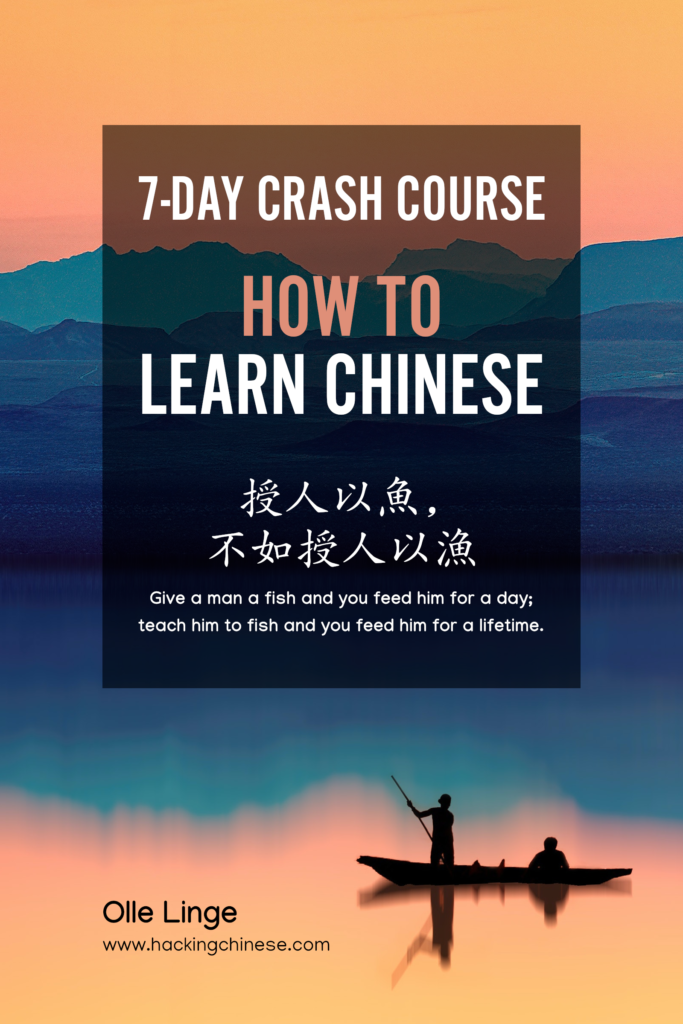 Tips and tricks for how to learn Chinese directly in your inbox
I've been learning and teaching Chinese for more than a decade. My goal is to help you find a way of learning that works for you. Sign up to my newsletter for a 7-day crash course in how to learn, as well as weekly ideas for how to improve your learning!