One of my earliest contributions to the Chinese language learning community was to share my flashcard decks, first with my fellow classmates and then with the rest of the world. I have almost a dozen decks shared in Anki now that have been downloaded thousands of times. However, I think downloading other people's decks is a double-edged sword. I don't create my own flashcards only for altruistic reasons. Do you know why?
Creating your own flashcards is good for you
Actually, if it weren't for the fact that if I didn't share, someone else would, I feel that offering ready-made decks might be doing a disfavour to ambitious language learners. Sure, if you're leaning towards the more casual style of learning, being able to download a deck in five seconds rather than enter a whole textbook manually is awesome, but it comes with a cost. Here's why I create my own flashcards.
There's a lot of crap out there. Many decks you can find online are really bad, with incorrect definitions, pronunciation or erroneous characters. They might miss important vocabulary or be automatically generated rather than manually created (this is actually true for my earlier decks as well, because I created them retroactively). If you enter everything manually on your own, you know what you get. This also avoids the problem that arises when you're wrong on an exam because the definition in your deck and in your textbook are different.
You get to know your deck. Perhaps your deck doesn't need to be you best friend, but getting to know it is quite important. If you've built your deck on your own, you care a lot more about it and it's also much more rewarding to work with it. You know where the definitions come from, you know what abbreviations and notes on the flashcards actually mean.
Your Chinese will improve during the process. Entering the words from a chapter in your book manually takes quite a lot of time, but it's not wasted time like some people seem to think. This is a very good opportunity to learn! Check the characters in dictionaries, look up the radicals and learn the words! Remember that it's spaced repetition, not spaced learning.
Obviously, you can gain some of these benefits simply by using decks from people you trust or that has been recommended to you, but the last item in the list above is really important. If you download lists of new words, you need to study them before you can review! If it's your textbook, then fine, but downloading huge lists from the internet and hacking away at them isn't a good idea. You need to process what you learn actively.
How to create flashcards manually
I don't know what flashcard program you use (I suggest Anki or Skritter), but there are some things that are universal and applies to all programs. First, even though this might sound counter-intuitive, I suggest that you disregard the auto-completion or dictionary look-up function if there is one. You can look at the answers, but it's much better to write your own, even if it's a verbatim copy from a textbook or dictionary.
This is extra important when you copy from a Chinese-Chinese dictionary. It's so easy to skim through the definition, copy-paste it and be done with it. If you type it manually, you have to process the sentence much more actively, which aids learning tremendously. It turns menial copy-pasting into a learning opportunity.
Second, spread it out. Regard flashcard creation as learning rather than a mechanical task you perform using your computer. You probably wouldn't sit down and try to learn all those words in one go, so since we have now merged learning and flashcard creation, we should apply the same principles. Add the words in small batches of perhaps 3-5 words. Add example sentences (read and type them), add definitions, add other useful information you find in your textbook or online.
Editing flashcards

Likewise, if you need to change or update your flashcards, this shouldn't be viewed as menial task that just needs getting over with, it's part of your studying. This is where you adjust the cards to your current needs, often adding more information where you've found it lacking, but also removing cards you don't need. I spend quite a lot of time adding information about synonyms, new example sentences and details about character composition. Again, make this a learning opportunity and not just a chore!
Not a waste of time
This article should have explained why I think it's weird to think that I'm wasting my time creating flashcards. It's not as if I have to grow the trees, cut them down, turn them into paper and write the information on them. That would indeed be a waste of time if my goal was to learn Chinese. In this day and age, though, the actual creation of a flashcard takes a second. Filling in the information takes much more, but as I have explained before, that's not necessarily a bad thing.
More about spaced repetition on Hacking Chinese
---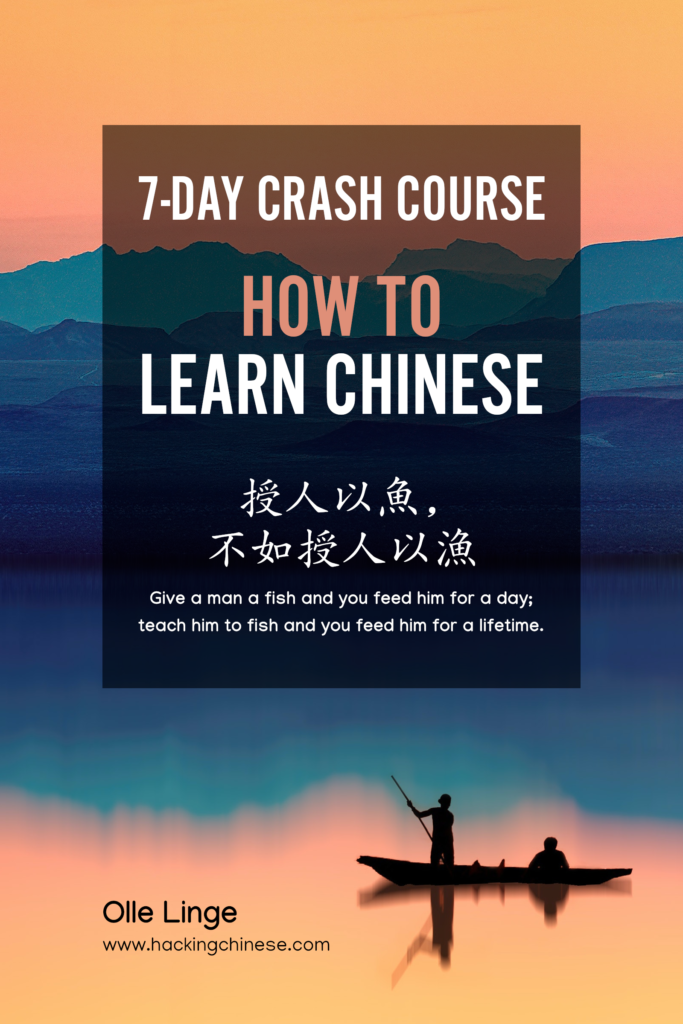 Tips and tricks for how to learn Chinese directly in your inbox
I've been learning and teaching Chinese for more than a decade. My goal is to help you find a way of learning that works for you. Sign up to my newsletter for a 7-day crash course in how to learn, as well as weekly ideas for how to improve your learning!