Today, I have the pleasure of inviting you into my shower and show you some neat ways of improving your Chinese. I promise I will keep my clothes on, because even if the tone in the title is playful, what I have to say is important. I've used my shower to learn more Chinese and in this article I will share my experience with you.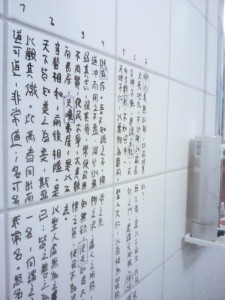 Learning Chinese in the shower might sound exaggerated, but if we lead busy lives (or simply want to learn as much Chinese as possible), I've found that whet showering I usually spend minutes just staring into a wall. Now that might be useful in itself for meditative or recreational purposes, but if you want to diversify your learning even more and find time when you really think there isn't any, using the shower is actually very good. Why not put something on that wall and stare into that instead? The basic concept is simple: Write whatever you want to learn on the walls of your shower (cabin).
Spaced repetition and some practical comments
Daily seeing the characters you have written is quite useful in itself and is a kind of spaced repetition. Of course, you don't have to actually shower to look at them, it might as well be when you brush your teeth. The process of writing the characters is of course effective in itself, but it also requires time of a much higher quality, so it's not necessarily suitable for everyone.
Writing on the walls in your shower works very well in most apartments and shower cabins, but do make sure that you can remove what you've written before you get serious. Make a mark in a hidden corner and leave it there for a few days, then try to wipe it away. If you fail, use another pen and try again. Just make sure that you can wipe away what you've written, I don't want you to blame me if your landlord wants to kill you! I've found that most whiteboard markers work very well on both plastic and ceramic tiles.

Three examples

Even though you could use your shower to learn many things, I think handwriting, vocabulary and text learning are the most suitable areas. I'm going to give you three examples:
Killing leeches (i.e. characters or words you find very hard and refuse to stick in your mind)
Memorising texts (I'm currently trying to learn 道德經)
Intensive spaced repetition (let's say you want to learn 大写(大寫); numbers used in formal or financial situations)

Killing leeches in the shower
We all have our nemeses among Chinese characters (called leeches in Anki). The best way of dealing with these is becoming friends with them. Inviting them to shower with you is a good first step (although I don't recommend you doing that the first time you invite your normal friends). Whenever you encounter a word that refuses to stick or that you fail over and over again when reviewing, write it on the wall in your shower (with a non-permanent marker, see the above guidelines). Write it big, so that you can see all the strokes clearly. Small characters might look nicer because you can't see your own mistakes as clearly, but when learning to write, write large characters ( see Learn by exaggerating: Slow, then fast; big, then small). Also, add any extra information, translate, draw pictures.
Memorising texts
I haven't memorised many texts in my life, but I have tried learning 道德經 (commonly known as Tao Te Ching in the West). I might talk about this project more later, but I will share the shower part right now.
Here's the procedure I've used:
Write a verse on the shower wall, far to the right
The next day, rewrite the same verse, now one tile to the left
Repeat until the verse has moved a few steps and you feel that you know it
This approach worked really well for me. You will need to do more than this to memorise classical Chinese, but it is a good tool to use once you feel that you have understood what you're reading (memorising things you don't understand is very hard and a waste of time).
Intensive spaced repetition
Just because Anki happens to be awesome, it doesn't mean that there is no other way of using the spacing effect. In fact, most systems where analogue up until recently. What I describe above with 道德經 is a kind of spaced repetition. If find this particularly useful for learning sets of characters which belong together, where it's not very useful to see them one at a time. For instance, you could use this method to learn the following:
Fraud-proof numerals
The heavenly stems
The earthly branches
The Chinese zodiac
Follow the same procedure as above, move the characters around the shower. This is what it looked like when I reviewed the fraud-proof numbers:
Beyond the shower
Of course, using the shower like this is just an example. You can do the same close to the toilet, in your kitchen or next to your bed. Placing things you need to study where you tend to have a few spare minutes is a very good way of getting more things done. Use the environment around you to make learning natural and easy!
---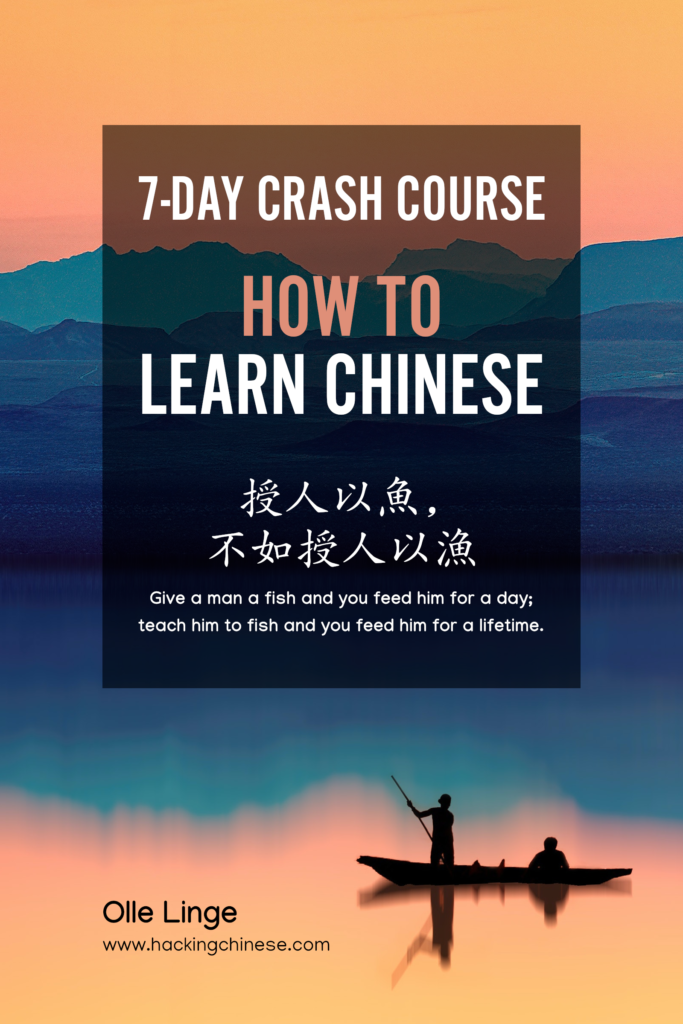 Tips and tricks for how to learn Chinese directly in your inbox
I've been learning and teaching Chinese for more than a decade. My goal is to help you find a way of learning that works for you. Sign up to my newsletter for a 7-day crash course in how to learn, as well as weekly ideas for how to improve your learning!