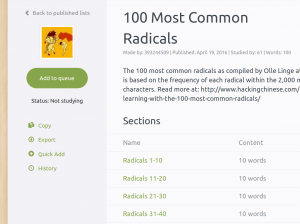 Lists are nice. They make the world seem more orderly and manageable. Ticking something off a list feels good, and when you've worked your way through the whole list, you know that you've accomplished something. Progress!
Now wonder that students love studying lists, ranging from official HSK lists, vocabulary lists from standard textbooks, or just random list of interesting or useful characters or words found online.
But a language is a complex system for communication, not just a list of vocabulary, so reducing it to that can be dangerous. Lists make the language seem orderly and manageable, but this is an illusion!
In this article, I will discuss pros and cons with using lists for learning Chinese. As we will see, lists can be useful, but some lists are more useful than others, and they need to be used in the right way!
Why using vocabulary lists to learn Chinese is a good idea
First, let's have a look at why you might want to use lists for learning new characters and words:
Each of these are valid reasons for using lists in some way, and I think that combined, they account for the bulk of the explanation as to why students of Chinese (and other languages, of course) tend to rely on lists a lot.
But that doesn't mean that you should use them all the time or that there aren't problems associated with using lists. There's a fair amount of research into vocabulary acquisition related to lists, and even if it doesn't unanimously discard lists as a source for vocabulary, lists aren't as good as you might think. Let's turn the above pros around and see how they can actually also be cons.
Why using vocabulary lists isn't such a good idea after all
As I said in the introduction, a language is a complex system for communication. It would be naïve to think that you could master Chinese simply by studying lists of characters and words, but even if few students actually think that's the case, many act as if it were at least partly true. If your Chines diet consists mostly of HSK vocabulary lists and test preparation, then you're missing out on both more fun and more useful methods!
Here's the flip side to the above advantages:
As we can see, learning directly from a vocabulary list has certain drawbacks. You can get around some of them by using carefully curated content, having a competent teacher and generally being an independent learner who knows about the potential problems. My hope is that this article has helped you towards becoming more aware of the problem.
Vocabulary lists can be very helpful in certain situations
I don't mean to say that you should never learn vocabulary from a list. There are plenty of times when this makes sense, such as when you want to plug gaps in your vocabulary on a level significantly lower than your current one, or as preparation for listening or reading practice that would otherwise be too difficult.
Personally, I've relied on flashcards a lot for recognition practice, improving my passive knowledge of characters and words a lot, but without giving me much information beyond the basics. I have then paired this with very large amounts of reading and listening, which provides the missing parts. This approach certainly works, but you can't do just the vocabulary bit and hope for the best! That would be like lifting weights day in and day out and wonder why you don't get better at sports.
The point is that it should be a tool you use in certain situations when you have a clear reason for doing so. It should never be your main or default study activity. If you don't know where else you can find words to learn,
I suggest you check out this article: Which words you should learn and where to find them. Spoiler alert: Read and listen more! Then generate your own lists based on what you read and listen to, keeping note of the context in which you learnt the word, or preferably, add a short phrase instead of just a word.
There's much more to say about different kinds of lists, especially frequency lists, which I have talked about here: Vocabulary lists that help you learn Chinese and how to use them
Vocabulary lists that help you learn Chinese and how to use them
References and further reading
Folse, K. S. (2004). Myths about teaching and learning second language vocabulary: What recent research says. TESL reporter, 37, 13-13.
Schmitt, N. (2008). Instructed second language vocabulary learning. Language teaching research, 12(3), 329-363.
Webb, S., & Nation, P. (2017). How vocabulary is learned. Oxford University Press.
---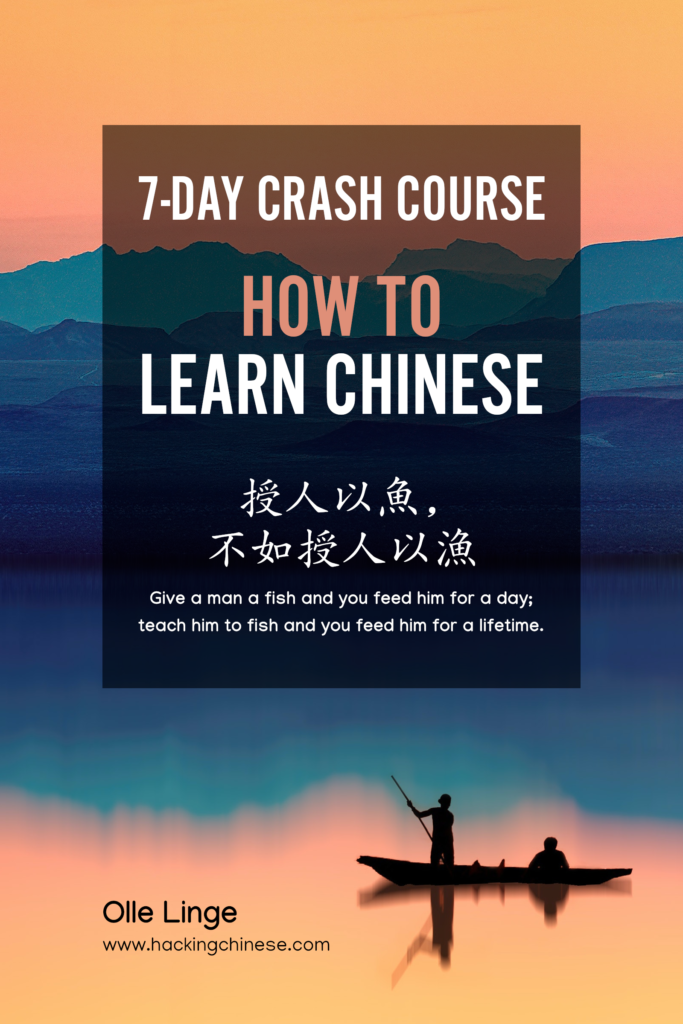 Tips and tricks for how to learn Chinese directly in your inbox
I've been learning and teaching Chinese for more than a decade. My goal is to help you find a way of learning that works for you. Sign up to my newsletter for a 7-day crash course in how to learn, as well as weekly ideas for how to improve your learning!