Spaced repetition is very powerful compared to massed repetition, which is why software utilising the spacing effect is growing ever more popular. I sometimes feel like an SRS missionary, writing articles about why everybody should start using SRS and which program I prefer myself (if you don't know what SRS is, please read these articles before reading this one). This is all very good, but it leaves many questions unanswered. For instance, how should spaced repetition software be used?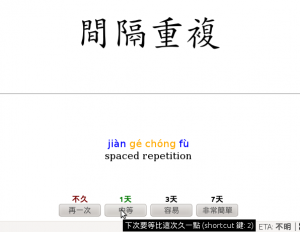 In this article, I will discuss how to review vocabulary using SRS, including how to use the various answer buttons and some other functions commonly available. I will use Anki for all examples, but other good programs will of course have similar or indeed identical features. The algorithms used to calculate the spacing between repetitions might not be identical for all programs, but they are similar. What I discuss in this article is useful beyond specific programs, so don't put too much emphasis on the exact details.
This article isn't meant to be a guide to what is correct, it's rather meant to be a discussion with some personal examples and motivations to why I'm doing what I do. If you have other ideas or don't agree, please leave a comment!
More about spaced repetition on Hacking Chinese
Answer buttons

Most programs make use of four buttons, typically labelled:
"again"
"hard"
"easy"
"very easy"
Without any kind of definition, these answers are completely arbitrary. Do you hit "again" even if you fail a minor point in an otherwise complex and completely correct answer? Do you hit "easy" or "very easy" when you encounter a word you feel that you know quite well? What's the difference between "hard" and "easy"? Of course, there are no entirely correct answers here, but I will give you my own ideas. Before that, though, let's discuss briefly why this matters at all.
The short answer is that the choice matters greatly in the long run. Even if the algorithms will more or less automatically adjust the difficulty and the intervals for you, make sure you're not being too harsh. A quick calculation shows that if you could use "very easy" for 10% of the cards instead of "easy", you will save many hours over a year of reviewing (how much you save depends on how much time you spend reviewing of course). This time could have been spent doing something more useful. However, the opposite is true as well. If you select "very easy" for cards you don't know that well, you will end up failing them, thus wasting more time than you would have saved, so don't be too lenient either.
What does all this mean, then? It means that you should assess your answers as accurately as you can. This is individual to a certain degree and requires a bit of practice. If you use a decent program, you should be able to get detailed graphs showing you how much you click the various alternatives. Here's what my graph looks like: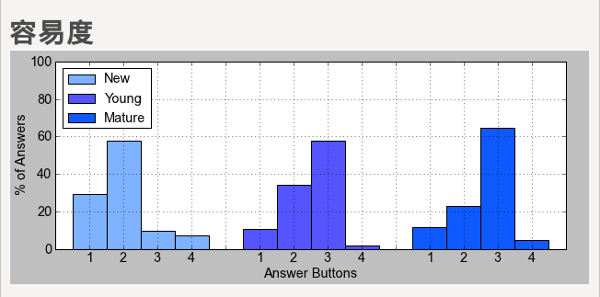 Avoid perfectionism: 90% is good enough
Note that most algorithms are set to give a 10% failure rate, which is almost exactly what I have if we ignore new cards. This is because a higher rate would mean that you're wasting time studying too many words you already know, so don't make the mistake of thinking that a higher number is necessarily better. Perfectionism is a waste of time. If you fail 10% of the cards, you're doing it right!
Now, most of this is self-adjusting. If you enter a bunch of difficult words, you will hit "hard" quite a lot (check my new cards, for instance). However, since the intervals of these cards will be shorter because of that, you will also learn them better, which means the interval will be adjusted so you think they are "easy" next time you see them. This is the whole point.
The answer buttons and how I use them
Here's what I usually do (including approximate percentage for mature cards):
"again" (~10%) – I really don't know the word, or I have forgotten a crucial part of it (such as forgetting the pronunciation of a character or only having a vague idea of what it means). However, the nature of the mistake is important. If it's something I think it's likely I will remember next time, I might choose "hard" rather than "again" for relatively new cards (interval less than one month). The reasoning behind this is that it will just clog the review queue if I reset the interval by hitting "again". If I make the same mistake next time, I will choose "again". I'm convinced this saves quite a lot of time in the long run.
"hard" (~20%)  – I select this answer if I can come up with the right answer, but only after considerable mental effort, such as retrieving old mnemonics or comparing with other words I know. Also, see the discussion above about using "hard" instead of "again" for mistakes that are unlikely to occur twice. I never use this for words that have longer intervals (months or years), because you simply won't see them again for a long while even if you choose "hard".
"easy" (~65%) – This option is for cards that I recall almost instantly or feel very familiar with. These are words that wouldn't stop me when I'm reading and don't require much mental effort to recall. I estimate that I spend less than three seconds each on these cards; if more, they count as "hard" rather than "easy".
"very easy" (~5%) – I only use this answer when I'm completely sure that I won't forget this word within the given interval. For new cards, it means that I have learnt it properly and really think that the current interval is much too short and is a bit wasteful. For old cards, I answer "very easy" for anything I'm sure I'd know years from now even without reviewing. Instant or intimate knowledge of the word is what generates "very easy" for me.
Look at the interval
I think it's a mistake to be 100% consistent when reviewing vocabulary if you ignore the intervals and only look at the buttons themselves ("again", "hard" and so on). There is a huge difference between "hard (4 days)" and "hard (4 years)". The reason is that I can easily pick the first one if I make an easily correctable mistake on a new word because I know I will be checked again in a few days anyway. If I fail again because the correction wasn't as easy as I imagined, I will know that and can hit "again" if I feel the interval has grown too large. If the interval is four years, however, I won't see the card ever again (in practical terms) even if I choose "hard", which means that I can't be sure I've corrected the mistake. In this case, I would hit "again" and suck it up.
Other useful functions
There are many other features you should use to increase efficiency further:
Leeches are cards that drain time because you fail them over and over. Anki suspends these cards automatically after a given level. I suggest lowering this level (the default number is 16), because if you fail a card that many times, you really need to do something else. As I've argued elsewhere, spaced repetition is meant to reinforce what you already know, not force new knowledge through cramming. Please also refer to my article about killing leeches.
Suspending cards simply means that you manually remove them from the review queue and that they won't appear until you activate them again. I do this for cards I suspect have serious problems or when I think that reviewing them is useless, perhaps because I've given too little information and might confuse the word with other words.
Marking is something I've started doing a lot recently, which basically means putting a tag on the word that you can easily find later. I separate active vocabulary learning from reviewing, both in time and space. I review using my phone, but I always use my computer to kill leeches, delve deeper into difficult words or sort out synonym issues. Therefore, while reviewing, I simply mark any card I might need to work more with and keep reviewing. Then, I go through these words later, using dictionaries, asking native speakers, correcting mistakes.
Some questions for the reader
Are your answering criteria different from mine?
What does your graphs look like for new/young/mature cards?
Do you use leeches, suspending and marking as I do?
Do you use any other cool tricks I haven't mentioned?
Any other tips, tricks or ideas you'd like to share?
---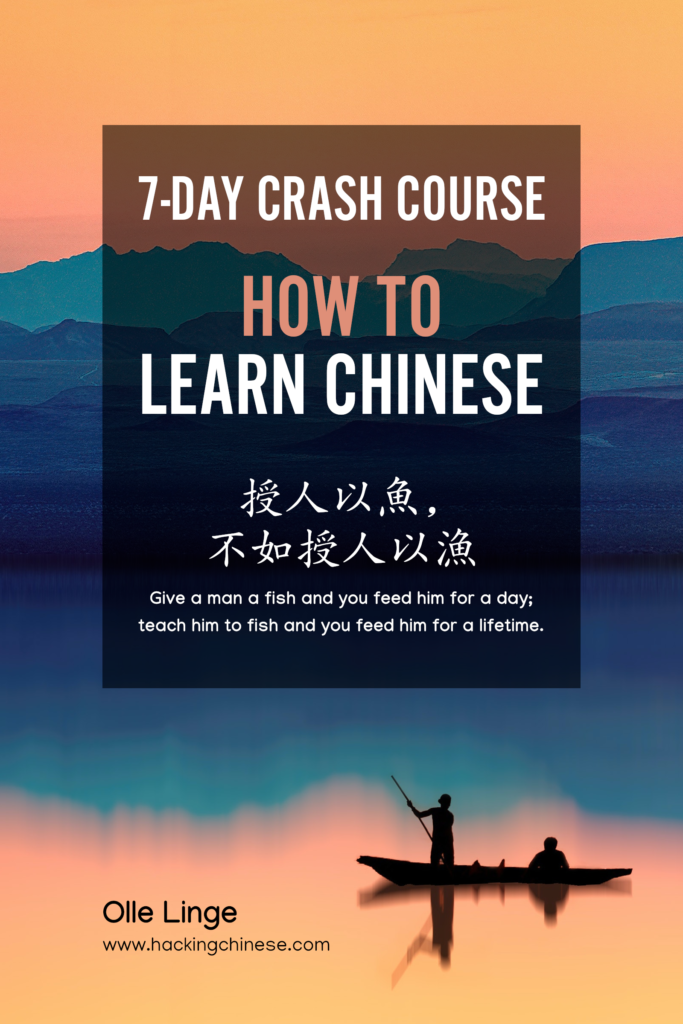 Tips and tricks for how to learn Chinese directly in your inbox
I've been learning and teaching Chinese for more than a decade. My goal is to help you find a way of learning that works for you. Sign up to my newsletter for a 7-day crash course in how to learn, as well as weekly ideas for how to improve your learning!