Looking back at all the things I've learnt in school throughout my life, what strikes me is that a very tiny fraction was focused on the most important aspect of all: how to learn. People seem to be of the opinion that learning is a talent that you either have or don't have. This is patent nonsense. There are many ways of learning things, just as there are many ways of doing anything in life; some methods work better than others, and with time and practise, you can find what is suitable for you and you can improve your learning ability. In other words, you can learn how to learn.
The goal

The goal is to be able to learn whatever you encounter with as little effort as possible. Although it's always possible to improve, I think I have managed to reach a level where I can learn new words really easy., mostly using the method I have detailed in my series about learning vocabulary (starting with this article about character components), I have been able to learn many hundreds of words per day for shorter intervals, peaking at 2000 words in five days in early 2011 (read more about this in this post about learning words quickly).
On average (including vacation, breaks, and so on), I have learnt around 12 words per day since I started studying Chinese four years ago.
The method
How is this possible? I don't say this to boast, I seriously believe that anyone can do it, provided that they have made the correct preparations and have developed proper toolkits. I was able to do this because  my knowledge of Chinese isn't a mishmash of separated facts, but more like a densely interconnected web. I have spent a significant amount of time to organise knowledge in a meaningful way and I know the basic building blocks that are necessary to create the infrastructure of learning Viewing learning in this way is called holistic learning, because rather than trying to learn isolated facts, you connect what you want to learn with a bigger, more meaningful whole.
It is possible to learn new words at a pace of one per minute, including maintenance. Since this is Chinese we're talking about, most words consist of two characters, most of which advanced learners will know already. Instead of seeing a new word, you simply see two nodes in the web structure and then use a creative way to connect the two, and associate the meaning with these nodes. This doesn't mean that you will know how to use the word perfectly after just one minute, but it does mean you know what it means.
For characters, it's the same, but just at a more detailed level with parts of characters and radicals instead of full characters. A minute is a lot of time to create a connection and if you can stay focused, it can be almost instantaneous. The only reason I can't do it faster is that some connections are always trickier and I also review to make sure that everything sticks.
The web structure of holistic learning
I'm going to argue that the traditional way of learning languages (or learning anything, for that matter) is deeply flawed. I think most people have memories of rote learning of vocabulary, each handled as a separate unit without any connection to anything whatsoever. This is not only inefficient, it's also boring (which is sometimes one and the same thing).
"Holistic" might sound like a fancy word for some people, but it's actually quite simple. Rather than focusing on single, separate units of data or facts, an holistic approach regards everything as a part of something, as part of the whole. Everything you learn will be connected to everything else you know, perhaps not directly, but at least via other bits and pieces of knowledge you have stored in your brain. A multidimensional web is the most accurate metaphor for this kind of structure.
The main principle of holistic learning is quite simple. First, you need some kind of framework which you can use to roughly sort the information you want to learn. This might be a working model, hypothesis or concept that you form when you approach a subject. The structure is flexible and organic, so it will develop continuously as you learn. A good way to improve on the general infrastructure of your web is to learn about how Chinese works, trying to understand the wider perspective rather than the details. Blur your eyes, take a few steps back.
Now you can start adding threads and nodes in the web (actual characters, words and structures). Connect what you want to learn with something you already know. Try the following to make the connection:
Write it down
Draw it
Say it aloud
Sing it
Think about it
Only you know what's best for you, but do make sure to try more than one method because they work differently for different people and also for different situations. Does it now become clear why it's so important to know radicals and individual characters when learning Chinese? If you know them, you have building blocks that can be connected to each other and form strong bonds. I've chosen to write separately about how to create such bonds, so check the article on mnemonics for more about that!
The web is more than a metaphor
Above, I've used the web as a metaphor to describe how learning is supposed to be. It's more than that though. What goes on in the brain when we learn something? Learning is the formation of new pathways through the brain, new connections between neurons, just like the threads in the web I've talked about above. There are two ways to make sure that you remember something:
Repetition, which will make a single connection stronger because you use repeatedly
Expansion, where you create many different connections to other nodes rather than just to one
The first one would be the traditional way of studying. If you're faced with a list of fifty words to learn, most people sit down and go through the list, perhaps writing the words, covering the answer, until they know them. This creates an arbitrary an abstract bond between two nodes in the web. What you should do, however, is sit down and think how you can connect these words to things you already know. As I've talked about more in the mnemonics article, it doesn't need to be logical connections!
Why is this a good idea, then? There are many reasons:
It's a lot safer, because even if some connections in your web break (let's say at a test), you still have plenty of other ways to get to your destination. If you've just spent time repeating a word, there is no way to retrieve it if you forget it, but if you have it connected to many other nodes, it will be easy.
It's a lot more fun.Creating a dense web is a creative activity very different from rote learning.
It's a lot more efficient. If you have already built up a nice and heavily interconnected web and you've practised making new connections, you can learn new things without even trying. Of course, learning a new language, you still need basic building blocks, but once you have those, you can learn at an incredible pace.
Holistic learning and Chinese
Although this approach can be used to learn anything efficiently, a foreign language is in some ways a bit special and Chinese is also a special language in itself. Approaching a new area as a beginner, there are two things you need to start doing immediately, but preferably with this priority:
Create basic infrastructure, the framework of your web
Create the building blocks that will form the threads in your web
The first part involves learning about Chinese. You need to understand how characters are composed, how pronunciation works and basic grammar. Knowing about this will help you to sort what you learn into a structured web instead of a just heaping everything in a pile. The second part is covered in detail in the articles describing the toolkit (just another metaphor for the same thing), but briefly put it involves learning parts of characters and individual characters so that you have something meaningful to use when you create connections in your web.
Most articles on this website is in some way related to holistic learning, even though it might not be directly mentioned. Just like a network of roads in a country needs to be maintained, you also need to maintain your language web, which is mostly done when you speak yourself (making use of all the connections you have) or when you listen (tracing what someone says, also using the web). This reinforces the threads, making them stronger. It also adds new ones, alters those that were accidentally placed in the wrong position.
You can also use computer programs to reinforce connections, but spaced repetition is not the same thing as rote learning. If you're just using Anki or any other program just to cram vocabulary, you're doing something wrong. These programs should be used to reinforce what you remember; if you've forgotten something, you need to use different methods: Spaced repetition isn't rote learning.
Once you're used to holistic learning, it's mostly an automatic process, even though sometimes concentrated effort is needed to clean things up, deal with specific problems, understand what hampers progress or just add to the basic framework and the toolkit.
And that's what Hacking Chinese is all about.
Further reading
For some reason, I have used holistic learning most of my life without really knowing it. It was only when I read Scott H. Young's articles about it that I realised that what I was doing was in some way different from what other people seem to be doing. If you want to know more about holistic learning, I suggest you head over to his website or check out his free e-book about holistic learning.
---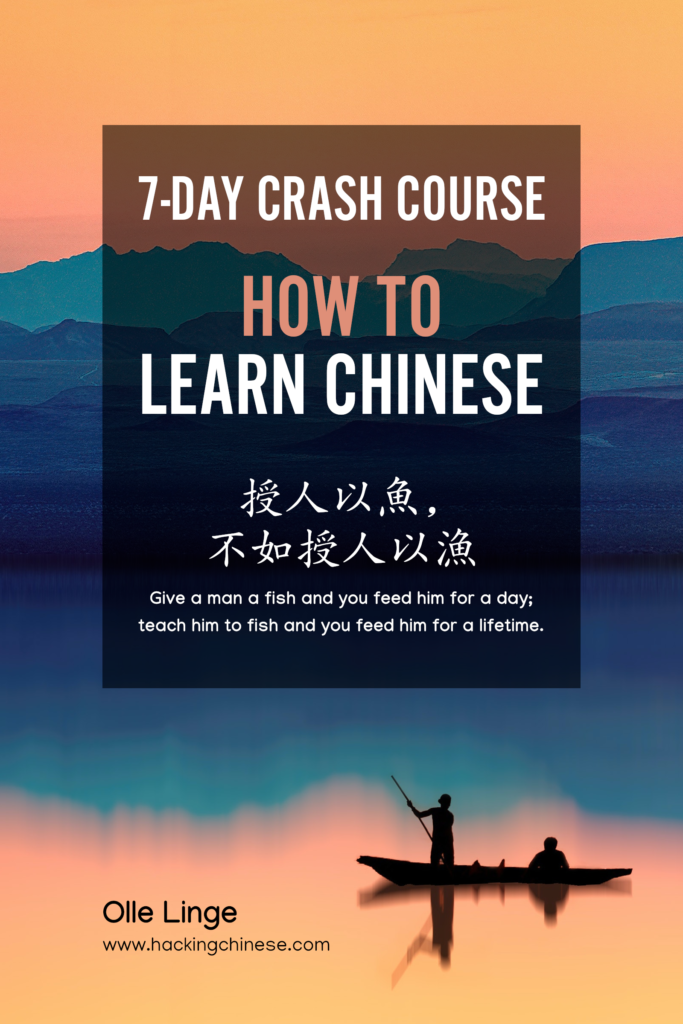 Tips and tricks for how to learn Chinese directly in your inbox
I've been learning and teaching Chinese for more than a decade. My goal is to help you find a way of learning that works for you. Sign up to my newsletter for a 7-day crash course in how to learn, as well as weekly ideas for how to improve your learning!