Memory is a skill that can be practised, learnt and mastered. In order to learn how to read and write thousands of Chinese characters you don't have to have what's commonly called "a good memory". Instead, you need to learn how to remember things and you need to practise using various methods to achieve this. Rote learning is not an option.
This is something I think is absolutely essential when learning Chinese and I have written about in many articles, so if you feel that you aren't really sure what I'm talking about, please click here and return once you've read that article about the basics of mnemonics.
Extending mnemonics

As I'm sure most people who have tried mnemonics have noted, some things are much easier to remember than others. To understand why, we need to look closer at the methods.
In essence, most methods boil down to associating a new fact A with something we already know B in a unique manner which is easy to remember. A might then consist of many different parts and B might be fairly complex, but in essence, this is what holistic learning is about. We connect what we want to know with what we already know.
The problem is of course that concrete things are much easier to remember than abstract concepts, because the former is easily to visualise whereas the second is sometimes not. Before we go into details about Chinese, I want to give you an example of how I use mnemonics to learn things that are very abstract indeed. This is to show you that mnemonics can be used for almost anything, you just need to figure out how.
A general example: Memorising numbers

I can look at a phone number just once and remember it for at least a few months without ever using it. The process takes a few seconds and is effortless most of the time. Now, if you're not into mnemonics, this sounds fantastic, but if you know a thing or two about remembering things, you probably just nod and think that you can also do that if you want to.
However, let's assume for a moment that you didn't just nod your head when reading the above paragraph. How can we use mnemonics to memorise something as abstract as phone numbers? The answer is infrastructure. Memorising random numbers very, very hard without a system, so we need to create some infrastructure in order to help us.
Designing a system, putting infrastructure in place
This is what it looks like in principle:
Identify what needs to be memorised – This could be anything. In this case, I will talk about numbers first, but I will return to tones and pronunciation in Chinese later. The important thing is to analyse what it is you need to memorise.
Create concrete substitutes for what you want to memorise  – A very basic strategy for numbers would be associating each number with a person or an object. One is Neo from the Matrix, two Tupac, three musketeers and so on. Naturally, it's better if there's a natural connection between the numbers and the people, as you can see in my examples. This helps the initial learning, but isn't strictly necessary.
Use the substitutes when you memorise – Assuming you want to memorise a number, use the people from step two instead of the numbers. Thus, if you want to remember the number 312 for some reason, picture the three musketeers using rapiers to fight Neo, but that the scene suddenly shifts to a musical where Neo and Tupac sings a romantic ballad together. Of course, if you're going to memorise large numbers, doing this with numbers 0-9 won't be enough. I have the numbers 0-99, which allows me to memorise Taiwanese phone numbers with only four persons/objects, which only takes a few seconds. My own number is toffee, toffee, ruby, carpet, for instance. I'm not going to explain how I arrived at that, though, because this article is meant to be about learning Chinese.
The need for infrastructure
This example with numbers was just that, an example. A similar system can be designed for almost anything. However, you need to be sure that you're going to use the system often, otherwise it might not be worth it. Numbers are good as examples, because it's never a bad idea to be able to memorise phone numbers, pin codes, logins and serial numbers. The point is that in some cases, we need to add infrastructure before we can make full use of the power of mnemonics. I'm now going to give you two examples of how this can be applied to learning Chinese, first tones, then pronunciation.
Using mnemonics to learn tones
I have received this question many times and the only reason I haven't written about it earlier is that I don't use mnemonics to learn tones very often. It's not very hard to do, though, so let's have a look. As I see it, there are two steps.
Create a concrete substitute for each tone
Create a concrete substitute for each tone combination
The first step can be done in any number of ways. I prefer to use substitutes that aren't active objects (such as people), but rather provide background information. For instance, you can use the colours used for tones in many programs. First tone -> red > fire, second tone -> yellow -> light, third tone -> green -> plants, fourth tone -> blue -> water. Whenever you want to remember the tone of a character, include the above backgrounds into the mnemonic. Everything in the story is burning when it's the first tone, shining bright when it's the second, taking place in the deep jungle when it's the third and under water when it's the fourth.
As I said, I don't use this frequently. If I were to use such a system for tones for every word I learnt, I would add more infrastructure. For instance, I would create one substitute for each tone combination (at least for disyllabic words). I haven't done this, but since the general principle should be understood by now, I think you'll be fine on your own.
Using mnemonics to remember pronunciation
Even though it's possible to devise a system to memorise all syllables in Mandarin (it's actually quite easy, just create substitutes for all initials, medials and finals), I don't think it's worth it. Instead, I think it's smarter to create mnemonics only for those syllables we have problems. Few people mix up the initials sh- and p-, but z- and zh- are trickier. Create infrastructure only when you need it!
Again, there are many ways of doing this. For instance, associate z- with a word you're 100% sure starts with z-, such as 子 which means "son" or "child". Then associate zh- with something else, like 蜘蛛, "spider". Whenever you need to distinguish between these two, incorporate either a boy infant or a spider into the story.
Interference and how to handle it
Some readers might ask themselves if this won't interfere with their ordinary mnemonics. If you have memorised 美 (beautiful) as a fifty-foot sheep, won't it cause trouble if you also add djungle background to remember that it's the third tone? If you have memorised 政 (politics) as beating people to correct their behaviour, won't putting the entire scene under water make things confused? Perhaps you'll invent a new characters which has a tree 木 beside 美 or water 氵 next to 政?
Not really. There are two ways to get around this. One is to always include the tone substitute in the same way. If fourth tone means that everything takes place under water, that is very different from using water of any other kind. If first tone means that everything is on fire, fire can still be included in other ways (candles, bonfires, torches). I usually include the tone substitute in the same way each time, usually modifying the scene itself. The other way is to make sure you have clear pictures of your substitutes. If you think of the third tone as a jungle, you won't confuse this with 木 if you have picture of an oak for that character component.
Mnemonics are individual
Although you can get inspiration from other people, you can't borrow their systems directly and expect them to work as well for you as they do for their original creators. You might not like the way I handle tones or my example for how to separate z- and zh-.
This is not a problem. I know these methods work for me, only you know what works for you. It might require some practise before it gives results and perhaps some consolation can be found in the fact that it the more you practise, the better you will become. Remembering things really is a skill that you can practise and get good at!
---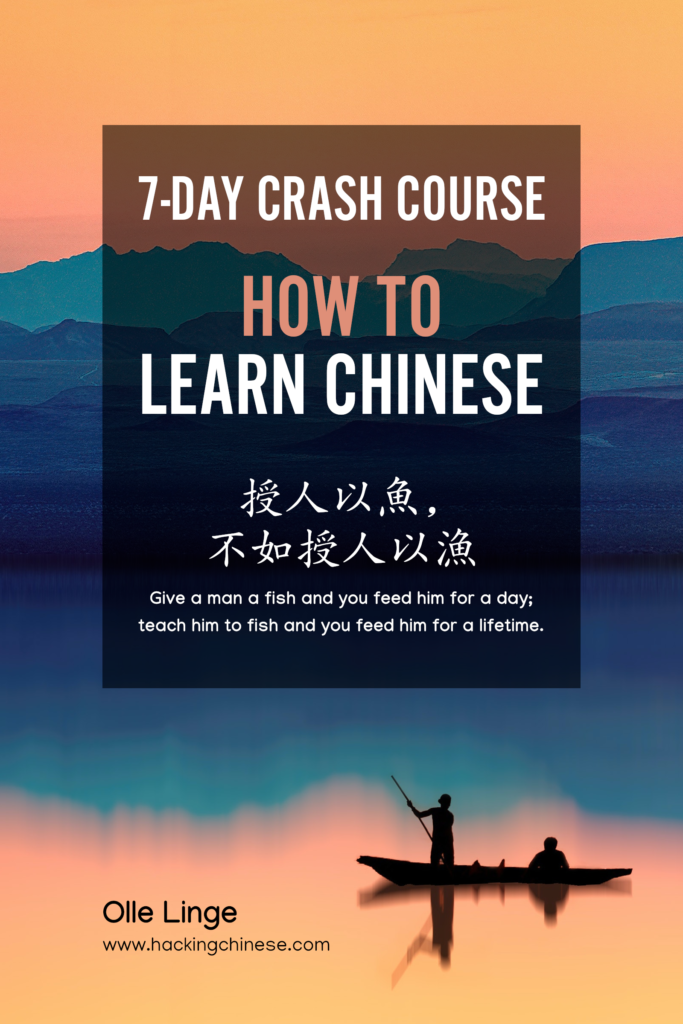 Tips and tricks for how to learn Chinese directly in your inbox
I've been learning and teaching Chinese for more than a decade. My goal is to help you find a way of learning that works for you. Sign up to my newsletter for a 7-day crash course in how to learn, as well as weekly ideas for how to improve your learning!