I didn't use spaced repetition software for my first year of learning Chinese (I didn't know what it was back then). During my second year, I sort of developed my own spaced repetition system. This is crazy when I think back, but I actually kept stats for vocabulary manually and tried to figure out how long I could wait with the next review while still not forgetting too much. Then I found out that there are programs that do that for all words individually, which was a relief. Reinventing the wheel (at least a good wheel) is both difficult and time consuming. If you want to read about what spaced repetition is and why you should use it, check this article.
Building my personal dictionary
Since then, I have recorded most of my learning in my deck of flashcards. At an early stage, I started recording other things than just vocabulary. For instance, if someone told me about the difference between two near-synonyms, I would record the difference on both their cards. If I found relationships to other characters that weren't obvious, I added that bit of information as well. Later, when I started using Chinese-Chinese dictionaries, I added definitions in Chinese along with more etymology and other information I picked up along the way. My deck now consists of roughly 21,000 cards, some of them have small essays written on them.
Now, one of the basics of flashcard learning is that you shouldn't add more information than necessary. Information that can be broken down should be broken down. However, the purpose with recording information about grammar, usage and cultural aspects isn't necessarily to memorise this information, but to record it. This way, I can search through my deck and look up things I've looked up before. This is an invaluable resource I use all the time, especially when writing.
Big flashcard decks mutate and start living a life of their own
Then I read about people who nuked their decks, wiped everything and started from scratch. I was horrified; sacrilege! Some time passed and the discussion about deleting flashcard decks and starting over kept nudging me. At first, I thought: What if I lose any important words? What if I encounter a word I have learnt, but forgotten again because I deleted my deck? Then I rrealised that there is quite a bit of sense in the argument to start over again as well.
This article is the result of my own analysis of the situation.
In essence, this is why you might want to consider nuking your decks and start over:
You have lots of cards you don't really need
You spend too much time with the deck (it has become a burden)
You no longer need to study the way you studied as a beginner
The first point isn't relevant for everybody, but it is for me. I have (or had, I will come to that later) hundreds of cards which were very rare (i.e. not in common use at all). These came from various word lists and from my own attempt to add more words to learn specific characters. Getting rid of all these words that just drained time and energy without actually giving anything back is one good reason to delete your deck and start over, especially if these cards are draining both time and energy.
The second point is only relevant for people who spend too much time with computer programs instead of actually being exposed to the real language (reading or listening) or using it (speaking and writing). This topic is really too big for this article, but even though I think spaced repetition software is great, it's a tool that you use to accomplish certain goals, it's not a comprehensive method of language learning. Thus, this kind of studying should take up only a small part of your learning time.
The third point is very interesting and should be relevant for most people. In essence, we need different kinds of knowledge for different stages in our language learning. I deliberately focused a lot on recognition in the beginning simply because I believe that understanding is the most important aspect to enable me to learn more and interact with Chinese people. However, the goals I had five years ago don't really match my current goals, so something needs to be done.
Reasons why you shouldn't start again from scratch
However, there are compelling arguments against starting over. If you haven't reached a level where you can read and listen to Chinese produced for native speakers, you run the risk of severely hampering your vocabulary acquisition. We use spaced repetition software in the first place because it's such an efficient way of increasing vocabulary quickly. If you can read novels and listen to the radio, you don't need spaced repetition to maintain common words and characters, that will come automatically. The same is true if you use Chinese to a large extent in your everyday life.
However, if you rely on textbooks and graded readers (which there are all too few of), deleting your deck means that you risk forgetting a lot of words you don't see and hear naturally in your textbooks or in class. The fact that you don't see or hear them doesn't mean they aren't necessary or common, it just means that you don't see or hear enough words. In this situation, I strongly advise you against nuking your decks and starting over again. If you feel that your exposure to Chinese is enough to allow this, you can consider starting over.
The second reason you shouldn't start over is if you have built up a personal dictionary. I keep my cards not only because I want to remember them, but because I want to be able to look things up. Rather than keeping notes about grammar and so on in a separate file or on paper, I keep it in my flashcard deck. Destroying the deck would destroy the dictionary. In theory, of course, it would be possible to keep the old deck as a dictionary only, but in practice, keeping two major decks for learning Chinese is bound to create problems.
The alternative to deleting is to actively trim and modify the deck

In the end, after long and serious consideration, I decided to keep my deck. This means that I have to handle all the problems listed above, including the one I haven't discussed yet (the one about changing needs). Your situation isn't likely to be the same as mine, so your conclusion might be different. If you decide to keep your deck, here are some ways you can deal with the problems I mentioned above.
You have lots of cards you don't really need
This might be a major problem, depending on how many of these cards you have and if you keep forgetting them or not (it's more likely since they by definition aren't commonly used and therefore harder). I solved this by paying a native speaker do go through cards with an interval less than one year and highlight any cards that didn't meet my requirements.
I then checked this list with a few other people and decided which to delete. I ended up deleting about 300 cards, which was much less than I thought. On the other hand, my requirements to delete a word was basically that it wasn't in use in modern Chinese and that most educated native speakers wouldn't use it in either speaking or writing. Still, 300 cards is still a lot considering that I kept forgetting them. Time adds up.
You spend too much time with the deck
This of course depends on how much time you actually spend. I spend around 20-30 minutes per day reviewing vocabulary and considering that I'm spending several times that amount on reading and listening. According to the time log I made last week, I spent roughly 67 hours with Chinese in some way or another, which means that I spend only about 1/20 of my time on vocabulary. I don't think that's too much.
Also, all the easy cards in your deck don't take up as much time as you think. A rough calculation tells me that I spend around two minutes a day reviewing the 10,000 easiest card in my deck. Two minutes! It's definitely worth that to refresh my memory and catch words I have forgotten.
You no longer need to study the way you studied as a beginner
This is perhaps the most important reason for starting over. In the beginning, I focused heavily on recognition, because I believe that being able to understand spoken and written Chinese is by far more important than being able to use it. Usage comes gradually, but massive exposure is a prerequisite for any kind of advanced level. My goal was to be able to handle native material as quickly as possible. However, once that goal is reached, it no longer makes much sense to focus heavily on recognition.
Instead, I wanted to put the emphasis on output, on correct usage and on expanding my active vocabulary. For this, cloze tests or recall is much more effective. Of course, when I see a new word, I determine whether or not it's enough to understand it or if I want to be able to use it as well. If the former is the case, I still do recognition only, if the second is the case, I usually use cloze tests.
The reason nuking your deck isn't helpful here is that you might as well do the same thing with your old deck. What I do now (and will probably keep on doing for many years) is to simply switch cards from recognition to cloze. When I review, I mark all cards I come across that I realise that I really should be able to use, but actually can't. I then reset their intervals and change the card to cloze.
It's not the size that matters

As we have seen, the size of the deck itself isn't very important, but the time you spend working with vocabulary is. If you add up to tens of thousands of words over many years, you're not likely to feel that a large deck is a burden, because most of the cards in it will be very easy. The reason you still want to keep them is that you will forget some easy words sometimes and it's not worth the effort figure out which. If a card appears once every seven years, you wast more time thinking about whether you should delete it or not than you would reviewing it if you kept it in the deck.
However, I do think there are times when you should start over. If your deck is a mess, takes too much time and is boring to play with, you risk burning yourself out anyway and restarting might be a good idea. Similarly, if you have thousands of flashcards of a type you no longer need, deleting them is a good idea (a kind of selective reset). Furthermore, if you think flashcards are very useful but not fun, you should only use it for things that really matter, so keeping the deck small is important.
In the end, it boils down to what you use your deck for, how you use it and what you think about the way you're currently studying. I didn't delete my deck because I figured I could achieve the positive effects simply by being more trigger-happy with the delete button and finding other ways of removing unnecessary words. The key point isn't exactly how you do it, but if you want to maintain a healthy attitude towards spaced repetition software, you need to have an active attitude to your deck. It's a tool. If it doesn't work, change it.
More about spaced repetition software on Hacking Chinese
---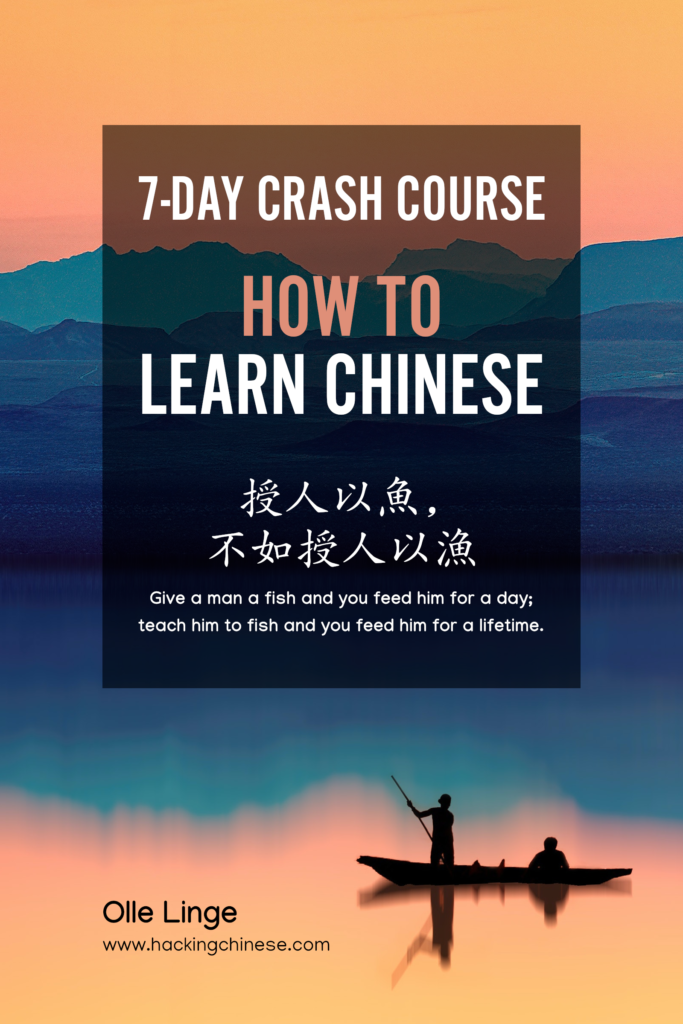 Tips and tricks for how to learn Chinese directly in your inbox
I've been learning and teaching Chinese for more than a decade. My goal is to help you find a way of learning that works for you. Sign up to my newsletter for a 7-day crash course in how to learn, as well as weekly ideas for how to improve your learning!