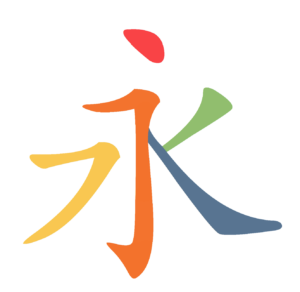 I've been teaching beginner courses in Chinese for more than ten years, but I still remember what it was like to write my first characters.
When starting to learn Chinese characters, one of the first questions that pop up is how to learn them. I don't mean what characters to study, how to make sense of Chinese characters or principles for stroke order, but what to do as a beginner to learn your first characters.
When learning almost any other language, writing by hand is not a challenge in itself. Sure, there's spelling and other things to learn, but that's at least in principle familiar from other languages we know. Writing Chinese characters is a different beast altogether.
So what do you do if your teacher asks you to learn a bunch of characters until tomorrow or later this week?
Tune in to the Hacking Chinese Podcast to listen to the related episode:

Available on Apple Podcasts, Google Podcast, Overcast, Spotify and many other platforms!
From drawing pictures to writing characters
Before we start, I want to say a few words of encouragement. Learning Chinese characters as a beginner is challenging, mostly because everything is new and you can't connect what you need to learn to things you already know. Writing characters is essentially like drawing stylised pictures.
The more you learn, however, the more extensive your web of Chinese knowledge will become, which also means that expanding it further will become easier. The more you know, the easier it becomes to learn even more. You will start recognising components and understand how the fit together to form compounds.
Thus, if you feel that it's difficult and frustrating at the moment, don't worry, it will become easier soon! It might feel like you're drawing pictures, but as your understanding of Chinese characters increases, you will be writing characters soon enough.
For general advice about learning Chinese characters beyond the specific situation we're looking at in this article, please refer to My best advice on how to learn Chinese characters. It contains in-depth discussions about how the Chinese writing system works, methods for learning characters, and how to remember and review characters effectively.
As a beginner, you don't have time to read all that now, though, especially not if you have a test soon, so let's talk about that! If you have time to spare, investing more of it into understanding Chinese characters is always good, but not always practical. I'll return to this later, but let's go through the basics first.
8 principles for learning Chinese characters as a beginner

Here are eight practical principles for how to learn to write Chinese characters:
Study the character closely, including stroke order – Before you start to write, study the character you're going to write carefully. How is it written? What does it look like? If your textbook or teacher didn't provide you with information about stroke order,  you can use apps like Pleco or websites like Archchinese. If you don't know how to type the character in order to look it up, take a look here. Also, note how the character is pronounced, what it means and if it has any components. If this information is not readily available or doesn't make sense to you, just ignore it.
Write the character until you get the feel for it – Once you know (in theory) how to write the character, write it until you can write the entire character without thinking too much. This is just to familiarise yourself with the hand motions involved and will help improve your handwriting in general, but it isn't very good for memorisation. The number of times you need to write a character varies greatly depending on the complexity of the character, but don't overdo it. Write the characters on a paper with squares of suitable size (a few centimetres). I've collected stroke order resources and tools to generate grid paper here.
Don't copy characters stroke by stroke – If you can remember how to write the whole character in one go, that's great. If you can't, break it down into its component parts and peek at the stroke order only between writing each component. Copying stroke by stroke is next to useless, because you're not even trying to remember anything. The more you try to remember something, the better you will become at actually remembering it.
Once you know the character, don't mass your repetitions – Even though you have now written the character a few times and can write it from memory if asked to do so right now, this ability will fade very soon. If you want to be able to write the character tomorrow, or maybe even an hour from now, some reviewing is necessary. Some people (including most native speakers) write the same character again and again, hoping that they can etch them into their minds. This works, but it's very inefficient. Instead, you should spread out your repetitions over time. Write other characters, do some listening practice or just do something else entirely for a bit. Spreading reviews out like this is several times more efficient than writing the same character over and over. While there is software that helps you schedule your reviews effectively, you don't need to commit to any app or service right now, just do't mass your repetitions. You can even create your own paper flashcards for your first few weeks of learning while you check out the spaced repetition software on offer.
Practise pronunciation and meaning at the same time – If you're writing characters, you should pay attention to and practise pronunciation as well as the character and its meaning. Write Pinyin and meaning above or below the character. If you're sure how it's pronounced, say it aloud. If not, mimic the pronunciation here or in your textbook (more pronunciation resources here). Do not guess the pronunciation based on the letters used to spell i, because Pinyin has several traps and pitfalls you need to be aware of as a beginner! The reason you want to be mindful of pronunciation when writing characters is that a vast majority (~90%) of characters look the way they do partly because of how they are pronounced.
If you see a character component reappearing in different characters, look it up – It's much more interesting to learn characters if you learn a little bit about them, and understanding what you are doing also makes it easier to remember characters. You can use The Outlier Linguistics Dictionary of Chinese Characters to learn about what the components mean and why the characters look the way they do. A free alternative is YellowBridge, but be aware that it is less accurate and much less detailed. If you don't know which components are important to learn, you can check this article: Kickstart your character learning with the 100 most common radicals. A general rule of thumb is that if you see a component three times in different contexts, you should learn it.
Diversify your character learning – One way to spread out your studying is to make use of many different kinds of learning. Here are some examples: create paper flashcards you can carry with you, write characters you find extra hard on your hands, paste characters all over your apartment, and download a flashcard app. Learning shouldn't only me done in front of your desk. Diversifying your learning will vastly increase the time you can spend learning characters. Read more here: Diversify how you study Chinese to learn more.
Read and type more – Even though this article is about writing characters, it's important that you spend as much time as possible reading Chinese. This will in itself not allow you to write all characters by hand, but it will help you get familiar with what characters look like, in what contexts they appear in and how they function in sentences. Handwriting is after all not a goal in itself, and isn't even strictly speaking necessary in most real-world situations. Beyond your textbook, you can use additional textbooks or find beginner-friendly reading resources online. You should also make sure to install Chinese language support on your phone and computer so you can start typing Chinese. That won't teach you how to write by hand either, but it's more active than reading the way most people communicate in written Chinese these days.
Learning Chinese characters as a beginner: Beyond the first encounter
The above advice should be enough to help you survive the small but regular tests that are probably sprinkled all over your course schedule. However, the strategies that help you in the short term will not suffice in the long term. I have already recommend my article about general advice for learning Chinese characters above, but beyond that, it's important that you get to know the Chinese writing system and understand how it works. Learning meaningless things is both hard and tedious, so if you familiarise yourself with the basic principles that underlie all characters, everything will become much easier. In the best of worlds, teachers should explain these things, but this is far from always the case. Thus, I've written a series of articles about this, starting here: The building blocks of Chinese, part 1: Chinese characters and words in a nutshell
Learning to write and read in Chinese takes a lot of time and effort, but it's not as hard as it might seem at first. Sticking to the advice in this article will prevent you from making some of the more egregious mistakes. Good luck!
Unlocking Chinese: The Ultimate Guide for Beginners
I have built an entire course meant to help you get off to a good start with your Chinese studies. It's called Unlocking Chinese and you can check it out here.

---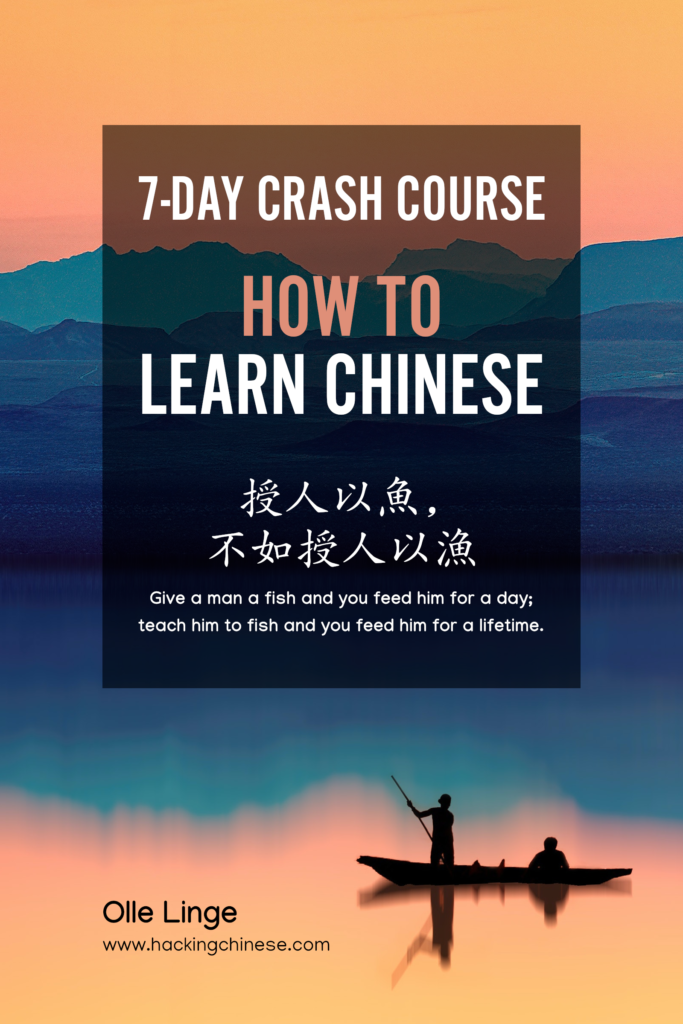 Tips and tricks for how to learn Chinese directly in your inbox
I've been learning and teaching Chinese for more than a decade. My goal is to help you find a way of learning that works for you. Sign up to my newsletter for a 7-day crash course in how to learn, as well as weekly ideas for how to improve your learning!