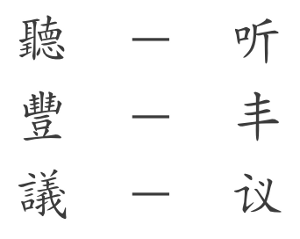 In case you've just started learning Chinese, traditional Chinese refers to the characters used before the simplification reforms during the second half of the 20th century in Mainland China. This means that traditional characters are still being used in Taiwan, Hong Kong and in many overseas Chinese communities.
Simplified characters are then, as the name implies, simplifications of the traditional characters. The simplification process is a complicated one and there are many different types of simplifications (most characters are older variant forms of the traditional characters or systematic changes to certain parts; only a few are really entirely new characters). We'll look closer at this later.
Which character set should I learn as a beginner?
This question is either easy or impossible to answer. For most people, simplified Chinese is the obvious choice, because most Chinese speaking people in the world use it. People living in Taiwan or Hong Kong naturally learn traditional Chinese to a larger extent. So, I'd say that the question is answered automatically by where you live or where you plan to live. Even if you don't live in a Chinese speaking environment, the course you take or the teacher you have might decide for you which set to learn.
If none of this applies to you and you don't know which one to choose, I'd still say that the default character set for most people should be simplified Chinese, even though I can come up with a few reasons why learning traditional Chinese first might be more beneficial in some situations. This, however, is not within the scope of this article.
The difference between simplified and traditional is much smaller than you might think

To a beginner, the characters look very different. Indeed, it can be hard to even see that they are the same character! Just look at these scary examples (traditional on the left, simplified on the right):
You might have seen a few such examples and now you feel terrified, thinking that if you learn to read simplified, you will never be able to communicate in writing with people in Taiwan or Hong Kong, or that your Chinese will be useless on the Mainland if you've learnt Chinese in Taiwan.
However, these examples are mostly used by people to illustrate that the differences can be large. Those are extreme cases and they are very far from being typical. Let's have a look at the following characters and see if you think they are easier (again, the traditional on the left and the simplified on the right):
的     的
一     一
是     是
不      不
了      了
人     人
我     我
在     在
有     有
他     他
These are the ten most common characters in Chinese. As you can see, they are identical in the simplified and traditional character sets. This is true for most characters! Even for characters that aren't identical, the differences usually are very small and systematic:
銳 - 锐
銘 - 铭
釘 - 钉
鎮 - 镇
釣 - 钓
Doesn't look so scary, right? As we can clearly see, the only thing that has changed in these characters is the radical: 釒-> 钅. It takes about five seconds to learn the above characters, provided you know either the simplified or the traditional version first. And these aren't the only ones, most simplifications are really this easy.
A closer look at the simplification process
A huge majority of simplified characters are based on systematic simplification of radicals and/or character parts. The above examples using 釒/钅 are typical, so I didn't include them just to make you feel good. This means that just by learning these patterns (such as 釒-> 钅) , you can understand most of what's written using the character set you're not familiar with.
These patterns are usually (but not always) very easy and can be learnt simply by looking at them a few times, meaning that you will absorb them naturally when reading. Understanding that 訁becomes 讠 or that 糹becomes 纟really isn't that hard, even if it takes some time getting used to the new forms.
That being said, there are some characters that have been morphed beyond recognition or that make use of ancient variants that look very different indeed. This means that there are around five hundred "tricky cases" that you need to learn.
However, learning 500 characters isn't very hard on an advanced level and can be done in a matter of weeks. I learnt traditional before learning simplified and it took me less than a month to be able to read books in simplified Chinese. Sure, reading quickly and comfortably takes more time than that, but I can understand simplified Chinese without too much trouble. Writing is harder, but wouldn't be too hard with some practice.
A suggested plan of action for learning both simplified and traditional
So, you know one set and want to learn the other? Great! First, you should consider when to do this. I would say that you should wait as long as is practically possible. If you do it early, confusion will ensue. If you know several thousand characters already, however, learning the other set will be easy.
Here's a suggested plan of action:
Go through and learn the systematic changes
Note and learn any exceptions (use my deck in Anki (search for "tricky simplifications"), based on Renzhe's original, or download a text version here)
Use some kind of SRS to learn those tricky cases
Read a book or two
It really is that simple. Possibly, you could do without step three and skip directly to reading, but I at feast feel a bit safer after making sure that I have learnt the tricky cases. I still might not be able to write them by hand, but I do recognise them which is enough for most situations.
There are some really tricky cases and some merges of characters that are difficult to handle, but these make up a very small part of what you have to learn, so I really don't think they are a big problem.
Conclusion
I'd like to end this article by saying this: Most people who have not learnt both character sets have felt daunted by the challenge, but every single learner I've talked to who have actually learnt the other set have said that they thought it was easy.
I suppose that what I want to say is: don't worry: it isn't as bad as it looks.
Resources
List of all radicals (see the "simplified character" column)
Ambiguities in Chinese character simplification
List of character parts that can also be used alone
List of simplifications that can't be used in compositions
Wikipedia's article (contains links to all other simplifications)
---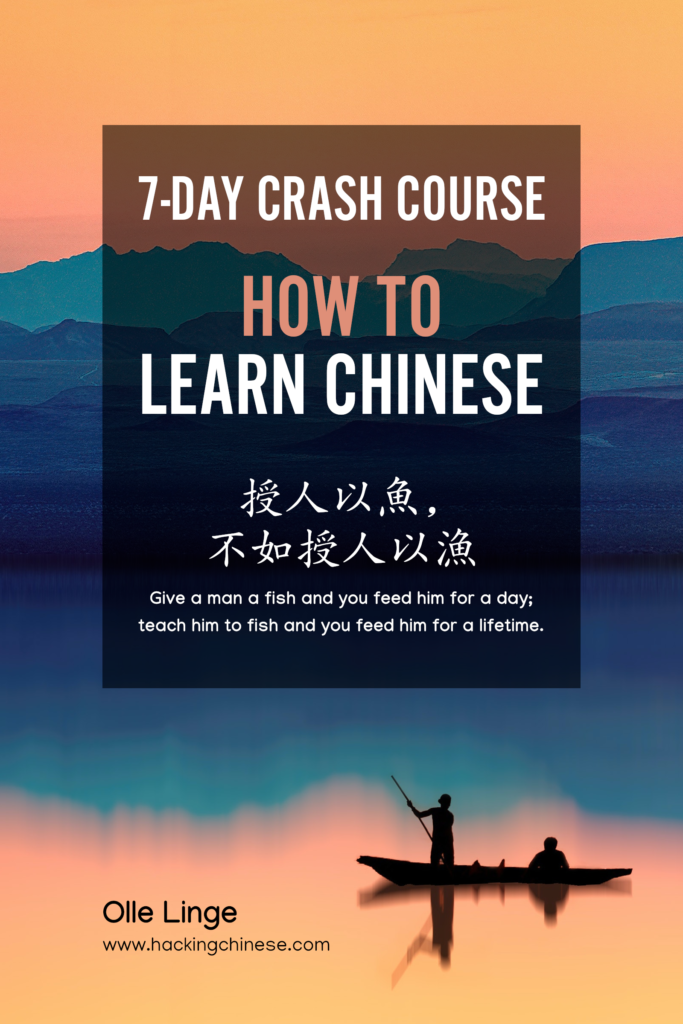 Tips and tricks for how to learn Chinese directly in your inbox
I've been learning and teaching Chinese for more than a decade. My goal is to help you find a way of learning that works for you. Sign up to my newsletter for a 7-day crash course in how to learn, as well as weekly ideas for how to improve your learning!