Reading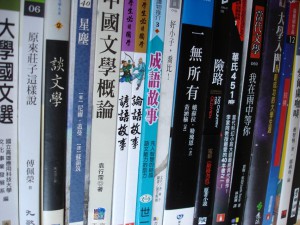 Reading Chinese is something that not only requires that you know the words, but also that you can combine them into a meaningful whole. If you want to survive proficiency tests, you also need to be able to do this quickly.  Most tests are heavily biased towards reading comprehension and reading speed, but how do you go about to increase these?
Here are some more questions answered in these articles:
How do I bridge the gap from intermediate to advanced reading?
How do I improve my reading comprehension score on tests?
How should I think when approaching difficult texts?
I have selected a few articles I find particularly important, but don't forget to check the complete list at the bottom of this page.
Here's a list of all articles in this category (scroll down to see all of them in a text-only list):
All articles
The importance of knowing many words
Learning Chinese through social media
Creating a powerful toolkit: Character components
Creating a powerful toolkit: Individual characters
Creating a powerful toolkit: Characters and words
Learning Chinese words really fast
Memorising dictionaries to boost reading ability
Benchmarking progress to stay motivated
The Chinese-Chinese dictionary survival guide
Reading manga for more than just pleasure
Reading speed: Learning how to read ten lines at a glance
Can you become fluent in Chinese in three months?
Learning simplified and traditional Chinese
The 10,000 hour rule – Blood, sweat and tears
Approaches to reading in Chinese
A language learner's guide to reading comics in Chinese
31 Twitter feeds to help you learn Chinese
Chat your way to better Chinese
Measurable progress is a double-edged sword
The Cthulhu bubble and studying Chinese
Adding tone marks (w/o Pinyin) above characters to practise tones
Phonetic components, part 2: Hacking Chinese characters
Reading aloud in Chinese is really hard
Learning to read aloud in Chinese
Chinese reading challenge: Read more or die
25 books I read in Chinese last year
Wuxia, a key to Chinese language and culture
A language learner's guide to wuxia novels
Easing yourself into reading novels in Chinese
Learn to read Chinese… with ease?
Extensive reading challenge, November 10th to 30th
The 10 best free reading resource collections for learning Chinese
How to find the time and motivation to read more Chinese
Extensive reading challenge, November 2014: Progress report
Translation challenge, December 11th to 31th
How translation can help you learn Chinese
How knowing your best performance in Chinese can help you improve
Chinese reading challenge, April 10th to April 30th
The new paperless revolution in Chinese reading
Using Chinese textbooks to improve reading ability
Hone your Chinese writing ability by writing summaries
The 9 best Twitter feeds for learning Chinese
Review: Mandarin Companion graded readers (Level 1)