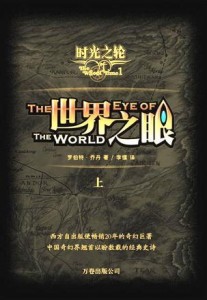 I don't know about you, but I know started reading novels in Chinese way too late. This was partly because I thought it was scary and more difficult than it actually was, but also because I lacked a good approach and a strategy to overcome the difficulties reading native material implies.
Looking back at how I learnt English, it strikes me that there is a powerful way of getting used to reading novels in a foreign language, namely to reread something you have already read before and like a lot, but now you read in the target language.
Comprehensible input
We have perhaps left the times when comprehensible input was a buzzword, but it's still a useful concept when talking about listening and reading. Simply put, it means that you have to understand what you read in order to benefit from it (input should neither be too easy nor too hard, but just above the level of the student).
However, it's often misunderstood to mean that you have to understand everything that is said, which is definitely not true. In my opinion, you need to understand the gist, because without that, you're just looking at pretty symbols and if meaning is not involved, I doubt there's much point (or indeed pleasure) in reading. Understanding the key message is enough, it's okay if you don't understand all the adjectives, adverbs and descriptions of people and places. Dialogues tend to be important.
There are many ways of making incomprehensible input comprehensible. As independent language learners, we can't really make use of some common methods such as creating word lists, creating interesting preparation tasks, substituting difficult words for easier ones and so on, because they typically require a teacher. However, one very effective way of reducing the difficulty of a text in Chinese is if you're already familiar with the content.
Not ready for a novel yet?
The method described in this article works for all lengths of texts. You can read a short news article in English first and then read the same article in Chinese. Another place to check out is the Marco Polo Project, where enthusiasts translate articles from Chinese into various languages (mostly English).
Read the Chinese translation of a novel you have already read and liked immensely
I started learning novels in English with Robert Jordan's The Wheel of Time fantasy series. This was when I was twelve and realised that it took ages for the translator to translate new books into Swedish; I simply wasn't prepared to wait that long. I had read a few books and wanted more, but rather than wait a year or so, I decided to read the series in English. To reduce the shock, I decided to read from the beginning, including the books I had already read in Swedish before.
This turned out to be a very good idea indeed. Reading a few books in English covering what I had just read in Swedish was a really good way of being able to read novels in English even though my English really wasn't up to the task at the time. The fact that it then took the author fifteen years to finish the series (or, rather, for him to die so someone else could finish it for him) isn't my fault.
Why is it a good idea to read the Chinese translation of a book you have read and like in English?
You know for a fact you like the book. Naturally, you should choose a book you want to reread, perhaps something you read and loved a long time ago and want to experience again. Action-packed adventure novels are great. This guarantees that you're motivated to read. No-one can recommend books to yourself better than yourself. If you choose a book I have read, you might simply not like it, which will severely reduce your motivation to read it.
You have already read the book, so you know what it's about and you know what's going to happen. Your task is to see how this is expressed in Chinese. You will not encounter characters you don't understand, a setting that makes you confused or subtleties in the plot you overlook, because you know most of this when you start reading. If you've forgotten, you can always read a summary online (Wikipedia is your friend). If your Chinese is already quite good, you can skip this step and re-experience books you've mostly forgotten but don't really wan to reread in English.
You avoid regional, dialectal and stylistic language, as well as cultural references you might not get. Normally, I would say that reading about culture in a rich and varied language is a good idea, but it can be overwhelming for someone who has never read a novel in Chinese. For instance, wuxia novels that take place in ancient China aren't written in a language you can transfer directly into your everyday Chinese and many novels set in modern China are sometimes written with a certain style that might not be familiar to you at all. Of course, you need to learn about these aspects sooner or later, but you will have enough of a challenge facing the basic language of the novel. Simply put, reading a translated novel is easier.
Thus, reading your first novel in Chinese turns from impossible to merely difficult. It will take hard work to get through (depending on your current level, of course), but it's definitely easier to do it this way than choosing random book your Chinese friend recommends to you.
A few words about the language in translated novels
You should be aware that some translations aren't very good (in fact, some are terribly bad). I don't mean that they are bad in the sense that the translator fails to capture the soul of the original novel and used another language to express it expertly, instead I mean that the Chinese in the translation is not good. This is probably because the translator was paid too little and just rushed through, translating sentence by sentence, sometimes even word by word. Therefore, when reading some translated novels, you can feel the English behind the sentences. Obviously, this is bad for us as readers, especially if we want to learn Chinese along the way. That translated novels will not sound exactly like first language novels is kind of obvious and I don't think that's a problem, but at least the language should be natural and correct.
The best way of checking this as an intermediate learner is to simply ask a native speaker, preferably one who reads a lot, and see what they think. Remember, you're not really interested in the quality of the translation; what you want to know is if the Chinese is good or not, so just let them read a few pages and ask what they think about this as potential reading material. If you buy books online, there are usually previews available you can use for this.
Also, note that reading your first novel in Chinese is about reading practise. It's about understanding words, piecing them together into sentences and get the general idea of what's going on. This is not the time for memorising sentence patterns and detailed studying of syntax.
What novel to choose

This might be obvious, but choose a novel that is interesting for what happens or because who's in it rather than because the way it's written. Action, mystery, adventure and fantasy stories are all very good.
In order to close the circle,I'm now rereading The Wheel of Time in Chinese. Obviously, it isn't my first novel in Chinese, but it's still interesting to return to a series I never finished as a teenager, now in a new language. I don't think Robert Jordan is a great writer in general, but I am interested in the plot. The curiosity over how the series ends keeps me motivated to read the next page. It remains to be seen if it keeps me motivated through ten thousand pages, but it's worked well so far!
---