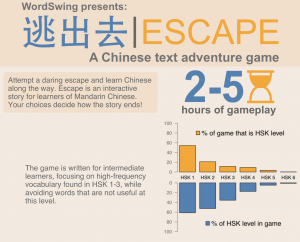 One of the problems with Chinese reading and listening practice is that it's often too passive. The most motivated and disciplined students can force themselves to read and listen anyway, but learning should be fun and engaging, not a chore!
One solution to this problem is interactive text games. Instead of just being a recipient, you are an active participant who makes choices that changes the development and outcome of the story. By reading and understanding the Chinese in the game, you can navigate your way to a successful conclusion (sometimes there are more than one ending, too). If active listening practice is your goal, similar effects can be achieved by focusing on the audio instead.
Our first adventure text game for Chinese learners can be played for free here
Playing text games with a Chinese teacher
In previous articles, I have discussed learning and teaching Chinese through games in general, as well as these text adventure games in particular. In this article, however, I will focus on playing adventure text games with a teacher. This means that this article is written for teachers, but also for students who might want to play text games with their teachers.
Even though I came up with the idea for these text games more than six years ago, I only tried them out in a classroom setting recently. I was sure they would work well, but was actually surprised at how well they worked. In this post, I will share a discussion of how to make the most out of playing Escape with your students (or with your teacher if you're a student). It should work well for small groups, including 1-on-1 tutoring, as well as larger groups.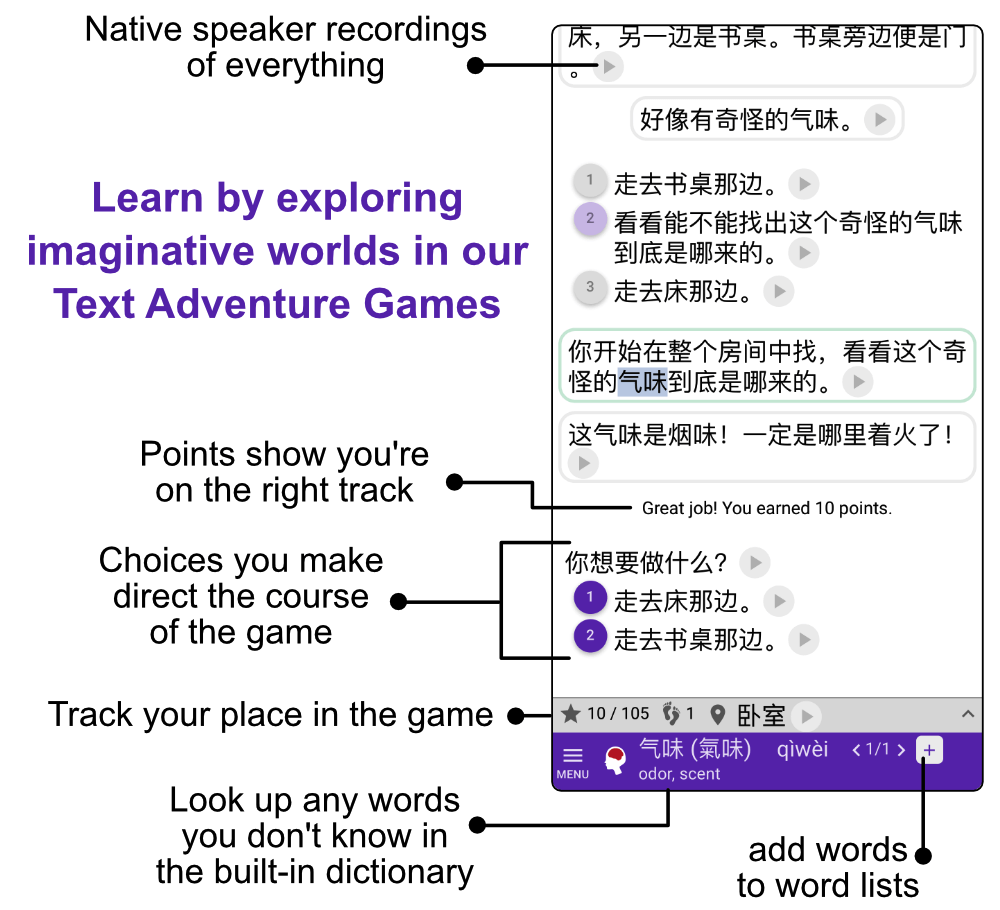 Introduction and requirements
Escape is meant for intermediate students. As a teacher, you should be able to grasp the difficulty just by playing the game for ten minutes or so and by glancing at the graphic above. I estimate that the lower bound should be students who can handle HSK 2 content, but HSK 3 is probably better. Students at more advanced levels will enjoy the game too, but playing it will be much faster, which is not really a problem.
Naturally, playing the game will be different depending on if the game text is considered easy or hard by the students. Henceforth, I assume that the students find the text understandable with scaffolding, but still find it challenging.
Here's an overview of what I recommend:
Explain the premise of the story in English (basically the blurb)

Explain how the game works in English

Information is presented

Choices are made based on said information

Students play together as a group

The teacher is there to help and mediate

Choices are presented in random order

Choices can't be undone (except if it's possible to undo them in the story)

There are checkpoints (which allow you to go in a different direction from certain points in the game)

There are points in the game that represent progress, but you don't necessarily have to get all the points to finish the game

Go through the first text message in the game as if it were any other unfamiliar text. Because it introduces so many new things at once (it introduces the setting and the story, after all), it's considerably harder than most other passages in the game. Take your time and make sure everybody's on board.

Start playing normally
Completing the whole game using some variation of the approach presented in this article ought to take anything from a few hours up to ten hours, depending on the students' level and how much you dwell on each scene. If classroom time is limited, playing the game a few times together and then letting students finish on their own is a viable alternative.
Below, I present the approach I used, which is influenced by Diane Neubauer, who wrote about her experience using Escape in her Chinese class. Her post also includes a 15-minute video of her class, so check it out if you want a direct experience of what playing the game can be like.
Understanding in-game text
Playing Escape can be broken down into two steps:
Reading and listening to displayed information

Making choices based on said information
These two steps are then repeated, as each choice leads to more information that then leads to even more choices. The game ends either when really bad choices are made or when the students successfully complete the game.
When using the games to teach a group of students, the reading and listening part can be treated as any comprehension-based activity and your favourite approach can be used. I think the best approach is to play the game together, where the students make choices collectively.
I suggest that you play the game in a web browser, zooming in enough to make the characters big and friendly, then displaying this on a projector so everyone can see clearly.
Here are some options:
Play audio first – Most students will find this very difficult, but it can be an excellent way of practising listening ability. Listen a few times and ask students to share what they were able to pick up, reconstructing the message together. Let them listen and read the text only after you've done this. When they can't get further on their own, help them out with any gaps or answer questions. Listening first is important because while there is a lack of good reading materials, there's an even bigger lack of good listening materials!
Play audio together with the text –

This will probably be the default approach for most situations. Having the text on screen (a projector is preferred, of course) is a great help for people who struggle with listening, and having the audio is of equal help to those who struggle with reading. The game underlines what words are currently being read, so it's easy to follow along. You can then do the same reconstruction exercises as mentioned above.

Let students summarise or paraphrase the passage –

As a teacher, you have of course played the game in advance, so you know what is important and what isn't. Let the students summarise in their own words what information is contained in a passage. Let them help each other and help them out if need be.

End by summarising the key points yourself –

To make sure that everyone is following along, it's probably a good idea to summarise the passage using as simple Chinese as you can manage. If the summary contains difficult words they might miss, consider telling them their meaning in English or spend some time teaching these words in some other way.

Maintain a vocabulary list on the board –

Escape contains some words that the students might not be familiar with. It could be words important for playing the game like this, like 往… 走, or game-specific vocabulary such as 托盘. For a list of words like this, see the end of this post. Be prepared to teach these. Write them on the side of the board so that you and the students can easily refer to them throughout the lesson.

Draw a simple map – By design, the game does not come with a map. The idea is of course that the students should be able to get the information they need from the text and that including a map is therefore, in a sense, cheating. However, to make sure that your students follow along, drawing a map as you play can be very helpful. It shows where you have been, what options might be available that they haven't tried yet and so on. A map is also great for keeping track of relative directions (left, right and so on), which can be confusing. To engage students, ask them to draw the map (but here you should probably correct them if they get it wrong). Here are some examples of student maps from various games.
Draw a pictures of objects and situations –

The game contains no pictures for the same reason it doesn't have a map, but again, drawing can help students understand what's going on. If explaining in Chinese doesn't work, drawing can make a situation clear without resorting to English. Props and acting have the same effect.
Making choices as a group
The comprehension part of playing Escape is not magical by any means; like I said, it's more or less like any reading and/or listening activity. Please note that this applies to the game choices as well; it is in fact extra important that students understand these.
After the students have understood the information presented to them, the real fun begins!
Since you're playing with your students as a group, they need to make a group decision about how to proceed. This is where communicative language learning takes place. In a small group, everybody can discuss together and present their thoughts about how to proceed. In a bigger group, you could consider breaking into smaller groups to discuss particularly crucial decisions in the game before reconvening. Prompt them not only to say which choice they prefer, but also why they think that's the best option.
Here's what it might sound like:
老师:我们应该选哪一个呢?

学生:不要第三个!

老师:第三个是什么意思?

学生:跳下去。

老师:跳下去为什么不好?

学生:因为我们在很高的地方。

老师:你怎么知道我们在很高的地方?

学生:上面写我们在很高的地方,下面很黑,跳下去很不好!

老师:好。那么你觉得我们应该选哪一个呢?

学生:我觉得要选第二个。

老师:其他人呢,你们觉得应该选哪一个?
And so on.
Not all choices are interesting in the game, but many are. For example, there are many ways to approach the person in the cell next the one you start in, and students might disagree about how to solve the problem. Are they going to ignore him? Convince him to come with them? Threaten him? Let them discuss the options and decide.
Your role as a teacher should only be to make sure that they know what they are choosing. Don't meddle in the decision making or favour one side. If necessary, have a quick show of hands to see which option is the most popular and click that one.
This kind of discussion, both between students and between teacher and student, is the most powerful part of using these games for teaching Chinese. It makes the reading and listening both before and after important and combines it with action-oriented communication. The more students are invested in the story, the more they care about convincing the others to make the choice they think is best.
Focus on form after playing the game
A central tenet of task-based language teaching is that focus on form should only come after the task has been completed. I think this approach should be used when playing text games as well. When they play the game, don't spend too much time caring about how they say things or what grammar patterns are involved in the messages they read.
Instead, do that afterwards. Since the game is quite long and will take hours to finish, I don't mean that you should wait until the whole game is finished, just that the students should be allowed to enjoy the game and use Chinese while playing it before you focus on the language itself too much. Once you've played for a desired amount of time, feel free to bring out any form-focused activities you like. Do whatever you normally do with new characters, words and grammar.
Another useful activity that works well after playing the game is to go through the word list you created while playing the game. You will find that many of the words that recurred frequently throughout the game are no longer new to the students and they might even remember them without being prompted. Others will have only appeared once or twice in a certain part of the game and can be ignored unless you think they are important for some reason.
Text games beyond the classroom
Escape is free to play, so students can sign up for their own accounts and play on their own. However, I suggest you don't tell them that until you've finished the game once, or at least until you've played as much as you intend to play in the classroom. You can then have them play the game on their own, exploring alternative paths and endings. This will also give them ample time to use the built-in dictionary and actually study some of the language they might have missed in class. Reviewing everything they've learnt is built-in (this is why the order of the choices is random).
You can of course also follow up with extended practice of various kinds, including writing tasks related to the story in the game. I trust that most teachers do this for other classroom activities as well and this is no different in this regard.
Resources for playing Escape in the classroom
Most of the resources needed to play Escape are already included in the game, but the teacher can prepare certain things regarding vocabulary. Diane used props for items she knew would appear in the game (such as having a plastic fork and a metal knife in the classroom). In order to make it easier for you as a teacher (and as a student). Here are some words that are significantly harder than the rest of the game that you might want to be prepared for:
| | | | | |
| --- | --- | --- | --- | --- |
| # | Simp. | Trad. | Pinyin | Definition |
| 1 | 窗户 | 窗戶 | chuānghu | window |
| 2 | 守卫 | 守衛 | shǒuwèi | to guard |
| 3 | 走道 | 走道 | zǒudào | corridor |
| 4 | 窗台 | 窗臺 | chuāngtái | window sill |
| 5 | 实验室 | 實驗室 | shíyànshì | laboratory |
| 6 | 面具 | 面具 | miànjù | mask |
| 7 | 王 | 王 | wáng | (a surname) |
| 8 | 箱子 | 箱子 | xiāngzi | box |
| 9 | 好像 | 好像 | hǎoxiàng | as if |
| 10 | 试着 | 試着 | shìzhe | (coll.) to try to |
| 11 | 大门 | 大門 | dàmén | entrance |
| 12 | 楼梯 | 樓梯 | lóutī | stair |
| 13 | 逃 | 逃 | táo | to escape |
| 14 | 柜子 | 櫃子 | guìzi | cupboard |
| 15 | 抓住 | 抓住 | zhuāzhù | to grab |
| 16 | 刀 | 刀 | dāo | knife |
| 17 | 继续 | 繼續 | jìxù | to continue |
| 18 | 并 | 並 | bìng | (emphasis for negative words) |
| 19 | 钢刀 | 鋼刀 | gāngdāo | steel knife |
| 20 | 讨论 | 討論 | tǎolùn | to discuss |
| 21 | 情况 | 情況 | qíngkuàng | circumstances |
| 22 | 墙 | 牆 | qiáng | wall |
| 23 | 逃跑 | 逃跑 | táopǎo | to flee from sth |
| 24 | 转 | 轉 | zhuǎn | to turn |
| 25 | 引起 | 引起 | yǐnqǐ | to give rise to |
| 26 | 成功 | 成功 | chénggōng | success |
| 27 | 锁 | 鎖 | suǒ | to lock up |
| 28 | 托盘 | 托盤 | tuōpán | tray |
| 29 | 伤 | 傷 | shāng | to injure |
| 30 | 受 | 受 | shòu | to receive |
| 31 | 通过 | 通過 | tōngguò | by means of |
| 32 | 敲门 | 敲門 | qiāomén | to knock on a door |
| 33 | 警报 | 警報 | jǐngbào | (fire) alarm |
| 34 | 地下室 | 地下室 | dìxiàshì | basement |
| 35 | 尽头 | 盡頭 | jìntóu | end |
| 36 | 塑料 | 塑料 | sùliào | plastics |
| 37 | 打败 | 打敗 | dǎbài | to defeat |
| 38 | 镜子 | 鏡子 | jìngzi | mirror |
| 39 | 戴 | 戴 | dài | to put on or wear (glasses, hat, gloves etc) |
| 40 | 掉 | 掉 | diào | to fall |
| 41 | 推 | 推 | tuī | to push |
| 42 | 留 | 留 | liú | to leave (a message etc) |
| 43 | 拉 | 拉 | lā | to pull |
| 44 | 出现 | 出現 | chūxiàn | to appear |
| 45 | 假装 | 假裝 | jiǎzhuāng | to feign |
| 46 | 印记 | 印記 | yìnjì | imprint |
| 47 | 逃走 | 逃走 | táozǒu | to escape |
| 48 | 脚步 | 腳步 | jiǎobù | footstep |
| 49 | 房子 | 房子 | fángzi | house |
| 50 | 扔 | 扔 | rēng | to throw |
| 51 | 响 | 響 | xiǎng | echo |
| 52 | 到底 | 到底 | dàodǐ | finally |
| 53 | 方向 | 方向 | fāngxiàng | direction |
| 54 | 发生 | 發生 | fāshēng | to happen |
| 55 | 等 | 等 | děng | class |
| 56 | 实验 | 實驗 | shíyàn | experiment |
| 57 | 反应 | 反應 | fǎnyìng | to react |
| 58 | 文件 | 文件 | wénjiàn | document |
| 59 | 合作 | 合作 | hézuò | to cooperate |
| 60 | 试图 | 試圖 | shìtú | to attempt |
| 61 | 锁眼 | 鎖眼 | suǒyǎn | keyhole |
| 62 | 刀子 | 刀子 | dāozi | knife |
| 63 | 水池 | 水池 | shuǐchí | pond |
| 64 | 货车 | 貨車 | huòchē | truck |
| 65 | 图标 | 圖標 | túbiāo | image |
| 66 | 穿着 | 穿着 | chuānzhe | wearing |
| 67 | 讲话 | 講話 | jiǎnghuà | a speech |
| 68 | 刚刚 | 剛剛 | gānggang | just recently |
| 69 | 查看 | 查看 | chákàn | to look over |
| 70 | 躺 | 躺 | tǎng | to recline |
| 71 | 家具 | 傢俱 | jiājù | furniture |
| 72 | 对面 | 對面 | duìmiàn | (sitting) opposite |
| 73 | 压 | 壓 | yā | to press |
| 74 | 脱 | 脫 | tuō | to shed |
| 75 | 停 | 停 | tíng | to stop |
| 76 | 不管 | 不管 | bùguǎn | not to be concerned |
| 77 | 收 | 收 | shōu | to receive |
| 78 | 死 | 死 | sǐ | to die |
| 79 | 另 | 另 | lìng | other |
| 80 | 自然 | 自然 | zìrán | nature |
| 81 | 任何 | 任何 | rènhé | any |
| 82 | 躲 | 躲 | duǒ | to hide |
| 83 | 吓 | 嚇 | xìa | to scare |
| 85 | 确定 | 確定 | quèdìng | definite |
| 86 | 行为 | 行爲 | xíngwéi | action; behaviour |
| 87 | 示意 | 示意 | shìyì | to hint |
| 88 | 溜 | 溜 | liū | to slip away |
| 89 | 喂 | 喂 | wéi | hello (when answering the phone) |
| 90 | 开灯 | 開燈 | kāidēng | to turn on the light |
| 91 | 撞倒 | 撞倒 | zhuàngdǎo | to knock down |
| 92 | 纹身 | 紋身 | wénshēn | tattoo |
| 93 | 房门 | 房門 | fángmén | door of a room |
| 94 | 小声 | 小聲 | xiǎoshēng | in a low voice |
| 95 | 额头 | 額頭 | étóu | forehead |
| 96 | 招手 | 招手 | zhāoshǒu | to wave |
| 97 | 救命 | 救命 | jiùmìng | to save sb's life |
| 98 | 囚犯 | 囚犯 | qiúfàn | prisoner |
| 99 | 快要 | 快要 | kuàiyào | almost |
| 100 | 午饭 | 午飯 | wǔfàn | lunch |
| 101 | 高楼 | 高樓 | gāolóu | high building |
| 102 | 用力 | 用力 | yònglì | to exert oneself physically |
| 103 | 转身 | 轉身 | zhuǎnshēn | (of a person) to turn round |
| 104 | 车子 | 車子 | chēzi | car or other vehicle (bicycle, truck etc) |
| 105 | 远处 | 遠處 | yuǎnchù | distant place |
| 106 | 院子 | 院子 | yuànzi | courtyard |
| 107 | 出门 | 出門 | chūmén | to go out |
| 108 | 透过 | 透過 | tòuguò | to pass through |
| 109 | 窗口 | 窗口 | chuāngkǒu | window |
| 110 | 沿着 | 沿着 | yánzhe | to go along |
| 111 | 有用 | 有用 | yǒuyòng | useful |
| 112 | 不清 | 不清 | bùqīng | unclear |
| 113 | 前进 | 前進 | qiánjìn | to go forward |
| 114 | 跟着 | 跟着 | gēnzhe | to follow after |
| 115 | 白色 | 白色 | báisè | white |
| 116 | 想法 | 想法 | xiǎngfǎ | way of thinking |
| 117 | 得到 | 得到 | dédào | to get |
---