Reading aloud in Chinese is really hard, much harder than reading aloud in most other languages. Ever since exploring this topic in a recent article, I've been thinking about reading aloud in Chinese and what factors are involved. In particular, I want to know why I'm not good at it and what to do about it. The goal with this article isn't merely to discuss reading aloud, though; I also want to show how I tackle weaknesses in my language ability. I also want to show that even though reading aloud is hard, it's not impossible.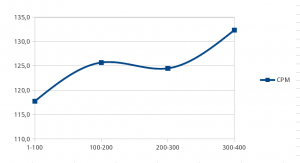 A brief summary: Why reading aloud in Chinese is hard

In the article referred to above, I said that what makes reading aloud in Chinese extra difficult is that Chinese characters might have clues about pronunciation, but they're not phonetic. When reading silently, we just need to be able to recognise the characters and associate them with meaning, but when reading aloud, we also need to retrieve the correct pronunciation from memory and we need to do it quickly.
To add insult to injury, there is no such thing as word spacing in Chinese, which further increases the cognitive load. Finally, since Chinese is an analytic language, a significant share of the communicative burden lies on the reader, who needs to decipher ambiguities and use context to determine the meanings of words and clauses.
I also summarised the skill components needed to read aloud in Chinese as follows:
Map characters to meaning (character recognition)
Group characters into meaningful words (vocabulary)
Group words into meaningful sentences (grammar)
Understand the meaning of sentences in context (pragmatics)
Understand the writer's intent (reading between the lines)
Map characters to pronunciation (pronunciation recall)
Understand how the pronunciation syllables influences each other
Understand how meaning influences pronunciation (intonation, sentence stress)
What am I lacking? Why am I not better at X?
This is the basic process I go through whenever I encounter a language learning problem:
Identify and describe the symptoms
Find out what I need to be able to do to achieve X
Find out which part is the weakest link
Practise that component and see if it helps
If it doesn't,  there's probably a mistake in step 1-3
So, let's do this for reading aloud. I have dealt with step one and two already, so let's move on. Looking at the above list of skills, I can exclude a number of factors immediately. The first five can't be the reason why I'm bad at reading aloud, because I can read silently about twice as fast as I can read aloud (~250 characters/minute for relaxed material). This means that getting the meaning of a text is not the problem. The three remaining factors are more interesting, though.
To test this, I decided to dramatically increase the amount of Chinese I read aloud, to try to figure out not only which the limiting factor is, but also if there might be more to it than this. I had the nagging feeling that reading aloud is a skill in itself, so even if I had all the components above, I might still not be good at it.
The experiment: Reading a novel aloud
To test this hypothesis, I decided to read an entire novel aloud in Chinese and time each chapter. Rate of speech is not a very good measurement of one's ability to read aloud, because quality is definitely more important than raw speed, but since I was the only test subject, I could be quite sure that most other variables were kept constant during the experiment. For instance, my comprehension of the novel stayed roughly the same throughout the entire text and I'm quite sure pronunciation quality didn't deteriorate, but might have increased somewhat.
I selected a novel I thought would be relatively easy without being childish (I didn't want to have too many cases where my reading was actually limited by poor character recognition, for instance). For reasons not connected to the experiment, I chose the Chinese translation of Suzanne Collins' The Hunger Games (飢餓遊戲). If you haven't read the Chinese version, I can tell you that it's slightly easier than other translated works of fantasy that I have read, but not by much, it still contains a fair amount of flowery language and idioms, but it's not a difficult read in any case.
Here are some statistics for characters used in the novel, which of course doesn't give a complete picture, but should still give you an idea (the numbers are calculated for comparable lengths of each book):
Unique characters in 飢餓遊戲: 2800
Unique characters in Twilight: 2600
Unique characters in 醜陋的中國人: 3000
Unique characters in the Bible: 3000
In case you want to count unique characters in electronic texts, I suggest using DimSum: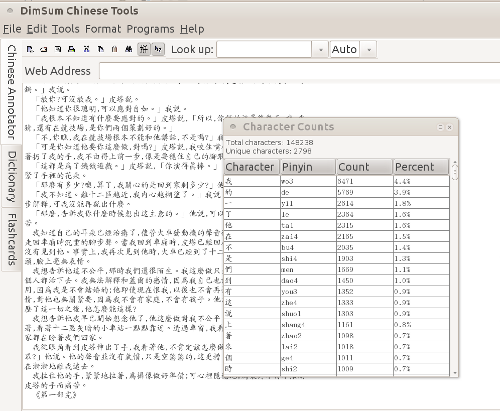 The question: Which factors influenced my performance?
The question I asked myself was what factors were slowing me down. Based on the list above, I identified four potential problem areas. As we shall see, most of them turned out to be irrelevant or of marginal importance.
Character recognition (which is the first half of factor #6 above) can be ignored because the number of characters I didn't recognise in the novel were fairly evenly spread out and were far and few between (no more than 100 in the entire book). This factor was clearly not interfering significantly with fluency and even though I learnt a few new characters, that certainly didn't improve reading fluency in any measurable way. it might have saved a few seconds here and there.
Character pronunciation recall time (which is the other half of factor #6 above) was more important, because even though I knew almost all characters, I sometimes found it hard to recall their pronunciation quickly enough. This was typically not a question of whether or not I could recall the pronunciation, but rather how long it took to do it. A delay of a second or more is quite noticeable on the rate of speech. Even though the recall rate should have dropped a bit throughout the novel (familiar objects, locations and so on), there are so many characters than I doubt that my overall recall speed increased at all during the experiment.
Understand how the pronunciation of one syllable influences other syllables (#7 in the list above) would be a factor if someone never read anything aloud. When you read silently, you don't have to parse several consecutive third tones, you don't have to worry about tone changes for 不, 一 and so on. However, I have read a fair bit aloud in Chinese before and since I know I get this right most of the time in speaking, I don' think it's a major factor in this case. Still, my ability to do this quickly might have increased throughout the experiment.
Understand how meaning influences pronunciation (#8 in the list above) was largely ignored in this experiment. I simply can't parse the text quickly enough to figure out where the sentence stress should fall or how the type of sentence should influence pronunciation. I simply focused on reading the sentence correctly. This is a factor which is beyond being able to read aloud in a fluent manner and is closer to being able to read aloud well compared with native speakers.
The result: Reading speed might be a separate skill

I spent 1316 minutes (about 22 hours) reading 163380 characters. This is what reading speed looked like across the length of the novel, measured in characters per minute:


As we can see, there is an expected increase in reading speed between the first two parts, which is easily explained by the fact that I got used to the characters in the novel, some setting-specific words and the author's style. As we can also see, the speed didn't increase much from page 100 to page 300.
But then something interesting happened.I started feeling that I could look ahead much more than before and that speed crept up quite a bit. Thus, the increase towards the end was definitely noticeable subjectively and actually didn't flatten out towards the end of the book (the final chapter had an average speed of 145).
Even though the skill factors listed above did improve during the experiment, I don't think the they are enough to explain the ~12% increase in reading speed. This is further supported by the subjective feeling that reading page 300-400 was qualitatively different from reading page 200-300.
Conclusion
Reading aloud in Chinese is hard, but apart from reinforcing the separate components, reading aloud itself is also a skill. By reading aloud, you increase your ability to pronounce words and, while doing so, looking ahead at the subsequent few words, as well as the ability to anticipate tone sandhi problems.
Your ability to read aloud in a fluent manner depends largely how much processing capacity you have left over to focus on something other than what you're currently saying and I believe that this split attention can and should be practised, at least if you want to be able tor read aloud in Chinese.
However, that being said, I think most people have more fundamental problems than that. Based on personal experience, I think most students are unable to read aloud fluently simply because they either don't know enough characters/words or can't remember the pronunciation quickly enough. Still, if you're reasonably good at reading silently, but is struggling with reading aloud, remember that reading aloud is in itself a skill you need to practise!
---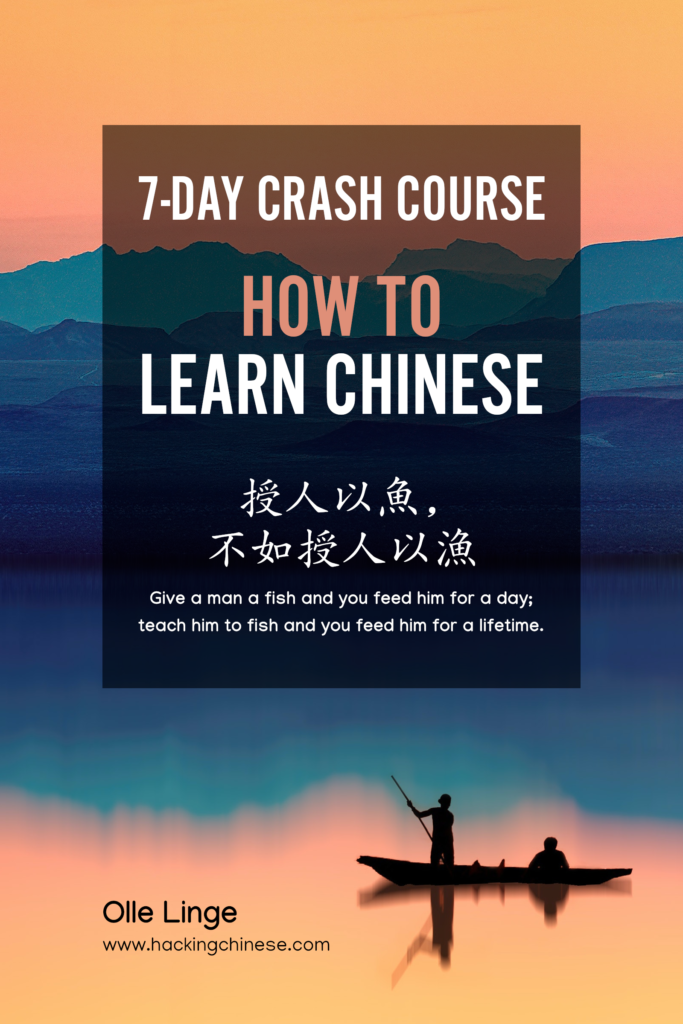 Tips and tricks for how to learn Chinese directly in your inbox
I've been learning and teaching Chinese for more than a decade. My goal is to help you find a way of learning that works for you. Sign up to my newsletter for a 7-day crash course in how to learn, as well as weekly ideas for how to improve your learning!