Reading unfamiliar text aloud in any language is a complicated process and is generally much harder than people who haven't tried it realise. This is especially true for reading aloud in Chinese. Because of this, if someone can do it well, you can be quite sure that person is (really) good at the language. However, the opposite isn't true, meaning that you can be bad at reading aloud while still being very proficient in almost all other areas, including reading (silently) and speaking.
Reading aloud is a very complex process that requires a whole set of skills, rather than just one called "reading aloud" or whatever. Thus, it's a good evaluation of all these skills combined, but if  says almost nothing about the component parts..
What skills are involved in reading aloud in Chinese?
The cognitive processes involved in reading have been thoroughly researched, but this is a simplified summary. You need to be able to:
Map characters to meaning (character recognition)
Group characters into meaningful words (vocabulary)
Group words into meaningful sentences (grammar)
Understand the meaning of sentences in context (pragmatics)
Map characters to pronunciation (pronunciation recall)
Understand how the pronunciation of one syllable influences other syllables
Understand how meaning influences pronunciation (intonation and stress)
Understand the writer's intent (reading between the lines)
Naturally, you don't need to do all these steps all the time. For instance, experienced readers seldom read individual characters, but rather read words in their entirety (this is why it's possible to read Chinese which is printed with a font size so small that individual strokes can't be discerned). This is true for strokes of individual characters as well, just as in English, where you don't read the individual letters of every word. Similarly, we tend to remember the pronunciation of words (if they are common) rather than the individual characters they consist of.
Why reading in Chinese is significantly harder than reading in, say, French

Reading aloud is tricky in any language, but now I'm going to explain why it's significantly harder in Chinese than most other languages (and when I say most, I refer to languages likely studied by readers of Hacking Chinese). The key difference is that Chinese is different kind of language altogether from, say, French.
The most obvious reason is of course that there is no systematic mapping between characters and pronunciation. Sure, if you're well-versed in semantic-phonetic characters (see relevant article here, part 1 and part 2), you might find some clues in the characters, but the fact remains that reading aloud in Chinese is much, much harder than in any language with a phonetic writing system. This should be fairly obvious to anyone who studies Chinese, in fact it was so obvious that I forgot to write this paragraph in the first version of this article, so thanks to David Moser who highlighted this shortcoming in the comments.
The less obvious reason why Chinese is hard to read aloud
French is a synthetic language, meaning that it has a high morpheme-per-word ratio, which in normal English means that a single word carries much information. For instance, verbs in French contain much more information than in English. Not only can you see when the action took place (tense), you can also see who did it, because the verb changes according to the subject of the sentence (person). This is true for some English verbs as well, such as "to be". This means that there is a lot of redundancy in the system, because you don't actually have to understand both the subject and the verb of a sentence. In English, if you know the verb is "am", the subject has to be "I", for instance.
Chinese is at the other end of the spectrum. Languages that have a low morpheme-per-word ratio are called isolating languages and Chinese is a very good example of this. In French, we could see who did it and when, in English only when (and sometimes who), but in Chinese we can't even see if it's a verb or not! Most of the time, the inflections of words that allow us to see that a word is a verb, noun or adjective simply aren't there. Boundaries between word classes are not distinct. But how is meaning conveyed in such a language? Through context, mostly, and this is the first key to understanding why reading aloud in Chinese is so hard.
The information is there even if you can't see it directly

The fact that we can't know if 冰 is a noun, verb or adjective simply by looking at the character (compare ice, to ice and icy in English) doesn't mean that it doesn't matter which one it is. In a specific sentence, it's usually only one of these, not all three. In order to make sense of a sentence, you still need to figure out what function it has in that context. You don't need to know what linguists call it, but you need to be able to do it in practice. This is roughly how my linguistics teacher put it:
In synthetic languages (such as French), the burden rests mostly with the writer (or speaker). He needs to write clearly and use the right tense, number and gender and so on. In Chinese (an isolating language), the burden lies mainly on the reader (or listener), who needs to figure out all these things based on context. The information is there, it's just not encoded on the word level.
To add insult to injury, we also need to figure out which characters belong to which words. This is very easy if you only encounter words you've seen hundreds of times, but it's not easy when you approach the limits of your reading ability. This adds significantly to the difficulty of reading texts aloud, because not being able to find word boundaries is more or less guaranteed to make the reading very awkward and will most likely result in restarting the sentence once you've figured out where the words actually are.
Reading aloud in Chinese is really hard

This actually explains why reading in Chinese is hard in general, so it follows that reading aloud is even harder, because not only do you need to remember how all the characters are read, but you also need to sort all the above things while you read. You need to do it quickly enough so that you can read and understand a sentence during the time it takes you to read the previous sentence, otherwise there's simply no way that you can understand how the next sentence is supposed to be read. You might not need to finish the entire sentence before you start it, but you need a good enough grasp of Chinese to be able to make educated guesses on the fly.
In addition, just reading at a reasonable pace (125-250 characters per minute) is not easy, even if you don't do it aloud! If this is your main problem, please check this article: Reading speed: Learning how to read ten lines at a glance. To put this into context, you can pass some quite advanced tests in Chinese without reading quicker than, say, 150 characters per minute, and most people who fail reading tests still fail because of a lack of speed.
Of course,  you can do what most foreigners do and simply ignore anything above the character level and just pronounce the characters one by one. This is fairly easy, but you will have zero intonation and you will also fail characters that have multiple readings (为/為 being a prime example of this; you have to understand what you're reading to get it right).
The next step would be to read word by word, which requires a much higher level of proficiency, but which is still doable for most people after studying Chinese for some time, but it still sounds very unnatural and lacks intonation. Being able to read an unfamiliar text aloud and include information on the sentence level (intonation and stress) is really, really hard. I've studied Chinese full-time for five years and still can't do it well. I doubt that I will be able to do it well five years from now either.
Why all this matters
So what's the big deal? Why publish an article like this?
First, I think many learners of Chinese have noticed that reading in Chinese is hard without understanding why or perhaps thinking that they are a bit dense because they can't read even simple stories aloud. Don't worry, it's not your fault, it's normal. You just need more patience and more practice. Reading fluency is definitely possible, but the effort needed to get there shouldn't be underestimated. Additionally, being able to read aloud is probably not part of your main motivation for learning Chinese, even if it's sometimes used to evaluate your ability.
Second, I want to highlight the fact that reading aloud is a very complex task and that people shouldn't use it as the sole method to evaluate one of the component skills. For instance, if you want to evaluate someone's pronunciation, don't ask them to read an unfamiliar text aloud. You have no way of knowing if their errors are due to lack of character knowledge, too slow parsing speed or actual pronunciation problems. If you want to test pronunciation, many of the above hurdles can be overcome simply by previewing the text, looking up words you don't know and practising a few times. Then you can read the text aloud.
Many native speakers find it strange that students (such as myself) can write adequate reports and papers in Chinese, listen to lectures targeted at native speakers, read novels and newspapers without using a dictionary and engage in social conversations and academic discussions without much effort, but still think it's challenging to read texts aloud. In fact, this is not strange at all, because reading aloud in Chinese really is very hard.
Follow-up article: Since writing this article, I have experimented with improving my ability to read aloud in Chinese. You can read about both the process and the results here: Learning to read aloud in Chinese.
---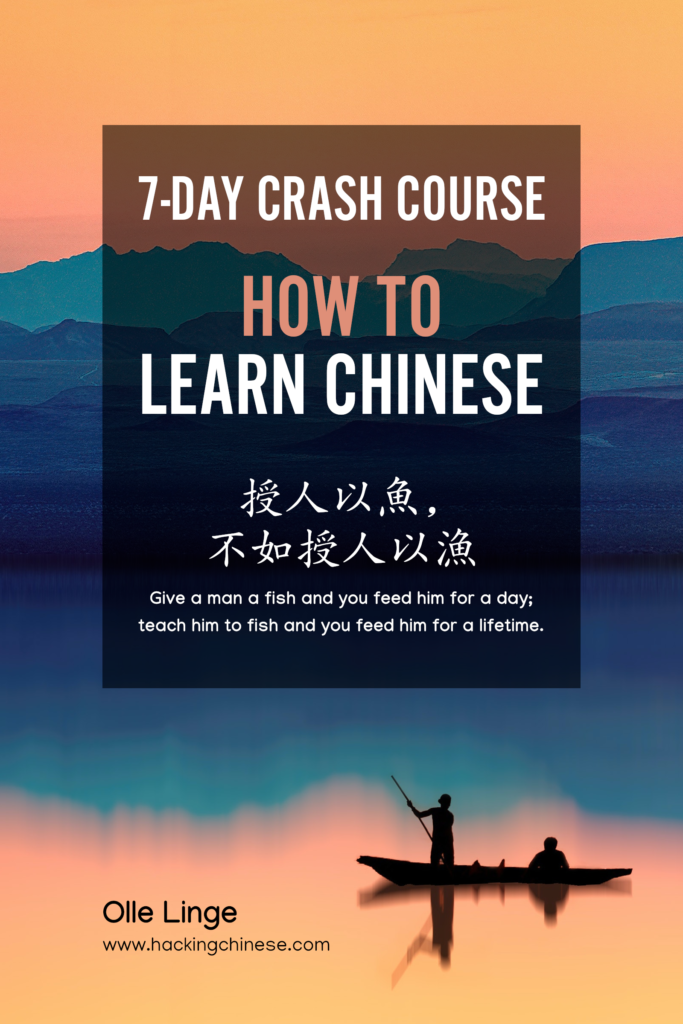 Tips and tricks for how to learn Chinese directly in your inbox
I've been learning and teaching Chinese for more than a decade. My goal is to help you find a way of learning that works for you. Sign up to my newsletter for a 7-day crash course in how to learn, as well as weekly ideas for how to improve your learning!