Writing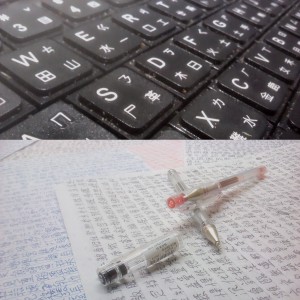 Writing Chinese here should be construed both as handwriting characters and writing texts, by hand or using a computer. For the beginner, stroke order and character composition is a major problem, but for advanced learners, writing articles and handling grammar becomes more important. Here are some other questions discussed in this category:
How do I learn to write Chinese characters?
How can I improve my writing ability?
Do I really have to write characters by hand?
I have selected a few articles I find extra important. For a complete list, check the bottom of this page.
Here's a list of all articles related to writing ability in some way (scroll down to see all of them in a text-only list):
All articles
Learning Chinese through social media
The art of being corrected
Creating a powerful toolkit: Character components
Creating a powerful toolkit: Individual characters
Creating a powerful toolkit: Characters and words
Learning Chinese words really fast
Diversified learning is smart learning
Four different kinds of mistakes: Problem analysis
Benchmarking progress to stay motivated
Learn by exaggerating: Slow, then fast; big, then small
Learning simplified and traditional Chinese
Advancing in spite of praise
When perfectionism becomes an obstacle to progress
Using Lang-8 to improve your Chinese
Language is communication, not only an abstract subject to study
Improving writing ability: Common problems and how to tackle them
Kickstart your character learning with the 100 most common radicals
Chat your way to better Chinese
Learning Chinese in the shower with me
Is it necessary to learn to write Chinese characters by hand?
Translating to improve your Chinese
Phonetic components, part 1: The key to 80% of all Chinese characters
Drills and exercises aren't only for beginners
How to improve your Chinese writing ability through focused reading
Improving your spoken and written Chinese by focusing on the process
How to learn Chinese characters as a beginner
Asking the experts: How to learn Chinese grammar
Why good feedback matters and how to get it
Handwriting Chinese characters: The minimum requirements
7 ways of learning to write Chinese characters
Learning to write Chinese characters through communication
Translation challenge, December 11th to 31th
5 tips to help you improve your Chinese writing ability
How knowing your best performance in Chinese can help you improve
A minimum-effort approach to writing Chinese characters by hand
Hone your Chinese writing ability by writing summaries
Chinese writing challenge, May 10th to May 31st