Do you find the topic of this article a bit weird? Isn't praise something encouraging that makes us want to learn more and that enables us to stay focused longer? Yes, definitely, but I also believe that for some people and in some cases, praise can be a serious obstacle on the road to mastering Chinese. Praise in itself is of course not a problem, but depending on how praise affects your way of thinking, it might make it really hard to advance beyond the basics.
People are always encouraging; this is good
Studying Chinese, I have seldom come across people who criticise my Chinese in any way without explicitly being asked to do so. This is probably the result of normal politeness; we simply don't criticise people we don't know very well. Therefore, in my experience, learning Chinese is fun, because no matter what I said in the beginning, people were very encouraging. They said my pronunciation was very good, asked how long I had been studying Chinese and similar questions. I'm sure most learners recognise this kind of situation. It's like starting on a Marathon having people cheering you on. It definitely makes the experience more worthwhile.
People are always encouraging; this is bad
However, the problem is that some people will praise you regardless of what you say. You might actually have really lousy pronunciation with you tones all over the place and incorrect word order, but people will still praise your Chinese to the hills. At an intermediate and advanced level, this becomes a serious problem, because everybody is comparing you to the other foreigners they might know, who speak no Chinese at all beyond "hello", "thank you " and "two beers, please". I have written a separate article about the illusion that pronunciation (tones in particular) isn't important: The importance of tones is inversely proportional to the predictability of what you say
If you simply regard them as people happily cheering you on, then it's fine, but it's very easy to start using these people to evaluate your progress.. If you do, you will get stuck at a level where you can communicate in Chinese, but you will never reach any kind of fluency or proper pronunciation. It's one thing being encouraged by someone telling you that your pronunciation is excellent and another thing believing that it's true.
Compare yourself to a proper standard
The problem is that you can't use "the average foreigner" as a target model for your Chinese learning, because you will become better at Chinese than the average foreigner very quickly if you make a serious effort. Personally, I tend to compare with myself and want to become better all the time, not necessarily as good as or better than some external standard. It doesn't really matter what you do, but you really shouldn't take what other people tell you as any kind of assessment of your Chinese ability unless they are professionally trained to do so or happen to be very frank and straightforward individuals. Take what people tell you for what it is: positive encouragement, and leave it at that.
Advanced level, really? My Chinese sucks!
This problem becomes even more exaggerated at an advanced level. On this website and in general, I tend to define "advanced" as a level where you can communicate with reasonable fluency about anything, and learning has mostly turned into learning how to say things correctly rather than just making people understand what you mean.
I reached this level quite some time ago and I normally receive tons of praise for my Chinese. When someone tells me my pronunciation is good or that my whatever is excellent, I smile and nod and say thank you. But in my heart I know that my Chinese sucks. Of course, I might speak Chinese much better than any other foreigner these people have met, but is that really what I want to achieve? No! If that were the case, I could have stopped studying Chinese years ago.
Compared with native speakers or truly advanced second language learners (remember that I'm not a native speaker of English, for instance), my Chinese is really, really bad. Sure, I have a solid foundation, I know a reasonable amount of words (around 20 000 in Anki at the moment), but that's it. I have a long, long way to go. And, most likely, you have too.
It's a long journey ahead
This article is not about bashing people who cheer us on, who want to make our journeys a little bit easier. I think that having this kind of support and encouragement is essential and sometimes I really need to feel good and not fret about how much I have left to learn, if just for a little while.
No, this article is about regarding praise for what it is. In most situations, it's like someone cheering on an Olympic athlete during a Marathon: they have no idea what it means to run a Marathon and will think that running it at all is worthy of praise. They don't realise that four hours is a really bad time if you aim for the world record.
Still, most people would rather have people cheering them on than running in complete silence. So do I, of course. All I'm saying is that you shouldn't use the cheering of the crowd as a measure of how quickly you are running.
---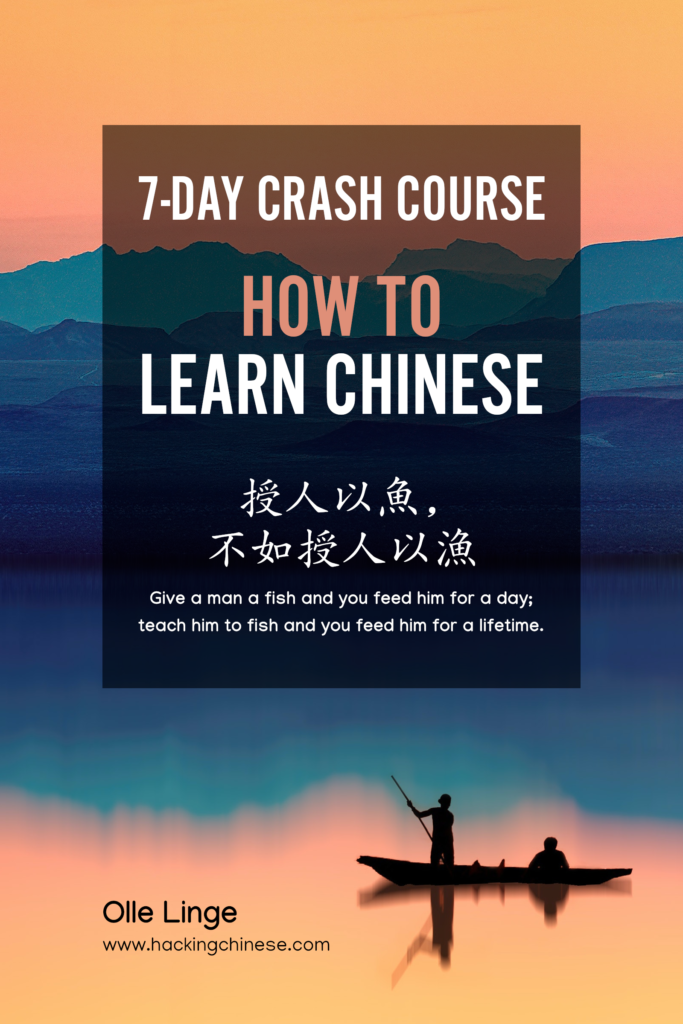 Tips and tricks for how to learn Chinese directly in your inbox
I've been learning and teaching Chinese for more than a decade. My goal is to help you find a way of learning that works for you. Sign up to my newsletter for a 7-day crash course in how to learn, as well as weekly ideas for how to improve your learning!