I'm sure many readers are familiar with the term process writing, because it's used by many teachers when teaching native speakers and second language learners alike. As the name implies, process writing puts the focus on the process rather than the product. In traditional teaching, you write an essay, your teacher corrects it and gives you a grade and that's it. Most students only look at the grade and throw the essay away.
Feedback is extremely valuable
This is terrible waste. Feedback is the only thing in language learning you really have to pay for and students are throwing it away! This is because the course design is awful, there are usually no incentives for the students to learn from their mistakes unless they are very motivated and do so spontaneously on their own.
But what's the point of a teacher correcting your essay if you don't learn from the errors your teacher has found in your writing?
There is no point, or at least there is no reason you need a teacher in that case, you could just write an essay and don't show it to anyone. You could also do the same and post it on Lang-8 for free. I guess the reason why we see this happening in schools is that the system requires teachers to grade students, but teachers seldom require students to actively process the feedback they give.
Process writing helps you learn from your mistakes

Process writing is meant to solve this problem. Instead of giving you one deadline and one grade for the essay, there are several, let's say three, separate deadline and grades:
Rough outline –

This is just meant to be an outline. What are you going to write about and how are you going to structure the text? What do you want to express? To whom? Students often skip this step, which leads to poor texts, especially if you write in a foreign language. Very experienced authors might be able to do this intuitively, but most students can't. By having a separate deadline and feedback after that deadline, the teacher forces the student to pay attention to structure.

First draft –The next step is to actually write the text. This works like a normal writing exercise, except that students have received feedback from their outlines, hopefully leading to a more clearly structured text. The first draft is handed in and corrected by the teacher. Feedback is given in such a way that students have a fair chance of improving their drafts (i.e. they need to understand what they've done wrong and what they should have written instead).

Final version –The students now read the feedback they received from the teacher in the previous step and try to improve their texts, correcting mistakes found in the draft. Again, this forces the students to focus on the problems they're making, prompting them to correct them and hopefully remember what they have changed for later.
Repeat until you see significant progress
The above steps are of course just part of a cycle. You will only be able to identify and fix a few problems at a time (in fact, trying to correct too many errors at once is generally a bad idea). When you have corrected the most urgent problems, repeat the process again. This is probably an infinite cycle because perfection is a direction, not a destination. Still, this depends a lot on if you need quantity or quality for your writing practice. I think the above three steps are enough for most learners.
Naturally, following the above procedure means that it takes much longer to produce a text, but I think everybody can agree that the goal of composing a text in Chinese isn't to write as many characters as possible. We're unlikely to produce texts with intrinsic value anyway, so if we don't learn anything from the process, we might as well not bother with writing the text in the first place and spend our time and money somewhere else. It's the quality of the text you produce and what you learn from the process that matter.
Now apply this to speaking ability as well

Process writing is being widely used around the world, but I haven't heard many teachers talk about process speaking. I think you can guess where I'm heading just by reading the word "process speaking", especially after seeing the breakdown of the process above.
This is how process speaking works:
Prepare an outline

of a short speech or presentation on any topic. If you're a beginner or intermediate learner, stick to things you're already familiar with. Advanced learners should challenge themselves and select topics you are not familiar with in Chinese (but that you still know in your native language). The outline should consist of all the facts you want to include and in which order you want to present them.

Practice your presentation

until you know it reasonably well. Don't write it down and just memorise it, talk your way through it until you actually know what you're saying. If you're not sure about how to say something, look it up or ask someone. Copy structures and words from others, but avoid lifting entire sentences, because they are obviously not your own and hard to internalise.

Record your presentation, audio is enough, but video is even cooler. If you're doing this for a course you're taking, either bring your phone and record your own presentation or ask a classmate to do it for you. Save the recording in any way you see fit. Again, this is for future reference and analysis and you don't need to show the recording if you don't want to.

Analyse the recording with a tutor

.

Up until this step, everything is standard practice (except perhaps that some people tend to write down their presentations first and then memorise them, which isn't very good if you want to practise speaking). This feedback step is almost never performed, however. Ask your teacher (or hire someone else) to analyse the presentation you just recorded.

Prepare and hold the presentation again. Some ambitious students actually do ask for feedback on their presentations, but I've almost never heard of anyone who actually hold the presentation a second time. Listen to the advice, which might include things like pronunciation, intonation, word usage, presentation technique, voice projection or anything else, then hold the presentation again.

Repeat the process until you feel that you have made significant progress (in general, the more advanced you are, the longer you need to spend). I would say that giving the presentation just one extra time based on your teacher's feedback is already a huge improvement over just doing it one single time. As was the case with process writing, I do think it's better to move on after the second or perhaps third time, because covering new areas in new presentations is useful in itself and we don't want to get bogged down in the same area for too long, especially not as beginners.

Stepping up the level of your current Chinese course
Naturally, if you're enrolled in a course of some kind, you will probably encounter many situations where you have to give oral presentations or write texts about specific topics. Even though your teacher probably won't encourage you to do what I have described above, you can still do it on your own, but it does require you to start earlier.

If you finish your presentation a week before deadline, you can give the presentation in front of a private tutor or friend and let them help you improve your speaking ability. You then have at least a week to practice and both your final grade and your spoken Chinese will improve!
---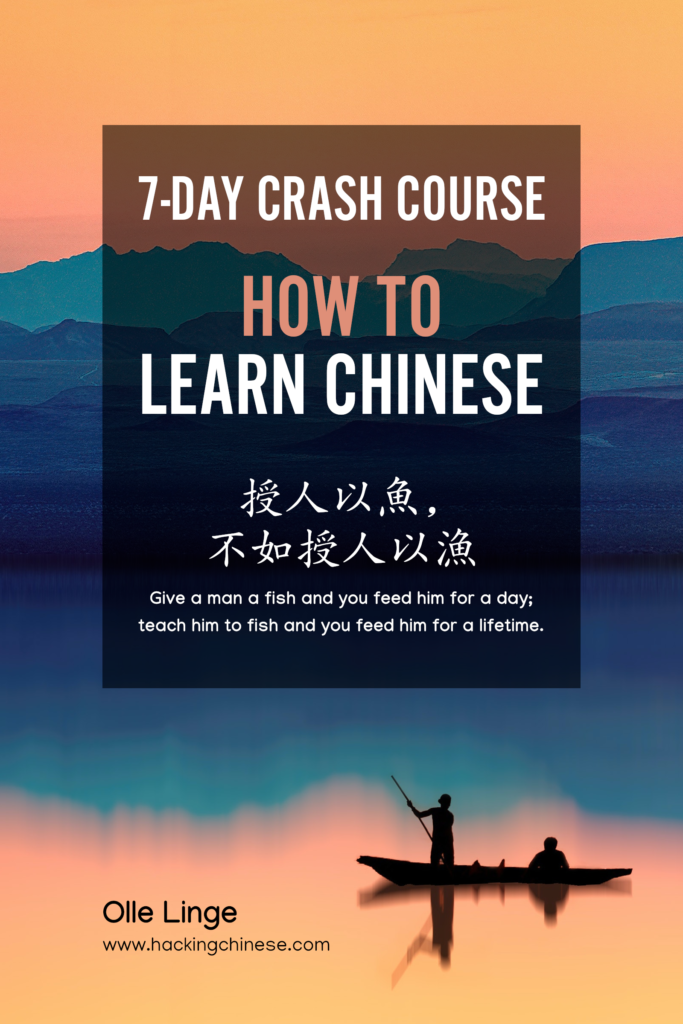 Tips and tricks for how to learn Chinese directly in your inbox
I've been learning and teaching Chinese for more than a decade. My goal is to help you find a way of learning that works for you. Sign up to my newsletter for a 7-day crash course in how to learn, as well as weekly ideas for how to improve your learning!