When I started learning Chinese, I wanted to expand my reading beyond the textbook we were using in class. This is not as easy as it sounds. When I learnt English and French, it was easy to find reading material. There were many graded readers, books for children or young adults or other learner-friendly reading on offer.
Reading Chinese as a beginner
With Chinese, it's not that easy for several reasons. First, picking up random book for children is not a good idea. It will likely contain lots of words you have never heard and probably don't need to learn. While I haven't done a proper study of children's literature in Chinese, it seems that it's mainly meant to teach kids more characters, words and idioms.
What you need as a second-language learner is not the same as a kid who can already speak fluently and is beginning to explore the written language!
Second, there used to be a dearth of reading material targeted directly at second language learners. This is partly why I think textbooks are so useful and often suggest that students use at least one extra series of books in parallel with the main one. This has gradually changed and there are now many more resources available for beginners who want to expand their horizons beyond the textbook.
The 5 best Chinese reading resources for beginners
In this article, I will introduce some of my favourite reading resources for beginners (or intermediate learners who want to broaden their base). If you think I've left out something important, please leave a recommendation in the comments! As usual, all these resources and more are listed on Hacking Chinese Resources.
Mandarin Companion
This is a series of graded readers edited by John Pasden and published by Mind Spark Press LLC. There are currently books available at level 1 (300 unique characters) and at level 2 (450 unique characters). I have reviewed all the level 1 books here. In general, this is a great resource for learners. If you know less than the required amount of characters, this is still good practice; you can rest assured that most characters and words you learn here are actually useful. However, these books also work for intermediate students to increase the reading volume and pick up a few extra words and added character familiarity.
The Chairman's Bao
Learning Chinese is not only about the language, it's also about the Chinese-speaking world and what happens there. The Chairman's Bao offers news in Chinese, written for language learners sorted by HSK level. Each news article comes with text and audio. There's also a live dictionary which you need to sign-up to use, but personally, I think the site is quite useful without logging in, just use any pop-up dictionary. Each article has audio, which isn't particularly well-produced, but much better than nothing. This is a great resource for large volumes of reading and listening practice, combined with news updates.
Note: Since publishing this article, this service now requires a subscription. My recommendation of the content still stand, but if it's worth it or not is of course up to you.
Du Chinese
This is a reading app that contains a number of lessons for beginner, intermediate and advanced students. Apart from the reading material, there is also recorded (not synthesised) audio. The app also has a built-in dictionary. The combination of these features makes it a valuable asset in your reading-practice arsenal. Of course, you could also use it for listening practice and read the text only after you have tried understanding the spoken audio.
Chinese Breeze
This is another popular series of graded readers that have been around for a while now. While they offer a broader range of books on more levels, I think the stories are somewhat weaker than Mandarin Companion. However, if you take the quantitative approach to Chinese reading ability, you don't need to choose! By the time you've gone through both series of readers, you will have a solid foundation. The levels are almost the same as for Mandarin Companion, starting at 300, then increasing to 500 and, finally, to 750 unique characters.
ChinesePod
You might think it's strange that I include a podcast in a list of beginner reading materials, but ChinesePod has such a huge library of lessons that even if you listen day in and day out, you won't risk exhausting the listening material there. This means that you can use some of it for reading practice instead. All lessons are constructed with language students in mind, include vocabulary lists, grammar explanations and much more. By only reading the actual dialogues, you can also avoid most of the English, which is a problem for the audio lessons.
Conclusion
There are of course more reading resources out there and my goal in this article wasn't to list all of them. As usual, you can find more over at Hacking Chinese Resources. Simply select "beginner", "reading" and "resource collections" and you will find more than ten collections to check out. Or just click here.
Do you know of a beginner-friendly reading resource that beats the ones I have listed here? Please leave a comment, I'm sure I'm not the only one who wants discover more learning resources!
---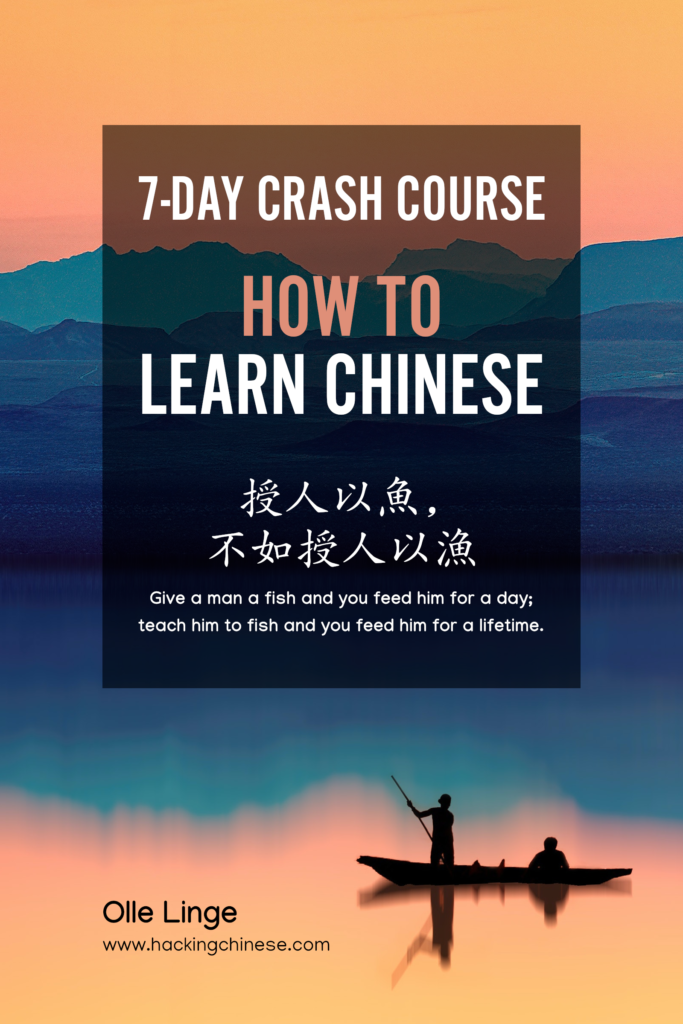 Tips and tricks for how to learn Chinese directly in your inbox
I've been learning and teaching Chinese for more than a decade. My goal is to help you find a way of learning that works for you. Sign up to my newsletter for a 7-day crash course in how to learn, as well as weekly ideas for how to improve your learning!