What I'm going to talk about here might sound so obvious that you might even wonder why I'm writing this article, but I do think it belongs in the "obvious when you hear it but otherwise not" category. In short, I'm going to argue that you are the only one responsible for your own learning and that if you let other people take responsibility for you (such as your teacher or a friend), the results might be disastrous. It took me more than two years of studying Chinese before I figured this out and since I don't think I can be considered to be obtuse in general, I think that there might be other people out there who will benefit from a reminder about responsibility.
You care the most about your Chinese proficiency
Your Chinese level matters more to you than to anybody else, so you should be the one who is in charge. The problem is that most people start learning Chinese in a classroom with a teacher. If you study in your own country, it's likely that this is your primary source for learning the language. However, shifting the responsibility from yourself to your teacher is a serious mistake. No teacher is perfect and few know your situation better than you do. There are also many reasons why teachers won't teach you what you need (it's rarely about incompetence, but more likely for social reasons). Let me give you a good example to illustrate this point.
About not taking responsibility
During two years of studying Chinese, I had a serious flaw in my pronunciation that no one told me about. I had half a dozen teachers and numerous language exchanges who could have told me, but no-one did. Or at least it took two years before someone pointed it out and I started looking more seriously into pronunciation issues. How can a systematic and quite serious error remain unchallenged for so long?
Because I did not take responsibility. I assumed, falsely, that I could just do my best in class and if I did that for long enough, my Chinese would be perfect. Instead, I should have looked at the situation from a different angle, striving towards analysing my own language ability from as many angles as possible. I should have made my goals clear to my teachers and to my helping friends. I should have assumed less and done more on my own.
However, rather than whining about the fact that no-one told me about this specific problem (I blame only myself), I learnt the following lesson:
You are ultimately responsible, what you see around you are just resources that can help you attain your goals
What I mean is that teachers, language exchange friends and textbooks are valuable resources, but they are just that, resources. You should view them as something that you can learn from, not as something that will allow you to sit back and sink into a passive learning style. There might be really good teachers out there who can guide individual students to such an extent that they don't really need to think about their own learning, but they should be exceptionally rare, bordering on non-existing.
Discuss your learning with your teachers, read what other people have to say (such as what I say on this website) and listen to what your native friends tell you, but even though these might all give you important advice, heeding them or not is your decision. Constantly monitor your own learning and see what you can improve, don't trust others to do this for you. It's you who are learning Chinese and thus, you should be responsible.
What I do nowadays and what I suggest you do

There is a fairly easy way to get around this problem. Simply tell people what your ambitions are. If you're aiming for pronunciation which is okay, but not perfect, say so. Tell them that you want to focus on grammar, correct vocabulary use or whatever, but do tell them what you want to learn. If you want to have good pronunciation, tell the teacher that you personally think that pronunciation is important. He or she will probably be very happy to help you. The sad thing is that this does not appear to be the default attitude.

---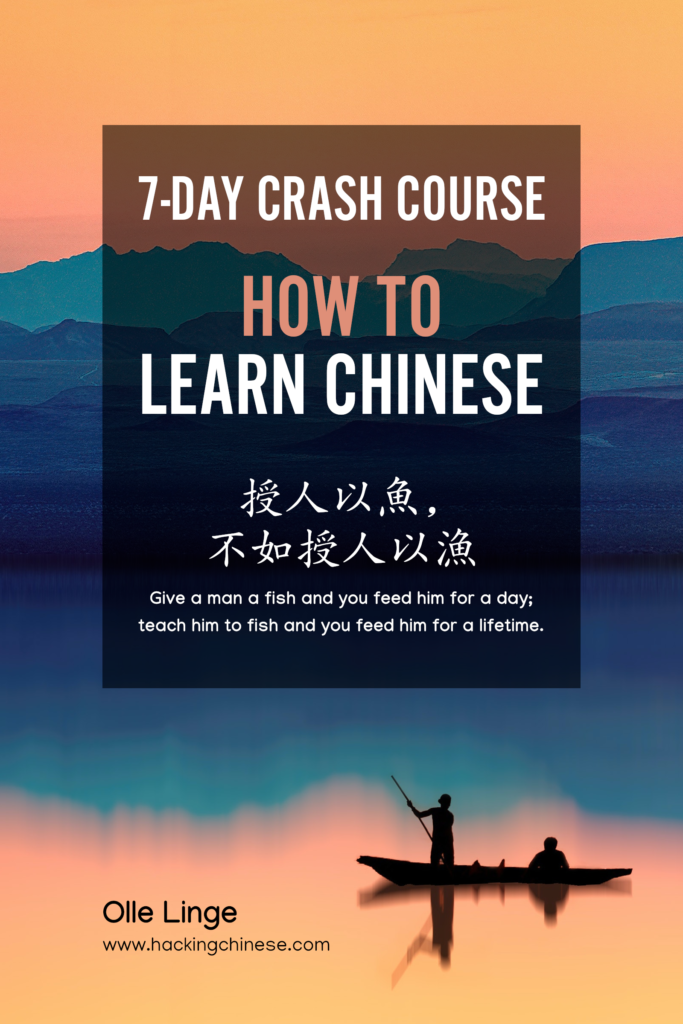 Tips and tricks for how to learn Chinese directly in your inbox
I've been learning and teaching Chinese for more than a decade. My goal is to help you find a way of learning that works for you. Sign up to my newsletter for a 7-day crash course in how to learn, as well as weekly ideas for how to improve your learning!