As frequent readers will have noticed, I usually write articles about how to learn rather than what to learn, not because I don't think what is not important, but because I think that others are already good at covering this.
That is not true for Mandarin pronunciation in general and the third tone in particular!
Tune in to the Hacking Chinese Podcast to listen to the related episode:

Available on Apple Podcasts, Google Podcast, Overcast, Spotify and many other platforms!
Learning the third tone in Mandarin Chinese
In this article, I will talk about the third tone. Based on ten years of teaching Chinese, with a particular focus on pronunciation, along with hundreds of hours of research into tone acquisition, it's safe to say that the third tone is by far the most problematic tone for most learners, at least those coming from non-tonal languages, including English, Spanish, French, German and so on.
This is partly because the third tone is inherently more complex than the others, but also because the third tone is badly taught. In this article, I will explain the problem and what you can do about it, regardless if you're a student or teacher of Mandarin.
The third tone in Mandarin: Basic facts

Just to make sure that everyone is on the same page, here is how the third tone is pronounced:
Before a 1st, 2nd or 4th tone, the 3rd tone is pronounced as a low tone
Before another 3rd tone, the first 3rd tone is changed into a rising tone
In final position, the 3rd tone is often (but not always) a low tone
In isolation, the 3rd tone is usually pronounced as a falling-rising tone
There is little controversy regarding this, with the possible exception of the third tone in final position, but research suggests that even well-educated native speakers with good pronunciation do not go up at the end, even when reading aloud. See Duanmu San's The Phonology of Standard Chinese (2007) for example. Note that when I say "low", I actually mean "mid-low to low", which corresponds to the first half of a full third tone, usually called 前半上 in Chinese (上 is pronounced shǎng here and is a different name for the third tone).
The only related area where there is still serious debate is how to analyse many consecutive third tones (see Duanmu's book again for a discussion of various approaches). That's beyond the scope of this article, though, here we're looking at the basics, but if you want a quick rule of thumb, breaking up a sentence into meaningful units (words, for example) and applying the above rules within words first, will yield decent results. However, rate of speech does influence the outcome, so the faster someone speaks, the more tone changes will occur.
The third tone is an essentially low tone
Of the above cases, the first is by far the most common, the others do appear, but much less frequently. This means that the third tone in Chinese is an essentially low tone. If you think of it as dipping tone, your pronunciation is likely to suffer (more about this later).
Here are some common two-syllable words that most learners get wrong. These are supposed to be pronounced with a low tone on the first syllable. You should never rise on the first syllable! You can listen to a native speaker from Beijing pronouncing each of the words by clicking on them.
This means that the only time a third tone is actually pronounced in a falling-rising manner is in isolation or sometimes at the end of an utterance (but this is optional; it's normal to pronounce it as a low tone even at the end of sentences).
Now, if an alien read this article, it would probably assume that the third tone is described as a low tone to beginners. After all, if it's almost always pronounced like that, so why make it much harder for learners by teaching it as a falling-rising tone?
Good question! The answer is that it's taught as a falling-rising (dipping) tone for reasons of history and tradition; not because of what makes most sense when teaching foreigners.
Does it matter? What's the big deal?
This might sound reasonable, but why do I make such a big fuss about it? Because it really is a big problem for many students. In fact, I hear more students who make this mistake than students who don't!
Let's look at the example words above again: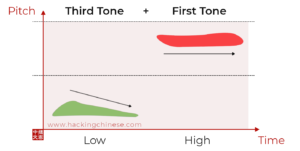 Can you hear the low tone? The tone pattern here is supposed to be low + high. Do not rise on the first syllable!
Let's look at the next pattern: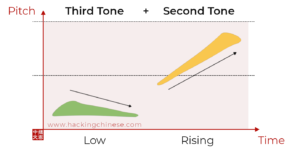 What about now? Still no rise on the first syllable. Keep it low! The most common student error is to go up on the first syllable in all these examples.
Another common example is 美国 měiguó "USA"; I can't even count the number of Americans I've met who pronounce the name of their country as méiguó!
On the right, you can see what the pitch contour of a correct third tone plus second tone might look like in Praat (the dotted line is the boundary between syllables).
If you think of the third tone as a low tone, tone changes become easier
While pedagogy can't get rid of the complexities of the spoken language itself, it can make them easier to approach. Compare teaching the third tone as a low tone with teaching it as a dipping tone when it comes to tone sandhi (tone change) rules:
Teaching the third tone as a low tone:
No rule required in a large majority of cases
When two appear in a row, change the first to a rising tone
When in isolation, add a rise to the end
Teaching the third tone as a dipping tone:
In a large majority of cases, change to a low tone
When two appear in a row, change the first to a rising tone
No rule required in isolation (quite rare in connected speech)
In the first case, we're talking about applying some kind of rule maybe 20% of the time. In the second case, we're talking about a applying tone sandhi maybe 80% of the time. If 80% of cases are exceptions, I think there's something wrong with the rule. By considering the third tone to be a low tone, there are only 20% of cases that need special treatment.
How to fix issues with the third tone as a student
So, by now you should be aware of the problem, but unless you are very confident, do not trust your own listening ability here, because you might think that you're doing it right, but in fact you're not.
A good way to figure this out is to play tone bingo, where the listener simply can't guess what you're trying to say and have to be honest with you:
A smart method to discover problems with Mandarin sounds and tones
So, assuming you have this problem, what should you do? Here are some quick suggestions:
Make sure you know how the tone is supposed to be pronounced (see above)
Listen as much as you can and see if you can hear the difference (if not, then check Learning to hear the sounds and tones in Mandarin)
Ask a native speaker to exaggerate the difference for you, then gradually returning to more normal pronunciation
Mimic as much as you can: record, compare, ask for feedback; repeat (more details here)
Learn one word to perfection for each tone combination, then use that as a model (see tone pairs)
Check your pronunciation with native speakers regularly (such as tone bingo)
Don't give up! 千里之行,始于足下!
I know this is hard, because I've been through it myself. I had studied Mandarin for more than two years before someone alerted me to the fact that I was pronouncing the third tone wrong. I almost didn't believe them at first. How could it be that the ten different teacher I'd had up until that point didn't point this out? Of course, I did have a problem with the third tone. It took me a lot of effort to undo that, so part of my motivation for writing this article is to help you avoid the same problem!
Hacking Chinese Pronunciation: Speak with Confidence
As should be clear by, I've spent a serious amount of time and energy on learning, teaching and researching Mandarin phonetics and how to learn and teach it effectively. I have put all of that into a comprehensive pronunciation course, covering everything you need to know about Mandarin pronunciation, including tones, initials, finals, prosody and also how to learn these things. Here's the first episode, where I introduce the course:
The course is not always open for registration, but you can always sign up to the waiting list. I also announce when the course opens through my newsletter and on social media, so as long as you follow Hacking Chinese anywhere, you won't miss it!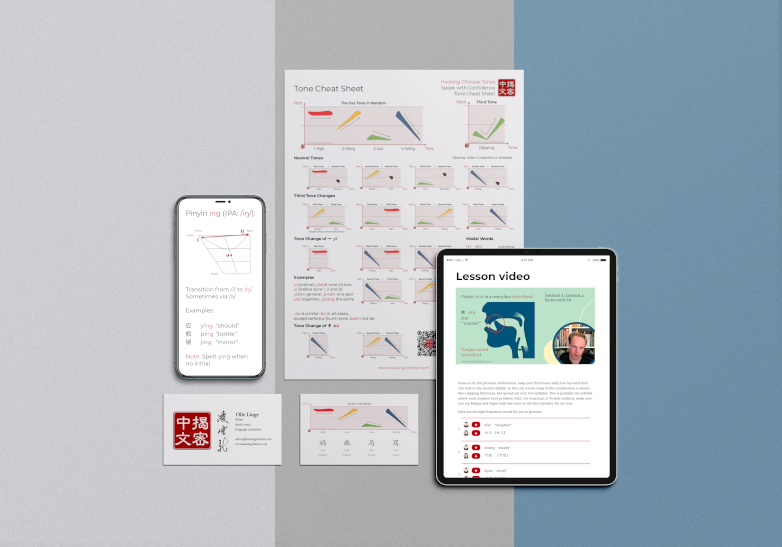 More about learning tones in Mandarin
You will sometimes hear people say that tones aren't particularly important in Mandarin, and that the Chinese themselves don't care that much; if you can just speak fluently and quickly, you will be okay.
This is wrong.
It's true that tones aren't always pronounced the way they are described in textbooks, but that is not an excuse to ignore tones when you learn Chinese. I have met people who really have completely ignored tones when learning and they have all bitterly regretted that, having to go back and relearn almost everything. I wrote about this problem more in Learning tones in Mandarin is not optional:
Now, if your goal is to make people who don't speak Mandarin think that you speak the language well, speaking faster is a great idea, but it won't fool anyone who actually understands the language. If you really want to learn to speak fluently and with clarity, focus on clarity first.
There is a huge difference between a native speaker being sloppy with pronunciation and a foreigner being sloppy. A native speaker is sloppy in a way that others are used to and that makes sense based on the phonology of the language. All native speakers do that and it's very natural. However, most Chinese people are not used to your sloppy, rushed pronunciation. So: Learn by exaggerating: Slow, then fast; big, then small).
Finally, I think the reason some say that tones don't matter is that they've spoken Chinese in an environment where the listener can guess what they are going to say. If you stand with all your luggage outside your hotel, looking very much like a foreign tourist, as long as you say roughly the right thing, the taxi driver will understand that you want to go to the airport.
Now try the same thing, but choose an obscure address the driver does not expect you to go to. It generally doesn't work unless your pronunciation is spot on. Also try discussing or expressing something fairly complex using more advanced vocabulary, and you'll find that wrong tones makes people unable to understand what you're saying. Sometimes even a single mistake can make the listener not understand. I've written more about this in: The importance of tones is inversely proportional to the predictability of what you say:
The importance of tones is inversely proportional to the predictability of what you say
Further reading
This article was originally based on the bachelor thesis in Chinese I wrote in the spring of 2011, which still contains a lot of references for those who want to read more. However, since writing the thesis, I've taught Chinese for another ten years and also studied two years in a master's degree program for teaching Chinese as a second language, so the below text is not really something I would be proud of today. Still, I haven't written anything more up-to-date, so I'll present it here anyway.
Here is the abstract, a link to the thesis itself is provided at the end:
The goal of this paper is to examine various representations of the third
tone in Standard Chinese, both in academic literature and textbooks for
beginners, and then evaluate what consequences the choice of
representation has for tone instruction. It was found that linguists primarily
prefer two models, even though slight deviations were found: either a
traditional approach describing the third tone as a falling-rising tone or a
model representing the third tone as an essentially low tone.

A survey of fifteen textbooks showed that a huge majority used the
traditional (falling-rising) representation of the third tone; only one textbook
described the third tone as an essentially low tone. Except for this
discrepancy, tone instruction was found to be homogeneous across the
spectrum of textbooks analysed.

After a careful discussion of the various flaws and merits of the two
different methods, it was found that considering the third tone as a low tone
would be beneficial for learners of Standard Chinese, mostly because it
conforms to the wide distribution of low pitch third tones in natural speech
and thus leads to easier rules for tone sandhi that need not be applied as
often as those applicable to traditional representation of the third tone.

Finally, it is suggested that the third tone should be described as a low tone
for beginners, but that more empirical research is needed in this direction
to confirm the theoretical analysis. There is also much research left to be
done in the realm of practical tone instruction and how to best convey tones
to beginner students of Standard Chinese.
Teaching the Third Tone in Standard Chinese: Tone Representation in Textbooks and Its Consequences for Students (PDF, 464 KB)
Editor's note: This article, originally from 2014, was rewritten (almost) from scratch in February 2021.
---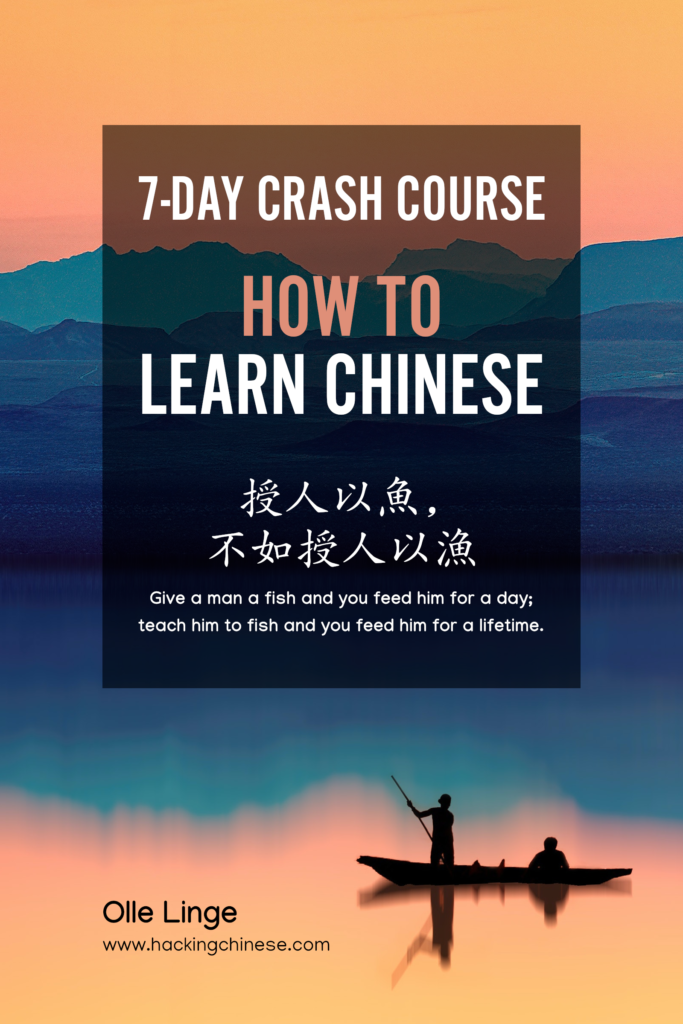 Tips and tricks for how to learn Chinese directly in your inbox
I've been learning and teaching Chinese for more than a decade. My goal is to help you find a way of learning that works for you. Sign up to my newsletter for a 7-day crash course in how to learn, as well as weekly ideas for how to improve your learning!