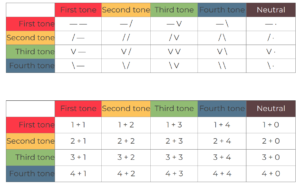 Even people who haven't studied Mandarin knows that it can take some time to learn the tones and some of the trickier sounds, but there are actually other problems you need to be aware of when it comes to pronunciation that are unrelated to the sounds themselves.
The main problem is that most people will not give you honest feedback on your pronunciation. Most people who say that your pronunciation is great mean it as encouragement, not as a statement of fact, or if they do mean it, they are comparing you to other foreigners whose Mandarin probably isn't very good. The fact that your teacher stopped correcting your tones doesn't mean much either, as most teachers don't have the time or persistence to keep working on pronunciation after the initial stages of a beginner course.
Tune in to the Hacking Chinese Podcast to listen to the related episode:

Available on Apple Podcasts, Google Podcast, Overcast, Spotify and many other platforms!
How to figure out how good your pronunciation is
This means that it can be surprisingly hard to figure out how good your pronunciation is, and the likelihood is that it's worse than you think it is. If you want to improve your pronunciation, it's essential to identify what problems you have and start working on them as soon as possible. Some problems might go away naturally with more listening and more practice, but problems you aren't aware of can persist and become so cemented they're almost impossible to get rid of.
So what's the solution?
You can do one of two things:
Use the method I will introduce and explain in this article. If used correctly, it will give you brutally honest feedback on your initials, finals and tones. It's completely free to use, but you do need a native speaker to help you out. It doen't need to be a teacher, just someone who's willing to help you out for half an our. With this method, they will not be able to be nice to you and make you believe that your pronunciation is better than it actually is. The method works for both listening (distinguishing and identify sounds) and speaking (your own pronunciation).
Hire a professional teacher you can trust to not cuddle you. This is something I've worked with a lot and detailed feedback on every aspect of your pronunciation is an option add-on to my pronunciation course. The course itself covers everything you need to know about Mandarin pronunciation, but you can also choose to let me analyse your pronunciation and let you know exactly what you're good at already and where you need to improve. You can read more about my pronunciation course here: Hacking Chinese Pronunciation: Speaking with Confidence.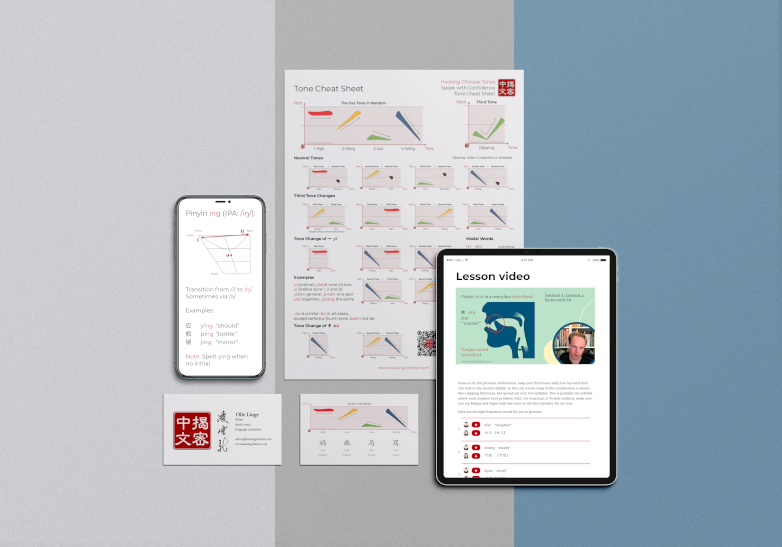 A smart method to discover problems with Mandarin sounds and tones
The method I want to introduce is a variant of what it sometimes called "minimal pairs bingo", which probably doesn't tell you much unless you're a language teacher. In phonology, a minimal pair consists of two words that only differ in one single regard, such as "bat" and "bet" in English, which are the same save for the vowel sound in the middle. In Mandarin, the words 好 hǎo "good" and 老 lǎo "old" form a minimal pair because they only differ in the initial sound.
This difference between the words can be any phonological element, including tones, so 买 (買) mǎi, "to buy", and 卖 (賣) mài, "to sell", form a minimal pair. Naturally, we don't have to limit this to pairs, so triplets or quadruplets are possible as well (larger groups are sometimes called minimal sets). You have probably seen at least one of these when first introduced to tones. Here's the one I use in the pronunciation course:
Rising

tone: 拔

bá

"to pull out"

Low

tone: 把

bǎ

"handle"

Falling

tone: 爸

bà

"dad"
In fact, this method can be expanded to include 20 words at once, even if this is overkill for most people! I will show you why and how to do this later.
Here are the two main things you can use this method for:
Diagnose your pronunciation and find out how good your initials, finals and tones really are
Diagnose your sound perception and see how well you can identify initials, finals and tones
How to diagnose your pronunciation and perception of Mandarin sounds and tones
To do this, you need a native speaker and a way of writing down things so the other person can't see what you're writing.
Do the following:
List a number of sounds you find difficult to distinguish. They should be as close as possible, so pick syllables or words that you find difficult to hear or where other people struggle to understand you. If you want to check basic, single-syllable tones, you can choose the four words listed above! Like I've argued elsewhere, though, you should move on to tone pairs as soon as you can. I will use tones as examples in this article, but will show you how to expand to initials and finals towards the end.
Put them in a list or table to make them easy to point to. This should be done in a way that allows both of you to see the words. If you're doing this with tones, you can use the tables I provide below (I'll introduce them later).
Tell your friend to write down the words in jumbled order, with each word appearing twice. If you use the list above with ba, your friend might write:  bá, bǎ, bà, bá, bā, bǎ, bā, bà. It's important that you don't see this list!
Tell your friend to say the words on the list in the order she wrote them, while you write down which word you think she's saying. Repeating the same syllable a several times for clarification is okay. If you want a more casual version, you can just point to the right word and skip the writing, but I suggest you actually write down the answer to make it absolutely sure that they're not cheating to make you feel better.
Compare your list with your friends list. Obviously, if your listening is up to par, the lists will be identical. If you misheard something, this should be immediately obvious. This might not mean that you've definitively found a problem you need to work on, but it's the first clue to suggest that there might be an issue there. Repeating the above steps with different syllables will let you know if you actually have a problem or not. Repeating with different native speakers is also a good idea.
Reverse the roles so you are the one saying the words. By writing down the words in advance and asking your friend to write down the answers, you guarantee that no cheating is possible. If your friend writes down the wrong words, you know you have a problem. Please note that many native speakers prefer characters here, so it might be a good idea to include them.
How good are your tones and tone pairs really?
Below, I have included two tables containing all possible tone pairs in Mandarin, twenty in total, including the neutral tone. While you can use the full table to check your tone pairs, I suggest that you limit yourself to certain rows or columns first. The first time I used this method to check students' pronunciation in class, I vastly underestimated how hard it would be and most students performed so badly that I deeply regretted using tho whole table at once.
| | | | | | |
| --- | --- | --- | --- | --- | --- |
|   | First tone | Second tone | Third tone | Fourth tone | Neutral |
| First tone | — — | — / | — V | — \ | — · |
| Second tone | / — | / / | / V | / \ | / · |
| Third tone | V — | V / | V V | V \ | V · |
| Fourth tone | \ — | \ / | \ V | \ \ | \ · |
Or with numbers if you prefer:
| | | | | | |
| --- | --- | --- | --- | --- | --- |
|   | First tone | Second tone | Third tone | Fourth tone | Neutral |
| First tone | 1 + 1 | 1 + 2 | 1 + 3 | 1 + 4 | 1 + 0 |
| Second tone | 2 + 1 | 2 + 2 | 2 + 3 | 2 + 4 | 2 + 0 |
| Third tone | 3 + 1 | 3 + 2 | 3 + 3 | 3 + 4 | 3 + 0 |
| Fourth tone | 4 + 1 | 4 + 2 | 4 + 3 | 4 + 4 | 4 + 0 |
This is a simple way of representing all the combinations of two syllables in Chinese. First look at the column to the left and select a tone, then combine it with any of the five available tones that can follow it. Please note that 2+3 and 3+3 are practically the same because a third tone followed by another third tone changes into a rising tone.
Here comes the crucial bit: You have to use words that only differ in tone! If you can't find such words (which is highly likely if you use at least a full column or row), you need to make words up. You should not use words that exist in Mandarin but differ in more than one regard! For example, if your working on the first column above, you shouldn't use the words:
飞机 fēijī "airplane"
明天 míngtiān "tomorrow"
老师 lǎoshī "teacher"
唱歌 chànggē "sing"
The reason is that the listener will be able to guess the right word regardless of tones. This is true even if you just ask people to write down what you're saying in general, simply because they know that there's only one common word with those syllables. For example, if you say féijí instead of fēijī, your friend will immediately think of an airplane because there's really no good alternative.
Here's how you can compensate by making something up:
Use a single syllable in Mandarin (such as ba). Your tone pairs then become bābā, bábā, bǎbā, bàbā and so on. Most of these don't mean anything, but that's the point.
Use a voiced sound without meaning (such as "mm"). This won't make the listener think of any word in particular and might be less distracting. You'd be saying things like mḿmḿ and the like. Pure vowels also work, so ǎaāa.
Use a word in your native language (such as "Paris"), then apply the tones to that word. This will obviously make no sense in Mandarin, but with clear tones, your friend should still be able to guess. Try saying Pārīs, Pǎrīs, etc..
Please note that this can take a little bit of getting used to even for a native speaker, but that it really does work. At first, it feels a bit weird to say bǎbā because it does't mean anything, but that's okay. Work your way through the jumbled lists and read each tone combination using nonsense words.
I have tried this with several different native speakers and it's perfectly possible to get a 100% score even when using all 20 tone pairs using all three variants above! It's not easy, though, and like I said, you probably should start with only one column or one row, then take the next one and so on, until you can expand to more thane one at once.
Get the most out of the feedback you receive
You can use more than just the answer to figure out how good your pronunciation is. If your friend immediately points to the right word with confidence, it's quite likely that your pronunciation is not just okay, but actually clear. If she instead hesitates and don't look at all confident, it could just be a wild guess, so a right answer might not be worth much.
Similarly, when you listen, pay attention to how difficult you think it is to identify the sound or tone spoken. This is obviously easier than trying to read your friend's reactions, and it should be immediately obvious if a specific pair causes you trouble. There's no point at all in guess here, so if you don't know the right answer, just note it down as wrong without guessing!
You can collect as much data about your pronunciation and perception as you want this way, then try to analyse what your biggest problems are and which areas are already quite good. This can be very simple, just noting that you got the third tone wrong a lot, or more serious where you add up numbers and check each combination carefully. If you want a really deep dive, I suggest you check out the version of the pronunciation course that includes feedback, as that contains more data than most students want. Here's a sample of what the feedback looks like (the first two pages out of six in total):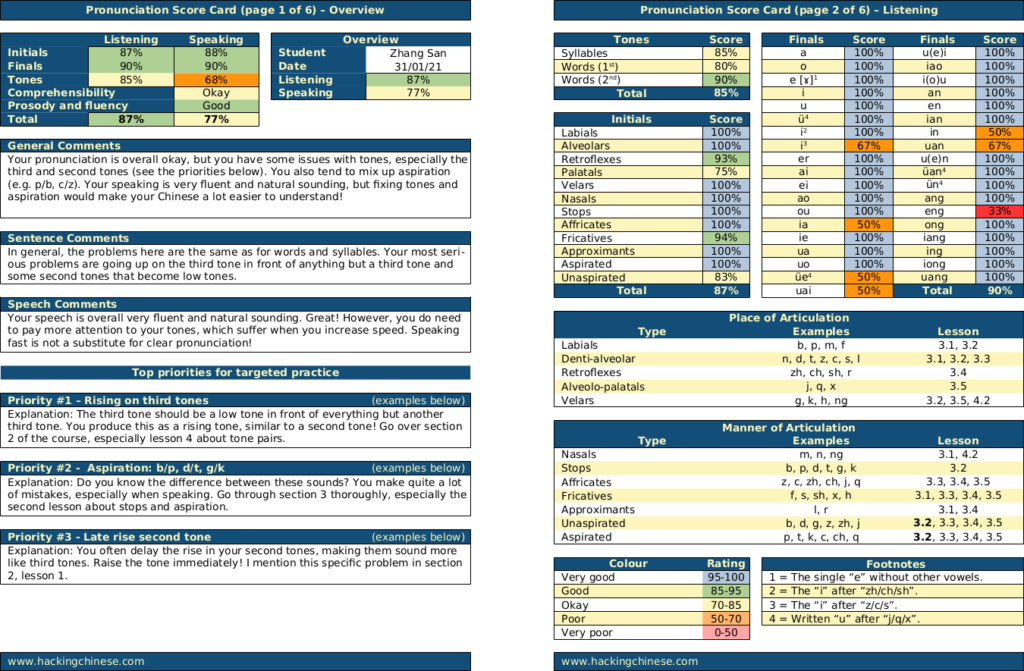 Tone pairs to practise with
If you want to practise with real words, I have collected and sorted a very large number of HSK words based on their tones in the article below. You can find all words that have first tone plus first tone, third tone + fourth tone or whatever combination you want! This is excellent once you know what you need to practise so that you spend more time with words you have already learnt or that are useful to learn.
Focusing on tone pairs to improve your Mandarin pronunciation
Focusing on tone pairs to improve your Mandarin pronunciation
Wider usage beyond tones
In this article, I have used tones and tone pairs to show how to use minimal pairs (or triplets or whatever you fancy), but you can of course use it for any situation where words differ in only one regard. Here are a few examples:
Aspiration: b-/p-, d-/t-, etc.
Retroflex: z-/zh-, s-/sh- etc.
Nasals: -in/-ing, -an/-ang
Any sounds that are close to each other in pronunciation can be used, which means you can do this in English as well. Here are some words if you want to torment your Chinese friends (these are usually really hard for them):
Some limitations and caveats
There are some limitations to this method, though, so let's discuss a few of them:
Context matters – When conversing in a language, context matters a lot. This means that you might feel that you can talk with people but still fail quite miserably at minimal pairs bingo. What does this tell you? Basically, it means that the Chinese you speak is understandable in the contexts you use it, but in spite of your pronunciation, not thanks to it. It could very well be that when your Chinese improves further and you start using it in less predictable contexts, people will find it much harder to understand what you're saying. Pronunciation is for speaking what spelling is for writing: people can probably understand what you write even with bad spelling, but if you also have bad grammar and structure, people will struggle, and correctly spelt texts are much easier to read. I wrote more about context in this article: The importance of tones is inversely proportional to the predictability of what you say.
Limited scope – This method is a bit artificial and as we all know, saying a word in isolation when trying really hard to get it right is not the same thing as saying it in the middle of a conversation without thinking about it. This method is meant to help you spot errors, but it's not the best method for practising once you know what your problems are. I suggest more listening and more mimicking to actually fix the problems. Once you know what they are, you should be able to pay more attention to them, hearing them more clearly when listening, which will gradually seep into your own pronunciation!
Wrong but identifiable – This method works better for listening than it does for speaking. The reason is that your pronunciation might be understandable even if it's wrong. For example, if you pronounce the fourth tone really loudly, very fast and with a ridiculously high starting point, your friend will probably still think that it's a fourth tone, not because it's a good fourth tone, but because there's no good alternative. This means that this method works well for pronunciation in the sense that if your friend guesses the wrong word, you know you have a problem, but if they guess the right word, you can't be sure if your pronunciation is okay or good. It sets a lower limit for how bad it is, though, which is still very useful.
Conclusion: A smart method for discovering problems with Chinese tones
I wish someone had introduced this method to me when I started studying Chinese, not after trying it out on my own after studying for two years. I've spent an enormous amount of time and energy to correct my pronunciation (especially the third tone; see this article) and if I would have known about my problems earlier, it would also have been a lot easier to correct them.
I used this method regularly to confirm that my pronunciation and tones are good. I've also used it when teaching to help students identify their own problems, which they often can.
What about you, have you tried something similar? What did you learn?
If you haven't tried it yet, I really think you should!
Editor's note: This article, originally from 2011, was rewritten (almost) from scratch in September 2021.
---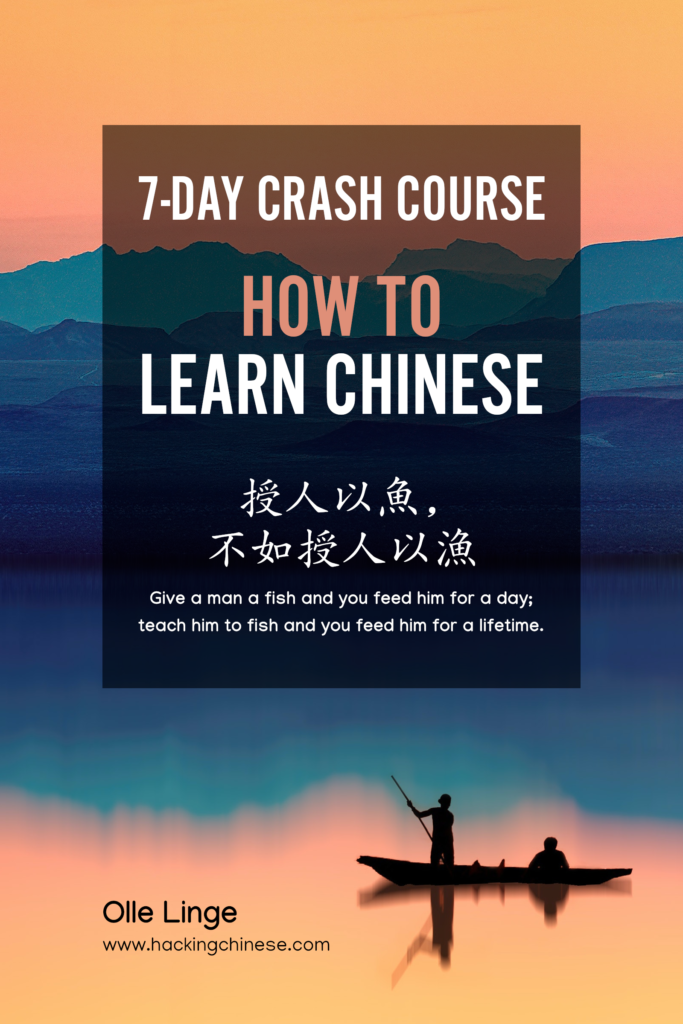 Tips and tricks for how to learn Chinese directly in your inbox
I've been learning and teaching Chinese for more than a decade. My goal is to help you find a way of learning that works for you. Sign up to my newsletter for a 7-day crash course in how to learn, as well as weekly ideas for how to improve your learning!