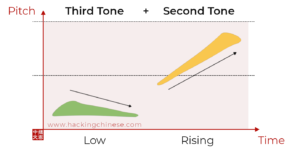 Learning Chinese, it's sometimes hard to assess the quality one's own pronunciation. People in your surrounding might understand what you are saying most of the time and even praise you, but this doesn't necessarily mean that your tones are good or even acceptable.
Even teachers sometimes won't give you the feedback you need. There are many reasons for this, including bad experiences from other students who really don't like when teachers point out that they are wrong, or just a lack of time and resources. Most teachers don't focus much on pronunciation beyond the first few weeks of class, which is not enough for most students to learn tones.
A smart method to practise Chinese tones
What I am going to talk about in this post is an ingenious way of checking if your pronunciation is clear. It doesn't necessarily guarantee that it's perfectly correct, but it will take you a long way in that direction. I first heard of this idea from a former classmate, Arnaud Laraie, and it's an application of what is sometimes called "minimal pair bingo" or similar.
This is what the method can achieve:
Identify problems with closely related sounds
Prove whether your tones are good or not
The second point needs some further explanation. Can't you just ask someone if your tones are good or not? Of course you can, but most of the time you will get a misleading or even wrong answer.
People don't like pointing out the mistakes of others, especially if you're a foreigner and a guest in their country. They might also have wildly different standards than you, so if you strive for a close-to-native-speaker level, they might just think that you are slightly better than the average foreigner, which is far from enough. In other words, don't trust random people when they say your pronunciation is good!
The method consists of the following steps:
List a number of sounds you find difficult to distinguish
Put them in a list or table to make them easy to point to
Read the various sounds and let a native speaker guess the word
Repeat until you make sure that no chance is involved
Reverse the game and have the native speaker reading if you want to improve basic listening ability
In this article, I will use the tones in Mandarin Chinese as an example, but there is no reason why this method could not be useful for other languages or other aspects of learning Chinese. I will write more about this towards the end of this text, but now over to the tones in Mandarin.
If you're struggling with tones in general and want a helping hand from someone who has been through all this, you can check out Hacking Chinese Tones: Speaking with Confidence, where I teach you the theory you need, the methods you should use to practice, along with high-quality audio recordings to mimic and clean tone diagrams to study.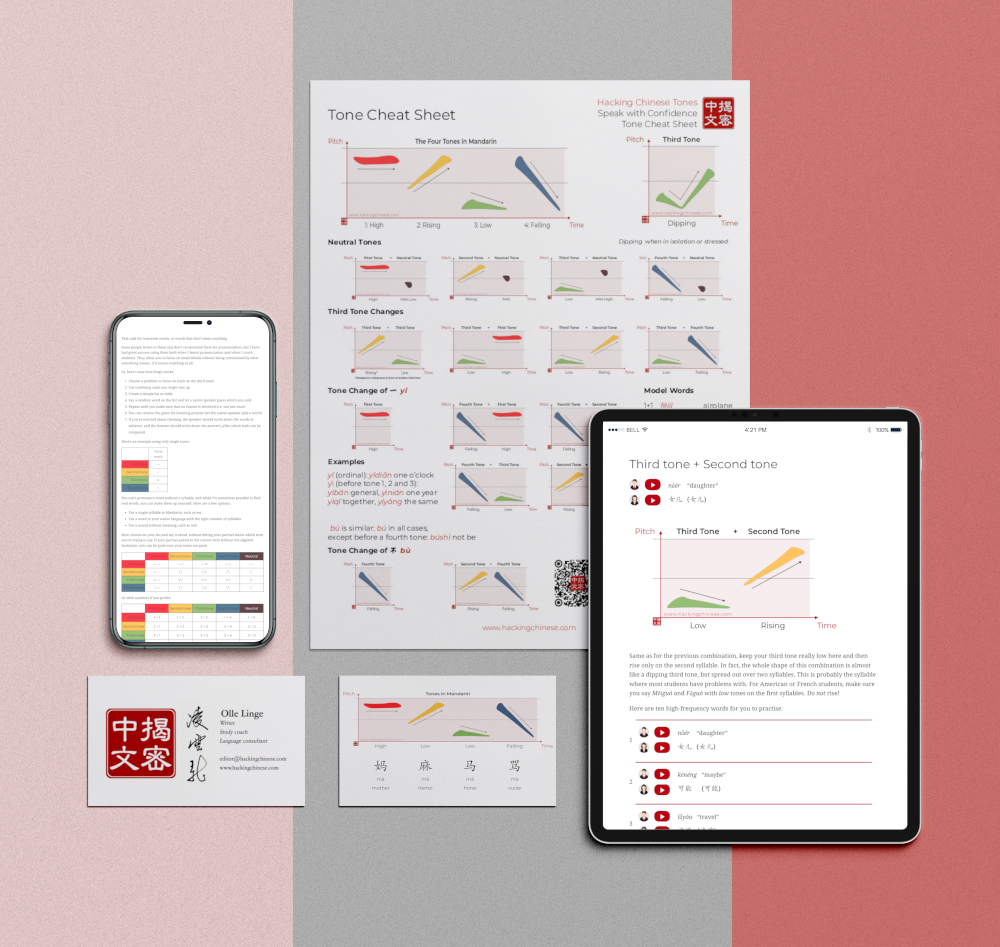 The five tones in Mandarin
In Mandarin, there are four tones, numbered one to four, plus a neutral tone. These are different changes in pitch for a given syllable that is essential to determine the meaning of a word. It is hard for us Westerners to understand and feel, but tones are typically more important than most people think.
For instance, if you're in the lift going up to your apartment and you say the word "四樓" (sì lóu, 4th floor) correctly, but with the wrong tones (let's say you say sí lóu), the other person is most likely to hear 十樓 (shí lóu, 10th floor), because in their minds, the tone is more important than the difference between s/sh (which is even more true in southern dialects which don't have as clear a difference between s and sh.
On the other hand, if you get the pronunciation slightly off (like switching sh and s, you say shì lóu instead of sì lóu), but get the tones right, you're almost guaranteed to end up where you want to go. In other words, tones are something alien to us, but is of paramount importance when learning Chinese. Tone is also the perfect example to demonstrate this method of verifying clear pronunciation.
Getting started
From here on out, it's assumed that you know how to pronounce the tones in Chinese independently and in theory, because I will deal with the real problem, which is tones in combination and in context. If you're not clear about the tones in the first place, check out my free guide here or check out Hacking Chinese Tones: Speaking with Confidence.
This is a diagram showing all the possible tone combinations in Chinese. I used a table almost identical to this one when I tried this out with native speakers and it works very well.
| | | | | | |
| --- | --- | --- | --- | --- | --- |
|   | First tone | Second tone | Third tone | Fourth tone | Neutral |
| First tone | — — | — / | — V | — \ | — · |
| Second tone | / — | / / | / V | / \ | / · |
| Third tone | V — | V / | V V | V \ | V · |
| Fourth tone | \ — | \ / | \ V | \ \ | \ · |
Or with numbers if you prefer:
| | | | | | |
| --- | --- | --- | --- | --- | --- |
|   | First tone | Second tone | Third tone | Fourth tone | Neutral |
| First tone | 1 + 1 | 1 + 2 | 1 + 3 | 1 + 4 | 1 + 0 |
| Second tone | 2 + 1 | 2 + 2 | 2 + 3 | 2 + 4 | 2 + 0 |
| Third tone | 3 + 1 | 3 + 2 | 3 + 3 | 3 + 4 | 3 + 0 |
| Fourth tone | 4 + 1 | 4 + 2 | 4 + 3 | 4 + 4 | 4 + 0 |
This is a simple way of representing all the combinations of two syllables in Chinese. First look at the column to the left and select a tone, then combine it with any of the five available tones that can follow it. Please note that 2+3 and 3+3 are practically the same because a third tone followed by another third tone changes into a rising tone.
Now comes the clever bit. Since native speakers tend to understand what people say even if they are pronouncing the tones incorrectly, you are now to choose a sound that has no specific meaning. There are many ways of doing this, pick one you like:
Use a single syllable in Mandarin (I used "ma")
Use a word in your native language ("häst")
Use a sound without meaning (such as "mm")
Analyse those tones!
Now, start pronouncing the chosen word or sound using the different tones! Let's say you chose option one above and that you are using the syllable ma to practice. Since we're dealing with pairs of syllables here, we use the double ma + ma. The goal is to check if the tone combination you pronounce is the same as the one the native speaker thinks you want to pronounce. Follow these instructions:
Select any of the twenty combinations at random.
Add tones to your word (e.g. ma2ma3, ma4ma4, ma1ma3)
Let your friend/teacher point on the combination she hears
Repeat at least twice for all combinations
Repeat using a different friend/teacher
Of course, if you want to monitor your pronunciation in detail, you need to do this in a systematic manner and make sure you cover all the tones. Write the combinations down before you start! After you've practised for a while so your friend/teacher is aware of how this works, you can also use reaction time to determine how good your pronunciation is.
If she points to the correct tone combination without the slightest hesitation, you can be quite sure your tones are good
If she points to the right tone, but hesitantly, then you might have a problem
If she points to the wrong tone, you obviously have a problem
The really clever part here is that there is no way your friend/teacher can cheat or try to make you feel better about your language skills. If you pronounce something incorrectly or unclearly, you will know. Of course, you can still cheat, but that would defy the purpose of this exercise in the first place, so don't do it.
Words to practise with
Some teachers and theorists dislike practising with words that don't mean anything, but there are certain advantages to doing that. If you use completely different words for this exercise (one per tone pair), the listener will be able to guess what you mean even if your tones are completely off. If you say 想要 xiǎngyào with the wrong tones, they're likely to guess the right word even if you say xiángyáo, because there is no (commonly used) word that is pronounced like that. If you want more ideas for tone pairs to practise, with please check this article:
Focusing on tone pairs to improve your Mandarin pronunciation
Wider usage
This is a very powerful way to identify and analyse pronunciation problems with the tones in Chinese. However, the same method can be used to teach and/or learn other sounds as well. Try these:
b/p
z/zh
j/q
-in/-ing
-an/-ang
Any sounds that are close to each other in pronunciation can be used, which means you can do this in English as well:
A problem you should be aware of
A problem with this method is that it doesn't actually test correct pronunciation, only clear pronunciation. For instance, the sounds might be wrong, but if the native speaker can tell which one is which anyway, in which case you don't prove anything at all using this method. Let's say that someone can't distinguish "world" from "word" and starts pronouncing the "l" as a separate syllable. That would be extremely easy to recognise, but it doesn't mean it's right! If the native speakers becomes used to your way of speaking, this method loses it's effectiveness.
Conclusion
I wish someone had introduced this method to me when I started studying Chinese, not after trying it out on my own after two years. I've spent an enormous amount of time and energy to correct my pronunciation and if would have known about my problems earlier, it would also have been a lot easier to correct them.
I've used this method several times and I've been able to confirm that my pronunciation and tones are quite good. I've also tried it on other students of Chinese to see if they also can find out where they go wrong, and most of the time they can.
So, if you haven't tried something similar, do you dare not to?
How good are your tones, really?
---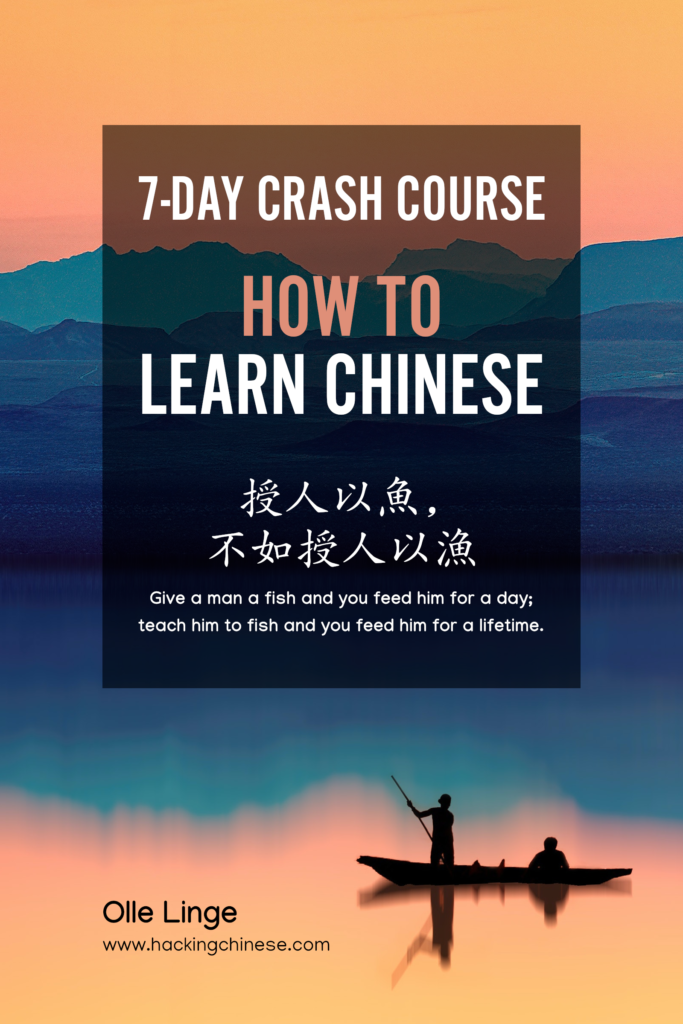 Tips and tricks for how to learn Chinese directly in your inbox
I've been learning and teaching Chinese for more than a decade. My goal is to help you find a way of learning that works for you. Sign up to my newsletter for a 7-day crash course in how to learn, as well as weekly ideas for how to improve your learning!