We all experience slumps or periods when we don't study much for some reason. This can be because the fun has gone out of it, because we've found other things to fill our spare time with or for a number of other reasons that are likely to be very individual.
When I talk about slumps, I'm talking about when you study less Chinese because of internal factors, so if you haven't studied because you're busy taking care of your newborn baby or surviving a one-man hike through the Amazon rainforest, you're not experiencing a slump. Still, it's important to realise that we usually have more time than we think, but that's beyond the scope of this article.
I wrote about the problem with slumps last week, arguing that slumps affect your learning more than flows, mostly because slumps tend to be long and draining whereas flows may be intense, but seldom last very long. I also said that the most important way of dealing with slumps is to prepare for them before they happen.
However, even though I think I explained the why, I didn't really explain the how.After several comments about this both here on Hacking Chinese and on Facebook, I decided to expand the topic with another article focused exclusively on how to handle slumps in particular.
Productivity, time management and having fun

I have written three articles earlier that are all crucial to understanding how to deal with ebbs in motivation. For those of you who haven't read them, I'll summarise them as follows:
Study according to your productivity level – When studying and choosing between the many things you want to learn, you should choose a task that is as demanding as you can manage. This might sound obvious, but it has some really important implications. First, if you are too tired to learn something, your default solution shouldn't be to stop learning, but you should learn something easier instead. Conversely, you shouldn't waste productivity by doing things that require no effort at all when in fact you feel like you could conquer the world. Scale down or scale up depending on your current state of mind.
Have fun learning Chinese or else… – The importance of enjoying yourself is something that really can't be stressed too much, even when we're talking about normal learning as opposed to learning in a slump. The logic is quite straightforward: Learning Chinese takes an awful lot of time and if you don't enjoy it or find it interesting, it will be almost impossible to force yourself to do it. It would also be quite stupid. Find ways of learning that you like, or at least make the best of every situation.
The time barrel: Or why you have more time than you think – The important lesson here is that accomplishing anything can be broken down into smaller tasks of various sizes. Some of them require serious planning because they are bulky and require a lot of space in your metaphorical time barrel (thes tasks are called rocks), some can be fitted in almost anywhere (pebbles or sand)  or even superimposed on top of other tasks (water). In order to fill your days with as much Chinese as possible, you should think about how to fill all those small spaces between the boulders. The picture below shows how to fill the time barrel.
Now that we have looked at some of the key concepts involved, we can start talking about how to deal with the slump itself.
First, based on the article about productivity levels, it's clear that we're not going to accomplish anything too serious during a slump. Thus, anything that you consider challenging in anyway is probably not a good idea (you might still be forced to do it because of exams and so on, though), because you don't have the motivation to see it through. To as large an extent as possible, stick to what  you already know.
Another option is to choose tasks that don't feel much like studying at all:
Second, focus on anything you find interesting or fun for reasons that aren't connected to learning the language itself (if you think learning the language itself is fun, you're probably not in a slump at the moment and you're reading the wrong article). Here's some advice from the having fun article. If you already like…
There are many ways to expand something you like, such as:
Finding friends who share your interest
Reading blogs about the topic in question
Writing about what you like on a blog
Talking with friends about what you like
Read books/watch films/listen to radio programmes
Third, if we look at the time barrel, it's easy to see that the big rocks need to go. They require focus and represent major obstacles that you certainly don't feel like negotiating right now. When you feel upbeat, go ahead, but during a slump, you should get rid of most or all the bigger, more draining tasks. Depending on how serious the slump is, you could also get rid of lots of pebbles. The point is that you should keep as much of the small stuff as possible. Here are some suggestions:
Sand:
Listening to a few minutes of audio on your mp3 player
Chatting with a friend in Chinese online
Reviewing vocabulary a few minutes at a time
Water:
Don't conquer, consolidate
In general, I think that one common denominator for all the above arguments is that things you know already are less demanding than things you don't know. Familiar things fit more easily in the time barrel. This means that you shouldn't focus too much on adding to your knowledge in a slump, which could be likened to conquering new territory, but rather reinforce the Chinese you already know, which would be more like consolidating what you have already conquered. In essence, jump one rung down on the ladder of progress, go back to where you were half a year ago.
Don't forget to consolidate the Chinese you have already learnt
Naturally, this is easier the more advanced you are. If you can read comics with ease, but find novels hard, stop reading novels and go back to comics. If you find new comics too demanding, re-read old ones or continue reading a series you're already familiar with. Re-watch your favourite Disney or Pixar films in Chinese.
If you have a serious slump as a beginner, you might have a different kind of problem. How serious are you about learning Chinese? Rather than studying, I think you should try to find ways to motivate yourself in general. What made you start learning Chinese in the first place? Return to that inspirational source or find others.
Focus on ways of learning that don't involve studying
Another way to look at this is to highlight the difference between studying and learning. The first usually means that you focus on doing something in order to learn (i.e. learning is the main goal). Learning is then the result of studying (if you're using an efficient method). However, studying isn't the only way you can learn! Basically, anything you do that's related to Chinese will improve your Chinese. Don't think of studying Chinese as sitting in front of a computer looking up characters or doing grammar exercises in a book. During a slump, focus on ways of learning tat don't involve active studying.
You're not alone
Although I haven't discussed it explicitly above, social factors are very important. You're not the only one learning Chinese and neither are you the only person around in general. It's much harder to motivate yourself if you're doing everything alone, but if you allow other people to help you, it will be much easier. This includes normal social interaction with Chinese speakers as well as teaming up with study partners or discussing learning online. I have written more about this here: You shouldn't walk the road to Chinese fluency alone.

未雨綢繆
This is a Chengyu that for some reason seems very common in textbooks but which use is quite limited (as is the case with most Chengyu). This is the definition from Baidu:
未雨绸缪,拼为wèi yǔ chóu móu,
绸缪:紧密缠缚;趁着天没下雨,先修缮房屋门窗,比喻事先做好准备工作。
In other words, you make sure the doors and windows are tightly fastened before the storm (rain) arrives, which simply means to prepare for an event in advance, to prepare for a rainy day. Or prepare for a slump before it hits you. This is my final and perhaps most important piece of advice:
Prepare for the slump before it hits you
The logic behind this is very simple: There are many things you can learn during a slump, but most of these require effort of some kind before you get started. To name a few examples, you can't watch a Pixar film in Chinese if you don't have it available, you can't reread a comic book if you haven't read any comic books, you can't practice sports if you haven't found a club, you can't hang out with friends that you don't have, establishing habits is much harder than maintaining them. And so on.
You need to find learning activities at all different levels and establish habits when you have the energy to do so, not when you're in a slump. I review vocabulary daily because it's a habit I have established over many years. It doesn't feel like a chore, it's just something I do. Establishing such a habit is hard, maintaining it is not (that's part of the definition of a habit).
Lastly, even though this might be obvious, don't overdo any task that will come back and haunt you later. This is perhaps most important when it comes to spaced repetition software. Some people binge study in programs like Skritter and Anki, but fail to realise that the hard thing isn't to add lots of flashcards, it's to maintain those words later. Instead of just adding lots of words, spend that time actually using Chinese instead (listening/speaking/reading/writing).
Conclusion
If you're in a slump now, take a step back (or down) and follow the advice above. Try focusing on the fun aspects of learning and avoid forced studying. Hopefully, your motivation will come back soon. If you don't have much to fall back on in terms of habits or leisurely activities, you'd better make that a priority after the slump.
If you're not in a slump now, you should prepare for the storm now rather than waiting for when the rain starts pouring in through your leaking roof. I have provided a lot of things you could look into, but I'm sure you know better than I do what will work for you in a slump. You will still experience slumps, but hopefully they will be less severe!
---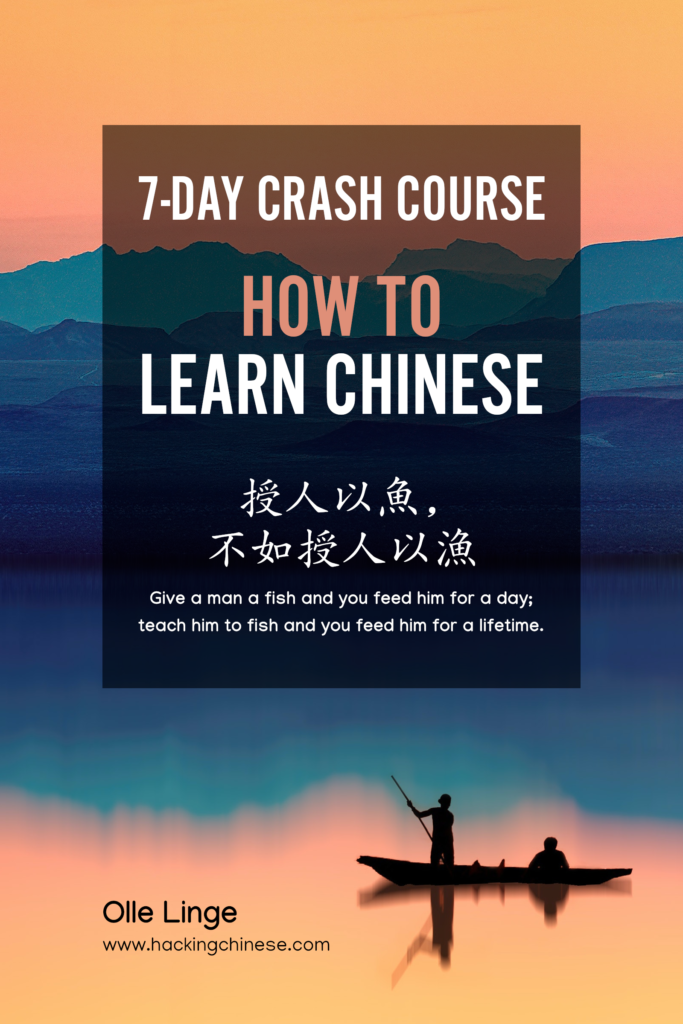 Tips and tricks for how to learn Chinese directly in your inbox
I've been learning and teaching Chinese for more than a decade. My goal is to help you find a way of learning that works for you. Sign up to my newsletter for a 7-day crash course in how to learn, as well as weekly ideas for how to improve your learning!