Chinese has a reputation for being hard to learn, which is true depending on what you mean by "hard". Learning Chinese can be even harder if you find yourself in a course that is above your level. There are several possible reasons why your Chinese might not be up to par, something I discussed in a recent article, but could it be beneficial to deliberately seek out a course that's too hard for you?
Tune in to the Hacking Chinese Podcast to listen to the related episode:

Available on Apple Podcasts, Google Podcast, Overcast, Spotify and many other platforms!
Most of the time, most people should look for courses on your level. After all, that means that the course is designed for students who know as much as you do, which is generally a good thing. There are situations, however, where it can be a good idea to try to forge ahead and challenge yourself. I have done so several times when learning Chinese, and to show you what I mean, let me share my first such experience with you.
My first deep-end immersion dive
In the spring of 2009 (yes, I know, that's a long time ago now), I had studied at Wenzao Ursuline University (then College) of Languages in Gaoxiong, Taiwan, for two weeks and I knew for sure that the class I attended was too easy. I don't say that because I was smarter or better than the other students, but because I was doing nothing but learning Chinese at the time, yet the class was designed for people who only studied a few hours per day. I was willing to spend every waking hour learning and figured I would soon get frustrated by the slow pace (this was part of the reason I left the previous language centre, but that's a different story).
Thus, I talked with the teacher and responsible staff at the language centre if it was possible to get into a more difficult class. It turned out I had two choices, either a slightly more difficult class (same book, but a month or two ahead) or a class twice as difficult (different book and maybe a year ahead).
I attended both classes to see what it would be like and to talk with the teachers. My conclusion was that the slightly more difficult class wouldn't be much different from the one I was already in once I got used to it, which would happen sooner rather than later. Then I would have the exact same problem again halfway through the semester. The more difficult course, on the other hand, really was quite difficult! To give people who have studied in Taiwan an idea of what kind of jump in difficult we're talking about, I had barely finished Practical Audio-Visual Chinese (實用視聽華語) book 3 and jumped to the middle of book 5. We also used a book called Media Chinese (新聞華語), which uses authentic newspaper articles.
I discussed the situation with the teacher and we concluded that it would be possible to survive, although I would have to work hard. She was also willing to help out and was very supportive. I studied like a maniac that semester and while I didn't manage to catch up with my classmates, I learnt much more that I otherwise would have. I wrote a bit more about my first year in Taiwan here if you're interested.
I've since repeated the same procedure several times in different contexts with roughly the same results. If you have the time, the energy and the motivation required, it can be incredibly rewarding to take a difficult course! The last time I did something like this would be the first semester or possibly the first year of the graduate program I studied at National Taiwan Normal University.
A challenging environment can be stimulating and force you to learn more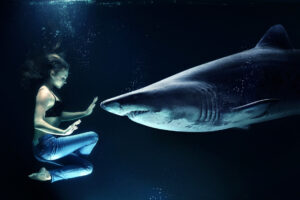 I'm not sharing these stories to boast about how awesome I am. Like I said, I was able to do this because I was willing and able to invest much more time and energy than is reasonable to expect of students. I was also able to stay motivated and mostly positive throughout, which is crucial.
That still leaves the question of why, though, why not enrol in a course that is at just the right level and spend the time you save by doing so on other forms of learning? There's nothing wrong in that, and like I said, that's indeed what most people should do most of the time. This is especially true if ramping up the difficulty means sacrificing social time with native speakers and engaging with the culture.
I had time to focus on learning because I was lucky enough to get a scholarship, and I wanted to make the most out of the courses I enrolled in. I simply wouldn't have learnt as much if I hadn't left my comfort zone and sought out new challenges. I like challenges and tend to rise to them, investing much more in them than I would in a similar project but without the challenge. If you're like that too, you should check out Hacking Chinese Challenges!
There are some benefits of being in a sink-or-swim learning environment, though. Here are a few examples:
You can learn more from your classmates – You will benefit immensely from being surrounded with people who speak much better Chinese than you do. This advantage is potentially very big. It's likely that you will also find friends among them, have lunch with them and hang out with them after class. I owe a lot of my progress that semester to my classmates. You shouldn't travel the road to Chinese fluency alone!
The minimum effort required is very high – This is akin to setting ambitious goals, which has a positive effect on effort invested for most people. When you're enrolled in a course that's too hard for you, just keeping your head above the surface takes every bit of effort you can muster. Sure, some people might be able to learn at full speed outside the classroom if the course is easy, but most of us will simply relax and take it easier. Being in a class that's too easy is clearly not a good time investment either.
More Chinese (and less English) – More advanced courses simply contain more Chinese. Everybody speaks more, you cover more content, ranging over a wider variety of topics. Depending on where you're studying, advanced courses also contain less English, if any. While I don't believe that a stringently followed no-English rule is a good idea, it's certainly the case that you want as much Chinese in the classroom as possible. This also goes back to what I said about classmates above, so the result of more advanced courses is just that the amount of input you get is much higher.
A difficult course might make you neglect the basics or quit in frustration
Naturally, there are also potential downsides to jumping into the deep end of the immersion pool:
It could leave huge gaps in your knowledge – For example, I skipped an entire book in a series of textbooks, which meant that apart from all the vocabulary that was intentionally introduced in the book, I also had to learn all the words that were taught in the book I skipped. This is simply not possible while also keeping up with everything else, so I needed to spend a few weeks the following summer going through that book, making sure there weren't too many important words I had missed. Plugging gaps in vocabulary is necessary even if you don't skip entire textbooks, though. There are a lot of common and useful words that don't even appear in textbooks or standardised tests!
It could mean that you neglect basic skills – When your classmates are more advanced than you, they might not need the same kind of practice that you do. For example, if the entire class already has decent pronunciation, don't count on your teacher focusing too much on that, or if the basics of characters has been taught earlier, you might have to pick that up on your own. You need to take more responsibility for your learning, but that's something you should do regardless of how difficult the course is!
It could lead to frustration and exhaustion – This is not just immersion, it's more like a scuba diver attacking an aircraft carrier armed with only a spoon. That's hard. You will feel like it's impossible at times, that no matter how much time you spend, you still don't understand much and feel hopelessly behind. There's also a real risk that you will burn out or fail. This risk shouldn't be taken lightly! You don't have to laugh your way through every study session, but if you're not enjoying what you're doing, you will probably fail.
As I have argued many times here on Hacking Chinese, most students spend too much on intensive reading and listening, rather than the extensive kind, and if you're in a course that's too hard for you, your learning will be even more intensive! You'll have neither time nor energy to plough through graded readers in your spare time or fill your days and ears with comprehensible input. I explored this apparent conflict between deep-end immersion and comprehensible input here.
The short answer is that unless you enjoy the challenge and know that you will invest less time and energy into learning without such a challenge, you probably should stick to courses that are actually designed for you. And even if you do look forward to the challenge, do you have what it takes to survive?
The minimum requirements: Time, motivation and support
This should be clear by now, but let's spell it out. To survive in a course that's too difficult for you requires at least three things:
Time – You need to be willing to spend much more time than the course officially requires. I spent several hours preparing for each lesson and several more after each lesson to review and consolidate what I had learnt. I will discuss how to spend all this time in the next article, but if you don't have plenty of time, stick to a course you think you can deal with.
Motivation – Time is not the only thing you need, you also need the motivation to keep going day after day, week after week, probably for months, before you start seeing the light at the end of the tunnel. Based on my own experience, it took me roughly half a semester to acclimatise to the new environment, although this is of course dependent on exactly how hard the course is. Expect to struggle a lot with little sign of progress. If you don't feel up to this, don't do it!
Support – You probably need the support at least from your teacher to even be allowed into the course, but it goes beyond that. If the teacher realises that you're a serious student who loves a challenge, she's likely to help you out if you ask nicely. Don't assume that she will spend much extra time on you compared to the other students, but even simple things such as sharing semester planning and learning material ahead of time, making it easier for you to preview, is worth a lot. Beyond the classroom, it's essential that you have the support of friendly native speakers, language exchange partners or even extra tutors. You will not get all the support you need in class. Don't forget about moral support! 
It's important to point out that learning doesn't have to be as serious as I've made it sound here. Learning Chinese is not a competition of who can get there first. True, I was very serious when I started learning Chinese and was fully committed, but that's not the only option. There are many people who focus on steady improvement over time and still reach their goals.
It's also important to point out that there's more to life than learning Chinese, and that it's a privilege to even have the option to study a language full time. I'm sharing my experience here because I know that I'm not the only one who benefits from leaving my comfort zone and have the opportunity to study full time!
How to survive and thrive in a Chinese course that's too hard for you
In the next article, I will discuss in more practical terms how to survive and thrive in a course that's too hard for you, beyond "invest more time and effort". Where should you spend that time? How can you make sure that your effort isn't wasted? How do you keep on even when everything feels impossible? Find out in the next installment:
Editor's note: This article, originally published in 2011, was rewritten from scratch in November 2021. It was previously called "The kamikaze approach to learning Chinese", hence why it's referred to like that occasionally.
---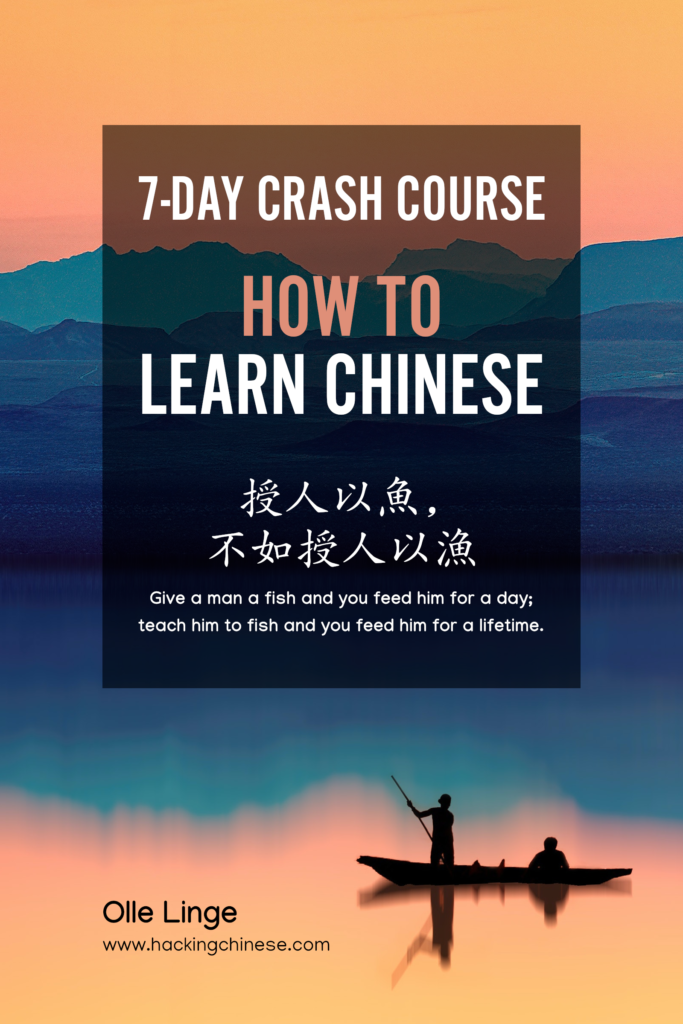 Tips and tricks for how to learn Chinese directly in your inbox
I've been learning and teaching Chinese for more than a decade. My goal is to help you find a way of learning that works for you. Sign up to my newsletter for a 7-day crash course in how to learn, as well as weekly ideas for how to improve your learning!