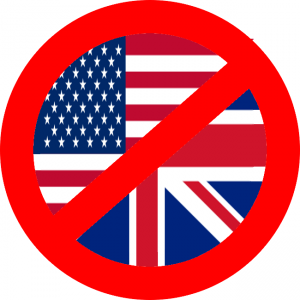 Some language schools have a Chinese-only rule, which means that neither students nor teachers are allowed to speak anything but Chinese on campus. The obvious goal is to make sure that all teaching is done in Chinese and that students practise as much as possible by avoiding their native languages, even during breaks.
You can of course also create a "Chinese only" rule for yourself, regardless of what your school requires of you. But should you? Why? This post is not about language schools in particular, but about enforcing 100% Chinese language use in general.
While everyone agrees that immersion is great, is a "Chinese only" rule really as good an idea as it seems?
Why having a Chinese-only rule is a good idea
The main advantage of committing to a Chinese-only rule is that it's likely that you will speak more Chinese if you do than if you don't. Learning a language is to a large extent about using what you know to express yourself, even if the words and grammar you know are limited. This is exactly what you practice if you force yourself to speak Chinese, even in situations and about topics you really don't feel comfortable with. Leaving your comfort zone is the best way of learning anything.
Furthermore, by committing to speaking only Chines,e you avoid establishing habits and situations where you use English. For instance, with a Chinese-only rule in place, you're not going to hang out with other expats who use mostly English. Instead of playing ball with some American guys, you're going to have to find local players. Practising sports is just an example, but a very good one. Avoid the expat bubble, don't be a tourist.
Naturally, a Chinese-only rule bars your teacher from using any language but Chinese, which provides you with the other essential part of language learning: input in the target language. If this article was aimed at language schools, I would expand on this point more, but since you as a student probably can't enforce a Chinese-only rule on other people, I will focus on your role in this.
The benefits of binary choices
Students are often shy, lazy or both, which means that they avoid speaking Chinese even when they have an opportunity to do so. Without speaking, you will never learn the language, so speaking more is a good idea in general. Having a rule that says that you can only speak Chinese gives you no choice; you have to speak. If you just "try to speak Chinese more", you're more likely to end up speaking English.
This is related to a psychological effect that I would like to explore further in future articles. In general, it seems like binary choices are easier to both to make and to later maintain, compared with choices that are more open or easily turn into slippery slopes. If you have a rule that says "100% Chinese, 0% English", that's that, there's no discussion. You know what it means and everybody else does too.
If you instead create a rule that says "90% Chinese, 10% English", things get more complicated. How do you count? How do you know if you actually spend 90% of the time using Chinese? Should you count per day? Per week? Can you "save" time for later periods? And so on.
If you instead commit to only Chinese, you don't have to deal with all these issues.
Advantages of a Chinese-only rule in the classroom

Before we move on to the disadvantages of Chinese-only rules, we need to briefly look at two classroom aspects, one related to teachers and one to students.
First, it's easy to forget that having a conversation at a very basic level with a beginner is demanding not only for the student, but also for the teacher. Therefore, without a Chinese-only rule in place, it's tempting for teachers to give up earlier and use English instead. This is sometimes warranted (see below), but not always.
Second, in classes where students come from a variety of language backgrounds, the only language everybody has in common is Chinese. What other language is the teacher supposed to use, English? What about the students whose English isn't so good or who don't like speaking English? Thus, in some situations, enforcing a Chinese-only rule is a practical consideration, not one related to what is best for an individual student. The rest of this article, therefore, assumes that there is a real choice to be made.
Why having a Chinese-only rule isn't a good idea
This part of the article is slightly more controversial, because to be honest, I'm not a fan of Chinese-only rules. With all the advantages listed above, how can I be against Chinese-only rules? Let's look at a few of the main disadvantages of adhering to a Chinese-only rule:
Weak explanations – Learning languages is to a large extent about being exposed to and gradually learning to use various words and sentence patterns. However, some things really need to be explained to be learnt properly (pronunciation, grammar, characters). This is very hard (impossible) to do entirely in Chinese as a beginner. I have met many, many students who simply don't know even the most basic things about pronunciation. I doubt this is because no-one has told them, but I strongly suspect it's because they were taught in Chinese and simply didn't get the point. This isn't true in all cases, but it is in many of them.
Hidden misunderstandings – When you don't understand something and know it, you can ask questions or seek the answer elsewhere, but when you don't know that you don't understand (the infamous "unknown unknowns"), you have a problem. This happens often when a teacher tries to explain something in Chinese, but the student's listening ability is not up to par. They both think that the student has understood, but that is, in fact, not the case. Sometimes, you know that you didn't get everything the teacher said, but you simply don't want to ask again, so you're left with only a vague notion of what's going on. Vague notions are very hard to remember.
Wasting time – Most of the time, using Chinese to convey meaning is the point of language learning, but not always. Sometimes, you or the teacher just wants to get the meaning across as accurately as possible. If I correct your tones, I want to be really sure that you understood what I meant; I don't really care if you learnt the related Chinese vocabulary along the way. I could have explained what you did wrong in Chinese, using pictures, gestures and whatnot, but it would have taken ten times longer and the risk of misunderstanding would have been higher.
Harder to integrate knowledge – One of the biggest advantages of learning Chinese as an adult compared with as a child is that you already know a lot of things about the world. You don't need to learn all these things from scratch. Sure, describing the meanings of words in Chinese can be great fun and is an excellent way of practising, but it's not very efficient. Translation allows you to draw on your existing knowledge of the world. You can draw parallels to other languages, translate abstract words for which definitions are hard to understand, use English to verify that you really understood what you just read. And so on. With this solid foundation, you can then learn the nuances of how these words are used in Chinese.
Risk of drowning – Language immersion is great, but it should only be done to the extent you can survive. Feeling uncomfortable because you haven't adapted yet is fine, it's even good for you, but burning yourself out or quitting learning altogether because the pressure is too high is obviously not so good. If you enforce a Chinese-only rule, you need to make sure that you have safety valves that allow you to vent frustration. If you're a brave soul with lots of time on your hands, you should really challenge yourself, just make sure it isn't an actual suicide mission!
Conclusion
I don't like Chinese-only rules because they are inflexible. The ideal proportions will vary depending on your level of Chinese, but let's say 90% Chinese and 10% English is desirable, those 10% of English can really make a difference. At the same time, decreasing the amount of Chinese from 100% to 90% is not going to affect the amount of Chinese you use or are exposed to much.
That being said, the psychological effect regarding binary choices mentioned above means that I think that imposing a Chinese-only rule is mostly a good thing, even if you don't end up following it in all situations. Scott Young went to Chinese with about 100 hours of preparation and wrote this about his failure to use Chinese all the time with his friend and room mate:
Even though I wasn't able to maintain the no-English rule with Vat, I still maintained it with nearly everyone else I met. One of the big reasons to use the no-English rule is to avoid forming your social groups out of people who can't or won't speak the language you're trying to learn. Had I not done that, I believe it would have been much easier to just spend my time in China with other expats and only make friends with Chinese people whose English was decent.
This hits the nail on its head and leads to the general solution: Chinese-only should be the default mode you use for almost all situations. You can then create a small list of exceptions where you think English is essential for one reason or another. This can involve speaking English with a specific person, during a certain class or once a week when you hang out with other foreigners.
The rest of the time is Chinese only.
This means that you can reap most of the benefits offered by a Chinese-only rule, but still have enough flexibility to make use of English when it's truly necessary.
What do you think? Have you tried a Chinese-only approach? Did you decide to do so on your own or was it a requirement where you studied? How did it go?
---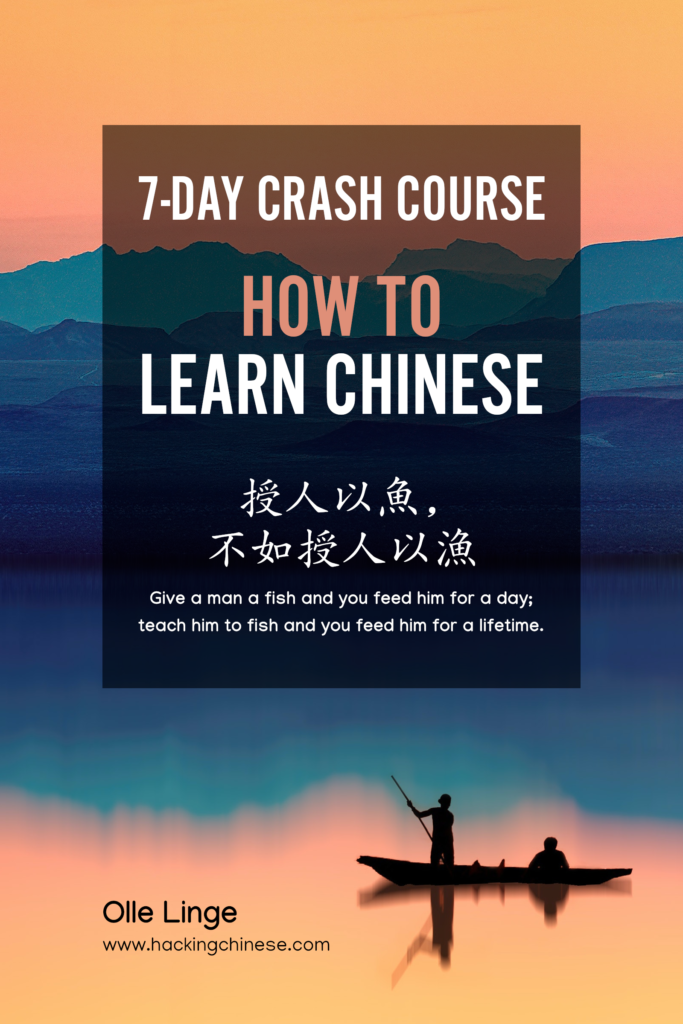 Tips and tricks for how to learn Chinese directly in your inbox
I've been learning and teaching Chinese for more than a decade. My goal is to help you find a way of learning that works for you. Sign up to my newsletter for a 7-day crash course in how to learn, as well as weekly ideas for how to improve your learning!