In numerous articles, I've stressed the importance of finding ways of studying Chinese that you actually enjoy. This is not some hippie-kind of encouragement or well-wishing.
In fact, it's not encouragement or well-wishing at all. It's dead serious and it's a warning. If you want to reach a high level in Chinese, you have to like what you're doing. You have to enjoy the process in some way, otherwise you will never win through.
In order to learn Chinese, you will need to spend an awful lot of time. In order to persevere and study for a long time, you need to like what you are doing.
You need to have fun, otherwise you will never be able to bring yourself to spending the necessary amount of time.
This argument is connected to what I've written previously about talent versus effort: learning Chinese is much more about the time you send than anything else. This is a recurring theme on Hacking Chinese, because I strongly believe that the amount of time spent studying Chinese in some way is by far the most important factor that will determine your level of proficiency. The reason why most people who start studying a language don't succeed is because they don't spend enough time. Why?
Because spending thousand of hours doing something you hate is very hard

People are usually able to do boring things if required for their survival and comfort, but for the majority of people reading this article, studying Chinese doesn't qualify as such an activity. It might work for immigrants needing Chinese for work or people who have family members who only speak Chinese, but those situations are exceptions rather than the norm. Some people might be able to force themselves through an education they don't like, because they know something good awaits them at the end. Mastering Chinese takes a lot more effort than that, though, and if someone succeeds with that while thinking it's boring, I think he ought to have his head examined, because something must be seriously wrong.
Have fun or else…

One of your main goals should be finding ways to study that you enjoy, not because they are effective or efficient, but because you feel that you can spend lots of time learning Chinese that way. This is the main reason why you should try different methods. Here are some concrete examples. If you love…
There are many ways to expand something you like, such as:
Finding friends who share your interest
Reading blogs about the topic in question
Writing about what you like on a blog
Talking with friends about what you like
Read books/watch films/listen to radio programmes
The point is that you should try to integrate what you like with what you want to do, thus making them one and the same. Imagine what it would be like staying up really late studying, not because you have to because of an exam, but because you really want to know how the next episode of a series ends, or you just have to understand the lyrics of that song that has been echoing in your head the past week. Achieving such a mental state is the ultimate goal. If you can do it, you will master Chinese.
Fun/interesting/entertaining
I've used these three words more or less interchangeably in this article. I want to clarify that the name of the game is "whatever floats your boat". You might find things I like utterly boring and I might not be interested in your hobbies, but we don't need to care about that. You're studying the language, as long as you like it it's okay.
It can't be fun all the time, but always try to make the best out of the situation

Before I round this off, I want to point out that I don't mean to say you have to giggle your way through every second of studying. However, I am saying that how much you enjoy doing something is one of the most important factors for how successful you will be.
For instance, I think spaced repetition software is really good, but if you hate reviewing vocabulary this way, you should do your best to find a way of reviewing which suits you better (a viable alternative is to read and listen a lot). If you dislike something which is essential or forced on you by someone else (your teacher, most likely), make the best of the situation, try to find way that make the task suck just a little bit.
Having fun is about more than just having fun
The point is, if you start hating Chinese, you're doomed. It's okay to think some parts are boring, but do everything you can to nurture a positive attitude. This is not about having fun all the time, instead it's about having as much fun as possible. How fun you actually have depends mostly on your attitude, but also on your current situation and what external factors influence your studying. Don't forget that having fun is not only fun (duh), it's also more efficient!
---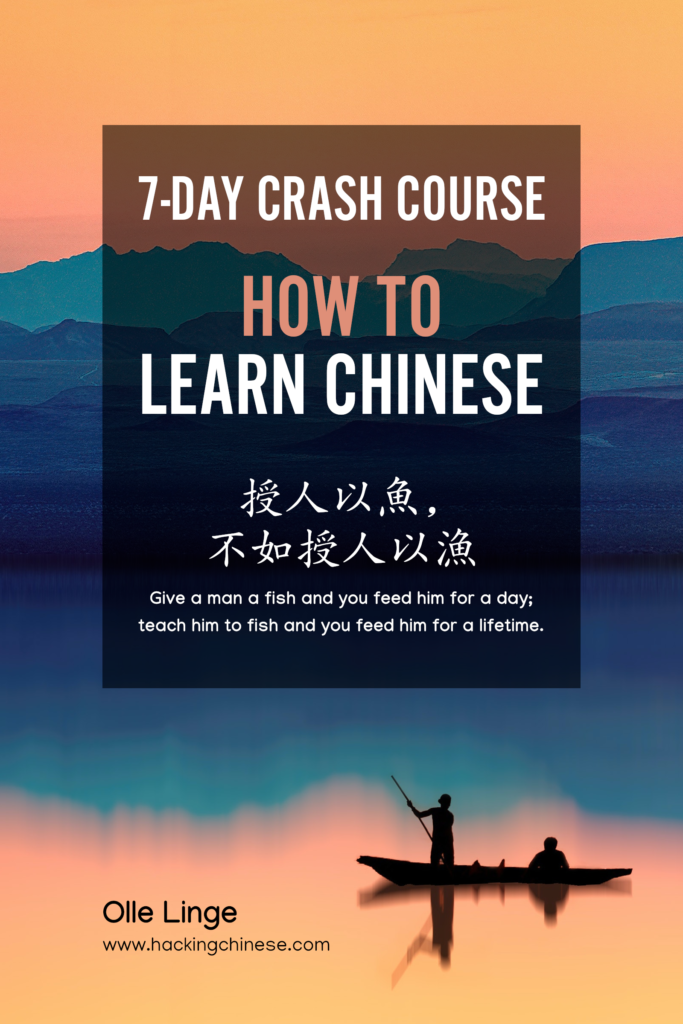 Tips and tricks for how to learn Chinese directly in your inbox
I've been learning and teaching Chinese for more than a decade. My goal is to help you find a way of learning that works for you. Sign up to my newsletter for a 7-day crash course in how to learn, as well as weekly ideas for how to improve your learning!