During my years abroad studying Chinese, I've come to a conclusion about when to go abroad to study. This is based on my personal experience, as well as a limited statistics based on other students I've met. This idea might seem counter-intuitive, but I'm fully convinced that it's true nevertheless.
If you can only stay abroad for a short time, then study the language at home before you go
As you can see from the wording, this doesn't apply to people who can study abroad as much as they want to, nor does is it relevant if you've studied many years at home. Instead, I'm talking to those of you who think that the ideal way of starting your Chinese learning is to spend what money you have and go to China without any prior knowledge of the language.
Note that I'm not saying it's bad to go abroad in general, I'm simply discussing when to do it if you have limited time and/or money.
Why is it a mistake to go abroad without any prior knowledge of the language?

You will spend most of your time learning things that are so basic you could have done it at home
You might be taught essential concepts by a teacher who don't share a language with you
You lack sufficient vocabulary to be able to do very much at first
You will need the time abroad later, when you need immersion more than basic training
You can get all the above things in your country, so if you've only got a short time abroad, don't waste it!
These points need some explanations.
First, you need to understand that Chinese isn't French. If an English-speaking person goes to France and is determined, I'm quite convinced that it's possible to learn the language to an adequate level very rapidly, perhaps even within a few months. This is because English and French are two languages which are very close (parts are identical or close to identical). Chinese and English, on the other hand, share almost no words whatsoever. Going to France, you can usually get by simply guessing words from English. This isn't true in China. This does not mean that you shouldn't speak Chines before you know the basics (you should speak as much as you can, always), but it means that you don't need to spend extra money to do it in China.
Second, many of your teachers will only know basic English, or sometimes no English at all, which is a very bad way of learning difficult concepts such as pronunciation and grammar. It would be really cool if we could pick up the tones in Mandarin simply by listening, but alas, I don't think that's possible for the average adult learner. You need to understand what you're being taught and that isn't going to happen if the teacher only speaks Chinese.
Going abroad to study is very good, but doing it immediately is inefficient and a waste of resources
Of course it's good to study Chinese in a Chinese-speaking environment, anyone can tell you that. It will give you an immediate and personal experience that might make you more motivated and you will also learn more than if you stayed at home, so please don't think that I'm trying to gainsay that. What I am saying is that this is a question of efficiency, that if your resources are limited and you can't stay very long, you need to maximise the gains. Make sure you have the basics before you go!
So how long should you wait? A few weeks of intensive studying should be enough. That will will give you basic pronunciation, a couple of hundred words and some grammar. If you don't dedicate all your time to learning, this might take a few months, but no more than than.
---
Stuck at home? Want to learn Chinese or improve your learning? The code "jia1you2" will give you 50% off all courses!
Learn more about courses for beginners and more advanced students here.
---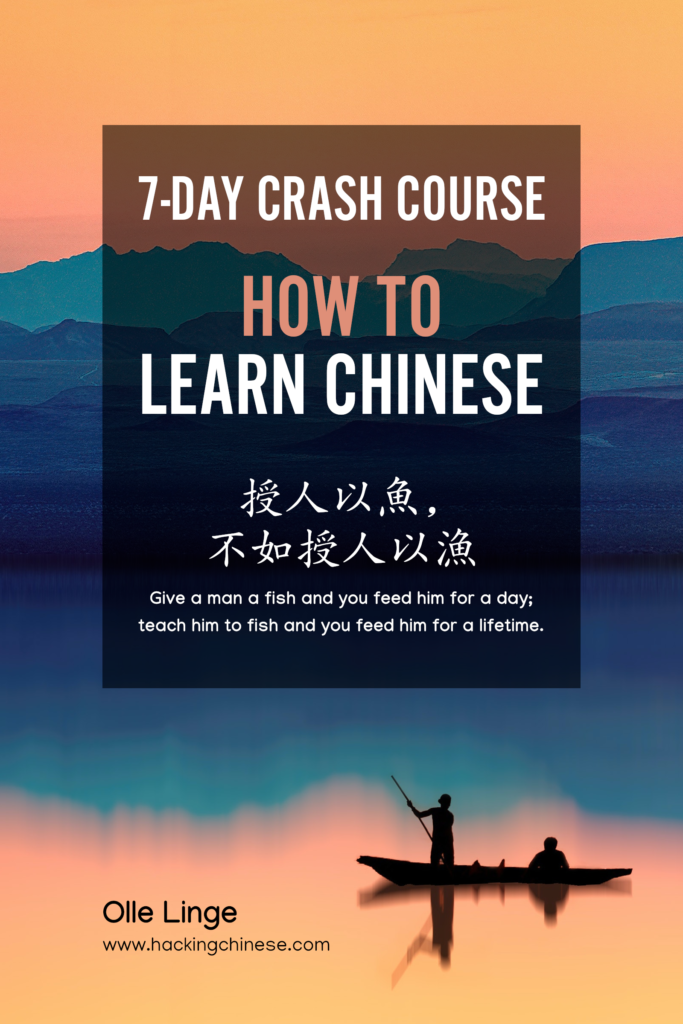 Tips and tricks for how to learn Chinese directly in your inbox
I've been learning and teaching Chinese for more than a decade. My goal is to help you find a way of learning that works for you. Sign up to my newsletter for a 7-day crash course in how to learn, as well as weekly ideas for how to improve your learning!