While most people claim that it's essential to live in the country to learn the language, the fact is that this isn't a prerequisite for reaching an advanced level. For instance, I have spent a total of two weeks in English-speaking countries and yet I think my English is quite okay. There are numerous examples of people who have attained high levels in various languages from home, which means that anyone saying that you have to go abroad to learn a language properly is simply wrong.
However, it's obvious that people who study in China on average learn Chinese faster than people who don't, so people who say that it's important to go abroad (including myself) have a point. What's going on here?
The answer is quite simple: Learning a language quickly is about immersion (or, expressed even more bluntly, the number of hours you put in), but this concept, while related to living abroad, isn't synonymous with it. Let's look at two cases to prove the point:
Why it's harder to immerse at home

While you can immerse yourself in a foreign language in your own country, it is significantly more demanding to do so. You will meet with numerous problems, such as:
Your family and friends don't speak the target language
People will think you're weird if you go too far
You need to actively create an immersion environment yourself
There will be fewer spontaneous exposures to the language
You're not being directly exposed to the culture
You don't need to learn the language to fit in
It's harder to diversify the immersion environment
The reason people tend to learn faster abroad is because it requires less effort
None of the above problems is insurmountable, they can all be overcome with strong determination and some creativity. And this is the key: the reason people learn faster abroad is because more of these things are done for them, and since humans are lazy by nature, it figures that people who go abroad learn faster. This doesn't mean that you have to go abroad, though.
How to create an immersion environment at home
The main problem with immersion, especially if you're learning Chinese, is that it's hard to find immersion material that you can actually understand. It will take you some serious time to understand talk shows or radio programs. However, there are many things you can do before you reach that level. Let's look at the five elements of language learning to see how you can succeed even while staying at home:
Listening
Speaking
Find Chinese-speaking people where you live
Pay for online tutoring
Reading
Watch Chinese movies with subtitles
Use graded readers
Label stuff in your home
Writing
Write notes, shopping lists and such in Chinese
Vocabulary
Taking courses and finding teachers
Remember that studying abroad or at home is completely unrelated to whether you're enrolled in a formal course or not. You can find teachers both in your own country and in China. In fact, you can easily find teachers and ordinary native speakers in China while staying in your own country, using services such as Italki More and more language schools have started to offer online tutoring as well.
Self-studying is a much more complex topic than there is room for in this article, so I have a series of articles on self learning planned and those will come online later as I finish writing them. In essence, regardless if you stay at home or go to China, you definitely need real people to talk to and direct feedback on your language, especially pronunciation. Learning a language from home is harder, but it's not impossible.
Further reading
---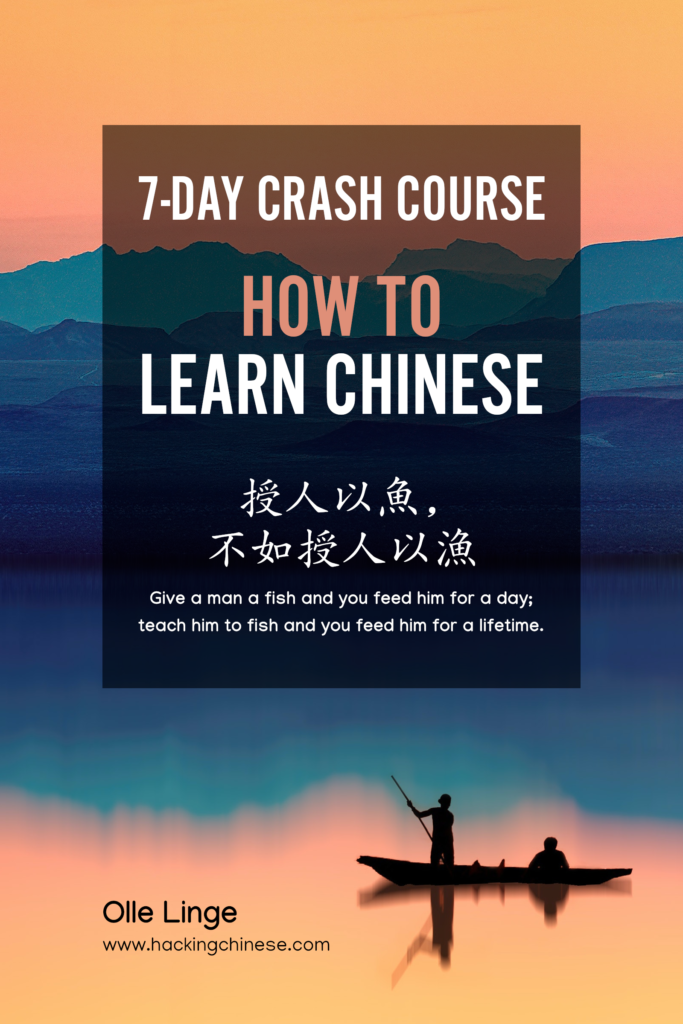 Tips and tricks for how to learn Chinese directly in your inbox
I've been learning and teaching Chinese for more than a decade. My goal is to help you find a way of learning that works for you. Sign up to my newsletter for a 7-day crash course in how to learn, as well as weekly ideas for how to improve your learning!