Ideally, all students would acquire perfect pronunciation through listening to and mimicking native Chinese audio. Sadly, this doesn't really work for adult learners, but it seems to work well for children.
This is easy to prove, because all normal children learn to pronounce their first language, but most adults fail to acquire native-like pronunciation in foreign languages. It's obvious that for most people, simply being exposed to the language and using it isn't enough.
Still, age should never be taken as an excuse for not learning. In many regards, adults are actually better language learners than children, even though it is true that pronunciation is one of the areas where age makes the most difference. This certainly makes it harder to learn as an adult, but not impossible! Don't think that adults can't acquire good pronunciation. You can if you really want to. As I have said elsewhere, you might be too lazy to learn Chinese, but you're not too old.
The best way to learn proper pronunciation in Chinese
As most people probably know already, the best way to learn to pronounce Chinese (or any other language) is to combine large amounts of listening with lots of practice, plus having a teacher who can act as both a role-model and give you feedback at the same time. Large amounts of listening is relatively easy to get, as is lots of practice, but accurate feedback is harder to get.
Few students have access to one-on-one teachers who can correct their pronunciation (even though apps like WaiChinese makes this easier). In addition, in most classrooms pronunciation is often neglected after the first few weeks or months of initial drilling of tones and basic Pinyin.
I have written a lot about how to learn pronunciation already (you can see all articles here), including last week's article consisting of 24 great resources to help you learn Mandarin pronunciation, but in this article, I want to talk about theory. Yes, phonetics. Yes, the fancy symbols you see in the picture above.
The importance of theory
I first discovered the importance of theory when learning English at university. I first started learning English in school at the age of 10 or so, but all with non-native speakers as teachers. Naturally, my English was decent when I started studying English at university ten years later, but I learnt a lot about pronunciation in our phonetics course that I simply hadn't noticed before.
And no, I'm not talking about descriptive knowledge of English pronunciation here, you will obviously learn that by studying theory, I'm talking about real, concrete things I had missed and were pronouncing incorrectly. This blog isn't about learning English, but if you really want to know, vowel reduction was one of the major eye-openers. I also stayed too close to the written form of lots of words, such as "salmon" and "column".
The same thing happened when I started learning Chinese pronunciation, although I wasn't surprised by it this time. I keep studying Chinese phonetics and still come across things than help me pay attention to crucial aspects of pronunciation. This is indeed the main benefit.
Studying theory helps you notice key aspects of the spoken language around you
This means that studying theory isn't always immediately useful. It's not as if you read something about how a certain sound in Chinese is actually pronounced, you shout "Eureka!" and your pronunciation improves. It does happen, but not very often.
More often, the insight helps you direct your attention so that when you hear native speakers speak, you notice something that's different between what they say and what you say. Gradually with practice, this transforms into better pronunciation.
I think a bit of theory is valuable for all adult learners.  The exception might be if you are extremely good at hearing foreign speech sounds and mimicking them, in which case you should do that instead. Actually, even if you aren't so good at mimicking, you should still spend most of your pronunciation practice on mimicking and getting feedback in different ways. Theory is a valuable asset, but it's useless (but interesting) on its own.
Some examples of how theory has improved my pronunciation
Here are some examples of things I have learnt by reading about them rather than listening to native speakers. I had lots of time and opportunity to pick these things up just by listening, but I didn't for some reason. Instead, I only figured them out by reading about them. You might find these obvious, but again you might not. Or, you might find them obvious, but have other blind spots you're not aware of. These are just examples:
That the third tone is usually a low tone – This is a problem many foreigners have and I think the reason is that few teachers accurately explain how the third tone should be pronounced, or if they do, they fail to focus on that beyond the first few weeks or so. The third tone is just a low tone in front of all tones except another third tone. It has an optional rise when in isolation or at the end of sentences. This is rarely used!
That "j/q/x" aren't produced with the tip of the tongue and thus aren't really in between "z/c/s" and "zh/ch/sh" – These sounds are instead produced with the tongue tip down. I knew there was something wrong with my pronunciation of these sounds, but didn't figure it out until I actually read about it. I've done several pseudo-scientific experiments with this and even though the sounds produced are similar, there is a distinct difference. I have corrected the pronunciation of enough fellow Mandarin students to know that I'm not alone in having misunderstood these sounds.
That no initials in Mandarin other than "l", "m", "n" and "r" are voiced. It's very common to hear people pronounce for example "z" and "zh" with voicing, which I did too until I found out that that's actually not right. This sometimes happens with b, d and g as well, although these can be voiced in the middle of words. Read more in my article about Pinyin.
Now, you might argue that I could have corrected all these problems simply by having a good enough teacher that would spot these problems and help me correct them. And you'd be right. But as I said, the problem is that most people don't have access to one-on-one tutors that are competent enough to correct details with pronunciation.
Resources for learning Mandarin pronunciation theory
If you want to read more about Chinese pronunciation, you can start here (these are simply copied from last week's article, which focused on resources in general):
Conclusion
Simply mimicking one's way to perfect pronunciation might be fine for kids and some extremely talented adults, but it's usually not enough. Therefore, I prefer adding theory to the mix. Proportions? Perhaps 95% practice (mimicking and speaking) and 5% theory, unless you happen to be interested in pronunciation in and of itself.
---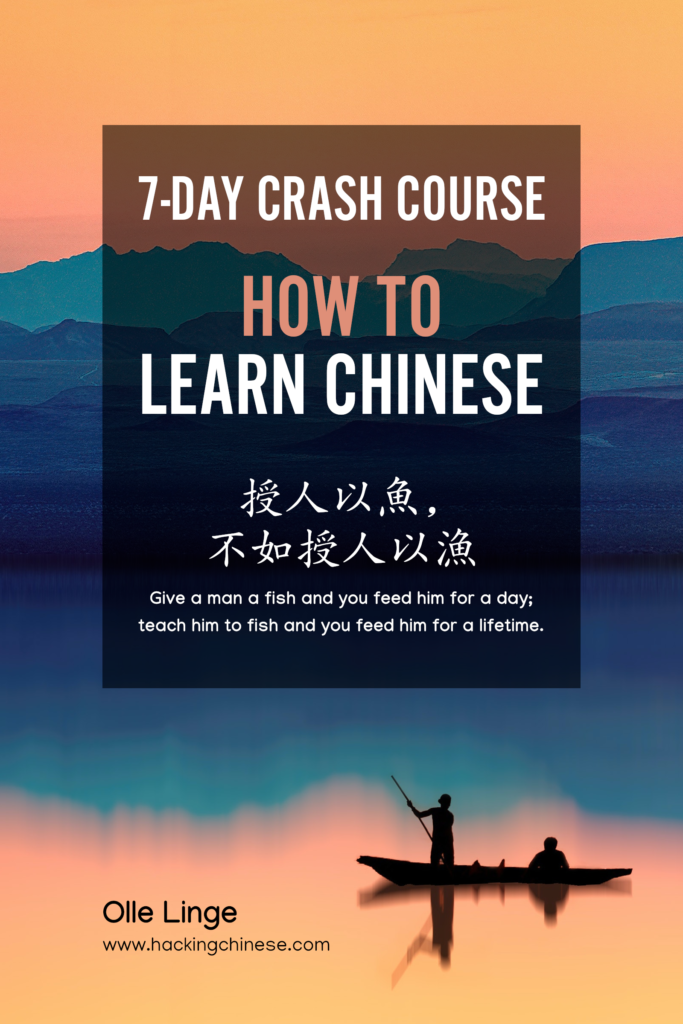 Tips and tricks for how to learn Chinese directly in your inbox
I've been learning and teaching Chinese for more than a decade. My goal is to help you find a way of learning that works for you. Sign up to my newsletter for a 7-day crash course in how to learn, as well as weekly ideas for how to improve your learning!