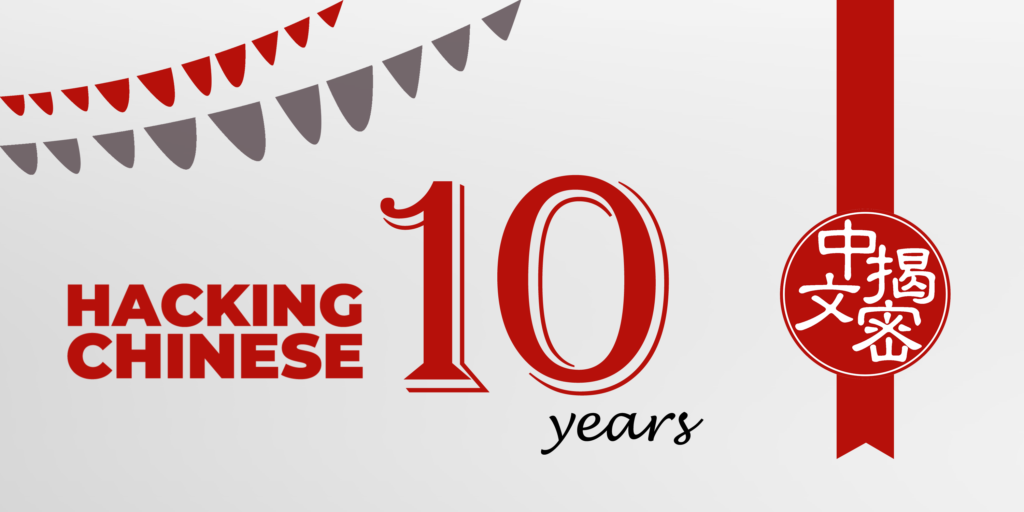 10 years. 472 articles. 650,000 words. It's hard to believe, but I've been writing articles on Hacking Chinese for more than a decade now!
In this article, I will take a step back and look at the incredible journey this has been. I will look back at ten years of Hacking Chinese, sharing thoughts and reflections along the way.
To celebrate the ten-year anniversary, there is a $20 discount for both my courses, ending next Wednesday (November 25th). Use the code SHI2NIAN2 at checkout!
Tune in to the Hacking Chinese Podcast to listen to this article:

Available on Apple Podcasts, Google Podcast, Overcast, Spotify and many more!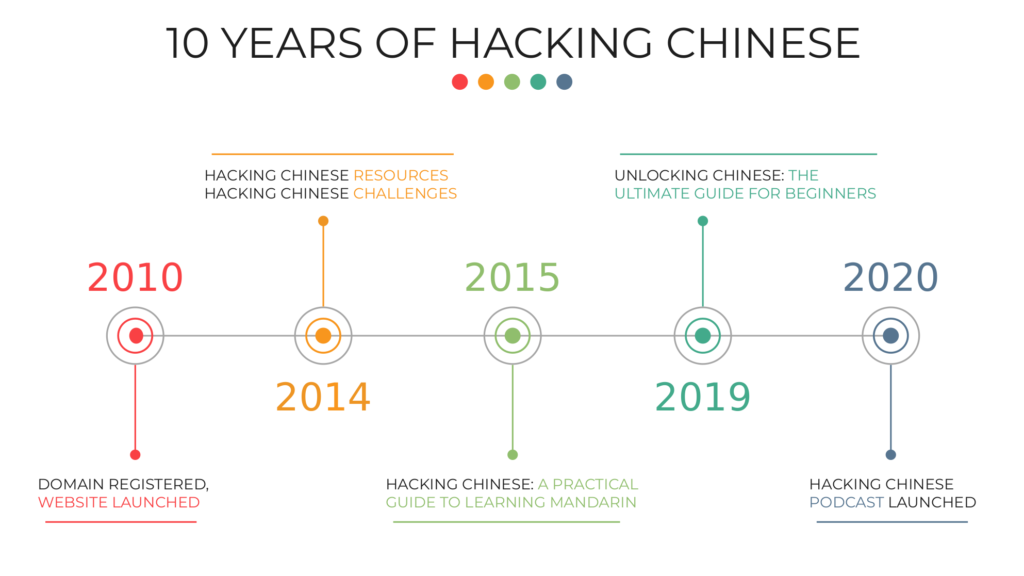 Hacking Chinese is an organism that has evolved gradually over the years and it's hard to point at specific milestones. Some things are more important than others though, so here are my top picks:
Apart from this, there has been numerous meet-ups over the years, in Taipei, Beijing and San Francisco. The events above stand out in the general flow of articles, but in my mind, the articles are still the core of Hacking Chinese, so let's talk more about those.
Why did I start writing?
Why do I keep writing?
What has changed over the years?
10 years. 472 articles. 650,000 words.
While some of these articles are guest post (10 at the moment), the rest were written by me. There is no team of people behind the scenes. I come up with most of the ideas, do the research, write the drafts and proofread when I have time. I also maintain and update the  website when needed, manage social media, do video and audio editing for the courses, respond to comments and emails, and, in the few cases where it's needed, deal with customer support.
But as Laozi once said, behind every great website there is a great woman. My wife is both my cheerleader-in-chief and my most honest critic. Hacking Chinese would not be the same without her.
All this means that Hacking Chinese is very personal for me. During a few long walks and runs recently, I thought about why I started writing, why I still write and what has changed with my writing this past decade.
Here are some reflections I want to share:
What makes me happy with Hacking Chinese
It should come as no surprise that I like writing, and that I derive joy from the process of arranging ideas and shaping them into articles. That's not the most positive thing that comes to mind when looking back on ten years of Hacking Chinese, though.
Instead, I think the best that can happen is when someone contacts me just to say how a certain article helped them overcome a specific problem. Not just that the article was interesting or that it explained something in a good way, but that it helped solve an actual problem.
A good example of this is my treatment of the third tone in Mandarin:
Here are a few quotes from the comment section, and there are dozens of emails and in-person conversations to add to this:
I think you just solved all the problem(s) I ever had with Chinese in one blog entry.

– Simon
This has been so, so helpful. My god, why is the third tone taught wrong all across the world?! This is why people quit. This is why people get frustrated. […] Thank you so much for the clarification, I think I'll be getting back to practicing now!

– John
This blog post cleared up my confusion really well. It's amazing how simple and clear-cut you're able to present it here, while other, more traditional resources simply add to the confusion.

– Brett
This is what keeps me going; this is why it feels worthwhile to invest thousands of hours in a project like this. It's one thing to think that what I write is helpful, but quite another to hear people testify to it!
I have also had many opportunities to do interesting things because of Hacking Chinese. I've been invited to speak and hold workshops at international conferences and events, and I have met a large number of students and teachers over the years, none of which would have happened if it weren't for the website.
The other things I do I also do at least partly because of Hacking Chinese. I don't know exactly what made the scales tip in my favour when I was applied for a position at Uppsala University to work with professional development for Chinese teachers back in 2015, but I still spend most of my time there. While it's possible that I would have joined Skritter even without Hacking Chinese, I doubt it would have happened the way it did without the website, since I was hired to manage the blog in the first place. The same goes for WordSwing and much else.
In a sense, Hacking Chinese is a kind of resumé. I can point to it and say: "Hey, I made this. I started the project ten years ago and it's still going strong."
What makes me frustrated with Hacking Chinese
The most frustrating things with running Hacking Chinese are all the limitations I have to work with. The most obvious one is a lack of time. If I tally up my other professional commitments, the total is 95% of full-time.
Obviously, Hacking Chinese doesn't fit in 5% of my time, so that means that even though it clearly is more than a side project, it's still something I do largely in what's supposed to be my spare time, where I also like to practise gymnastics (check my recent handstand video below, for example), unicycle, (Rubik's) cube, get beaten by my wife in 象棋, read and write fiction, etc.. I'm not complaining, but it can be stressful sometimes.
This also means that I haven't tried many time-intensive ways of expanding Hacking Chinese, such as creating more video content or constructing more courses. Maybe I could have expanded into other languages or widened the focus within Chinese to cover more than how to learn.
Another limitation lies in my lack of expertise in certain key areas, mainly coding and graphic design. I have considered learning to code many times, and even if I know enough HTML and CSS to just about be able to modify the site and implement simple solutions, I don't know enough to develop something from scratch, not to mention anything app-related.
I realise that I can't do everything at once, but I sometimes feel frustrated when I think of what I could have done. There are exceptions, of course, such as Hacking Chinese Resources and Hacking Chinese Challenges, where Stefan has been kind enough to help me out in his spare time.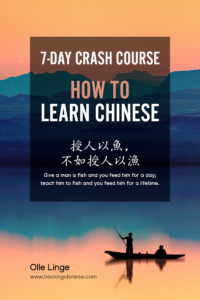 Graphic design is another area I would like to explore more, but can't because of limited time. When I do sit down and design something, I think the result is  reasonably nice. I think the info page for Unlocking Chinese: The Ultimate Guide for Beginners turned out okay, and I like the cover of the crash course I offer for new subscribers to the newsletter (the image on the right).
I don't mean to stay that these are great works of art, I just mean that I would enjoy learning more about design, but don't have the time to do so. This, fortunately, is easier to outsource than almost anything else that I do, which I have been trying out recently (the podcast cover was created by Prominhaj on Fiverr, for example).
It should also be said writing is sometimes very enjoyable. Some articles are written based on a single, clear idea, and I only write one draft. Others take many attempts and even after trying for hours, I might end up scrapping the whole idea. Writing insightful and unique articles is easy when setting out, but harder when there are almost 500 articles in the archive.
Many of these challenges could probably be overcome if I decided to work on Hacking Chinese full time, but that would mean that I have to stop doing many other things I enjoy. As Douglas Adams put it in Mostly Harmless: "Every single decision we make, every breath we draw, opens some doors and closes many others. Most of them we don't notice. Some we do." I hate closing doors, which also means that other doors will never open.
Over to you
If you've indulged me so far and read this introspective piece, I would be interested in hearing what you think about all this. What is Hacking Chinese for you? Why are you reading this?
If you want to support Hacking Chinese, the best thing you can do is always to share my content. That will help both the people you recommend to check Hacking Chinese out, and it will also help me. Maybe one of them will post a comment to an article saying that it helped them solve a tricky problem? Maybe some might purchase one of my courses, thus making it easier for me to motivate spending more time on Hacking Chinese, rather than less?
Here's to another decade of Hacking Chinese
I think Hacking Chinese will still be here in 2030. It's notoriously hard to predict the future, of course, but even if the universal translator from Star Trek arrives on the market tomorrow, there will still be benefits of learning languages for real.
Who knows what the world will look like a decade from now, but I doubt that the need to understand China will decrease, and I would argue that it's impossible to even begin understanding China without learning at least some Chinese.
I will keep on writing, I will keep on teaching and I will keep on learning myself. Here's to another decade of Hacking Chinese!
---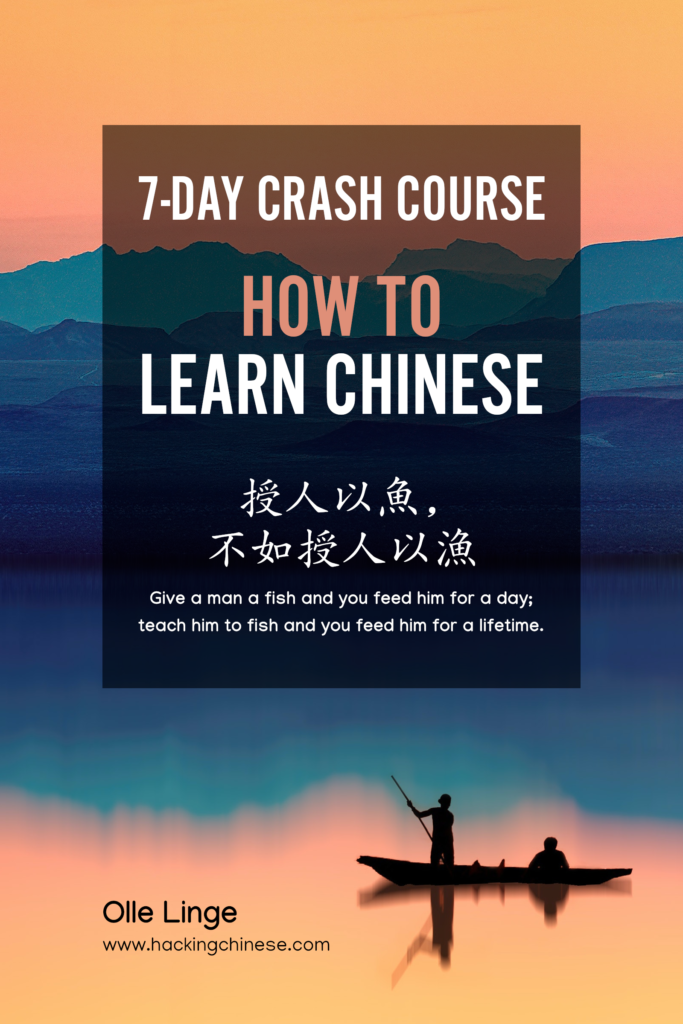 Tips and tricks for how to learn Chinese directly in your inbox
I've been learning and teaching Chinese for more than a decade. My goal is to help you find a way of learning that works for you. Sign up to my newsletter for a 7-day crash course in how to learn, as well as weekly ideas for how to improve your learning!