Having studied a significant amount of phonology and phonetics, as well as focusing my research more and more into pronunciation instruction, the question of so called fossilisation has popped up regularly. It has also been bothering me for a long time.
What fossilisation is and what it is not
In short, fossilisation means that the learner stops improving in a certain area, usually pronunciation (that's what I'm going to talk about here anyway, but similar arguments can be made for other skills). The facts are quite indisputable: almost all native speakers learn the pronunciation of their native language to functional perfection, most adult foreigner don't, even after many, many years. Thus, there is a period after which adults seem to stop learning and this is called fossilisation. This effect is often attributed to the fact that most adult students perpetuate bad pronunciation habits (errors) which will then be (allegedly) impossible to change.
Why I don't like the term fossilisation
There are two things that bother me here. First, it feels like people use the term fossilisation not only to explain, but also to excuse bad pronunciation, saying that it's natural, common and not something to feel bad about. I mean, if every adult learner is bound to stagnate at a certain level, why bother teaching pronunciation to advanced learners? This is often regarded as an absolute truth, producing statements like "you can't reach native-like pronunciation after the critical age" (the definition of which depends on who's talking).
This is nonsense. I have taught a significant number of adult students, both as a teacher and as a graduate students. I have so far never  encountered someone who can't improve. I would be very happy if people stopped throwing the word around as some kind of explanation for why foreigners fail to acquire proper tones or whatever. It's a description and a name for an observed fact and has (almost) no explanatory value at all.
Diminished returns, not fossilisation
If the concept of fossilisation is bunk, we need an alternative way of explaining the fact that many foreigners have severe problems with their pronunciation and is nowhere close to near-native in their Chinese even after many years. I think the answer lies in the infamous principle of diminished returns.
Put very briefly, the better your pronunciation gets, the more time you need to make a significant improvement. I might be able to help a beginner to make huge leaps forward in just a few hours, but if I'm going to improve my own pronunciation in any noticeable way, it requires long and concentrated effort. It's also the case that improving your pronunciation from "very bad" to just "bad" help your communication abilities tremendously, but levelling up from "quite good" to "very good" actually doesn't help that much.
Another way to look at fossilisation looks like this: The problem with pronunciation is that the more times we make a certain error (failing to pronounce the third tone as a low ton in front of first, second and fourth tones, for instance), the harder it becomes to change that habit later. However, even if this is true to some extent, that doesn't mean that it's a law of nature you can't bypass. Changing pronunciation isn't necessarily easy, but it can definitely be done.
Why we stop improving your pronunciation
In essence, I'm convinced that the reason most foreigners have lousy pronunciation isn't because they started learning Chinese as adults or because it's impossible to learn as an adult. Instead, it's because most students simply aren't motivated enough to put in the effort it requires. This is similar to the argument I made in the article about adult vs. child learning (You might be too lazy to learn Chinese, but you're not too old). Changing pronunciation habits is hard, why not do something more useful instead when people seem to understand what you say most of the time anyway? Still, remember that bad pronunciation always interferes with communication.
I can come up with several other reasons:
You don't have time
You don't know what to improve
You don't know how to practice
You think it's boring
You're too lazy
I'm not saying that it's equally easy to learn pronunciation as an adult compared to as a a child, nothing could be further from the truth, but I am saying that just because you won't acquire good pronunciation automatically it doesn't mean that it's impossible. This article is about adult pronunciation, child acquisition of pronunciation is something completely different.
What to do if you actually want to improve your pronunciation
You need to solve the above problems, roughly in the order mentioned above. Most importantly, you need to know what your problems are and how to fix them. To do this, you need feedback from a teacher. Obviously, you also need to listen a lot and mimic a lot, but without feedback, you stand little or no chance of improving (think of it like this, if you could improve only by listening and mimicking, your Chinese would be excellent by now).
Most teachers can offer you feedback and corrections, some teachers can explain what you should do instead, a few can help you design a plan to overcome you current pronunciation problems. If you're very ambitious, you can do most of these things on your own with occasional support. The important thing is that you can do it if you really want to. I'm not going to argue that you should, that's up to you.
---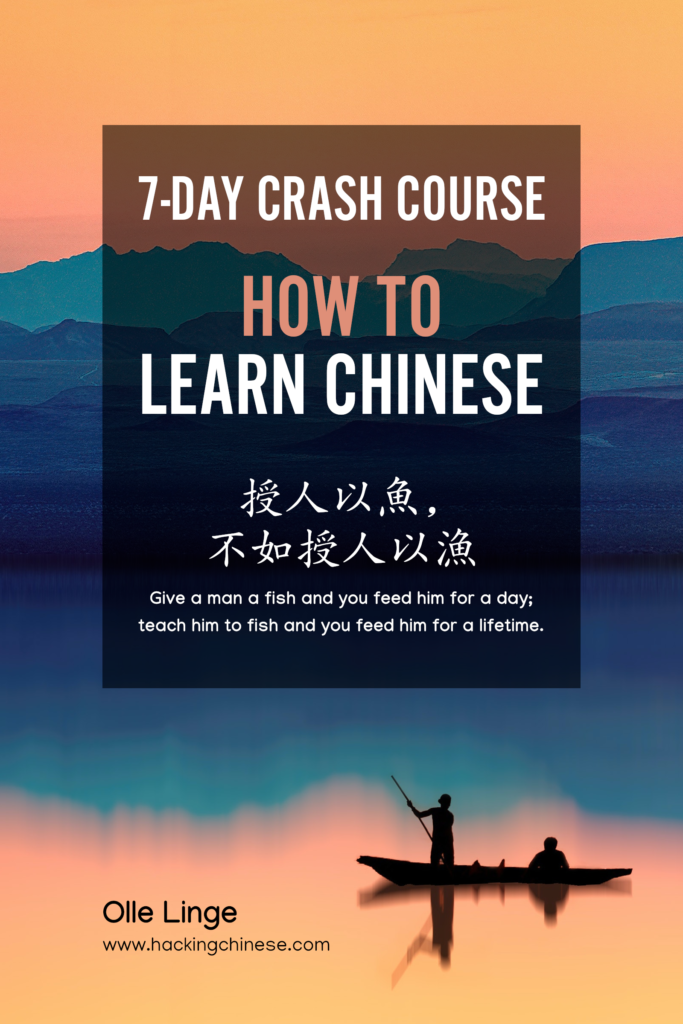 Tips and tricks for how to learn Chinese directly in your inbox
I've been learning and teaching Chinese for more than a decade. My goal is to help you find a way of learning that works for you. Sign up to my newsletter for a 7-day crash course in how to learn, as well as weekly ideas for how to improve your learning!