Children learn languages quickly and effortlessly; adults slowly and painfully. This is an idea I've seen or heard so many times that I feel it's time to write something about it. The notion that children are better language learners across the board is simply wrong.You might be too lazy, but you're definitely not too old to learn Chinese.
Children don't learn their first language quickly and effortlessly
It takes many, many years for a child to learn his or her first language. Saying that it's effortless is equally false, it's just that we don't remember how hard it was. Also, we had no choice and the incentives to learn were huge.
I've studied Chinese for five years and I can promise you that my Chinese is far superior to the average five-year-old in most areas (I would probably lose when it comes to intonation).
That's true even considering the fact that I've been doing many things that aren't related to Chinese at all, such as writing articles for this website (in English), talking with friends and family (in Swedish) and so on. I have not experienced anything near the true immersion environment of a child.
Learning a language is hard for both adults and children
One reason that people believe that children learn faster is that much less is required of them. Adults who arrive in a new country are supposed to handle all aspects of a normal, adult life, which naturally demands a great deal in terms of language ability. We don't demand the same kind of proficiency from children. We only increase the demands gradually as they grow up and learn the language. As adults learning a second language, we're adults and children at the same time.
Children might also learn to perform very well in a limited set of situations and in certain contexts, which might lead others to (erroneously) think that their ability is as good in other areas as well. Combine this with good pronunciation and it's easy to overestimate their proficiency.
Adults are more likely to run into problems because they want to express more complex ideas or complete more difficult tasks.
Adults are much smarter than kids
This shouldn't come as a surprise to anyone, but adults are much better at planning, analysing, executing, organising, deducing and so on. These are all skills that are very valuable when learning a second language.
Also, adults know a lot about the world that kids don't. This means that we can often connect new words with things we already know, which is essential for any kind of learning. I can relate words and structures in Chinese to words and structures I know in other languages. This is of course only a crude form of scaffolding, but it definitely helps. If I see the word "progressive tax" in Chinese, I don't need to learn what progressive tax is, I just need to learn how to say it in Chinese.
Hacking Chinese is of course a prime example of something that an adult language learner (myself) can do, but that a child cannot. I can observe and analyse my language learning and understand where I'm having problems and what to do about them. I can be systematic and plan my studying in an efficient manner. After five years of studying, my language level is apparently good enough to survive a master's degree in teaching Chinese as a second language taught entirely in Chinese, mostly aimed at native speakers.
This obviously takes much, much longer for a child (the average age of my native speaking classmates is more like 25 rather than 5). Most people go through nine years of elementary school, six years of high school and then four years of university before they do that.
I don't mean to say that my own language ability is as good as my classmates', though, far from it. Very far indeed. But using a language successfully is about much more than just words, grammar and pronunciation. Language and thinking are closely linked, which is why the more mature mind of an adult reaches a mature language level much faster. We take lots of shortcuts that aren't available to children.
What we should learn from children
Still, children do have certain advantages. For instance, they definitely reach a higher level in the long run, especially when it comes to pronunciation. As mentioned above, my ability to express myself in Chinese (both in speaking and writing) is of course superior to a five-year-old, but fast forward ten years and the native speaker will not only have better pronunciation and intonation, but also a more natural sentence structure, a better grasp of everyday language and so on.
The reasons for this are many and various. Some of these are biological (children really do acquire words at an astounding rate, for instance), but let's focus on the things we can learn from.
Incentives and motivation are important
To start with, children have extremely strong incentives to learn. Humans are social beings that crave contact and affinity with other humans and this is mediated through language.
Thus, no child will think to itself "learning this language just isn't worth it, let's do something else". Instead, they will try very hard to fit in socially, which includes the ability to communicate flawlessly. There is no way that a second language learner can have such strong incentives to learn Chinese, even though it might be possible to come close.
The lesson we can lean from this is that motivation is something we need to consider carefully. We need to find ways of studying that we find interesting, entertaining or important in some way.
Moreover, children are less socially conscious than adults, or, in other words, they have less face to save. A baby doesn't care if it pronounces "lamp" incorrectly or gets the word order of a sentence wrong. Kids care more than babies, they are subject to peer pressure and so on, but they are still more willing to experiment than adults.
This is something we should remember as second language learning adults. We have to accept that making mistakes is a natural part of learning. Indeed, making mistakes is learning. Adopting a more child-like attitude would do us good.
Children aren't small adults
Way back in history, people tended to regard children as adults, just smaller in size. In the light of modern developmental psychology, this is of course nonsense. Children are simply different from adults. This means that arguments like "it works for children, therefore it should work for adults as well" are bunk.
This isn't an argument against any particular method, but if anyone motivates their approach with this kind of statement, an alarm should go off in your critically thinking mind. That it works for children might mean that it doesn't work for adults, for instance. Or it might mean nothing at all, because we're comparing apples and oranges.
Adult learners, pronunciation and fossilisation
I think the most obvious example is pronunciation. Almost all children achieve very good pronunciation and a natural accent in languages they start learning early. Most adults who start learning a second language don't achieve this. As I said earlier, children do learn pronunciation and accent to a higher level than adults do.
However, this is not only because they are children, but also because adults tend to have fixed ideas about certain things. Learning to speak a foreign language involves a shift in identity, a shift most people aren't willing to make.
The incentives are also different. People would find it very strange if someone pronounced words incorrectly in their first language and would exert social pressure on that person to change.
This isn't true for adult learners, especially not advanced ones. Communication is usually deemed to be enough. That is, I believe, the main reason adult learners don't reach a native-like pronunciation.
You might be too lazy, but you're not too old to learn Chinese
Children learn languages neither quickly nor effortlessly. Adults have several advantages that allow us to learn more efficiently. It's true that children achieve better pronunciation and accent, but I personally think this isn't mainly because they are children, but because adults don't care enough,  don't receive enough feedback or don't spend enough time.
So, no, you're not too old. You might be too lazy, too close-minded or too busy, but you're definitely not too old.
---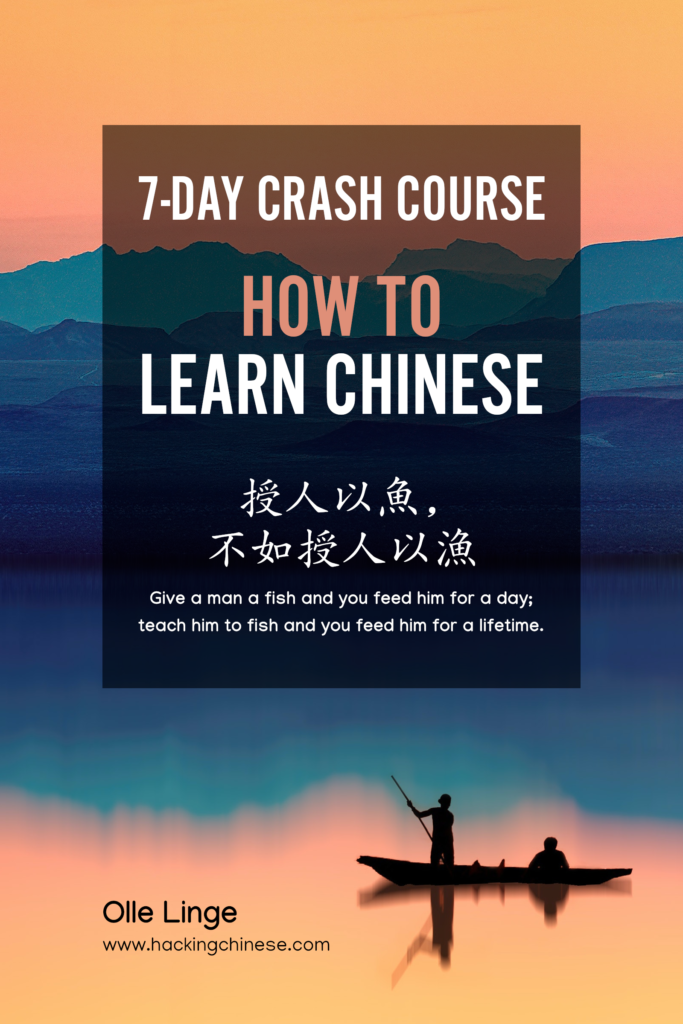 Tips and tricks for how to learn Chinese directly in your inbox
I've been learning and teaching Chinese for more than a decade. My goal is to help you find a way of learning that works for you. Sign up to my newsletter for a 7-day crash course in how to learn, as well as weekly ideas for how to improve your learning!