When we speak Chinese, we need to keep track of many different things, and even if we can hear what we're saying, most of our energy is still spent on producing correct language rather than monitoring that language. Recording yourself is therefore a powerful way of focusing on how we say things, which is a good way to improve Chinese speaking ability.
This doesn't mean its impossible for us to hear our own mistakes, just that we can never hope to hear all the mistakes we make while speaking at the same time. This is good. When speaking, some self-correction is helpful, but an overly critical approach to our own speech is counterproductive and tends to leave us tongue-tied.
Recording yourself alleviates this problem
If you record yourself, you can listen to what you've said afterwards, fully concentrating on your language production, trying to find things to improve. You've already said what you wanted to say, now you can focus solely on correcting yourself. This is useful for several reasons:
It's free (you need fewer hours with a tutor)
It's convenient (you can do it at home at any time)
It increases understanding (knowing yourself what's wrong is much more powerful than having someone else point it out to you)
It enables comparison (if you have a model to follow, you can compare it with what you have recorded)
It's only natural that you feel that your voice sounds weird when recorded, because the sound you hear when you speak normally is not only heard from the "outside" and is thus different from what everybody else hears (and that's what's recorded, of course). Still, this is something you will get used to very quickly if you just listen to yourself a few times.
Tutors
If you have free access to tutors, of course that will take you farther than you will ever get on your own. However, even if you have a tutor, record what you're saying! The benefits of recording yourself doesn't disappear  just because you have a teacher. Hearing yourself is still important.
What should you record?
You can record anything you like, but here are some suggestions that I find useful myself. Try recording yourself when you…
…read a text in Chinese
…talk with a friend
…talk in class
…hold a speech
…talk on the phone
If you're going to keep this for future reference, I strongly suggest naming the files properly and organising them in such a way that you can later clearly see what you've recorded, how and when it was done.
What program should I use?
I recommend Audacity. It's cross-platform, open source and generally awesome. Audacity has a number of useful functions, including visual representation of the sound recording, smooth editing of sound channels and different sound tracks. If you want to combine, edit or cut sound, this is the program for you. You can also export to mp3 and record information about date, type of recording and so on.
Mimicking native speakers
One of the most powerful ways of learning pronunciation is mimicking native speakers. Find a recording of a suitable piece of text and simply try to mimic it as closely as you can. Then listen to both versions and see what you can improve. Repeat until you think that the recordings are identical (save for differences in voice quality). Then ask your teacher or a native speaker to check the recordings for you and see if there is anything more you can do. Repeat with a different sound file. If you're a beginner, I suggest using your textbook, but more advanced users can of course use anything you like, but make sure you check the file with a native speaker who's judgement you trust (a teacher, preferably).
Conclusion
Recording one's own voice is useful for more reasons than I have room for in this article and I think it should be a natural part of both learning and teaching. As a teacher, I often record students to see if they can hear their own errors. Most often they do when recorded, even if they can't hear them when they speak at the same time.
This has lead me to use recording extensively to learn/teach both Chinese and English. To give you an example, I can hear lots of mistakes in this video I recorded on YouTube (in English), even though I thought it sounded pretty good when I recorded it. If I wanted to improve my English pronunciation, I would record myself much more.
I don't need a tutor to improve, I can do it on my own if I record and listen, because I can hear the mistakes. So can you. You might not be able to hear all mistakes, but why not try and see? I'm sure you will learn more about yourself and your pronunciation.
---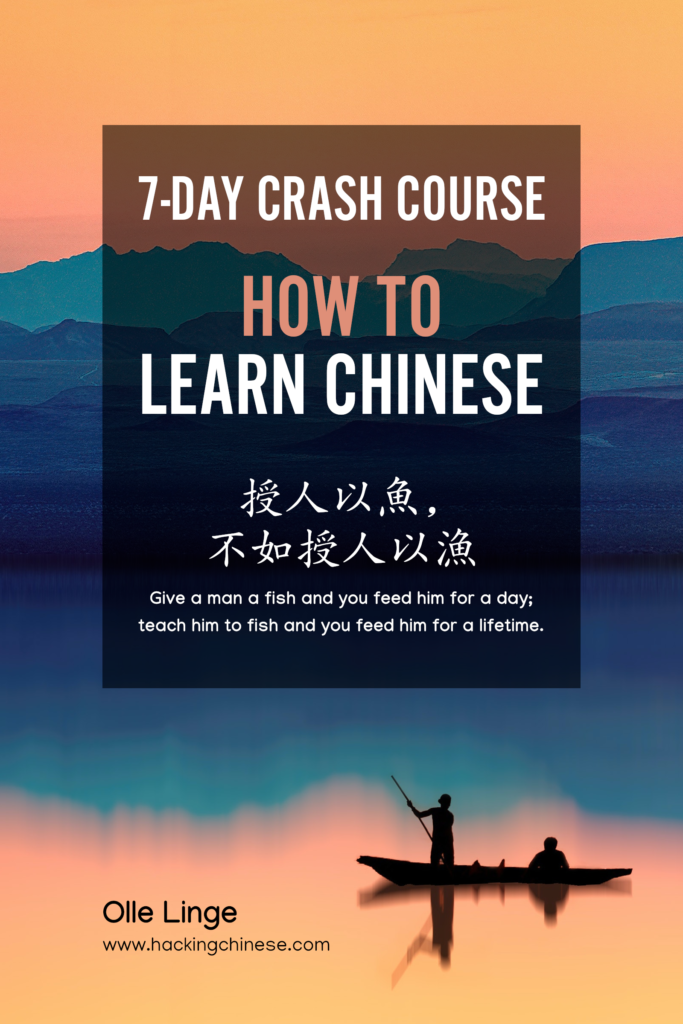 Tips and tricks for how to learn Chinese directly in your inbox
I've been learning and teaching Chinese for more than a decade. My goal is to help you find a way of learning that works for you. Sign up to my newsletter for a 7-day crash course in how to learn, as well as weekly ideas for how to improve your learning!